Slide 1 of 1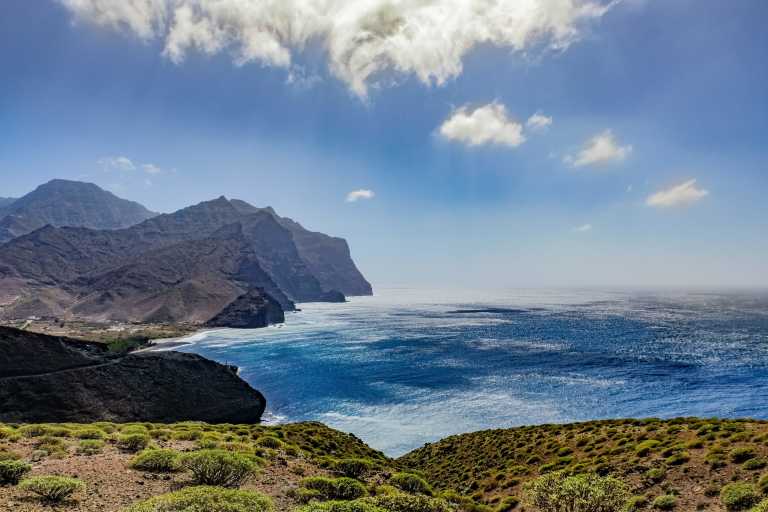 This trip is confirmed to go.
Ho Ho Ho Merry Tropical Christmas! 🏝️🎅 Discover Gran Canaria and enjoy freshly cooked meals made daily by our private chef 👩‍🍳
Guided trip
8 days
5 stops
4 - 6 Mates
Spain
What's special?
Jacuzzi, Hot Tub, Swimming Pool
Private chef and drone photographer
Daily road trips and activities included
Come and discover the tropical paradise of Gran Canaria, a stunning volcanic island off the coast of Africa. During your stay, you'll delight in a variety of experiences, including scuba diving in crystal-clear waters, going on breathtaking hikes and road trips through stunning landscapes, catching waves while surfing, and sunbathing on pristine beaches 🏝️🤿🥾 The volcanic island of Gran Canaria, also known as "miniature continent", is renowned for its marked contrasts: you will enjoy stunning beaches with crystal clear water surrounded by desert dunes, but also picks covered in pine tree forests that stand out starkly against the volcanic earth. Join us in discovering the island's best-kept secrets this Christmas, where you can relish in spring-like temperatures that make it possible to bask on the beach and explore the mountains—all in one remarkable adventure. But it doesn't end there - get ready to be fully immersed in the rich Canarian nature and culture, connecting with the island's vibrant traditions and natural wonders. And here's a delectable surprise: my dear friend Arianna will join us as our private chef, enchanting our taste buds with delicious and wholesome meals each day. Ari is not just a culinary wizard, but also a skilled drone photographer, ready to capture awe-inspiring memories of our journey from the sky.
Let me introduce myself! I'm Silvia, an Italian with a zest for exploration. Since I stepped into Thai soil as a 17-year-old exchange student, my itchy feet have taken me on an exciting global adventure. I am a friendly and enthusiastic 24-years-old with a passion for languages and different cultures. I speak 5 languages and love to interact with people from all around the world. I like to spend my free time hiking, doing sports and making jewelry! My academic background includes a degree in Languages and Intercultural Communication with Tourism Management, earned in the stunning city of Edinburgh, Scotland. I am currently working as a tour guide in Norway during the summer months, guiding travelers around the breathtaking landscapes of this Nordic wonderland. Soon, I'll be returning to Gran Canaria, where I used to call home, to enjoy the winter sun of Las Palmas.
Accommodation: A whole private dorm in an idyllic beach town located in the northern part of the island, just 20 kilometers away from the vibrant capital, Las Palmas. The hostel, Atlantis Surf Hostel, is a splendidly restored traditional "finca" dating back to the 1900s. Ranked 9.1, the hostel offers more than just a place to stay. You'll find a welcoming restaurant, a lively bar, a comfortable shared lounge, and a rooftop oasis perfect for yoga sessions and sun-soaked relaxation. For those seeking added privacy, there is an option to upgrade to a private room. Don't hesitate to reach out to me, and I'll be more than happy to make all the necessary arrangements for your upgraded experience! Entire private dorm in the charming mountain town of Tejeda, famous for its breathtaking views of the island's most iconic mountains and rock formations. We will spend two magical nights at Hostel Finca La Isa, a rural gem with an impressive 9.4. Here, you can unwind in a soothing hot tub while gazing at the Milky Way, surrounded by a mesmerizing blanket of stars. Please do not hesitate to contact me if you wish to upgrade to a private room. The cherry on top: indulge in luxury with a private room in the 5-star Villa Violetta, boasting a Jacuzzi, a heated swimming pool and an outdoor gym near the enchanting Dunes of Maspalomas. Besides the stunning ocean view and a fully stocked bar, the villa also offers plenty of fun activities: a pool table, ping pong table, digital dart board, Xbox One, Xbox 360, Wii, Putt mat for golf, paddle rack, tennis rack, golf bag, kubb game, boxing gloves, punching bag, punching ball, stand-up paddle board, body boards, surfboards for children and adults, goals for water polo, goals and clubs for floorball, pool volleyball net, small basketball basket, board games, bingo, roulette, swimming goggles, archery (booth real sharp arrows and children friendly arrows), fast sling puck game, electric massage chair, free bicycles and much more. Join me on this journey, and together, we'll uncover the most hidden gems and cultural treasures of Gran Canaria. Let's make memories that last a lifetime!
What's included?
Rental cars for the duration of the stay
Accommodations
Surfing class
Scuba diving
Home cooked meals by our private chef
Pictures and videos captured by drone
Free WiFi in every accommodation
Fuel
Your Booking includes free protection from Trip cancellations.
Learn More
Meet Your TripLeader
Phone Verified
Identity Verified
20 Countries
Adventure lover with itchy feet 🗺️✈️ Let's discover the most authentic, adventurous and fun side of Europe with like-minded people!
You can chat with Silvia once you reserve your spot.
Trip Itinerary
Gran Canaria Airport
Day 1
23/12 I will set up a WhatsApp group for our convenience, where we can share our live locations upon landing and use it for communication in case of any delays or transportation issues. We'll rent two cars from the airport through Cicar, and our designated drivers (two volunteers from our group who kindly offer to drive) will take them to Las Canteras beach, our designated meetup point. Las Canteras is just a 25-minute drive from the airport or 45 minutes by bus (payment options include contactless, ApplePay, or cash). I will be here to assist you with any questions or concerns from the moment you book your trip. Your comfort and peace of mind are my priorities!
La Cícer (Playa de Las Canteras)
Day 1
23/12 We'll start our adventure at Las Canteras, one of Europe's top urban beaches in Las Palmas. The beach offers water activities, tapas bars, affordable shopping (with only a 7% consumption tax), and a unique sand nativity scene—a tropical take on the usual snowmen. Since arrival times may differ among our guests, we won't have any scheduled group activities for that day. Instead, you'll have plenty of free time to enjoy activities like snorkeling, renting surfboards or SUPs, sunbathing, or shopping while we wait for everyone to gather.
Atlantis Surf Hostel
Day 1-4
23/12 Once the group has gathered, we'll embark on a scenic 20-minute drive to the Atlantis Surf Hostel. Depending on the arrival time, there will be opportunities for various activities, socialising with fellow travelers and other guests at the hostel, and eating dinner all together. Our delightful and sociable private chef, Ari, an Italo-American culinary expert, will treat us to homemade healthy dishes crafted from locally sourced ingredients. 24/12 and 25/12 On Christmas Eve and Christmas Day, we have two exciting options to choose from based on the group's preferences, and we are open to suggestions and ideas. This tour is all about creating an experience tailored to your needs and desires, and I'm here to make it happen! Option 1: Explore the wild and beautiful North-West coast of the island, where we'll discover the stunning towns of Agaete with its natural pools and Sardina del Norte with its stunning landscapes. We can embark on a thrilling Scuba Diving adventure (please note that this activity is not available on the 25th, but we can arrange an alternative such as surfing or reschedule). The day will culminate with a delightful beachside barbecue. Option 2: Alternatively, we can start with a brunch at the hostel and then set off on a scenic road trip through charming rural villages like Firgas, Moya, Teror, and Arucas. Our journey will also include a visit to the renowned Arehucas Rum distillery (please note that it is closed on the 25th, but it can be postponed to the 26th). In the evening, we'll reunite at the hostel for a group dinner. Besides these options, our hostel has some special events and activities planned to ensure our Christmas Eve and Christmas Day are truly memorable!
Finca la Isa
Day 4-6
26 and 27/12 In the morning, right after breakfast, we'll embark on a journey to reach the Mountain Hostel Finca La Isa, where we'll spend two nights. Nestled amidst the volcanic Canarian mountains, this rural hostel offers breathtaking views and a luxurious jacuzzi for well-deserved relaxation after our hikes. Our hiking adventures will take us to Roque Nublo and Ventana del Nublo, both easy hikes that reward us with spectacular vistas. We'll also explore Pico de Las Nieves and visit the picturesque mountain village of Tejeda, where we'll savor traditional desserts and immerse ourselves in the local culture.
Maspalomas
Day 6-8
28, 29 and 30/12 After breakfast, we'll head to our fantastic 5-star Villa Violetta in Maspalomas. The villa itself is incredibly luxurious (read more about its comforts on the website or at the bottom of this section*), and you might not want to leave it. However, the stunning landscapes in the area are definitely worth exploring. Maspalomas is situated on the southern coast of the island and is famous for its desert-like sand dunes and striking scenery. Nearby, you'll find the charming port village of Mogan and the beautiful Amfi del Mar beach with its crystal-clear waters. After some relaxation at the beach and by the pool, we'll go on an easy hike to a hidden natural wonder called Azulejos. It's a collection of colorful mountain formations surrounded by natural pools (charcos) where we can cool off. For those of you choosing to stay in Gran Canaria for New Year's Eve, the southern coast is where the party is at. This area hosts numerous activities and events to help you ring in 2024 with a bang! *Swimming pool, jacuzzi, massage chair, pool table, ping pong table, digital dart board, Xbox one, Xbox 360, Wii, putt mat for golf, paddle rack, tennis rack, golf bag, kubb game, boxing gloves, punching bag, punching ball, stand up paddle board, body boards, surfboards
Trip Summary
Accommodation
Apartments & Hostel
8 days trip
Gran Canaria Airport, La Cícer (Playa de Las Canteras) & 3 more
Hi Silvia, this looks like a great way to end the year :) Since you mention your friend cooks, I'm...

Read More
hi silvia! i am soo keen :) i have a little travelbuddy, a dwarf dachshund, she has been on all kind...

Read More
Hi Anastasia! It would be a pleasure to have you and your cute travel buddy on the trip, but unfortunately the first two accomodations do not accept pets 🥺 so sorry about that! You are both more than...

Read More
What's excluded?
Flight tickets
Health Ensurance
Alcoholic drinks
Transportation from/to airport
Why JoinMyTrip?
Trusted platform used by 150K+ TripMates
Have A Question?
Live Chat with our experts 24x7
Unique Trips hosted by Experienced Travellers
Secure Payments to ensure your money is always safe
Looking for more trips?
Here's some similar trips that you might be interested in.