Slide 1 of 1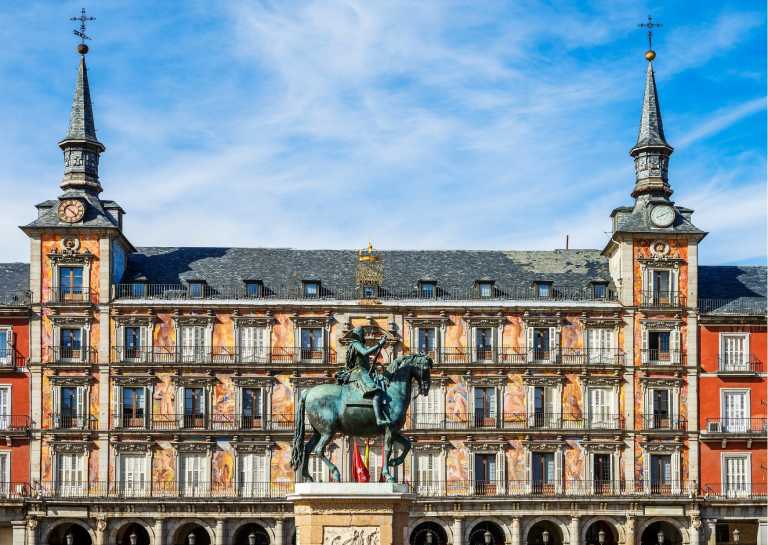 Experience the Best of Madrid, Spain: Savoring Tapas and Wine While Exploring the City's Streets
7 Days30 Days!
Extra Cancellation Days
only for the first TripMate
Guided trip
7 days
8 stops
2 - 6 Mates
Spain
Do you want to experience Madrid and all that it has to offer? Come and join me to wander through Madrid, try a new wine, enjoy the Spanish tapas, head to Segovia and see the aqueducts, and join a walking tour to learn about the history of this beautiful city! My name is Louise, and I am a 58-year young grandma who wants to see as much of the world as I can while I still can! I went to Spain back in 2019 on a bus tour and fell in love with the country! I want to go back to explore some of the areas I briefly saw, and would love for others to join me! We will stay in an apartment close to the city center and close to metro stops, with easy access to many different areas of Madrid. We will enjoy our days walking through the city center, so bring some comfy shoes! Let's catch a flamenco show one night! Head out and see the amazing architecture. We will take a day trip to Segovia and Toledo, to visit the aqueducts and the castles that decorate the countryside of this beautiful country. Let's try some paella, perhaps you'd like some sopa de ajo (garlic soup), or how about some churros? Spanish cuisine is one of the most popular in the world so let's take some time to indulge! We will head to Plaza Mayor, and enjoy a coffee and pastry and people-watch. There is so much to do in Madrid in a week, let's see just how much we can do! What is included in the price? - Accommodation (apartment with shared rooms) - Segovia and Avila excursion - Valencia excursion - Flamenco show Not Included: - Food and drink (unless specified) - Transportation (unless specified) Bienvenido to Madrid! If you have any questions, please be sure to send me a message in the Q&A section!
Your Booking includes free protection from Trip cancellations.
Learn More
Meet Your TripLeader
Phone Verified
Identity Verified
16 Countries
Traveler, food lover, grandmother. Looking for new adventures!
You can chat with Louise once you reserve your spot.
Trip Itinerary
You will meet Louise and the group in Madrid
Find the best flight details to and from Madrid ->
Madrid
Day 1-7
Arrive and head to the accommodations where I will be there to greet you! We will get to know each other and then talk a bit about what's going to be happening for the week. We will go and get our transit passes for the week, and then head somewhere for some traditional tapas and wine.
Madrid
Day 7
Free walking tour with Sandemann's. I have used Sandemann's walking tours in many cities in Europe and they are fantastic. It's on a tips basis, so make sure you have some cash with you to tip at the end it's your own discretion how much you'd like to tip. After our 3-hour walking tour, we will head into Plaza Mayor and have some lunch and wander through the beautiful square and surrounding area. We can stay together as a group or wander off to enjoy sights on our own. Let's meet up for dinner at the apartment so we can talk about our day trip tomorrow! We can also plan our next Madrid day with suggestions (a Top 5 list) of what we'd like to see. We can also talk about our DIY Food tour on our last full day in Madrid.
Segovia
Day 7
We will head to Segovia and Avila for a guided tour today. We will have some breakfast at the apartment then head to the meeting place for the tour. Explore two of Spain's oldest cities on a day trip from Madrid without the hassle of renting a car or figuring out train and bus services. This guided tour takes you to Avila and Segovia, two cities that are so rich in history and architecture that they are known as Spain's Heritage of Mankind cities. The tour is by bus and is about 7 hours in total. Tonight - let's dine in and share photos from our exciting day!
Madrid
Day 7
Top 5 things to see as chosen by US! Let's head out this morning after breakfast and start our own walking tour of things we'd like to see. It can even be things to go back and see from our walking tour. Maybe some souvenir shopping? How about we wander by the Real Madrid stadium? There are so many things to see let's make the most of our day! It will be an all-day adventure today so remember comfy shoes!
Toledo
Day 7
We are heading to Toledo today for another day trip/tour. We will be going by bus and this will be an all-day tour. Tonight let's go for a late dinner at a local restaurant, enjoy some local wine, and get ready for our last full day tomorrow!
Madrid
Day 7
We will bring our DIY food tour list with us, and start marking off the food as we go. We will head to a local market to start, and will branch out from there. We can even add things as we go along. It will be a very casual food tour, at our own pace, stopping to see local sites and enjoying some delicious food.
Madrid
Day 7
It's the last day! Today will be a free day to explore on your own, or together. We can meet for lunch or dinner - your choice! Tonight - a perfect way to end this amazing week in Spain - a Flamenco show! You will be mesmerized and amazed at the dancing and the show. After - let's have drinks out and get ready to head back home tomorrow.
Madrid
Day 7
It's time to head home today. Let's have one last breakfast together and and say our good byes to our newly made friends! We can enjoy one last walk around the area and head to a local cafe for breakfast and then head to the airport.
Trip Summary
7 days trip
Madrid, Madrid & 6 more
Transportation
Train, Other
Have A Question?
Ask the TripLeader questions about the Trip by clicking on the button below. Your question and the response will be visible on this page once it's answered.
Why JoinMyTrip?
Trusted platform used by 150K+ TripMates
Have A Question?
Live Chat with our experts 24x7
Unique Trips hosted by Experienced Travellers
Secure Payments to ensure your money is always safe
Looking for more trips?
Here's some similar trips that you might be interested in.