Slide 1 of 1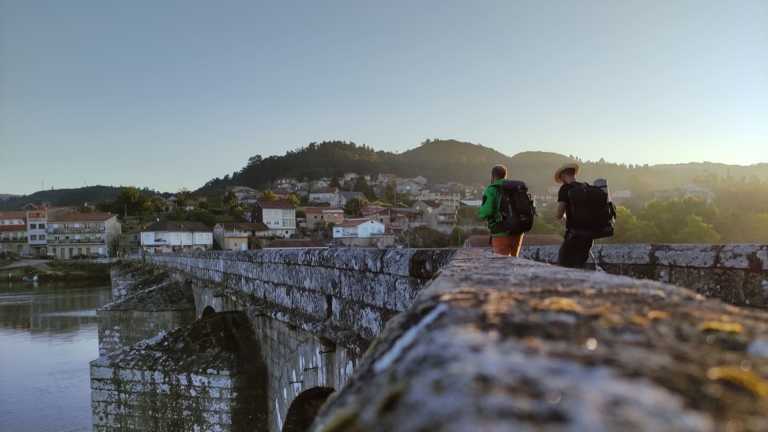 Embark on a Pilgrimage: Walking the Portuguese Camino Together
Guided trip
15 days
3 stops
2 - 4 Mates
Southern Europe
I have always wanted to walk one of the Caminos. For the past few years I have been thinking about this idea and I feel like I am finally ready for this experience. 😌💪 After careful consideration I have decided to walk not alone, but with couple other Trip Mates. First, I know that there are some solos who would like to walk Camino, but they are afraid to do it alone. Second, my past travel and JMT experience showed that meeting new people in such kind of trips can be a life changing experience. 💛 Thus, I invite you to walk with me. We are going to do The Portuguese Camino - Coastal Route. It is more flat, suitable for first timers, not that challenging, also perfect for nature lovers. It is 280 km in total and requires 12-14 days to finish the route. 🥾 If you would check my profile, you could see that my specialty is trips related with mindfulness. :) I am all into psychology, yoga, mindfulness and balanced lifestyle. I am a yoga teacher myself, so there will be definitely some short stretches before/after the walk. 😁 Also some breathing, meditation techniques on the way on our short breaks. 😌 However, please do not think that you have to be yogi to join my company.😊 I do party sometimes, I love electronic music and cold beer on a warm summer day. :)) I consider myself as an open-minded person who thinks that everyone is just doing their best to enjoy their life and find happiness, in whatever way or path they choose.😊 What is included in the price: - Planning of the route. I will plan the whole route from the first to the last point with possible places to stay in between. You won't need to take care of that. - Planning of the trip. I will take care of all the details for this trip: Camino Pilgrim Passport, places where to stay during the walk, etc. - Recommendations and assistance before the trip. I will provide you with a PDF document and all the relevant info on how to prepare for walking the Camino, what to take with you, etc. - Accommodation in Porto. Hotel on our first stop where we will meet each other for the first time and prepare for the walk. - Accommodation in Santiago de Compostela. Hotel for one night at our final destination. -Accommodation during the walk. I am a control freak.🙂 Usually I like to plan every single detail, so there will be 0 surprises. However, for this trip, I want to be more spontaneous and don't book accommodations in advance. One reason for that is that I want to be free to choose where we would feel like we want to stay for the evening. Another reason, is I don't want to force our group if at someday we would decide to walk less or more. I picked the dates for this Camino, so it won't be in the high season, meaning there will be plenty of available accommodation options and we won't need to book in advance. We will be staying in Albergues (hostels for pilgrims). And don't worry, I will look at possible options in advance, to be on the safe side. 😊 Accommodation costs are covered in the trip price. Basically, all you have to do is just buy plane tickets and come with your backpack. 🎒 What is not included in the price: -Flights. -Expenses on food, and drinks. 8-25 euros per day, depending on your needs and preferences. Do you have any questions? You can let me know in the Q&A section.
Your Booking includes free protection from Trip cancellations.
Learn More
Meet Your TripLeader
Phone Verified
Identity Verified
24 Countries
10 Trips Completed
Hello! My name is Migle. I'm Lithuanian, 27 years old, passionate traveler, writer, blogger, story-teller, yoga teacher.
based on 3 reviews
Show All Reviews
You can chat with Miglė once you reserve your spot.
Trip Itinerary
Porto
Day 1-3
Our starting point will be in Porto. I will book a hotel here from Saturday until Monday. We will meet each other here, share our first stories and prepare for the Camino walk. Our walk will start early on Monday.
Santiago de Compostela
Day 3-14
We are going to walk all the way from Porto to Santiago de Compostela in Spain. As I mentioned in the trip description, exact places for staying every night will depend on our mood, feeling and physical capabilities. I will prepare with plenty of possible options on the way to be on a safe side. Preliminary plan: Day 1: Porto - Labruge, 24 km/15 mi Day 2: Labruge - Aguçadoura, 21 km/13 mi Day 3: Aguçadoura - Castelo do Neiva, 26 km/16 mi Day 4: Castelo do Neiva - Carreço, 20 km/12,4 mi Day 5: Carreço, Portugal - A Guarda, Spain, 22 km/13,6 mi Day 6: A Guarda - Baiona, 29,5 km/18,3 m Day 7: Baiona - Vigo, 25 km/15,5 mi Day 8: Vigo - Redondela, 16 km/10 mi Day 9: Redondela - Pontevedra, 20 km/12,4 mi Day 10: Pontevedra - Caldas de Reis, 23 km/14,2 mi Day 11: Caldas de Reis - Padrón, 20 km/12.4 mi Day 12: Padrón - Santiago de Compostela, 25 km/15,5 mi
Santiago de Compostela
Day 14-15
We will finish our trip at Santiago de Compostela where we are going to spend our last night. I will book a hotel for one night. There is an airport there, so you can easily get to your next destination.
Trip Summary
15 days trip
Porto, Santiago de Compostela & 1 more
Why JoinMyTrip?
Trusted platform used by 150K+ TripMates
Have A Question?
Live Chat with our experts 24x7
Unique Trips hosted by Experienced Travellers
Secure Payments to ensure your money is always safe