Slide 1 of 1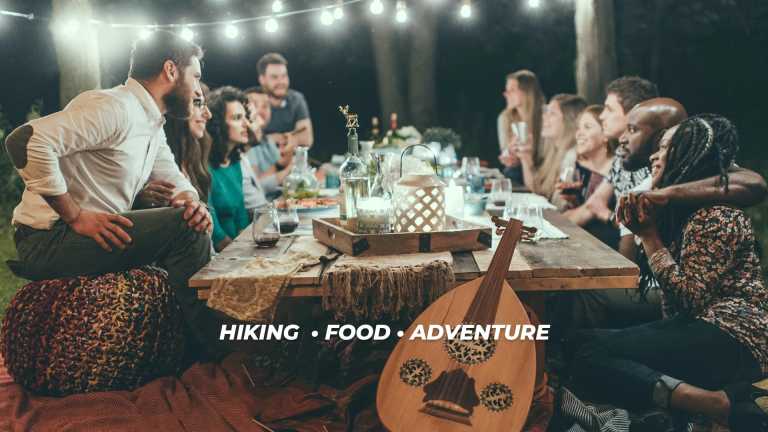 Kickstarting the Year in Style ✨: A Magical Journey Through the Charms of Andalusia🌞 Malaga, Cordoba en Sevilla.
Guided trip
9 days
6 stops
1 - 10 Mates
Spain
What's special?
🍲Taste local bites during a Tapas Tour
👨🏼‍🍳Learn how to cook local dishes
🥾Visit breathtaking Caminito del Rey
Hey awesome travelers! 🌟 It's time to dive into the heart of Spain with my specially crafted adventure. As your solo tour guide, I'm thrilled to take you on an unforgettable journey through Andalusia, where every moment is designed for fun and exploration 🚆✨ Our adventure kicks off in Malaga, a city that's not just about beaches (although those are pretty awesome too!). We'll weave through vibrant streets, exploring hidden spots that only the locals know. But that's just the beginning – we'll also venture into the surrounding areas, discovering gems that don't always make it to the travel guides. From there, we'll hop on a train to El Chorro, a nature lover's paradise. Picture thrilling hikes, breathtaking landscapes, and a connection with the great outdoors. It's a perfect blend of adventure and tranquility. 🏞️ Next up is Cordoba, where we'll trade our hiking boots for aprons. Get ready for a hands-on cooking class where we'll whip up two Spanish culinary stars – paella and salmorejo. Delicious food, good company, and a whole lot of fun – that's what Cordoba has in store for us! 😋 Seville, the city of flamenco and tapas, is calling our names. Prepare for a night filled with the rhythmic beats of flamenco, followed by a tapas tour where we'll savor the diverse flavors of Andalusian cuisine. Our hostel stay promises more than just a bed; it's a hub of local activities, making sure our time in Seville is nothing short of amazing. 🍷💃 Ronda, with its iconic Puente Nuevo, offers a glimpse into Spain's rich history. It's a postcard-perfect setting, and we'll soak it all in before heading to a charming coastal village near Malaga to wrap up our adventure. 🌅 This isn't your typical tour; it's a personalized journey where every experience is handpicked to ensure we will have an authentic experience. Pack your bags, bring your enthusiasm, and let's make some travel magic! 🌍
ABOUT ME: Hey there, I'm Kiam, your travel buddy and organizer. I'll be with you all the way, planning, exploring, and making this Spanish journey unforgettable! 🌍✈️ During the Trip I will organise daily activities and explore every destination together with all tripmates.
ACCOMMODATION: Our accommodation is a thoughtful mix of highly-rated hostels, offering comfort and a sociable atmosphere. For a touch of privacy, we've arranged one night in a private room during the journey. It's about finding the right balance between shared experiences and personal space. Private or female rooms are available at a possible surcharge.
What's included?
🍲Local Tapas Tour
🏞️Daily organized activities
🍪Snacks and Drinks during activities
👨🏼‍🍳Cooking Class Paella & Salmorejo
🚄All train and bus tickets
🛌Bed in a shared dorm
✈️Help with booking your itinerary
🎟️Entry fee Caminito del Rey
Your Booking includes free protection from Trip cancellations.
Learn More
Meet Your TripLeader
Phone Verified
Identity Verified
44 Countries
2 Trips Completed
Tour guide & product manager with a passion for discovering hidden gems around the world. Let me help you make the most of your travels!
You can chat with Kiam once you reserve your spot.
Trip Itinerary
Málaga
Day 1-3
Immerse in Malaga's history: Explore the ancient Alcazaba fortress and Gibralfaro Castle. Wander the charming old town streets, discovering hidden gems. Join me for a tapas adventure, savoring the flavors of Andalusia. 🏰🍤
El Chorro
Day 3-4
Nature lover's paradise: El Chorro offers a breathtaking natural escape. Walk the thrilling Caminito del Rey, surrounded by stunning canyon views. Feel the adrenaline and connect with nature in this adventurer's haven. 🌿🏞️
Córdoba
Day 4-5
Cultural exploration in Cordoba: Visit the mesmerizing Mezquita, a symbol of cultural fusion. Wander through narrow streets of the historic Jewish quarter, discovering the city's rich heritage. 🗺️🕌
Seville
Day 5-8
Royal splendor in Seville: Marvel at the royal Alcázar, a masterpiece of Moorish architecture. Stroll through the vibrant Triana neighborhood, feel the energy of Flamenco, and cruise the Guadalquivir River for a unique perspective on the city. 🚤💃🏰
Ronda
Day 8
Historic charm meets natural beauty: Stand atop the iconic Puente Nuevo, offering panoramic views of Ronda. Explore the ancient streets, filled with history and cultural allure. Experience the unique blend of Andalusian traditions. 🏞️🌉
Málaga
Day 8-9
Reflect in Malaga: As our Andalusian journey concludes, reflect in the vibrant atmosphere of Malaga. Share memories, enjoy local vibes, and bid farewell to an unforgettable adventure! 🌟🌇 During our last night we will have a dinner together.
Trip Summary
Accommodation
Apartments & Hostel
9 days trip
Málaga, El Chorro & 4 more
Transportation
Train, Car
What's excluded?
Gratuity local partners (not mandatory)
Personal Expenses
Why JoinMyTrip?
Trusted platform used by 150K+ TripMates
Have A Question?
Live Chat with our experts 24x7
Unique Trips hosted by Experienced Travellers
Secure Payments to ensure your money is always safe