Slide 1 of 1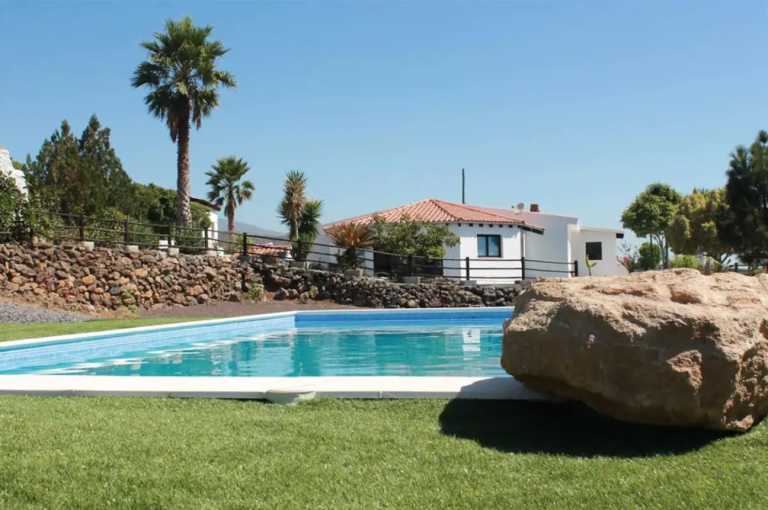 This trip is confirmed to go.
Nomadic Sunshine: Join the Tenerife Adventure! ☀️🌴
Coworking trip
15 days
10 stops
3 Mates
Spain
What's special?
Eclectic Organizers
Hand-Picked Activities
Location & Accommodation
Hey fellow nomad adventurers! 🌍 Gear up for a Tenerife takeover, led by a vivacious trio: an Italian cook maestro 🍝, a Chilean with an insatiable passion for hiking and unraveling life's deepest mysteries 🏞️🔍, and the most open-minded Irish chap you'll ever meet – he's the literal embodiment of the phrase 'up for anything'! 🍀We all teamed up and booked a villa. Sounds like a plot from a quirky indie film, right? Well, spoiler alert: That's our current reality, and we're hunting for 6 co-stars! Behind-the-Scenes after work activities: Our agenda promises both adventure and tranquility. Once everybody finishes working, we can dive into exploring the island by doing invigorating treks through the Teide National Park, we'll have BBQs evenings under the stars, and savor Tenerife's rich culture with dinners at local Guachinces and other local gems. And when you fancy some fitness, our scheduled cardio workout sessions are sure to energize, occasionally followed by Italian culinary magic with homemade pasta, lovingly prepared. We'll have time to Wander through Anaga rural park 🌳, taking in sea and sunset views, Hop on day trips to spot whales and dolphins 🐋, visit towns like Masca, la Orotava and do some nightlife in Las Americas. We're open to preferences and suggestions, because the more the merrier, right? Seeking Co-Stars: Here's the scene: we've booked a villa and have three lead roles filled. Now, scouting for six legends to complete our lineup. If you're vibrant, can oscillate between work-mode and afterworkactivity-mode, and resonate with spontaneous fun, welcome to the troupe! Diversity in characters, in nationalities and cultures is our strength – just bring that spirit of adventure and camaraderie! 🚗 On-the-Go: We've got wheels! We'll be renting two cars. Perfect for spontaneous outings, scenic drives, and maybe some off-the-beaten-path adventures. Buckle up! If two sun-soaked weeks of adventure, bonding, and unparalleled experiences sound like your jam, dive right in! Book your spot, let's chat, and gear up to create stories for the ages. 🌅🥂🌴 Once you book, let's plan and jump on a quick call. We want to ensure this experience resonates with your vibe, making it a mutual best choice.
About me i'm an Italian based in Madrid, deeply immersed in the tech scene. My passport's seen more than 30 country stamps, showcasing my love for globetrotting. Tenerife and I have a history - I've been there thrice and I love it. Beyond the desk, I'm passionate about workouts, surfing, salsa dancing, and hiking. Videography, especially drone shots, is my creative outlet, and when it comes to food, there's nothing like cooking up a storm with Italian recipes. Join us in Tenerife for a journey enriched with familiar expertise and fresh discoveries.
🏠 Our Luxe Set – The Villa: Step into our Spanish sanctuary, a harmonious blend of age-old charm and modern luxury. Start your days with panoramic vistas of valleys, mountains, and the mesmerizing sea from our sweeping terrace. And once work concludes, immerse yourself in the rejuvenating embrace of the pristine swimming pool. For the tech-savvy, rest easy knowing the state-of-the-art fiber internet ensures smooth work and connectivity in the interior and part of the exterior spots close to the pool. Accommodation Line-up 🛏️: Option 1) Shared room: 2 individual single beds Option 2) Shared room: 2 individual single beds Option 3) Comfy Shared room: houses 2 individual double beds Please note: The price indicated in this posting is specifically for Option 1 and 2. So, by booking, you're reserving a single bed in a shared room.
What's included?
Accomodation in the villa (Options 1, 2)
fast speed WiFi
Workout sessions
Positive International community
Trail guide
Travel Insurance Germans and Austrians
Your Booking includes free protection from Trip cancellations.
Learn More
Trip Itinerary
El Draguito
Day 1-15
🏠 Dive into the charm of a traditional Spanish villa, masterfully renovated with a perfect blend of antique allure and modern comforts. 🌊 Revel in the breathtaking views of the valley, distant mountains, and shimmering sea from your terrace. 🌞 Bask under the Canarian sun in our newly added swimming pool and find serenity amidst the large gardens. 🍖 Host a feast with our cow-worthy BBQ and enjoy drinks from your very own bar. 💻 Reliable internet ensures you stay connected, even in this slice of paradise. 📍 A quick 10-minute drive lands you in El Medano, a beach-town loved by locals and tourists alike.
Parque Nacional del Teide
Day 15
Teide National Park is one of Tenerife's crowning jewels and a testament to nature's splendor. Unique for its surreal volcanic landscapes and as Spain's highest peak, this UNESCO World Heritage site captures the imagination like no other place. During our trip, we're planning an unforgettable day at Teide. The journey will involve ascending with the aid of a cable car, reaching the peak to witness a breathtaking sunset, and then embracing the spirit of adventure as we hike back down to the parking lot under the canopy of stars. A fusion of awe-inspiring beauty and adrenaline-pumping activity, this is an experience not to be missed!
Acantilados de Los Gigantes
Day 15
Acantilados de Los Gigantes, or 'The Giants' Cliffs', stand as one of Tenerife's most dramatic natural wonders. Towering imposingly over the ocean, these vertical walls plunge into the sea's azure depths, leaving onlookers in sheer awe of their magnitude. Our expedition will immerse us in their grandeur with a full-day boat trip. As we drift close to these colossal cliffs, we'll have the thrilling chance to spot majestic whales in their natural habitat. But the highlight? A refreshing swim nestled amidst the shadows of these great rock sentinels, letting the world melt away and embracing the pure exhilaration of the moment.
Parque Rural de Anaga
Day 15
Parque Rural de Anaga, a lush biosphere reserve, offers a green escape in Tenerife. With its ancient laurel forests and crisscrossing trails, this park is a hiker's dream. We'll venture into its heart, discover hidden hamlets, and marvel at views that stretch to the sea. Anaga isn't just a park; it's an experience of nature's untouched beauty.
Piscinas Naturales de El Caletón
Day 15
Caletón's natural pools in Tenerife are nature's own jacuzzis, sculpted by volcanic activity. Filled with crystal-clear Atlantic waters, these basins provide a serene swimming experience unlike any other. Their mesmerizing interplay with the ocean tides is a sight to behold.
Masca
Day 15
Masca is a slice of hidden paradise in Tenerife. Tucked between steep mountains, this small village offers winding trails, panoramic views, and a sense of tranquility. On our trip, we'll venture to Masca, meander through its narrow pathways, and soak in its untouched beauty. It's a genuine escape from the usual tourist spots, and a day here feels like stepping back in time.
Icod de los Vinos
Day 15
Icod de los Vinos is where traditions meet nature. Known for its ancient dragon tree and rich vineyards, this town in Tenerife offers a mix of history and flavor. We'll stroll its quaint streets, perhaps savor a local wine, and stand in awe of the millennia-old Drago tree, a testament to the island's rich past.
La Orotava
Day 15
Orotava, Tenerife's enchanting gem, boasts historic charm and lush landscapes. Wandering its cobbled streets reveals colonial architecture and vibrant gardens. As part of our journey, we'll delve into Orotava's heritage, explore its scenic vistas, and immerse ourselves in the town's captivating allure. It's a taste of Tenerife's rich tapestry of culture and nature.
Playa de Las Teresitas
Day 15
Playa de Las Teresitas isn't your typical beach. Located just outside of Santa Cruz, its golden sands were transported from the Sahara, making it unique in Tenerife. We'll spend a day here, lounging under palm shades, swimming in calm waters protected by breakwaters, and soaking in the view of the Anaga mountains. A day of sun, sea, and relaxation awaits.
Santa Cruz de Tenerife
Day 15
Santa Cruz de Tenerife, the island's vibrant capital, seamlessly marries modernity with history. Lined with avant-garde architecture, palm-fringed plazas, and bustling markets, this city pulsates with Canarian spirit. As we wander its colorful streets, we'll encounter cultural gems and tantalizing local cuisines.
Trip Summary
15 days trip
El Draguito, Parque Nacional del Teide & 8 more
Have A Question?
Ask the TripLeader questions about the Trip by clicking on the button below. Your question and the response will be visible on this page once it's answered.
What's excluded?
International flights
Car Rental
Cable Car ticket (ascend) to Mount Teide
Why JoinMyTrip?
Trusted platform used by 150K+ TripMates
Have A Question?
Live Chat with our experts 24x7
Unique Trips hosted by Experienced Travellers
Secure Payments to ensure your money is always safe
Looking for more trips?
Here's some similar trips that you might be interested in.