Slide 1 of 1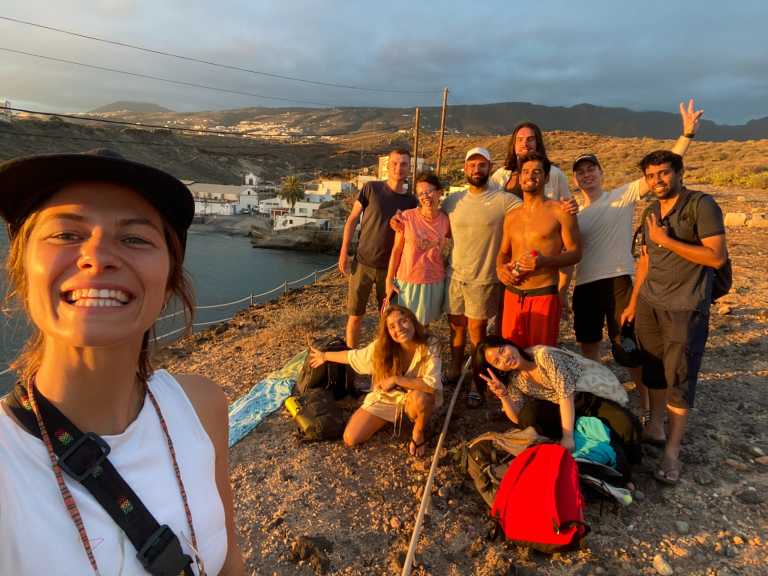 Workation, Island Style 🎭 Carnaval Edition 🎭 16 days Co-working from Digital Nomads paradise Tenerife 🌋
Coworking trip
16 days
7 stops
3 Mates
Spain
What's special?
Meet other remote workers
Combine your work with daily fun
Party at the 2.biggest carnaval
Do you want to experience something new and exciting? Breaking out of your daily routine and start to meet people in the same situation? Sounds like a plan 💃🏽. Due to its location of the Canary Islands, it is the perfect place to get away from the cold winter days in Europe ❄️. You will still have some sun ☀️, the temperatures will be perfect for hiking, and for a quick dip in the ocean. And best of all, you simply have more fun together and the working time goes by faster too. But not only the location makes it perfect - also the timing. It is February and the whole island is in party mood 🎭! I assume that mostly we will work during the week and be free to explore on weekends. Since Tenerife is the biggest island of the canary archipelago, and home to a multitude of microclimates, there is a lot to see! 👀 We will have a lot of options for the weekend -> we can go surfing 🏄‍♀️, hiking (Spain's highest mountain is in Tenerife) 🥾, stroll through the nearby cities 🌆, make a wine tour 🍷, chill at the beach and so on and so on. Weekdays we will be in the north of the island, which for me is the most beautiful part anyway. It's authentic, less touristy and greener than the south. 🌈 In the evening you can spontaneously decide whether you want to go out for dinner, cook comfortably at home or just have a picnic at the beach. We can also go to the close by beach-volleyball area where you can meet other digital nomads.
About me: I reside in the northern region of the island, which is known for its authenticity and lush greenery. My aim is to introduce you to this exquisite location while prioritizing sustainability. Unlike the heavily tourist-laden south of the island, where attractions often disregard nature and local communities, our approach will be markedly different. We intend to escape the crowds, immerse ourselves in the natural beauty of the area, and collaborate with small, local businesses as much as possible! Everyone takes care of their own arrival and departure - I will of course help whenever you have questions or doubts. Joint expenses, such as groceries, and such, will be shared on an App called Splitwise. 💸 I will only give you suggestions of activities - if you want to hike more and chill less or vice versa, it is totally fine! We will surely find a way to make everyone happy.
During the week we will be in the north, the greener and more authentic part of the island. Your accommodation will be a shared apartment with different bedrooms, a fully equipped kitchen, terraces and ocean view. You will reach the beach in an only 3-5 minutes distance by foot and the city center with another 15 minutes on top. About the bedrooms: You can choose between a shared room (2 people max) or a single room (+4€ per night). If you are aiming for a single bedroom, please contact me directly! If you have any questions, please ask in the Q&A. See you soon! 👋🏽
What's included?
Accommodation-shared or single bedrooms
Car & Fuel
Weekend Adventures and Tours
Teide Gondola Ticket
Hiking Guide
Beachvolleyball
Meet other digital Nomads on the island
Snacks throughout the week
Your Booking includes free protection from Trip cancellations.
Learn More
Trip Itinerary
Puerto de la Cruz
Day 1-16
Welcome too Tenerife :) You will most likely land in Tenerife South (TFS), since international flight only land there. If your flight is through mainland Spain, then you will land in the North (TFN). Both airports work, and you can simply choose your flights how it's best for you! I will give you assistance on how to reach the accommodation best :)
Santa Cruz de Tenerife
Day 16
🎭 Carnaval-Time 🎉 You'll find yourself on the island at the perfect time - it's Carnival month! Tenerife's residents take their celebrations very seriously, making it the second-largest Carnival in the world after Rio de Janeiro. So, pack your carnival outfit and let's explore! Each day brings different highlights, some of which are absolute must-sees, like the "burial of the sardine." Rest assured, we're in for a lot of fun!
Costa Adeje
Day 16
During our alomst 3 full weekends, we will definitely go down south as well. First of all because the south side of the island is famous for its warm and sunny weather, even throughout the winter. ☀️ Also, because of its nice hidden beaches, great sunsets and mountain views.🌄
Teide National Park
Day 16
Once, we should definitely walk through Teide Nationalpark. Since the highest mountain of Spain (3715m) is located there, this is a must-see when on the island. The volcanic landscape and the views of the craters never cease to amaze me. 🌋
Puerto de la Cruz
Day 16
Close to our house at the next door city will find some beautiful black sand beaches, natural volcanic pools, coastal walks and so on. ⛱. Perfect for a sunny day - even in February! Also, I know some great spots for picnics while watching the sun go down.
Anaga Rural Park
Day 16
Another highlight could be a hike through the Anaga mountain chain. Lots of hiking trails, beautiful views and wonderful plants 🪴 will await us. Since we will have a car during the whole time, we have a lot of options! Let's choose together and make the most of it! 🥳
San Cristóbal de La Laguna
Day 16
By the way - let's not forget about the historical cities like La Laguna, La Orotava and so on. Especially the north of the island is still full of traditional buildings, typical canary cuisine and culture! There would be still so much more to mention- but why don't you just see by yourself! 😋
Trip Summary
Accommodation
Other & Apartments
16 days trip
Puerto de la Cruz, Santa Cruz de Tenerife & 5 more
Hello Carina, I would like to come to Tenerife and choose a single room. Is there still one free? Wh...

Read More
What's excluded?
Flights
Food and Beverage
Transport to Accommodation
Why JoinMyTrip?
Trusted platform used by 150K+ TripMates
Have A Question?
Live Chat with our experts 24x7
Unique Trips hosted by Experienced Travellers
Secure Payments to ensure your money is always safe
Looking for more trips?
Here's some similar trips that you might be interested in.