Slide 1 of 1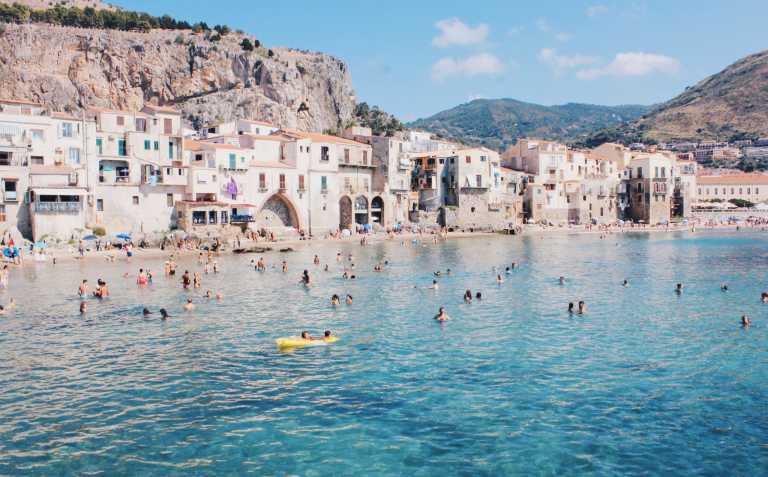 This trip is confirmed to go.
Sicily: Join me for a Week of Culinary Delights from Ice Cream to Sicilian Pizza! 🇮🇹
Guided trip
7 days
8 stops
3 - 4 Mates
Italy
What's special?
Wine Tasting
Chocolate Tour & Tasting
Market Tours
Hello, Ciao! This trip will take you around one of the most beautiful and historical places of the world: Sicily, to discover the hidden food gems it has to offer! Do you like good food, delicious wine, historical and culturally rich cities? How about rich chocolate, homemade gelato, and fresh pizza? Then this trip is for you! 🍫🇮🇹
Who am I? I'm Giulia and I'm part Sicilian. My grandfather grew up here and I spent many summers lounging on the beach with a cannolo in one hand and a slice of Sicilian pizza in the other. I would love to share the lovely, heart-warming, and delicious food my beautiful Island has to offer with others and so am offering this trip! Starting in Catania, our itinerary will take us around the south-east of the island to the famous culinary cities of Noto to try ice cream at the highly rated Caffé Sicilia, then to Modica known for its rich chocolate that is guaranteed to be a highlight of the trip, after to Ragusa to try some Ragusano, a traditional cheese from the region. Throughout the trip we will also be indulging in some traditional Sicilian dishes, such as arancini (fried rice-balls), scacce Ragusane (Sicilian flatbread) and Caponata (a dish of aubergine, pine nuts and tomato) as well as famous desserts such as cannoli, cassata, and granita con brioche. While food is at the center of this itinerary, we will of course also be exploring the towns that we are in, as Sicily boasts some amazing history having influence from many different cultures throughout its time. And no trip to Sicily is complete without a lovely trip to the beach! I am looking for 3-5 trip-mates who are adventurous, love food and are excited about trying new things! This would be a very laid-back trip, that is very flexible based on what we want to do on each day 😊 Even though this is a food trip, I have decided that food and drinks will not be covered, as we will either be eating a lot of street food, restaurants food and maybe cooking so either way the cost will be different per person, so my trip-mates can decide themselves what to get and how much to spend.
Details about the accommodation: The accommodation will be either Airbnb's or apartments from booking.com. Where possible, single rooms will be offered; however, these cannot be guaranteed for everyone. In accommodations with only some single rooms, these will go for an extra charge. Accommodations may change from itinerary depending on number of trip-mates and potential changes. Do you have a question? Let me know in the Q&A section!
What's included?
Accommodation (Shared rooms)
Transport
Pre-departure Help with Flights, Packing
Travel Insurance - German/Austrian Res.
Activities on Itinerary
This trip is sold out.
The group is full for this trip. But we have a few similar trips for you to check out.
Your Booking includes free protection from Trip cancellations.
Learn More
Meet Your TripLeader
Phone Verified
Identity Verified
31 Countries
German-Italian Travel Enthusiast interested in Outdoors and Food!
You can chat with Giulia once you reserve your spot.
Trip Itinerary
You will meet Giulia and the group in Catania
Find the best flight details to and from Catania ->
Catania
Day 1-2
We will start our trip in the ancient port city of Catania, located right next to Mt. Etna. With its large historical center and beautiful baroque architecture, it is the perfect place to begin this trip., We can either meet at airport or Airbnb, all depending on you and your arrival times. This is personal preference. I will send the address a few days before arrival. On Day 1 once everyone has arrived, we will do a tour of Catania, stopping at street food sites to try different delicacies of Sicily, such as cannoli, arancini and cassata. We will then have a traditional dinner at a local slow food Osteria. Day 2 we will go to two different markets in Catania, the fish market 'A Piscaria and the market 'A Fera o Luni. We will stop in between to have a traditional breakfast in the city, and in the afternoon we will head to the train station to catch our train to Syracuse.
Syracuse
Day 2-3
On Day 2 we will arrive in Syracuse, a 2700 year old city is famous for its Greek and Roman influences. We will go see the Teatro Greco - a greek theater, the Orecchio di Dionysus - a cave which was a prison in certain legends, as well as the Basilica Santuario Madonna delle Lacrime in the center of Syracuse as well as some other town features. For dinner, we will again visit a local Osteria, specialised in slow food and in the evening after dinner there will be some down time for everyone, to either explore the city at night, go home and get an early night in etc.
Noto
Day 3
On Day 3 we will be doing a day trip from Syracuse to Noto, which is a 30 minute train ride away. We will leave in the morning, and arrive in time for a late breakfast. We will head to Caffe Sicilia, founded in 1892, it is a cafe famous for its pastries and gelato. It has even been on a Netflix series. Here we will again indulge in a traditional breakfast and take some ice-cream for the road for those who want to. Once we depart the cafe we will take a small tour around Noto before taking an Uber to the close beach in Lido di Noto. Normally in summer there is a bus running between these two towns, however this unfortunately doesn't run in October. We will spend a relaxed afternoon at the beach before returning to Syracuse. We can either have dinner in Lido di Noto or in Syracuse, depending on how everyone is feeling.
Syracuse
Day 3-4
We return to Syracuse for one more night, before leaving to Modica on Day 4. We will grab some breakfast close to the train station and then take the train, which takes around an hour and a half to reach Modica. The train ride is quite picturesque, so a great opportunity to take photos as well!
Modica
Day 4-5
In Modica we will leave our things at the airbnb and head out for some more food if we feel like it, or we can have some down time, depending on how everyone feels. The first part of the day is more relaxed, people are welcome to take some longer alone time and do some activities around the area on their own or join me in discovering the town. The town offers some lovely sights, including some great baroque architecture, as well as a viewpoint from which you can see the whole city. We can decide together as a group what we would like to see on this day, and we can either get lunch together or cook together. Modica is best known for its chocolate, which is characterised by the ancient method of manually grinding, giving it a very special texture, different to all other chocolates. In the afternoon, we will be visiting the Modica Chocolate Factory to do some chocolate tasting. This is also the perfect opportunity to buy some gifts. In the evening we can return to the city for some dinner and drinks if the group likes, or we can cook at home or people can go off on their own adventures! I'm prepared for all scenarios!
Ragusa
Day 5
On Day 5 we will be visiting Ragusa, a city close to Modica by train, which takes 20 minutes. Ragusa, known as the city of two halves, is made up of two town parts - Superiore and Ibla. We will be taking a walk around both halves to view the differences and to see the beautiful architecture that makes this part of Sicily so unique, as well as stopping to try some different street food on the way. A must is the Scaccia Ragusana, a Sicilian flatbread from this region, as well as the famous Ragusano, a cheese also made in this region. In the afternoon we will go to a wine tasting nearby, a shuttle will come pick us up to take us to the vineyard. If wine is not your thing, let me know and we can arrange for something else! In the evening, we can either have dinner in Ragusa, or return to Modica to eat or cook there.
Modica
Day 5-7
On our last day in Modica, it is a bit of a free for all. We can choose to go to the beach again, or spend some more time in the city, go visit museums, or go back to one of the nearby towns - Ragusa or Noto. We can also decide to go explore another one of the close cities - Scicli or Vittoria. It is all up to the group, as it is the last real day before departure, I want to make sure everyone gets to do one last thing they really want to make the trip memorable! And of course we can go out to try some more delicious Sicilian food making sure that we tick everything off the list!
Catania
Day 7
We will be taking the train back from Modica to Catania on the last day so that everyone can depart from there. The train takes about 4 hours and we have to change once in Syracuse to get to the airport. Let me know before the trip all your flight details, so we can figure out departure time :)
Trip Summary
7 days trip
Catania, Syracuse & 6 more
Hi Giulia, I will be in Sicily from 12.10. to 19.10. Is there perhaps a group I could join during th...
Read More
Hello Anna! From another group I know nothing, but you can always join us. If you save the trip then I can write to you by PN :) LG, Giulia
Hey, do you know which airport I would have to arrive at in Sicily?
Hi, Catania would be ideal, however Sicily is small so you can also arrive in Palermo and then make your way to Catania by train :)
Hey Giulia, is this trip happening? Im interested, lets get in touch. For some reason I can't dm you...
Read More
Hi, yes it is! I will get in touch :)
What's excluded?
Flights
Food, Drinks & Snacks
Extra Activities
Personal Spending
Why JoinMyTrip?
Trusted platform used by 150K+ TripMates
Have A Question?
Live Chat with our experts 24x7
Unique Trips hosted by Experienced Travellers
Secure Payments to ensure your money is always safe