Slide 1 of 1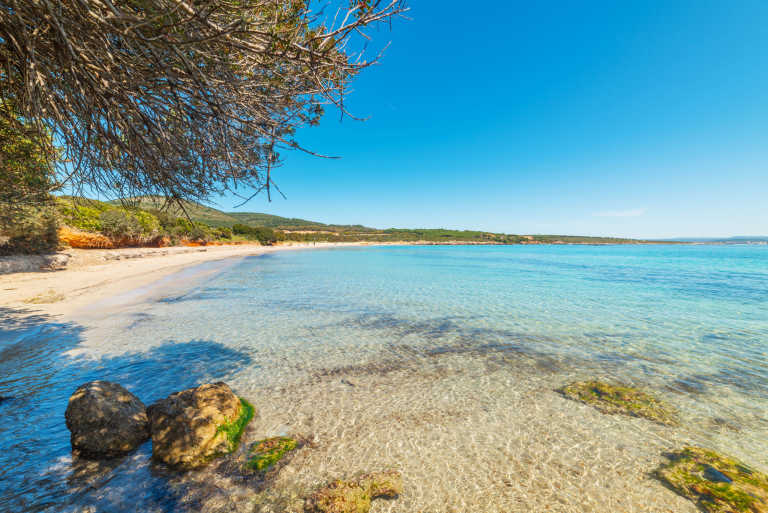 Discover Italian Seaside: A Blissful Journey to Alghero, Sardinia through Kayak, Raft, and more!
Guided trip
5 days
5 stops
2 Mates
Italy
What's special?
Sea Kayak
Bike Rental
Raft Tour
Are you ready for a great holiday? Pack your bags for an unforgettable adventure in Alghero, a vibrant town in the Northwestern side of Sardinia, one the greatest islands in Italy. From sunny beaches to kayaking, rich cultural heritage, and delicious cuisine, this trip has it all. Please join me for five action-packed days filled with fun, relaxation, and exploration. INCLUSIVE ✅ Accommodation in a nice apartment in Alghero ✅ Bike Rental for an entire day 🚲 ✅ Transportation from the Alghero Airport to Alghero (round trip) ✅ Bus tickets from Alghero to Stintino 🚌 (round trip) ✅ Bus tickets from Alghero to Tramariglio (to join the Kayak tour!) ✅ Sea Kayak Tour at Capo Caccia 🛶 ✅ Raft Tour in Golfo dell'Asinara (during our day trip in Stintino!) 🌊 ✅ Pleasant Walks in the city center of Alghero and a small guided tour ✅ City Night Market: an occasion to have a look and buy local products or souvenirs! ✅ Support with JoinMyTrip registration ✅ List of packing tips and help with flight search to reach Alghero ✅ Predetermined itinerary - all you have to do is join and have fun! ✅ Motivated and great TripMates and TripLeader guaranteed! ✅ Me as a personal local Italian guide™️ What is not included: - Flight ✈️ - Food (Breakfast, Lunch, Dinner) 🍝
About me: I'm Francesco, a 21-year-old student from Padua (Italy). I realized I like traveling a few years ago, and now that I discovered JoinMyTrip, I cannot wait to take you to one of my favorite cities from Sardinia. Check my profile for more information or send me a message!
We will be staying in a small apartment right in the center of Alghero. The house is 1 kilometer away from the beach and 100 meters from all services (supermarkets, restaurants, pharmacies, etc...). It will be easy to reach the bus station from there! Feel free to ask me for any details about the trip and the accomodation as well! See you in August :)
What's included?
Accomodation
Public Transportation
Bike Rental
Sea Kayak Tour
Raft Tour
City Tour
Your Booking includes free protection from Trip cancellations.
Learn More
Meet Your TripLeader
Phone Verified
Identity Verified
8 Countries
2 Trips Completed
Hola! Have a look at the upcoming destinations and let me know!
based on 3 reviews
Show All Reviews
You can chat with Francesco once you reserve your spot.
Trip Itinerary
Alghero
Day 1-2
On our first day, we will meet at the Alghero airport and head to the apartment by bus. Depending on what time everyone joins, we will have a quiet day to settle down, buy some groceries at the supermarket, and cook some delicious Italian pasta once everyone has arrived and I show you the Italian way of living. Next up, we will have a beautiful sunset evening walk on the promenade and have a drink all together at one of the great lounge bars on the coast. This will be the perfect occasion to get to know each other and relax next to Alghero beach!
Stintino
Day 2-3
Here the trip starts becoming adventurous! We will take a bus to Stintino, ready to spend the morning rafting along the coast. On board a comfortable 8-meter dinghy equipped with a ladder, awning and fresh water shower, which will allow you to explore the most suggestive coves in the area. In fact, you will visit the beaches and coves of Isola Piana and Mare di Fuori in the surroundings of Capo Falcone (Cala Grande, Scanna Capretti, Le Piscine Naturali di Fornelli, Capo Falcone, Roccia Forata, Caves, Isola dei Porri with itinerary to be established in relation to weather conditions), stopping to swim and admire the natural beauties. It will be a half-day full of fun and relaxation immersed in a dream landscape! We will also have a look at La Pelosa beach, one of the most beautiful beaches in Sardinia, known for its crystal-clear waters and breathtaking landscape. Then, we will visit the charming little town of Stintino, stroll through the narrow streets and alleys, see fishermen's houses, and buy souvenirs. Finally, we will come back to Alghero in the evening, to immerse ourselves in the local shops and relax again with some good Italian dishes.
Alghero
Day 3-4
On our third day, we will learn more about the historic heritage of the town. I will personally guide you through an itinerary to discover the ancient city in an informal and fun atmosphere. Then, after a taste of the traditional cuisine in a local restaurant, it's bike rental time! Indeed, we will reach cool beaches such as Le Bombarde or Spiaggia di Maria Pia (the ones you see in the video description)! In the evening, we will finally enjoy the local products at Alghero Night Market!
Capo Caccia
Day 4-5
Here comes the kayak! We will take a bus to Tramariglio, followed by a kayak excursion to Capo Caccia. You will marvel at the panoramic views, and immerse yourself in the natural beauty surrounding us. As usual, we will come back to Alghero in the evening.
Alghero
Day 5
After a long and exciting few days of getting to know each other and Alghero, it will be time for our final lunch together. A chance to eat, relax, and prepare for the departure. Our trip will end in the late afternoon at Alghero Airport.
Trip Summary
5 days trip
Alghero, Stintino & 3 more
What's excluded?
Flights
Meals
Why JoinMyTrip?
Trusted platform used by 150K+ TripMates
Have A Question?
Live Chat with our experts 24x7
Unique Trips hosted by Experienced Travellers
Secure Payments to ensure your money is always safe