Slide 1 of 1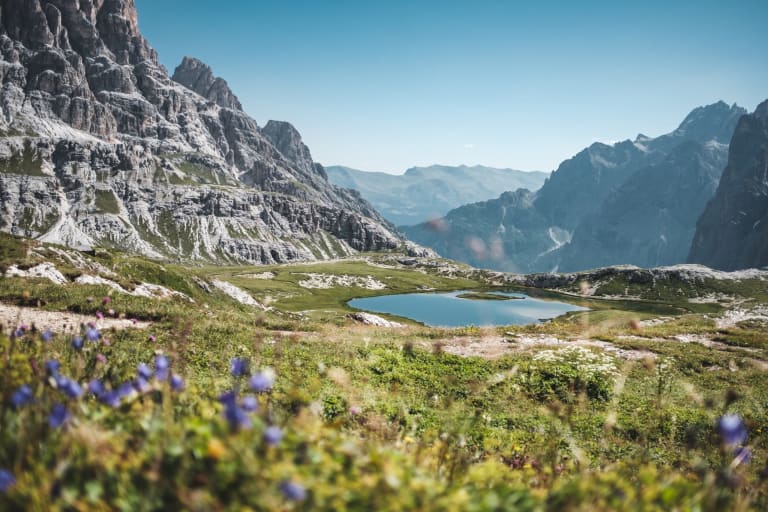 Cross Country Hiking: Italy-Austria-Slovenia🏞️ Rafting and Hidden Gems (Guided hike)
7 Days30 Days!
Extra Cancellation Days
only for the first TripMate
Guided trip
5 days
10 stops
3 - 6 Mates
Europe
What's special?
Cross country hiking
Rafting
Hiking
Are you ready to have an unforgettable hike? Join my hiking trip and let the adventure begin. On this trip, we will hike crossing borders in 3 different countries, so they take the meaning literally, cross-country hiking. Mainly we will discover the beautiful Friuli and Julian Alps in Slovenia, a region that is full of national parks and surrounded by mountains, waterfalls, rivers, and lakes. An ideal destination for those who want to immerse themselves in nature and be seduced by delicious flavors. Not only you will visit some mesmerizing mountains, lakes, and waterfalls, but we will also have a chance to taste the delicious local dishes 🍕🥩 I expect TripMates to be adventurous and have done long hiking before. Physical fitness is required to join this trip. Route & time might be changed/ adjusted according to circumstances. This trip includes all transportation during your stay and pick-up & drop-off from the nearest station: Villach (Austria) / Gemona (Italy) can be arranged.
About me: My name is Windy (31) I hike several mountains in this area, including all that listed in the itinerary! I already organized several hiking trips on JoinMyTrip and it was always fun! You can find it on my profile for more adventurous trips with me🪂
Details about the accommodation: The hotel will be in Gemona, with a delicious breakfast included. Each day after our activity, we return to the hotel. Shared room with other TripMates, max 2 people in the room, men and women will have a separate room. What is in the room: private bathroom, towels, TV, table, linen, etc. Nearest airport: Klagenfurt, Treviso, Trieste or Venice. For more information, feel free to get in touch with me ​📩​ Looking forward to meeting you! Windy ❤️​
What's included?
Shared Accommodation
All transportation, fuel, parking
Pick up and drop off*
Insurance (Germany & Austria only)
Guided hikes
All Entries to national parks
Delicious breakfast everyday 🥐🧁
Hiking snacks and mineral water
Your Booking includes free protection from Trip cancellations.
Learn More
Meet Your TripLeader
Phone Verified
Identity Verified
30 Countries
16 Trips Completed
Ready for the next adventure!
based on 17 reviews
Show All Reviews
You can chat with Windy once you reserve your spot.
Trip Itinerary
You will meet Windy and the group in Villach
Find the best flight details to Villach ->
Villach
Day 1
First day: Pickup tripmates Gemona, Italy 08:30 and Villach, Austria until 10:40 We do a small walk around the city before we head down, passing Austrian - Italian border. We will get to know each other while enjoying the Alps view.
Orrido dello Slizza
Day 1
After 30 minutes drive we will continue our adventure to a beautiful, striking natural area with a boardwalk through a rugged canyon for views over a clear-water stream. A perfect place to unwind and enjoy the magnificent scenery. Walk duration: 1 hour Level: Beginner
Fusine Laghi
Day 1
After Lunch, we will go to Laghi di Fusine (Fusine Lakes) are two lakes of glacial origin in the Italian region of Friuli-Venezia Giulia, very close to the borders of Austria and Slovenia. After we finish our little walk, we can also have a picnic by the lake. Walk duration: 1,5 hour Level: Beginner Then we will go to our hotel in Gemona, have dinner, and rest.
Freikofel
Day 1-2
2nd day: Today we will do our first demanding hike. We will start our hike from Italy, then cross the border with Austria and back to Italy. During our hike we will be able to see a wonderful 360° panorama towards the giants of the Alps, it is an important mountain because the war was fought there. Hiking duration: 6 hours Intermediate level, T4 Level.
Boka Waterfall
Day 2
3rd day: We will go to Bovec, Slovenia. In the morning we will hike in one of the most beautiful waterfalls in Slovenia, the 144-meter-high Boka Waterfall in the Triglav National Park. The view of the vertical rocky walls with the Boka Waterfall in the center is truly eye-catching. Hiking duration: 2 hours, Short hike but very steep! Level: Advance, T4
Soča
Day 2-3
After lunch, we will go Rafting in the Soca River. Many consider the Soča Valley to be the most beautiful part of Slovenia, and it is the most popular destination for active travelers and thrill-seekers. No prior knowledge or skills are required for any of these experiences, however, basic physical fitness and the ability to swim or float are required. Equipment includes neoprene shoes, a neoprene suit, a life jacket, a helmet, etc,... Price approx €60/person
Laghi Olbe
Day 3-4
4th day: Today we will hike on a mountain lake! Lake Olbe, A lake above the mountain along the hike you will encounter rare species of flora such as the alpine pasqueflower. Hiking duration: 5-6 hours Level: Intermediate
San Daniele del Friuli
Day 4-5
Last day: We will visit San Daniele city, a perfect destination for prosciutto, history, culture, and Italian scenery. If you are into exploring local food then this place is just for you, the ham/prosciutto is famous around the world.
Cornino
Day 5
Then we will also visit Lake of Cornino, a small body of water that formed during the retreat of the ice that took place about 10,000 years ago, this lake is characterized by a particular transparency of its water, of a beautiful color green-blue.
Monte lussari
Day 5
Before the trip finishes, we will take a cable car to Monte Lussari: A cute little village on top of the mountain at a peak overlooking the land where the Carnic and Julian Alps come together, from a position of privilege that positions it as the guardian of these borderlands. Please book a train that leaves after 15:00 Drop back to Gemona, Villach, Tarvisio train station is maximum at 17:30
You will meet Windy and the group in Monte lussari
Find the best flight details home from Monte lussari ->
Trip Summary
Accommodation
Hotel & Apartments
5 days trip
Villach, Orrido dello Slizza & 8 more
Have A Question?
Ask the TripLeader questions about the Trip by clicking on the button below. Your question and the response will be visible on this page once it's answered.
What's excluded?
Food, drinks & personal expenses
Rafting activity
Why JoinMyTrip?
Trusted platform used by 150K+ TripMates
Have A Question?
Live Chat with our experts 24x7
Unique Trips hosted by Experienced Travellers
Secure Payments to ensure your money is always safe
Looking for more trips?
Here's some similar trips that you might be interested in.