Slide 1 of 1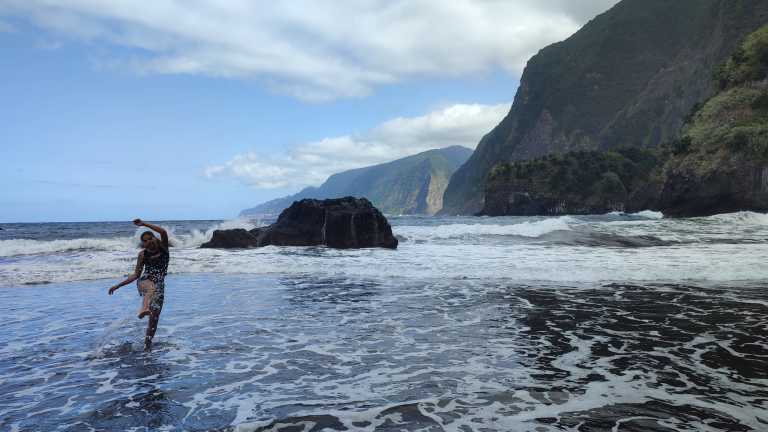 This trip is confirmed to go.
Remote Working Holiday in paradise of Madeira 💻☀️🌊
7 Days30 Days!
Extra Cancellation Days
only for the first TripMate
Coworking trip
15 days
9 stops
2 Mates
Portugal
What's special?
Travel with location expert
Private surfing lesson
Discounted dolphin & whale watching tour
Are you looking to work from an absolute paradise and make the most out of it? you found the right place! Madeira is the perfect escape for digital nomads for various reason! Stable and fast internet connection to run your working commitments smoothly, but also easily accessible nature spots to escape and clear your head after work! Various events where you can meet like-minded travellers and the advantage of a local expert on board with you! Sounds like fun? * In case you have a difficulty booking flight on a given date, don't hesitate to reach out. I am able to accommodate adjustments of your arrival or departure :) Sunrise over the ocean or on top of the highest mountain, beautiful hiking paths, getting lost in mystical forest, enjoying vibrant capital city vibes and local food, chill on the coast and settle our mind during sunsets and much, more. We will participate in local networking events with other like-minded folks, digital nomads and expats, including community lunch, Friday party and so on. Check the full itinerary below but know, we will be easily able to adapt to your working schedule and see even much more! :)
I'm a passionate traveller, currently on a mission to spread happiness in the world, the joy in mind & body via exploring different cultures and connecting to other like-minded beings. Since I stayed in Madeira for the first time in 2021 I am absolutely obsessed with the energy of this island. I would like to introduce it to you in my eyes. Are you looking to explore yourself, connect to nature, and explore not-so-touristy places on the island? Let's do it together!
We will share a beautiful flat together with amazing balconies providing us stunning views. The house has 3 separate bedrooms and 2 bathrooms, a living area, and a large kitchen. Of course, stable internet and comfortable working space. It is located in Machico, a lovely coastal town near to a picturesque valley. We will have a car available to explore the whole island during our stay, but this will be our home for the whole duration. Some fruits, coffee and tea will be provided in the house, for bigger meals I would suggest we do some cooking together or explore local cuisine outside at our own expense. The price includes: - Accommodation (shared house - private bedroom) - Stable high-speed internet connection - Trip planning, hikes - Coworking space Sounds good? Let's take advantage of this Hawaii of Europe to the maximum, we will enjoy all the variety of the flora in different parts of the island. Any questions? You can let me know in the Q&A section of the trip.
What's included?
Private bedroom
High speed internet connection
Co-working space by the ocean
Your Booking includes free protection from Trip cancellations.
Learn More
Meet Your TripLeader
Phone Verified
Identity Verified
19 Countries
19 Trips Completed
Open minded ocean-kid, yoga lover & passionate traveller, currently on a mission to spread happiness in the world via travelling.
based on 23 reviews
Show All Reviews
You can chat with Gabriela once you reserve your spot.
Trip Itinerary
Machico
Day 1-15
The day has come, you arrive to the paradise, and all you have to do is just get off the plane. I will be in Madeira earlier, so I will make sure to pick you up straight from the airport! We will take it easy, gather everyone and get to know each other on the first day. Our shared accommodation is located close to Machico, a lovely coastal town in a picturesque valley. The house have multiple balconies with stunning views, big enough common area and great internet connection. Machico offers everything you could imagine in a town, but also a great lovely community of digital nomads and expats and great free coworking space. Car costs are included in the price of the trip, and I really enjoy driving so additionally you will have your personal driver haha :)
Funchal
Day 15
Of course we will have to visit Funchal during our stay. Luckily it is not far away from our house. We will visit places like Santa Catarina park with awesome view of Funchal and the harbour with cruise ships, Funchal promenade, old town with cute painted doors and lots of local food restaurants, famous Poncha bar and much more. We will also join various social activities with Local Digital Nomad Group to network, make new friends and connections.
Pico do Arieiro
Day 15
Throughout our stay I want to keep plans open for discussion, there is simply a lot of option of what we can see & do. Options include, but are not limited to : A/ Easy day on a beach where we can do Yoga together, have a picnic, chat, or read our favorite book. B/ Active day, accomplishing 2 highest peaks - Pico Arreiro and Pico Ruivo, go for it and then reward yourself with some delicious Poncha! C/ Experience day, booking a surf lesson or Canyoning and push our limits D/ Road trip day, want to see as much as possible, do you have a list of places you want to tick off? Let's drive around the island in a day.
Rabaçal
Day 15
This beautiful famous Levada leading us into beautiful waterfalls is one to do after a long working day or before starting one. Mystical trees, old waterways, and picturesque cottages with cute birds who are keen to get a little snack from us. (Hike location is subject to change based on the weather forecast or mood of the group, we can change the choice of trail if we like, there are too many options in Madeira!)
Fanal
Day 15
Fanal is a place we should not miss visiting. It is a truly magical place, mysterious fog usually covers the evergreen trees, and it is just like in a fairy tale. We will do a short trail around or a big hike, whatever we decide as a group.
Achadas da Cruz
Day 15
This old west coast farming village is only accessible by one of the steepest cable car rides in Europe. We can have a nice light walk around the wild Atlantic and explore 2 waterfalls, optional hike back up during sunset time.
PR8 Verada da Ponta de São Lourenço
Day 15
Ponta de São Lourenço is the eastest point of Madeira with it's unique landscape and amazing ocean views. Even though this is one of the most popular hiking paths on the island (for a good reason!), we will beat the main tourist wave by starting early at sunrise. Watching the sunrise over the ocean with the peninsula in front of us will give us a good enough boost for the day! Depending on your schedule, this activity can easily be done before the work day starts. In case we have time here is a sweet reward waiting for us on the way back,, cute little black sand beach.
Ponta do Sol
Day 15
On our last night together, we will reflect on the amazing trip, whilst watching sunset in this picturesque village. This village also host a regular Friday night open air party for locals and digital nomads, where we should totally go and meet like minded beings on the island.
Santa Cruz
Day 15
Before you head out we will visit the best viewing point to see the spectacular aircraft landings in Madeira airport. At the end, I will drop you to the airport and we will say our farewells! :) In case you have a difficulty booking flight on a given date, don't hesitate to reach out. I am able to adjust the dates of your arrival or departure :)
Trip Summary
15 days trip
Machico, Funchal & 7 more
What's excluded?
car rental
Why JoinMyTrip?
Trusted platform used by 150K+ TripMates
Have A Question?
Live Chat with our experts 24x7
Unique Trips hosted by Experienced Travellers
Secure Payments to ensure your money is always safe