Slide 1 of 1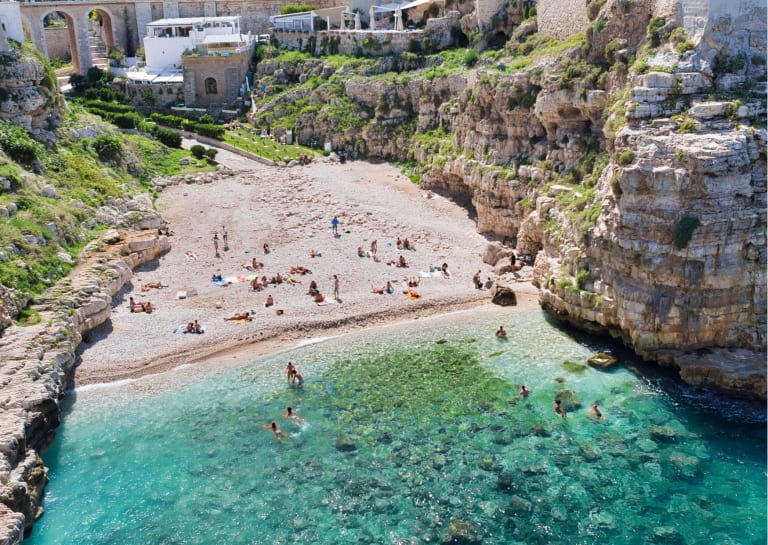 Travel to Puglia, Italy's Best-Kept Secret: Explore the Unseen Beauty of the South
Guided trip
5 days
4 stops
2 - 4 Mates
Italy
Hi everyone, my name is Inti, and I am from Italy. My next trip will be to the gorgeous south of Italy. The 'heel of Italy' is more densely populated by olive trees than by people; it has a relaxed atmosphere, sunny climate and rolling countryside. This trip offers the perfect balance of culture, food and the Adriatic coastline. We will visit Matera in Basilicata and discover the fascinating UNESCO-Listed ancient troglodyte sassi quarter. Alberobello where we'll explore the beehive-shaped trulli houses that are unique to Puglia and enjoy a wine tasting and on our last day go to the turquoise beaches near Bari. When you arrive to Bari, I will pick you up at the airport we'll check in to our apartment and then visit the old town area of Bari Vecchia which is located next to the harbour and is a tangled maze of old streets. One of the main highlights is the Basilica of San Nicola. In Puglia the food revolves around local produce, so the dishes on offer will vary depending on what's in season. A lot of the cuisine is vegetable or cheese based and, of course, they make good use of all the olive oil produced from the 60 million olive trees in the region. Over the next week you could sample a range of dishes such as fried polenta, tubs of ricotta, mozzarella balls stuffed with cream, orecchiette pasta (known as small ear pasta due to its shape), which is normally served with a sauce made from turnip tops, meat and rice stuffed peppers or a large array of seafood dishes. The wine is also delicious, with Primitivo red wine being a popular choice. We will visit Matera on a walking tour of the sassi quarter, which is split into two halves - Sassi Caveoso and Sassi Barisano, with the cathedral sitting between them. The city is so unchanged over the centuries that it has frequently been used as a film set for biblical scenes. It's hard to believe it now, but in the 1950s Matera was an embarrassment to the Italian authorities, as many families were living in one room caves, in poor conditions and poverty was rife. The families were helped and re-housed and the city cleaned up, and it's now a treasured historic city that was the European Capital of Culture in 2019. Our first stop in the UNESCO World Heritage Listed town of Alberobello is in the Cantina Albea Winery and Museum. After learning about the different wines of Puglia we'll then get to sample the award-winning wines that they produce. The small town of Alberobello is famous for its unusual trulli round houses with their whitewashed dry stone walls and pointed 'witches hat' tiled roofs, and we spend the next two nights in these unique buildings. After our wine tasting, we will take a pleasant walk through the trullis. They are either built singly or in groups of up to five, which would have originally been occupied by a single family. We will also go to the best beaches in Southern Europe with crystal clear water What is included: - Accommodation in an apartment in Bari and a typical trullo hut in Alberobello (Shared rooms) - Bus and trains - Insurance for German and Austrian residents - Museum entry Not included: - Food and drinks Do you have a question? Ask in the Q&A below! Looking forward to meeting in Ibiza and have a great trip!
Your Booking includes free protection from Trip cancellations.
Learn More
Meet Your TripLeader
Phone Verified
Identity Verified
19 Countries
9 Trips Completed
World traveller and artist
based on 18 reviews
I am utterly disappointed by the irresponsibility and unreliability of the trip leader who was supposed to guide our tour in Ibiza. This individual has absolutely no business being a trip leader. Not only did she abandon our group, leaving us to fend for ourselves, but she also demonstrated a complete lack of professionalism. It is shocking and unacceptable that someone who is paid to guide and ensure the safety of a group would act in such a careless manner. I strongly advise anyone considering booking a trip with this individual to think twice. Save yourself the frustration and stress by avoiding this trip leader at all costs. Your experience in Ibiza deserves better than what she can offer.
Show All Reviews
You can chat with Inti once you reserve your spot.
Trip Itinerary
You will meet Inti and the group in Bari
Find the best flight details to Bari ->
Bari
Day 1-2
After picking you up at Bari airport and checking into the apartment in Ostuni, we will walk around the gorgeous old town and taste the thriving local food scene. In the evening we'll go to a typical pugliese restaurant where you can have seafood, pasta or pizza.
Matera
Day 2-3
On the second day, we will take a direct bus to Matera. After spending the morning exploring the cobbled lanes, rock carved churches and caves, we can either have lunch in Matera or head back to Bari and go to a beach.
Alberobello
Day 3-4
On the 3rd day, we will go to Alberobello . Alberobello town is divided into two districts - Rione Aia Piccola and Rione Monti. On our walk we'll see Trullo Sovrano, built by a wealth priest in the 18th century it is the only two-floor trulli house, and it's now a museum, and the Trullo Church with its domed towers and curved windows it looks like a stretched trulli and was built far later in 1927.c.
Polignano a Mare
Day 4-5
On our last day we will go to a beautiful beach, have long swims, go for a hike and relax at a restaurant with a glass of wine. I really hope we've had a fun time and go back home with wonderful memories.
You will meet Inti and the group in Polignano a Mare
Find the best flight details home from Polignano a Mare ->
Trip Summary
Accommodation
Hotel & Apartments
5 days trip
Bari, Matera & 2 more
Transportation
Train, Car
Hey Inti! The trip sounds so good, I'm crossing my fingers for my boss to accept those dates before...
Read More
Hello the closest airport is Bari but you could also go to Brindisi airport. Or Rome but then it's a 3 hour train ride... I also have a trip on the 21st of September and 2 girls have confirmed. It dep...
Read More
Hello, In terms of stay, is it possible to get a private room?
Hello Vineet, yes it is possible to get a private room :) I also have a trip on the 21st of September and 2 girls have confirmed. It depends what you are looking for as a week earlier it will be still...
Read More
Why JoinMyTrip?
Trusted platform used by 150K+ TripMates
Have A Question?
Live Chat with our experts 24x7
Unique Trips hosted by Experienced Travellers
Secure Payments to ensure your money is always safe
Looking for more trips?
Here's some similar trips that you might be interested in.