Slide 1 of 1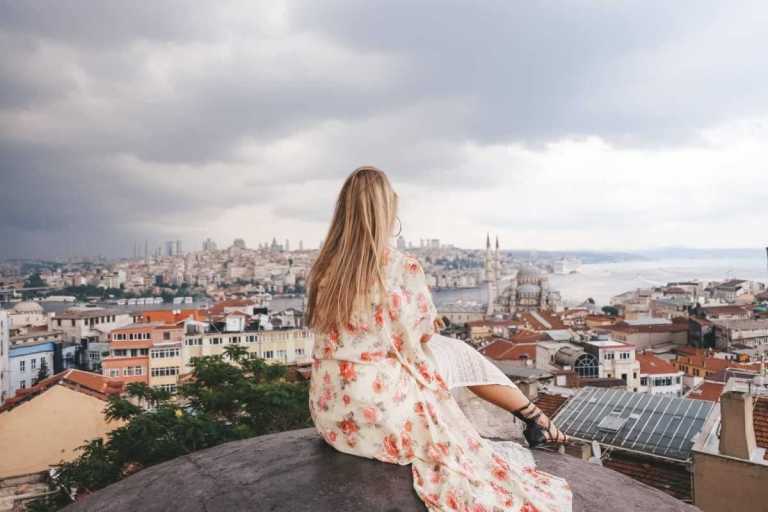 This trip is confirmed to go.
(Girls Trip)🇹🇷 Istanbul Adventure: Turkish Hamam, Bosphorus Tour, Amazing Food and MORE
Guided trip
7 days
7 stops
1 - 3 Mates
Turkey
What's special?
Turkish Hamam
Bosphorus Tour
Culture, History, Food
Embark on an enchanting journey through Istanbul, where East meets West in a mesmerizing blend of history, culture, and vibrant energy. Explore the majestic mosques, wander through bustling bazaars, and savor the tantalizing flavors of Turkish cuisine. From the iconic Hagia Sophia and Blue Mosque to the lively streets of Istiklal Avenue, Istanbul will captivate your senses and leave you with unforgettable memories. Get ready to immerse yourself in the magical allure of this timeless city. 🕌✨🌆 See you in Istanbul! 🇹🇷🤍
About me: My name is Nursu, 24 years old. I was born and raised in Turkey. Last year I graduated from the department of Russian Language and Literature. I love learning languages and getting to know new cultures. I speak Turkish, English, Bosnian, Russian, and a little bit of Arabic:)
Details about the accommodation: We will stay at a hotel, rooms are shared rooms with 2 separate beds. But if you'd like to stay at a single room feel free to ask me. :) Breakfast is included in the hotel price. There are restrooms and bathrooms in the rooms. With its modern yet cozy ambiance, this boutique hotel offers a perfect blend of comfort and style. It's just steps away from popular attractions such as the Hagia Sophia and the Grand Bazaar. 🏨✨🌆 We will stay in the same accommodation along our trip. Feel free to ask any questions in the Q&A section below! I'm more than happy to schedule a call with you after booking to ensure we're a good fit and that this trip meets your expectations. I'm eagerly looking forward to hearing from you! 🙌🏻
What's included?
Accomodation (shared room)
Breakfast
Transportation
Turkish Hamam
Istanbul Pass
Basilica Cistern Entrance Fee
Bosphorus Tour
Insurance for German&Austrian citizens
Your Booking includes free protection from Trip cancellations.
Learn More
Trip Itinerary
Sultanahmet
Day 1-2
We'll start our trip at Sultanahmet Square and marvel at the magnificent Blue Mosque. 🕌 And then we'll visit the iconic Hagia Sophia, a stunning blend of Byzantine and Ottoman architecture. After that we will enjoy a delicious lunch at a restaurant, known for its mouthwatering kebabs. 🍢 And we will experience the traditional Ottoman culture at a sherbet store, where we can enjoy Turkish sweets and beverages. 🍨☕ Lastly, we will relax and rejuvenate at the Turkish Hamam, a Turkish bath experience. 🛁
Eminönü
Day 2-3
We will start our day at the magnificent Topkapı Palace, home to Ottoman sultans for centuries. 🏰 An then explore the beautiful Tiled Pavilion within the palace complex, known for its exquisite ceramic tiles. 🎨 In the afternoon we can either; -Visit the Istanbul Museum of Islamic Art to admire a stunning collection of Islamic artifacts. 🕌 -Discover ancient treasures at the Istanbul Archaeology Museums, including the famous Alexander Sarcophagus. ⚱️ Or -Enjoy the serene ambiance of Hagia Irene, a historic Byzantine church turned concert venue. 🎶 You'll decide :)) And then we will explore the fascinating underground world of the Basilica Cistern. In the evening we will head to Eminönü and experience the bustling atmosphere of the Grand Bazaar and Spice Bazaar (Mısır Çarşısı). 🌶️🛍️ We will also indulge in a delicious lunch and dinner at restaurants, known for Turkish cuisine. 🍽️☕️
Taksim Square
Day 3-4
In the morning we will go to Taksim Square and see the Republic Monument. And then we will visit Hagia Triada Greek Orthodox Church and explore its beautiful interior. ⛪️ In the afternoon we will have a delicious lunch at Çiçek Pasajı. It's a historic venue with various restaurants and cafes. 🍽️And then we will visit St. Anthony of Padua Church and discover the beauty of this historic Catholic church. ⛪️ In the evening we will go up the Galata Tower and enjoy the breathtaking view of Istanbul. After that we will take a sweet break at a bakery and savor traditional Turkish desserts. 🍰 After that, we can experience the flavors of Mediterranean cuisine... Lastly, we will head to Nevizade Street and Kızılkayalar for a lively evening with live music and immerse ourselves in Istanbul's vibrant nightlife. 🎶🌃
Bosphorus
Day 4-5
On this day we will take a Bosphorus Cruise to enjoy the stunning views of Istanbul's skyline and the Bosphorus Strait. ⛴️ After the cruise, we will head to Süleymaniye Mosque, one of the most magnificent mosques in Istanbul. Explore its beautiful architecture and serene atmosphere. 🕌 and then we will take a leisurely walk around the mosque's surrounding area and enjoy the vibrant streets of Istanbul.
Kadıköy
Day 5-6
We will take a stroll to the Bull Statue in Kadıköy and snap a photo with this famous landmark. And then we will explore the bustling Kadıköy Market and indulge in its vibrant atmosphere and diverse food options. 🛍️ and then we will relax and enjoy the greenery at Moda Park, a peaceful oasis in the heart of Kadıköy. 🌳 We can head to Süreyya Opera House and see if there are any performances or events happening. 🎭 We might cross over to Üsküdar and take in the beautiful views of Istanbul from this charming neighborhood. 🏞️ We might also take a stroll along Bağdat Avenue, known for its trendy shops, cafes, and vibrant nightlife. 🛍️🍹 Again, you'll decide :) Then we will satisfy our taste buds with delicious Turkish cuisine at a restaurant, after that we will explore the lively Kadife Street and discover its unique shops, boutiques, and local artisans. 🛍️ Nightlife: If you're up for some live music, we can head to a place for a night of great tunes and energetic vibes or we can check out popular venues for live performances and DJ sets. 🎵🎶
Balat
Day 6-7
In the morning we will start our day by exploring the charming neighborhood of Balat, known for its colorful streets and historic buildings. 🏘️ And then we will visit the iconic Iron Church (Bulgarian St. Stephen Church) and marvel at its beautiful architecture. ⛪ In the afternoon we will take a stroll through the streets of Balat and admire the historical Balat Houses, known for their unique Ottoman architecture. 🏡 Then we will head to Chora Mosque and explore the magnificent mosaics inside this historical structure. In the evening we will head to the Fener Neighborhood and immerse ourselves in its rich history and cultural heritage. 🏛️ We will end our evening at Agora, a traditional Turkish tavern, where you can enjoy delicious mezes and live music. 🍽️🎶
İstanbul
Day 7
It's the last day of our trip. On our last day we'll have breakfast together and check out of the hotel. Afterwards I can help you about how you can go back to the airport etc. And we'll end this trip with nice memories. 🤍
Trip Summary
7 days trip
Sultanahmet, Eminönü & 5 more
Transportation
Train, Boat
Hii :) While no one has booked the trip yet, there are a few people who are interested in joining. It's going to be an amazing experience, and I'd love for you to be a part of it too! :) Edit: Yes, th...

Read More
What's excluded?
Personal expenses
Food
Plane tickets
Why JoinMyTrip?
Trusted platform used by 150K+ TripMates
Have A Question?
Live Chat with our experts 24x7
Unique Trips hosted by Experienced Travellers
Secure Payments to ensure your money is always safe
Looking for more trips?
Here's some similar trips that you might be interested in.