Slide 1 of 1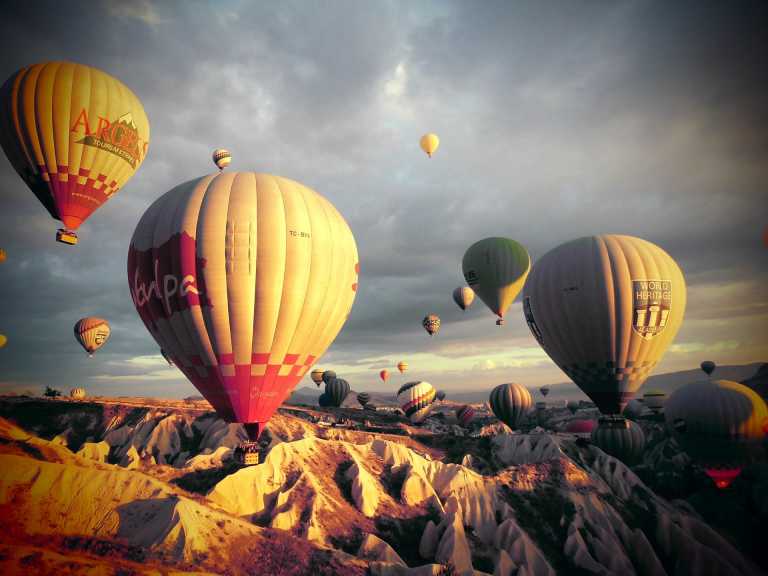 Experience amazing landscapes and unique atmosphere of Cappadocia, Turkey with a local🎈🇹🇷
Guided trip
5 days
5 stops
2 - 3 Mates
Turkey
As you may know, Cappadocia is one of the most touristic places in Turkey, one of the UNESCO world heritage places where you will experience wonderful landscapes and get enough of wonderful Instagram photos accompanied by amazing views. You can send me a message to join this trip to experience these wonderful landscapes and unique atmosphere with a local friend like me on this trip. Let me tell you about myself, so you can get to know me a little better. I was born and raised in Turkey, but I also lived and studied in Canada, South Korea and Australia for years. That's why I'm so used to meeting and communicating with people from diverse cultures, and I absolutely love it. I think it's a great experience. That's why I'm on this platform. 😃 I recently finished my Master's degree in Australia, and now I am focused on the things I love and new adventures. So I'm looking forward to meeting my TripMates. 👍 On our trip, I tried to plan a combination of popular places to see in Cappadocia, popular experiences, and of course local tastes. You can find more detailed information below, where I describe the daily schedules. We will be staying in a hotel. The hotel we will stay in is in Uçhisar and one of the highest areas of Cappadocia. So we will have great views that we can watch even from the hotel. We will share one stone traditional style bedroom which is big enough for four people. It also includes a very big and luxury bathroom as well. We will have free Wi-Fi in the room and free breakfast as well. Our hotel is located in one of the must-see and the highest areas of Cappadocia, so we will have the whole view of Cappadocia from our hotel. 😍 It is also close to other must-see areas by transportation as well. The trip price includes: - accommodation (in a hotel, shared room) - breakfast for five days - transportation between the airport and the hotel - ATV sunset tour - the daily car rental - small amount of TripLeader fee for my efforts in planning this trip For extras like dinner etc., we can split the costs during the trip. Don't forget to message me if you want to join, and I can't wait for this amazing trip. I think it will be great!! 😊
Your Booking includes free protection from Trip cancellations.
Learn More
Meet Your TripLeader
Phone Verified
Identity Verified
6 Countries
You can chat with Pınar once you reserve your spot.
Trip Itinerary
Uçhisar
Day 1-2
Since the first day is the arrival day, it will be a calmer day according to everyone's arrival times. After everyone arrives, we will go to the hotel from the airport and settle into the hotel. Our hotel is in one of the highest areas of Cappadocia, so it has a very beautiful view. After arriving, we can explore the hotel and relax a bit. We can also get to know each other better and go to nearby places or have dinner at a place full of local tastes.
Uchisar Castle
Day 2
We will wake up very early in the second day and watch the balloons take off at the highest terrace of the hotel, and it will be a great experience to see these wonderful views and take beautiful Instagram photos with these views. 😊 So I'm sure it'll be worth getting up early. Also, if anyone wants to ride the balloons, of course we can go for it and there will be an extra fee of around 200 Euros. Then, if anyone wants to sleep again, we can rest a little more and after breakfast we will go to see the Castle of Uçhisar, which is one of the highest points of Cappadocia and within walking distance of our hotel. It is possible to see the whole view of Cappadocia from this castle, so we will encounter wonderful views. Our next activity will be a sunset tour in the valleys with ATV, which is one of the activities of the hotel, and then will go for dinner.
Avanos
Day 2-4
The third day is the day we will travel the most and go to places that are further, but must be seen. Therefore, we will have our rental car. By car, we will visit touristic places that must be seen in Cappadocia, such as Avanos. We will go to the underground pottery making museums that must be experienced in Cappadocia. In addition, this day will be a good opportunity for shopping and souvenirs. And of course, we will descend to an underground city, which is one of the most famous underground cities of Cappadocia and an experience that must be had. Later, we will meet again with local tastes for dinner.
Göreme
Day 4-5
The fourth day will be a day in which we will walk a lot in order for a lower budget. We will go to Göreme, which is the closest to the region where our hotel is located and which is one of the must-see areas in Cappadocia, by walking and exploring on the way. There, we will visit the Göreme Open Air Museum and after having dinner, if we have time, we can walk to Ortahisar and go up to Seyir Hill to enjoy the view with a foamy Turkish Coffee.
Uçhisar
Day 5
On the last day, due to the uncertainty of everyone's departure times, I do not set a specific program for after breakfast. However, we can proceed according to the flow according to everyone's wishes or explore nearby areas. Then we will go to the airport together.
Trip Summary
Accommodation
Hotel & Bed & Breakfast
5 days trip
Uçhisar, Uchisar Castle & 3 more
Transportation
Trekking, Car
Why JoinMyTrip?
Trusted platform used by 150K+ TripMates
Have A Question?
Live Chat with our experts 24x7
Unique Trips hosted by Experienced Travellers
Secure Payments to ensure your money is always safe