Slide 1 of 1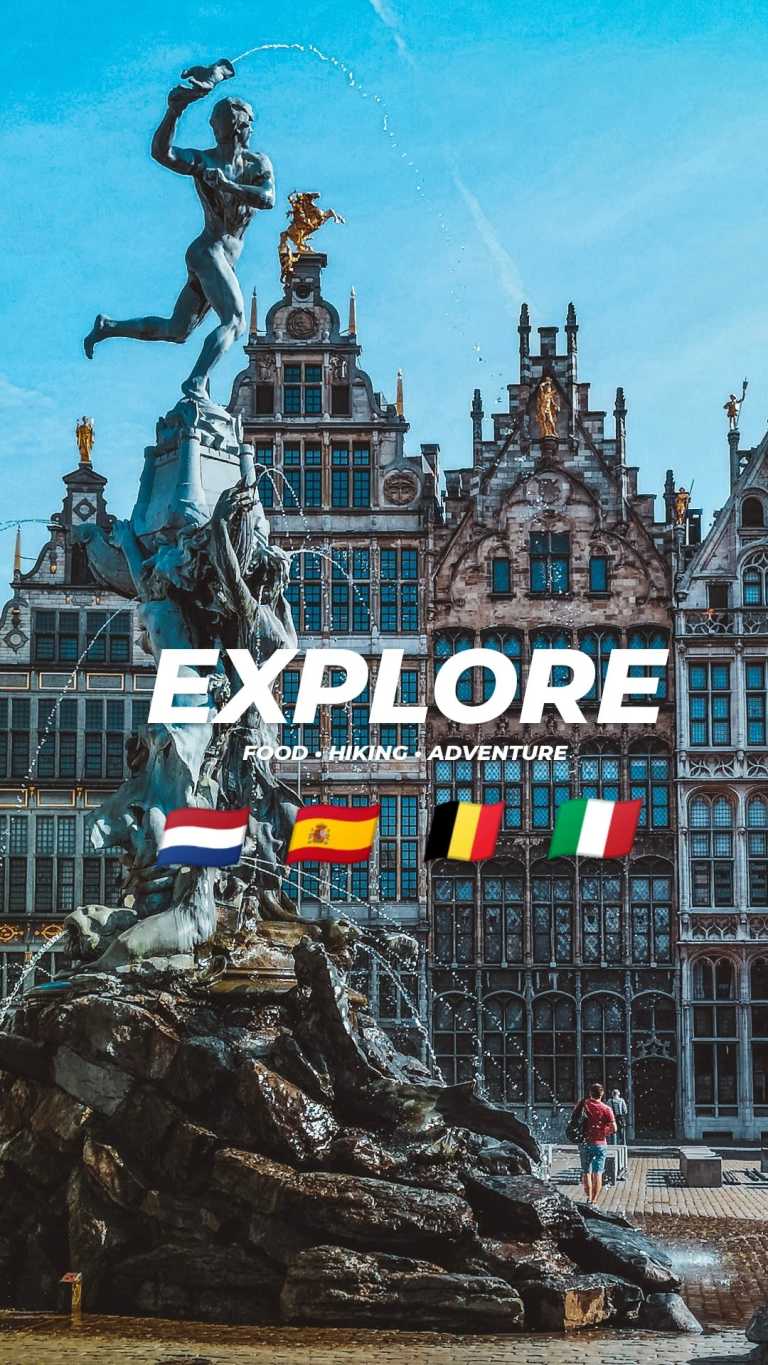 This trip is confirmed to go.
Mystical Europe: An Epic 13-Day Adventure 🌍🏔️• 🇮🇹🇧🇪🇪🇸🇳🇱
Guided trip
13 days
9 stops
1 - 3 Mates
Europe
What's special?
Visit Amsterdam + Light Festival ✨
Explore multiple countries ✈️
Food tours and Cocktail classes 🍹
Embark on an unforgettable 13-day European adventure that blends culture, nature, and luxury. Explore captivating cities, enjoy unique experiences, and indulge in the beauty of Europe. This is not a budget trip. It's designed for those seeking a premium experience. Along the way, savor exquisite meals, relax with cocktails, and enjoy guided city tours and hikes. As your host, I've curated this trip from my own experiences living and traveling in these destinations. I'm doing it purely for the love of travel, without any profit motive. Highlights: Amsterdam (2 nights): Amsterdam Light Festival, art, and canals. Antwerp (2 nights, day trip to Bruges): Culture and medieval charm. Barcelona (4 nights, day trip to Montserrat): Vibrant city life and serene mountains. Cinque Terre (2 nights): Stunning coastal villages and hiking. Lucca (1 night): Walled city with history. Pisa (1 night): Iconic Leaning Tower. Culinary Evenings & Food Tours: In every country we visit, I've curated special culinary evenings that are a treat for your taste buds. We'll embark on immersive food tours, a delightful exploration of local cuisines. From Dutch delights in the Netherlands to Belgian chocolates in Belgium, tapas feasts in Spain, and Italian flavors in Italy, it's all part of the package – no extra cost. These gastronomic adventures are a culinary journey through each region's heritage, and I can't wait for you to savor these unforgettable moments with us. Get ready to eat your way through Europe! 🍽️🌍🍷
ABOUT ME: Hey there, I'm Kiam, your travel buddy and organizer. I'll be with you all the way, planning, exploring, and making this Euro journey unforgettable! 🌍✈️🥂 During the Trip I will organise daily activities and explore every destination together with all tripmates.
ACCOMMODATION: We'll stay in shared accommodations with your own bed and privacy. I handpick quality options, not the cheapest hostels, for the perfect balance of comfort and value. Rest assured, your comfort is a priority! 🏨🛌 Private or female rooms are available at a surcharge, please inform me when making the reservation to discuss options.
What's included?
Daily activities (Hikes, tours etc.) 🥾
All Transportation ✈️ (From Amsterdam)
Culinary Evenings 👨🏼‍🍳
Cocktail Master Class 🍸+Tapas🍲
Drinks and Snacks during activities 🍪
Help with booking your Itinerary 🚄
Your Booking includes free protection from Trip cancellations.
Learn More
Meet Your TripLeader
Phone Verified
Identity Verified
44 Countries
2 Trips Completed
Tour guide & product manager with a passion for discovering hidden gems around the world. Let me help you make the most of your travels!
You can chat with Kiam once you reserve your spot.
Trip Itinerary
Amsterdam
Day 1-3
Amsterdam (2 nights): Discover the enchanting city of Amsterdam, known for its iconic canals, historic architecture, and vibrant culture. Immerse yourself in the captivating Amsterdam Light Festival, where the city's waterways and streets come alive with mesmerizing light installations. Explore world-class museums, like the Rijksmuseum and Van Gogh Museum, and savor Dutch cuisine in cozy cafes.
Antwerp
Day 3-5
Antwerp (2 nights, day trip to Bruges): Antwerp, a city of diamonds and art, offers a blend of history and contemporary charm. Explore the impressive Cathedral of Our Lady and the Royal Museum of Fine Arts. Take a day trip to Bruges, a postcard-perfect town with winding canals and medieval architecture.
Bruges
Day 5
Bruges (Day Trip from Antwerp): Bruges, often called the "Venice of the North," is a postcard-perfect Belgian city with picturesque canals, cobblestone streets, and medieval architecture. During your day trip from Antwerp, explore the enchanting town, take a scenic boat ride on the canals, visit the Belfry, and indulge in famous Belgian chocolates and waffles. Bruges' timeless charm and rich history make it a must-visit destination.
Barcelona
Day 5-9
Barcelona (4 nights, day trip to Montserrat): Barcelona is a vibrant, artistic metropolis. Stroll along Las Ramblas, admire the unique architecture of Antoni Gaudí, and explore the Gothic Quarter. Don't miss hiking in the surrounding natural beauty or a day trip to Montserrat, a mystical mountain with a revered monastery.
Montserrat
Day 9
Montserrat (Day Trip): Montserrat is a captivating mountain range near Barcelona, known for its distinctive serrated peaks and the Montserrat Monastery, perched high above. Embark on a day trip to explore its natural beauty and spirituality. Hike the trails that offer breathtaking vistas, visit the monastery to see the Black Madonna, and experience the serene atmosphere. Montserrat is a unique blend of adventure, culture, and spirituality that will leave you in awe.
Metropolitan City of Genoa
Day 9
Genoa (Transit): Genoa serves as your gateway to the picturesque Cinque Terre. While you won't spend the night here, take a moment to appreciate the city's maritime history and the Old Town's winding streets. Sample some local focaccia and then continue your journey to the stunning Cinque Terre, just a short distance away.
Cinque Terre
Day 9-11
Cinque Terre (2 nights): Cinque Terre, a UNESCO World Heritage site, is a collection of five colorful fishing villages perched on dramatic cliffs overlooking the Ligurian Sea. Hike along scenic coastal trails, savor fresh seafood, and enjoy the breathtaking sunsets.
Lucca
Day 11-12
Lucca (1night): Lucca is a charming walled city in Tuscany with well-preserved Renaissance walls and historic streets. Stroll or bike along the tree-lined city walls and explore the quaint piazzas and churches.
Pisa
Day 12-13
Pisa (1 night): Conclude your journey in Pisa, famous for its iconic Leaning Tower. Visit the Square of Miracles (Piazza dei Miracoli), home to the Leaning Tower, the Cathedral, and the Baptistery. Savor Italian cuisine in local trattorias. And a great city to end our trip together.
Trip Summary
Accommodation
Hostel & Apartments & Bed & Breakfast
13 days trip
Amsterdam, Antwerp & 7 more
Transportation
Train, Plane
Hi Kiam, It really looks like an interesting trip! I only have 1 question, how do I take my backpack...

Read More
Hi there! I'm glad you find the trip interesting! When it comes to packing, I recommend traveling with a regular backpack that qualifies as carry-on luggage. This helps keep things convenient and effi...

Read More
What's excluded?
Flights towards Amsterdam ✈️
Flights from Pisa✈️
Personal expenses 💸
Why JoinMyTrip?
Trusted platform used by 150K+ TripMates
Have A Question?
Live Chat with our experts 24x7
Unique Trips hosted by Experienced Travellers
Secure Payments to ensure your money is always safe
Looking for more trips?
Here's some similar trips that you might be interested in.