Slide 1 of 1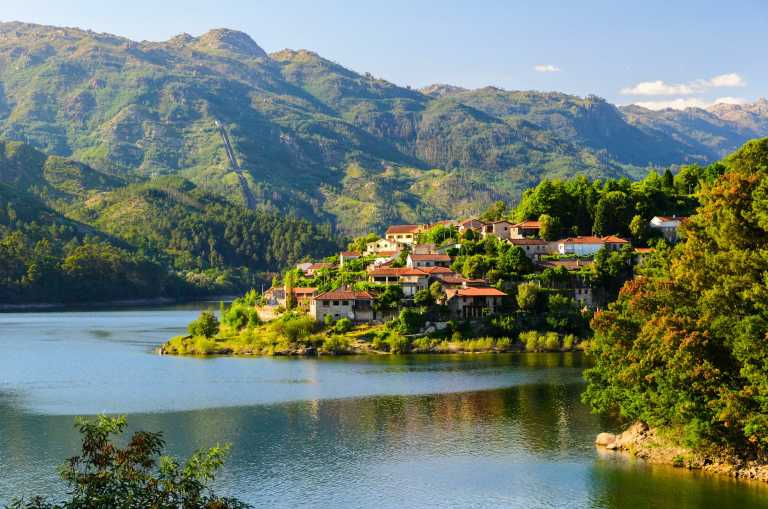 This trip is confirmed to go.
Explore Portugal's National Park and historic treasures with a local guide!
Guided trip
4 days
4 stops
3 - 4 Mates
Portugal
What's special?
🏰 Historical City of Guimarães
🐺 Peneda-Gerês National Park
🌆 Roman city of Braga
Do you want to immerse yourself in another era and experience things that regular people miss? Then, I have the perfect adventure in the north of Portugal to fulfill your dreams! I'm excited to share with you a taste of Minho and Trás-os-Montes ⛰️ (two regions in the north of Portugal) in 4 days. Yes! 4 days where we'll go back in time to the place of birth of Portugal, the historical city of Guimarães 🏰 experience cultural dishes 🥘, have a chance of tasting our Portuguese lovely wines 🍷, adventure on Peneda-Gerês National Park🌄 and see its amazing untouched nature, biodiversity and waterfalls. Get the chance to meet Braga, a roman centre city and sleep in a cozy home near the only Portuguese National Park. HIGHLIGHTS: 🏰 Historical city of Guimarães (birth of Portugal) - We'll visit the castle, ducal palace and Alberto-Sampaio museum. 🌄 Adventure at Peneda-Gerês National park to hike, see stunning landscapes and explore their famous untouched waterfalls by 4x4 Jipe guided tour. 🌆 Roman city of Braga - Walk on the city centre and see some iconic buildings. 🤝 The activities are a mix of cultural and natural experiences that stimulate the use of all your senses. I'll go into more detail about each one in the day's description. I do have some others under my sleeve, depending on the preferences of the TripMates I'll be sharing this trip with. 🫶 In case you have any suggestions you would like me to include, feel free to talk to me about it. 🫰 For expenses like groceries or other activities, we'll be using the app Sliptwise to help us sync with our responsibilities. 🥺 In the unfortunate case of not finding 4 TripMates, we'll have to share a higher price on accommodation and transportation. 🫶 Friends and couples are welcome! ❤️ Great memories are guaranteed!
About me: I'm a very open-minded and active person that will show and tell you, with great pleasure, the best of this part of the north, a place filled with history and natural richness ready to make you feel alive and connected with this place.
Accommodation: Entire House complex near 🌄 Peneda-Gerês National Park 🍃 equipped with all the appliances we might need like a kitchen, living room, bathrooms, fireplace and shared rooms. I'll send photos of the accomodation on our whatsApp group See you the end of November! A warm hug from Portugal 🇵🇹!
What's included?
🚗 Rental car
⛽ Gas + Tolls
🏡 Accommodation
🏰 Visit to Castle+Ducal Palace+Museum
🚙 4x4 Jipe trip in the National Park
🚗 Transfer from Porto to Gerês
🚗 Transfer from Gerês to Porto
Your Booking includes free protection from Trip cancellations.
Learn More
Meet Your TripLeader
Phone Verified
Identity Verified
8 Countries
3 Trips Completed
Human from Portugal, on her 25th trip around the sun 🔆.Dedicated to learn the wonders of the world and explore human potential.
based on 10 reviews
Show All Reviews
You can chat with Sara once you reserve your spot.
Trip Itinerary
Guimaraes
Day 1-2
Historical city day! ❗ IMPORTANT: WE'LL MEET IN PORTO ❗ Transfer from Porto - Guimarães: 🕐45 min drive by car (one trip) ✈️ For those who come by plane, I'll catch you at OPO airport (Porto airport), or in case you are already in Porto I'll catch you there. If there are other transport options, I'll reach out to you personally and we will solve it! The meeting will happen in the morning because we'll have a big day ahead! In Guimarães: 🍝 We can lunch in the city center; 🛒 Buy groceries for the next few days, but there are other options closer to our accommodation if we don't. Activities: Visit Guimarães Castle 🏰 an emblematic medieval castle; Visit to Palace of the Dukes of Braganza, a medieval estate and former residence of the first Dukes of Braganza, located in the historical centre of Guimarães. Visit Alberto Sampaio Museum: Heritage of Humanity, museum is in the building of the first monastery built in the city. Guimarães - Gerês National Park (house complex 🏘️): 🕐50 min drive by car We'll finally see our lovely home near Peneda-Gerês National Park, the place where we will sleep for the next 4 nights.
Fafião
Day 2-3
The wolves village day 🐺! 🌄 In the morning /afternoon We'll have plenty of time to adjust to our new surroundings: - Explore our house complex and the National Park near our home ⛰️ After that we can visit Fafião, a communitary village in Peneda-Gerês National Park. - We can have a 🥘 traditional food lunch at Fojo do lobo restaurant (optional); - Visit Fafião viewpoint! WARNING: Breathtaking views and heights! 🥾 Activity -> Hike from Fafião - Fecha das Barjas waterfall (Tahiti waterfall) 🕐 Duration: 2:30 - 3 hours total walking Distance: 8 km total Máx Elevation: 556.5 meters or 1826ft Highlights: - Fojo do lobo - manmade rock structure to trap wolves; - Fafião wolf rock; - Fecha das Barjas or Tahiti waterfall; - Scenic hike through the national park forest. Depending on 🌧️ weather conditions we may need to adjust plans, if we're not able to hike we can do the traject by car. In this case we might have time to visit ⛪ São Bento da Porta aberta, a Catholic Sanctuary built in 1640 known as a shelter for travelers - The second largest sanctuary in Portugal.
Parque Nacional Peneda-Gerês
Day 3-4
Active and nature day! In the morning 🌄 - Lovely breakfast at home For activities: We can hike through the village and/or go to Gerês where we'll get together to explore one of the cities that gave name to the National Park. 🍴 Lunch at home/ a local restaurant / takeaway. In the afternoon ☀️ 2. Go to LoboTours and start our 4x4 tour through the highlights of Peneda-Gerês like Mata da albergaria, iconic waterfalls and scenic landscapes with a local guide. 4X4 activity: Starts at 14h00 ⏱️ Duration: 4h 👟 Suggestion to bring: comfortable shoe wear, something to make photos and videos, be ready for a lot of stunning views! ℹ️ It's a mix of 4x4 car trip and hike/walk. In the night ✨ We can choose depending on our wishes: Dinner out/ Home in the village/ home party/ stargazing/ games or just relaxing.
Braga
Day 4
Last day & departure 🛫 This is the day I'll take you back to Porto/Porto airport. 🏙️ I planned to visit the marvelous Roman city of Braga, this name is given because the city was funded in the year 16 b.C by the Roman Emperor Cesar Augustus with the ancient name of Bracara Augusta. A place filled with history and beautiful infrastructures. Then transfer by car from Braga to Porto ⏱️ Duration: 45 min **In case you have flights schedule for this day I'll take to OPO airport. If not, I can leave you somewhere in Porto.
Trip Summary
4 days trip
Guimaraes, Fafião & 2 more
What's excluded?
Restaurants, bars, coffees 🍴
Groceries 🛒
Flight tickets ✈️
Other activities we might do
Why JoinMyTrip?
Trusted platform used by 150K+ TripMates
Have A Question?
Live Chat with our experts 24x7
Unique Trips hosted by Experienced Travellers
Secure Payments to ensure your money is always safe