Let us guide you through this enchanting country of Nepal
Nepal, known as the birthplace of Buddhism, is an enchanting land of rich cultures and a wide variety of rugged adventures. In this 10-, 14- and 21-day itineraries, you will explore the cities, foods, and natural resources of this compact country. This Nepal travel guide will guide you through amazing geography. 
Best time to visit Nepal:
The best time to explore Nepal and go trekking is during Spring or Autumn given the climatic conditions are good.
Things to remember for your Nepal trip:
Avoid tap water; purchase bottled water for drinking.
Nepal is crowded most of the time, so make sure to rent cars or board your buses on time.
Get a SIM card for Nepal when you arrive at the airport.
The average budget for a trip to Nepal for 10 days per person would cost around 220 EUR (NPR 29,000). 
When you're going trekking make sure to take the right kind of clothes and accessories. Some of the essentials are sleeping bags, warm clothes, jackets, trekking shoes/boots, sunglasses, hats, sunscreen, camera, first aid kits, flashlights with extra batteries, and essential toiletries.
You need a permit to trek in Nepal, a TIMS card. Trekking permits can be received at one of the Nepal Tourism Board offices in Kathmandu or Pokhara. You should also get an ACAP permit for trekking in the Annapurna region. 
Trekking can be dangerous, make sure you have enough travel insurance to cover every possible situation. 
Day 1:  Arrive at Kathmandu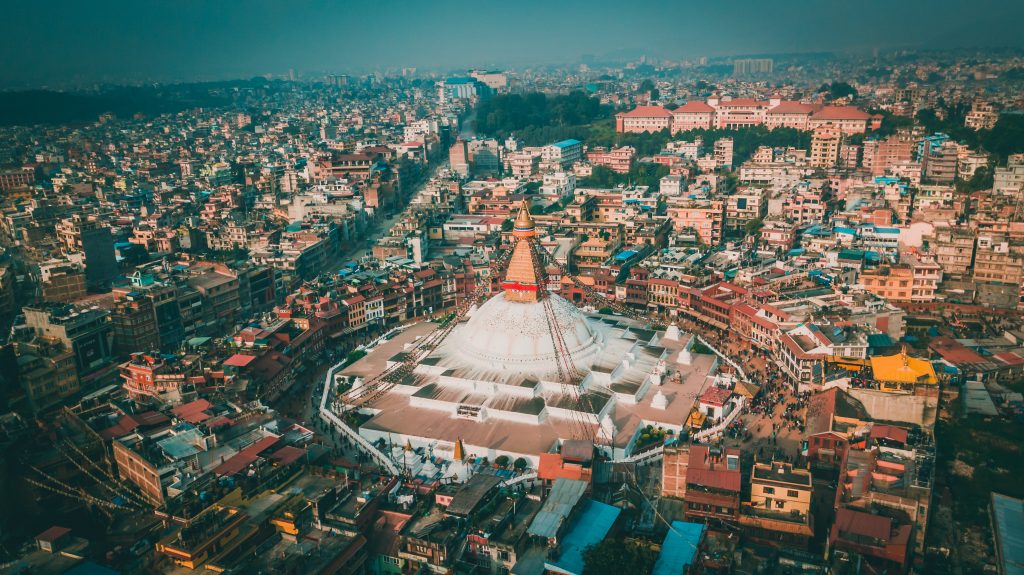 Where to stay: A hotel near the airport.
Arrive at the capital city of Nepal, Kathmandu. Your flight will arrive at the Tribhuvan International Airport. Check-in your hotel and rest up for an amazing trip through cultures and outdoor adventures. There are a number of hotels within 30 minutes of the airport. 
Day 2 & 3: Explore Kathmandu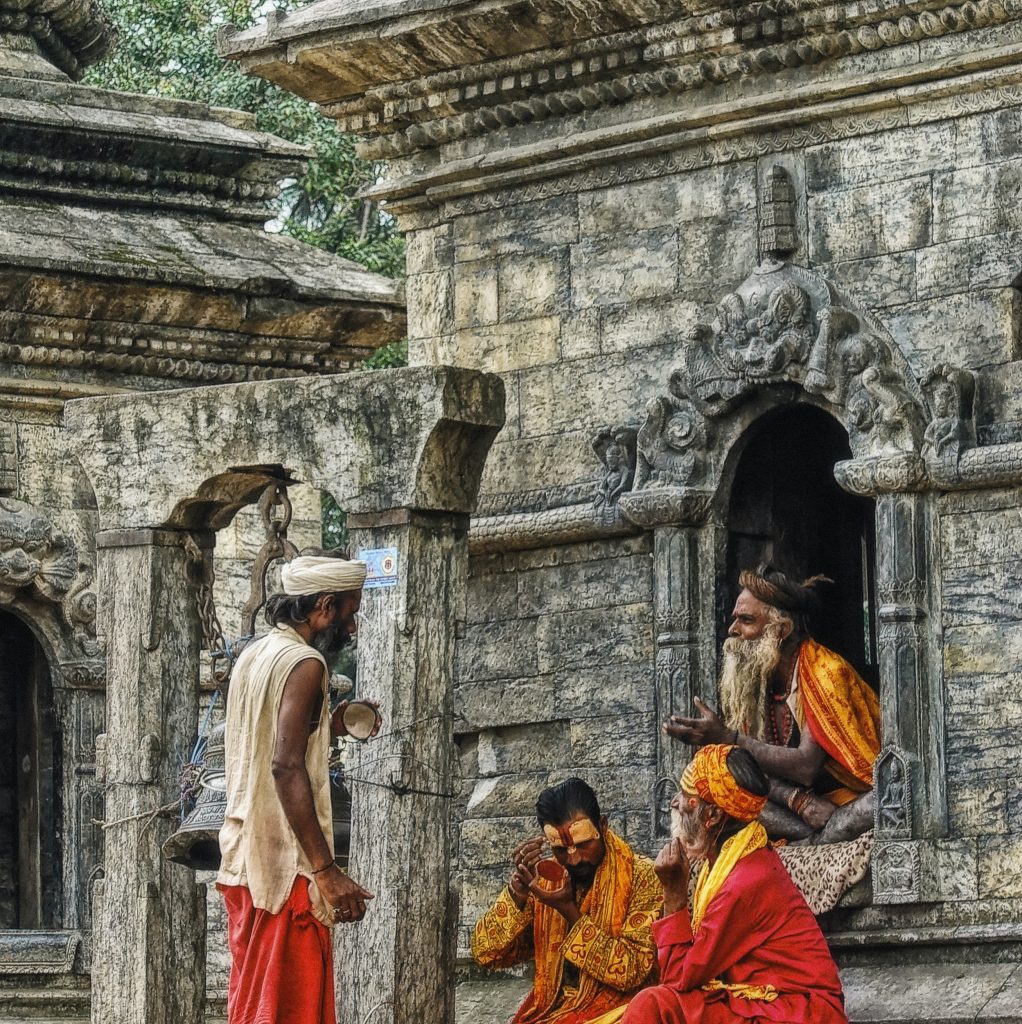 Day 2
On day 2, visit the three popular sites of Kathmandu – Boudhanath Stupa, Swayambhunath Stupa, and Pashupatinath Temple. These are UNESCO World Heritage sites. The Boudhanath and Swayambhunath are ancient stupas and important sites in Buddhism. Pashupatinath temple is a Hindu temple dedicated to Lord Shiva and one of the magnificent religious sites in Nepal. The easiest and fastest way to get to these sites is by driving a car. Rent a car and drive to these sites as they are situated very close to the hotel. These are the sites that ought to be visited for your Nepal trip. 
Day 3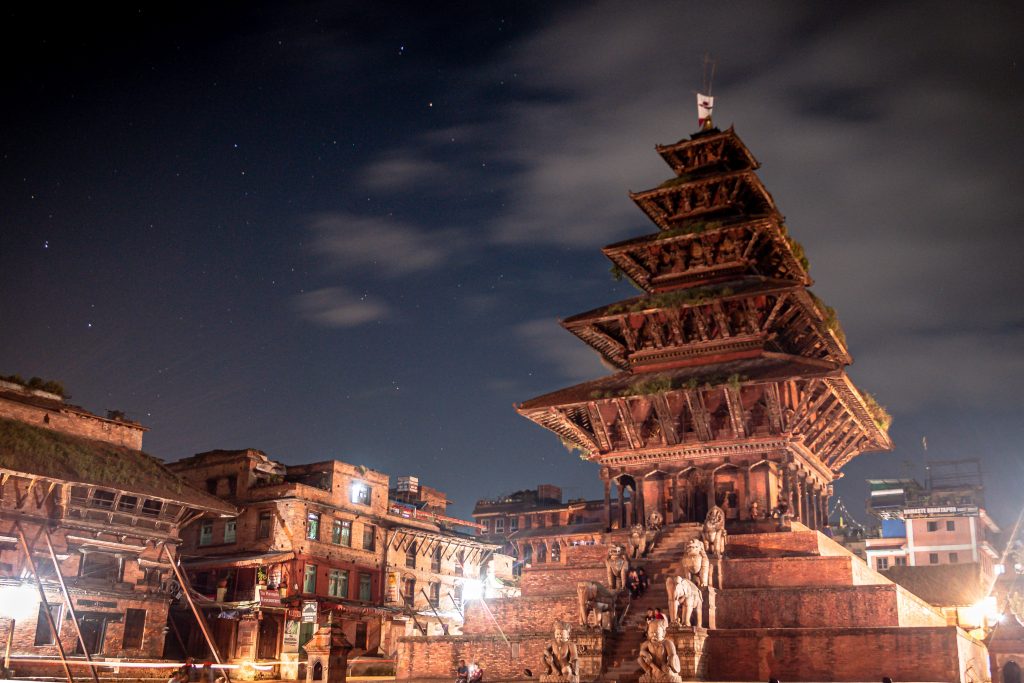 On day 3, drive to the city of Bhaktapur. This place is famous for its art and architecture. Once you reach here, you have to visit the Bhaktapur Durbar Square (NPR 1500). It is one of the historical palaces built in the early 15th century. This site has become a UNESCO World Heritage Site for its rich cultural heritage and artwork done in that palace. Just a few meters away from the palace is the Nyatapola Temple. It is a 5-storeyed temple built in the early 18th century by the late King Bhupatindra Malla. This landmark is considered to be the tallest temple in Nepal. 
From Bhaktapur drive to Patan or also known as Lalitpur after lunch. It's only 15 minutes away. Here again, visit the Patan Durbar square which is famous for its architecture and art. Explore the Patan Museum which is located in Patan Durbar square (NPR 1000). It is a UNESCO World Heritage site that exhibits the sacred art of Nepal. Visit the Krishna Mandir which is a popular site in the city of Patan built in the 17th century. Wrap up your visit to Kathmandu and transfer to your hotel. 
To visit these world heritage sites you will need to pay the entrance fee which is mentioned. For tourists from the SAARC nations, the entrance fees are comparatively less than that of the foreign nationals. 
Day 4 & 5: Chitwan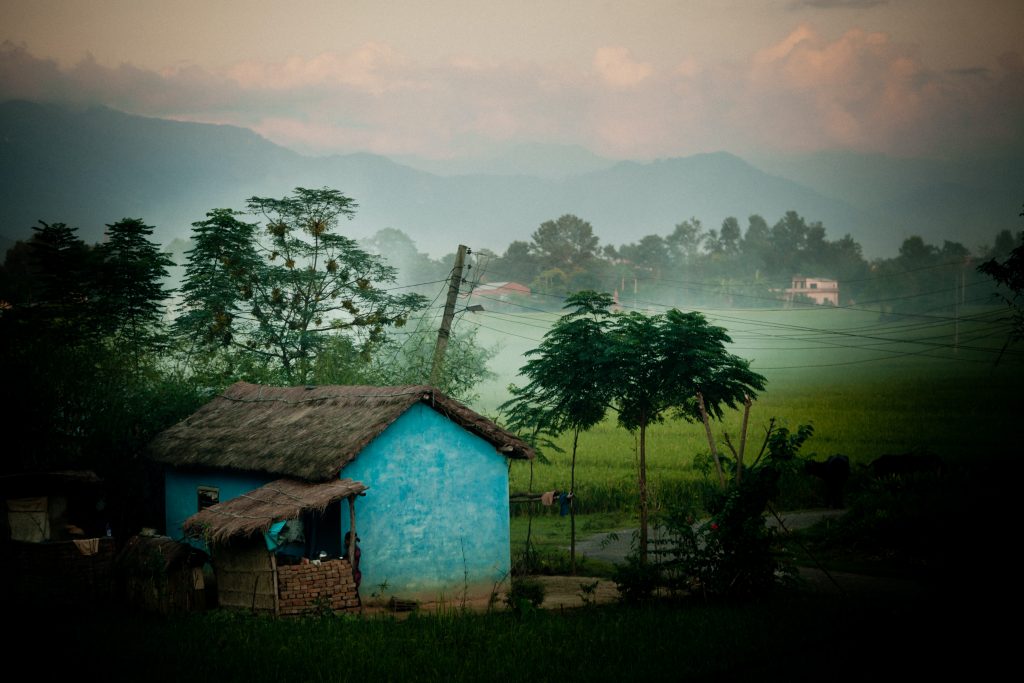 Day 4
Chitwan is your next stop. You will get to Chitwan by bus from Kathmandu. You will arrive at the Sauraha bus stand. Then you rent a car and drive to the Chitwan National Park, one of the most visited national parks in Nepal and a World Heritage site. The entrance fee is around NPR 1500 (plus tax) per day. The park is home to Royal Bengal tigers, elephants, crocodiles, rhinoceros, and 400 other types of jungle animals. Here you can try:
Elephant safaris
Camel rides
Jeep safaris
Canoeing
Day 5
Explore the local Tharu villages and interact with local residents. Indulge in the cultural programs hosted by the locals. The program includes a traditional dance by the people of that village. 
Where to stay: Jungle lodge or resort
Day 7 & 8: Pokhara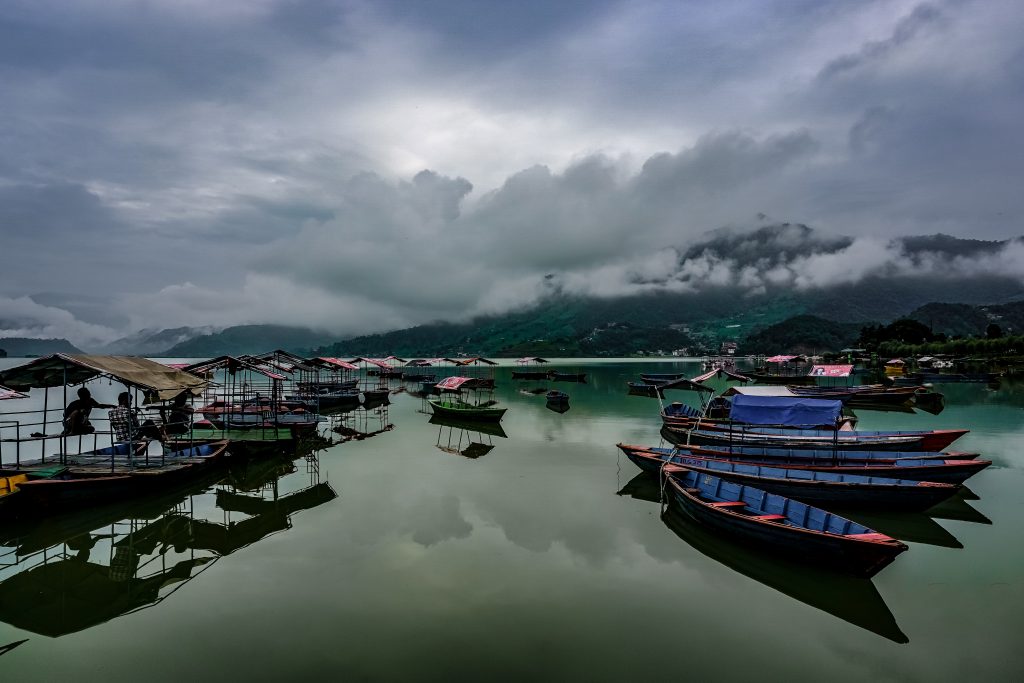 After spending about two days in Chitwan, head to Pokhara, where you're going to witness stunning landscapes. Get to this city by car. It is the best and fastest way to get here. Pokhara is definitely one of the places you need to visit on your Nepal trip for its religious sites and caves with picturesque views. 
Day 7
On the first day in Pokhara, visit Phewa Lake. This freshwater lake is one of the popular tourist attractions and a must-see on your Nepal trip.  Go on a boat ride to the other side of the lake to World Peace Pagoda. This shrine more commonly referred to as the Shanti Stupa is built on the Anadu Hill in a pagoda-style. Once you ascend to the top of this shrine you will get to see the spectacular view of the Annapurna Peaks. On your way back, visit the Barahi temple which is located in the middle of the lake. It is a beautifully built Hindu temple situated in the center with idyllic mountain views. 
Day 8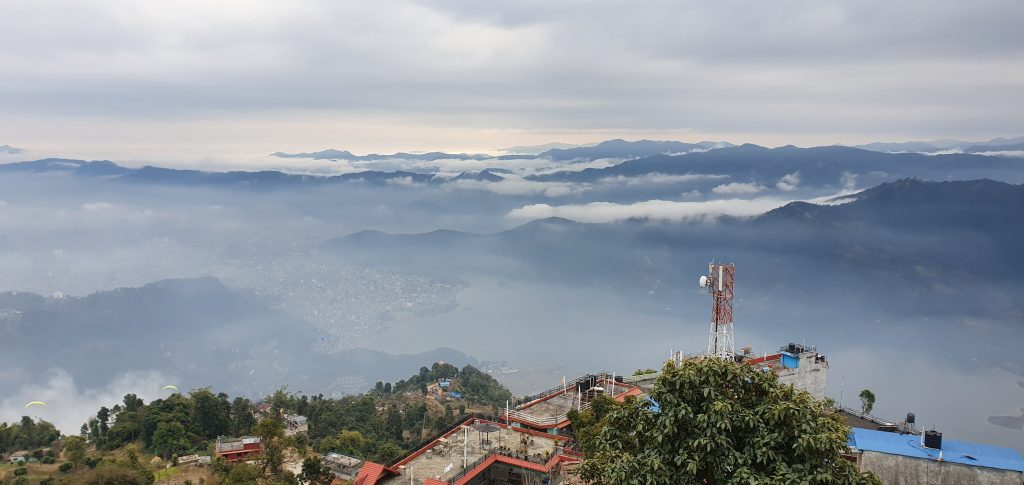 Leave early in the morning to see the sunrise in Sarangkot. This region is popular for its picturesque views of the Annapurna peaks, the sunrise, and the lush greenery around it. After breakfast, visit the International Mountain Museum. Here you will discover the history of the Himalayan ranges and see exhibits of the flora and fauna. The entrance fee is about NPR 500. There are many galleries, a restaurant, and a garden.
Later, visit Devi's falls. It is at a walkable distance from the museum. This cascading waterfall which is almost 500 feet long runs through tunnels and caves. Near the waterfall, the Gupteshwar Mahadev cave is situated. Spend an hour exploring this cave which is said to be the longest cave in Nepal. Mahendra cave is a large limestone cave in Nepal that is the most visited cave in Nepal. The entrance fee for both these caves is NPR 100. Spend another hour exploring this cave and then head back to your hotel. You will have enough time to explore all these sites as they are all conveniently located in proximity to each other. 
Where to stay: Boutique hotel in the area.
Day 9 : Lumbini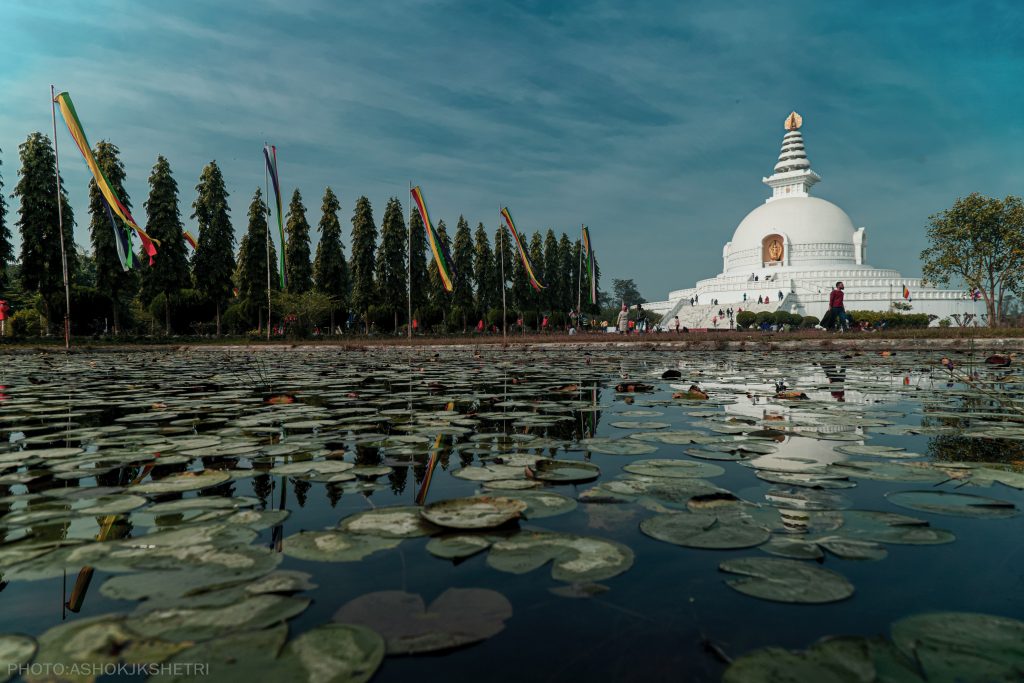 After visiting Pokhara, head out to Lumbini. A Nepal trip is not complete without seeing the birthplace of Buddha, the main god of worship in the country. You can drive a car to get there and the duration is only 3 and a half hours. This place is famous for its Buddhist pilgrimage. It is a significant site for Buddhist followers as it is considered to be the birthplace of Buddha. 
Visit the Sacred garden and the Maya Devi temple. This garden is the actual birthplace of Lord Buddha. Just beside the garden is the Maya Devi temple which is also significant with Lord Buddha, which is a UNESCO World Heritage Site. As you walk past the temple is the Ashoka Pillar. Adjacent to the temple is the Sacred pond. All these sites situated in close proximity offer a sense of tranquility to tourists for their calm surroundings. And again you need to pay an entrance fee to get into Lumbini. 
Where to stay: Guesthouse in the area.
Day 10: Depart
After spending 10 days on your Nepal trip, head out from Lumbini to Gautam Buddha International Airport which is situated in Siddharthanagar. This airport also goes by the name Bhairahawa airport. It is only a 20-minute drive from Lumbini. You can depart the country from this airport. 
You could also head out to Kathmandu by car which will take five hours and then board the flight Tribhuvan International Airport to depart from the capital. 
14-Day Itinerary:
Nepal is recognized as one of the best places to visit in terms of adventure. It is also known to be an ecotourism destination by most tourists. You can't experience all of Nepal's natural wonders in 10 days. Here is a 14-day itinerary if you want to see everything Nepal has to offer. 
Khopra Danda trek: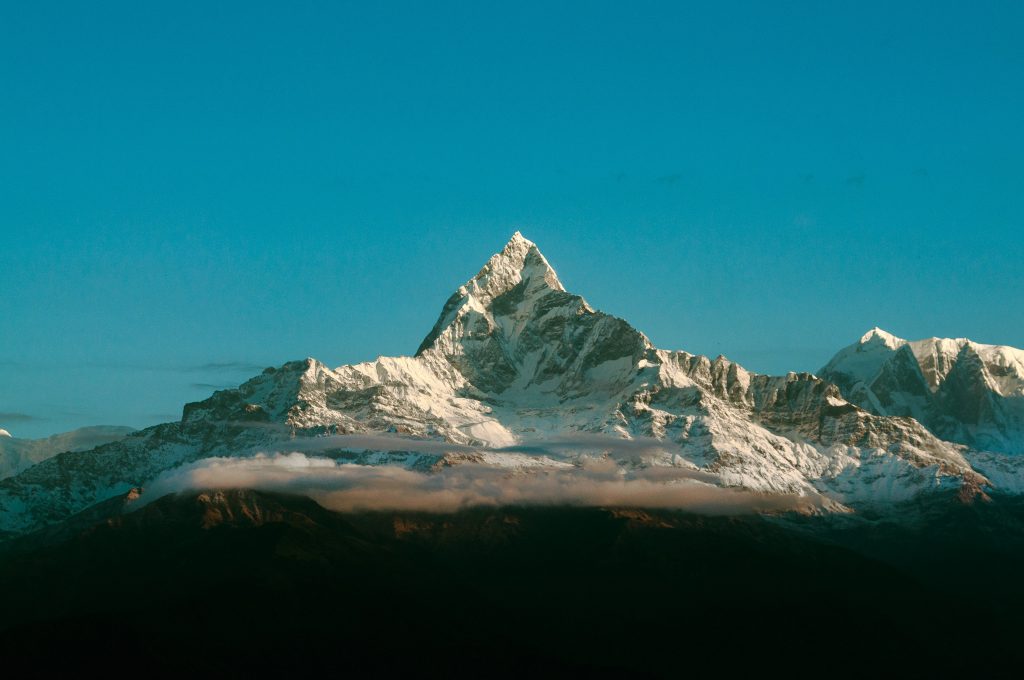 Nepal is definitely the perfect place for adventures. If you're spending more than a week on your Nepal trip then trekking should be next on your list. After your last visit to Lumbini, head out to the Khopra Danda trek.  This trek offers conveniently made hike trails for families and children to hike. Here in Khopra Danda, you will get to see some of the enchanting landscapes and mountains.  These treks are quite commonly referred to as "ridge treks". These were introduced very recently as community lodge-based treks, unlike other treks where you will have to stay in private lodges. You will board the flight from Kathmandu to Pokhara. 
Day 11: From Pokhara to Ghandruk  | Ghandruk to Tadapani ( 2-hour trek )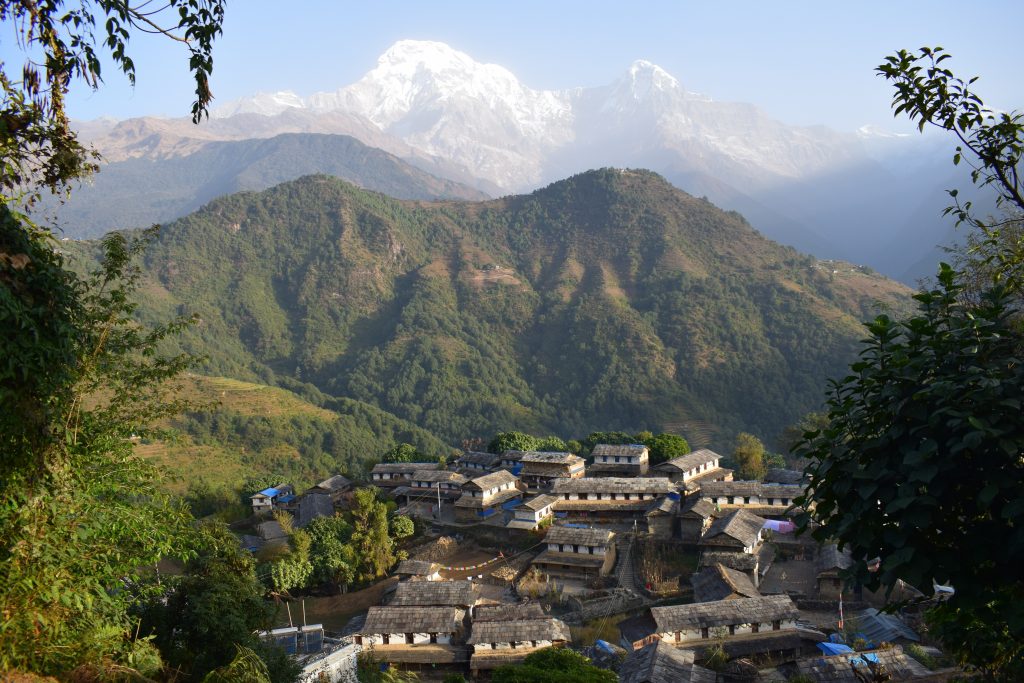 From Pokhara, you will drive to Ghandruk.  You will come across the Rhododendron forest. This forest is full of pine and oak trees. Spend time watching the beautiful views. After lunch, you will be trekking to Tadapani. You will be walking through the rhododendron forests and witness some of the captivating views of the peaks of Annapurna (Ⅰ, ⅠⅠ, ⅠⅠⅠ and south). You will be staying in Tadapani. 
Where to stay: Lodge in Tadapani.
Day 12: Tadapani to Bayli Kharka (4-hour trek) | Bayli Kharka to Khopra Danda (2-hour trek)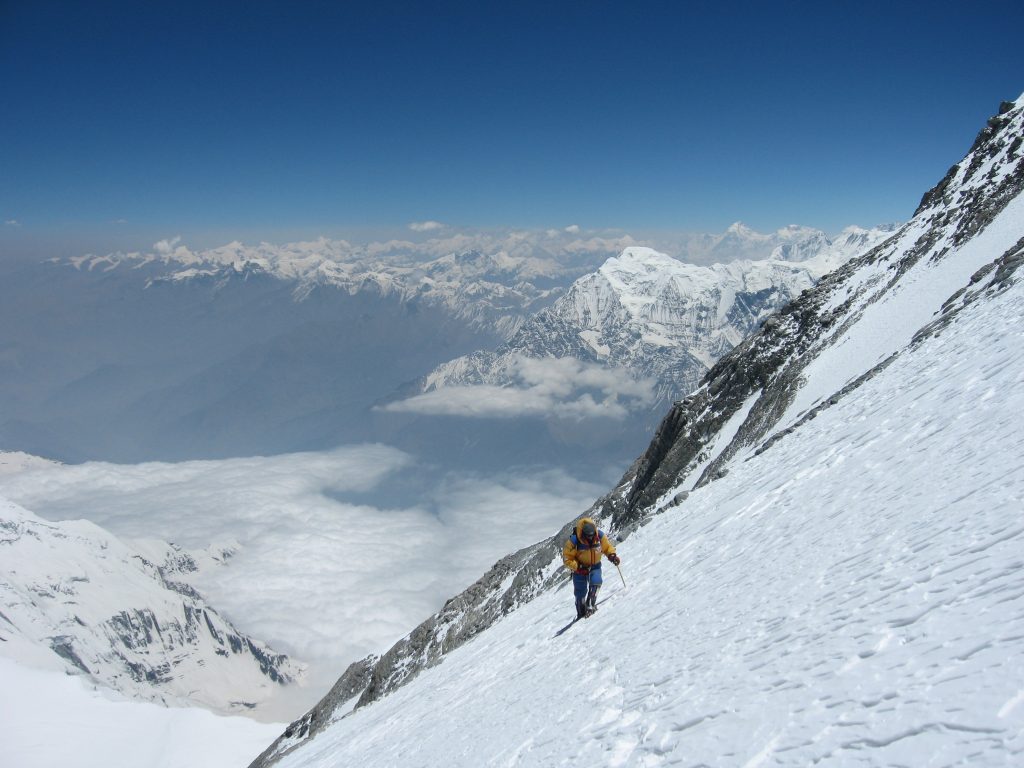 The next day, trek for another five hours to Bayli Kharka and stop here for lunch. Then continue trekking through the forests of Chistibang to reach the Khopra Danda. You will get there in two hours. Here you will see the views of the peaks Dhaulagiri, Nilgiri, and the Annapurna south. After that head back to your community lodge you will be staying. 
Where to stay: Khopra community lodge.
Day 13: Khopra Danda to Swanta (4-hour trek) | Swanta to Ghorepani (4 hours)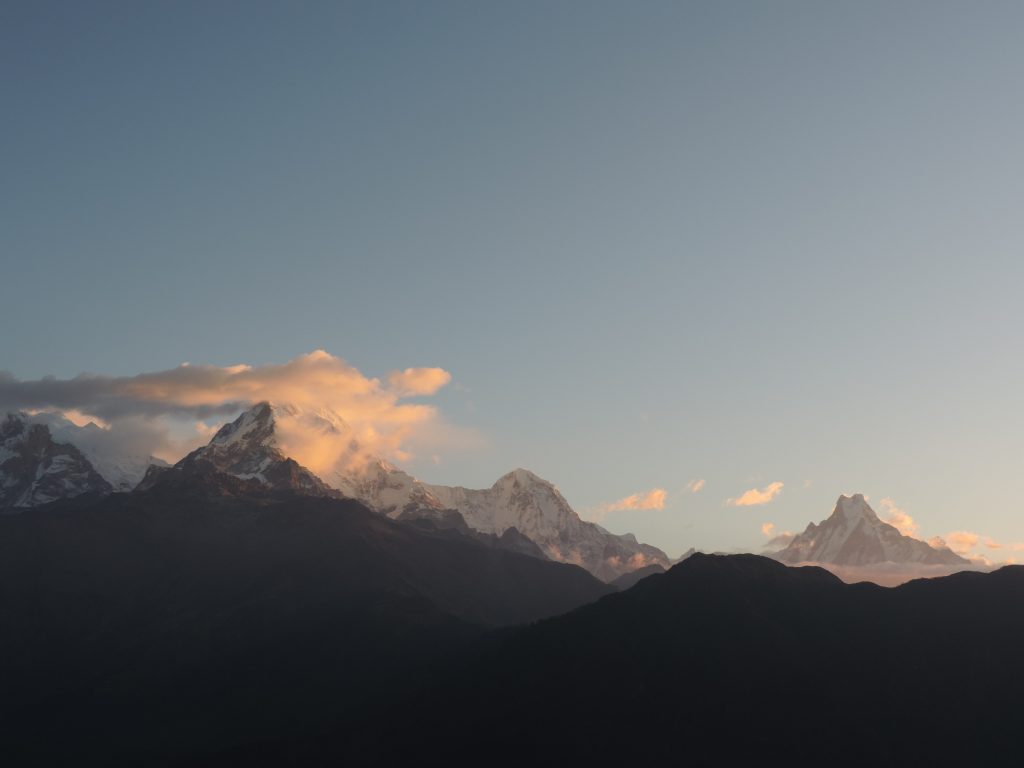 After you make it to the ridge, walk down the hiking trail to a small village named Swanta. You can visit the community cheese factory for some cheese-tasting. After lunch at Swanta, take another hike to Ghorepani. Stay back for the night in Ghorepani. 
Where to stay: Hotel in Ghorepani.
Day 14: Trek to Poonhill and head back to Pokhara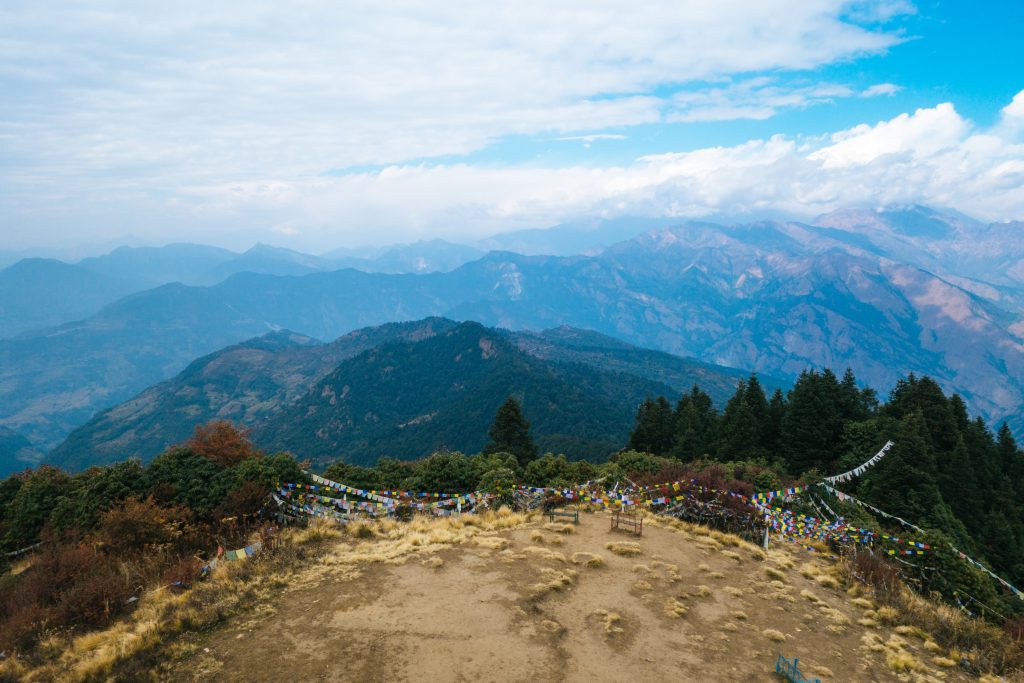 On the last day, visit Poonhill (3,210m) early in the morning to see the views of the peaks – Dhaulagiri, Dhampus, and other peaks. It is only 45 minutes from Ghorepani. After spending some time in Poonhill, go back to Pokhara on a jeep. From Pokhara drive back to Kathmandu and board your flight from the Tribhuvan International Airport the next day to depart the country.
Where to stay: Boutique hotels in the area.
---
Have we inspired you to start creating your own trip and share your travel experiences with other like-minded travelers? Become a TripLeader and start leading your very own trip today!
21-Day Itinerary:
Three weeks on your Nepal trip is the best way to experience all of Nepal's cultural and natural wonders. It's a country meant for adventures, so if you have 21 days to fill with Nepalese action, make sure to go to the Annapurna Base Camp (ABC) trek for one week. The only way to get here is by flight. You will have to board the flight from Kathmandu to Pokhara and from Pokhara, you will start this trek.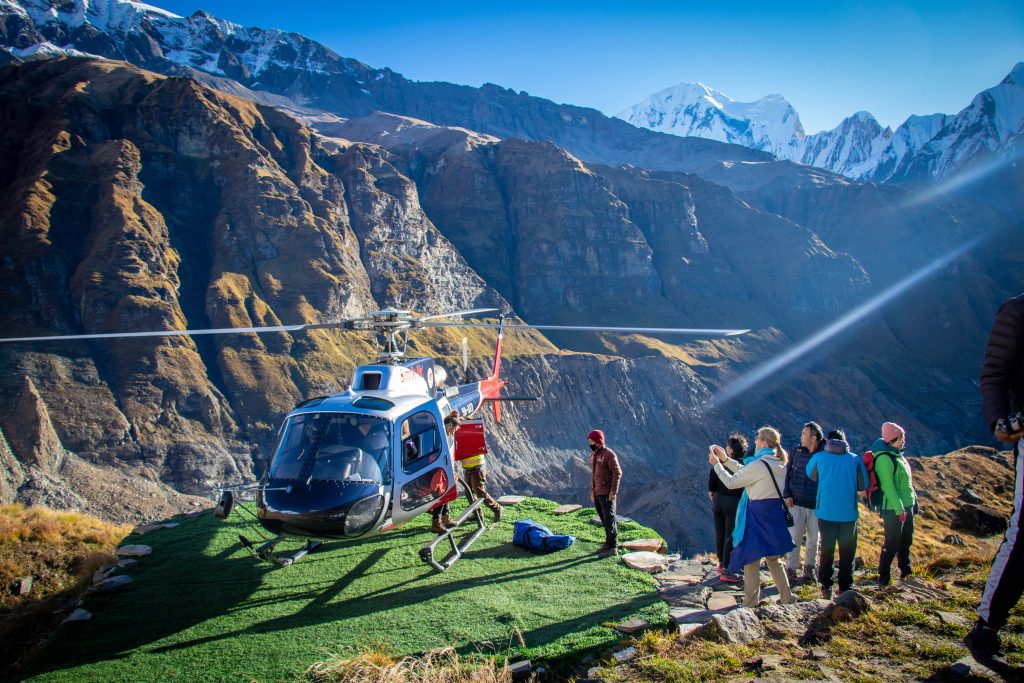 The Annapurna Base Camp trek is said to be one of the most popular treks and the shortest in Nepal. This captivating trek offers beguiling views of the majestic mountains, the diverse nature, and an insight into the lifestyle of the Himalayan communities. As for accommodation, stay in private lodges or tea houses that are available throughout the trek. 
Day 15: Pokhara to Ghandruk | Ghandruk to Sinuwa
 From Pokhara drive to Ghandruk. Since you have already visited this village you can head out to the next place. Trek for about 6 to 7 hours from Ghandruk to Sinuwa. Get to see the beautiful views around you. Stay back in Sinuwa for the night. 
Day 16: Sinuwa to Darauli
Start your day by trekking to Darauli. You will reach there in 6 hours. You will get to see the flora and fauna around you with some alluring views of the landscapes. Darauli is known for its lush bamboo forests so spend time exploring that.
Day 17: Darauli to ABC
From Darauli you will be passing through Machhapuchhre Base Camp. Once you get there you will see the views of the Annapurna South, Gangapurna, and many other peaks. After witnessing those peaks you will be heading to the Annapurna Base Camp. You will be spending the night here in a lodge. 
Day 18: ABC to Bamboo via MBC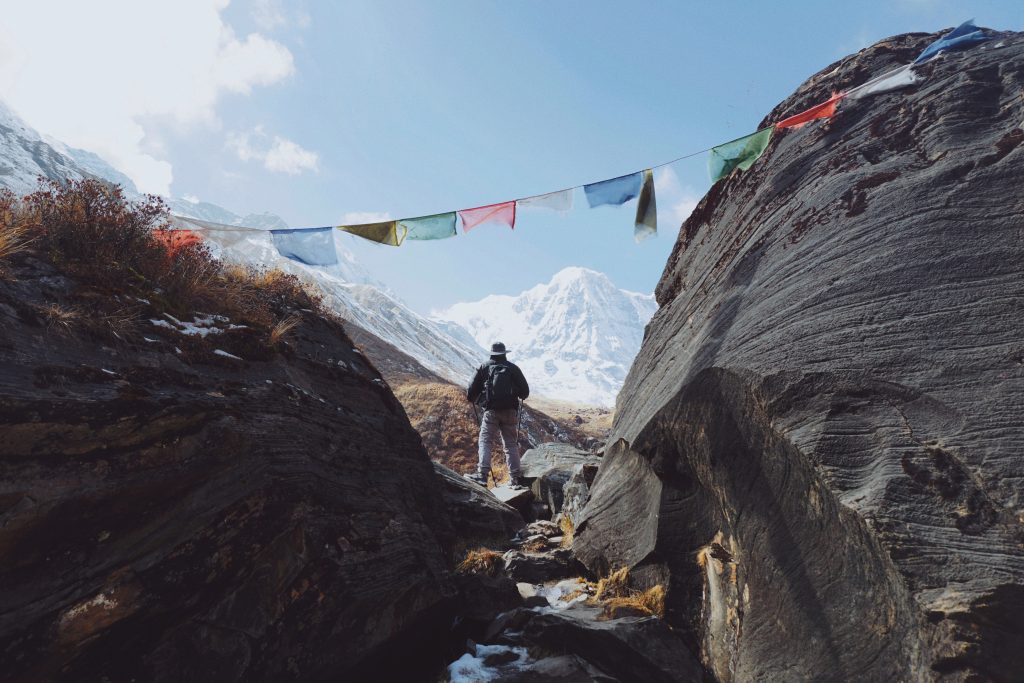 On this day, you will be trekking for the next 6 to 7 hours via the Machhapuchhre Base Camp to the Bamboo. This peak is at a height of 2,430 meters. On your way, you will be seeing the views of the peaks Himchuli, Annapurna, Barahi Shikhar, and many others. Spend the night in Bamboo.
Day 19: Bamboo to Kyumi
The next day you will be trekking from Bamboo to Jhinu Danda. You will be reaching there in 4 to 5 hours. This settlement is at a height of 1690m. Some of its main attractions are the natural hot springs in Jhinu Danda. After a long trek, have a relaxing soak in the hot springs and enjoy the rest of the day. 
Day 20: Jhinu to Siwai | Siwai to Pokhara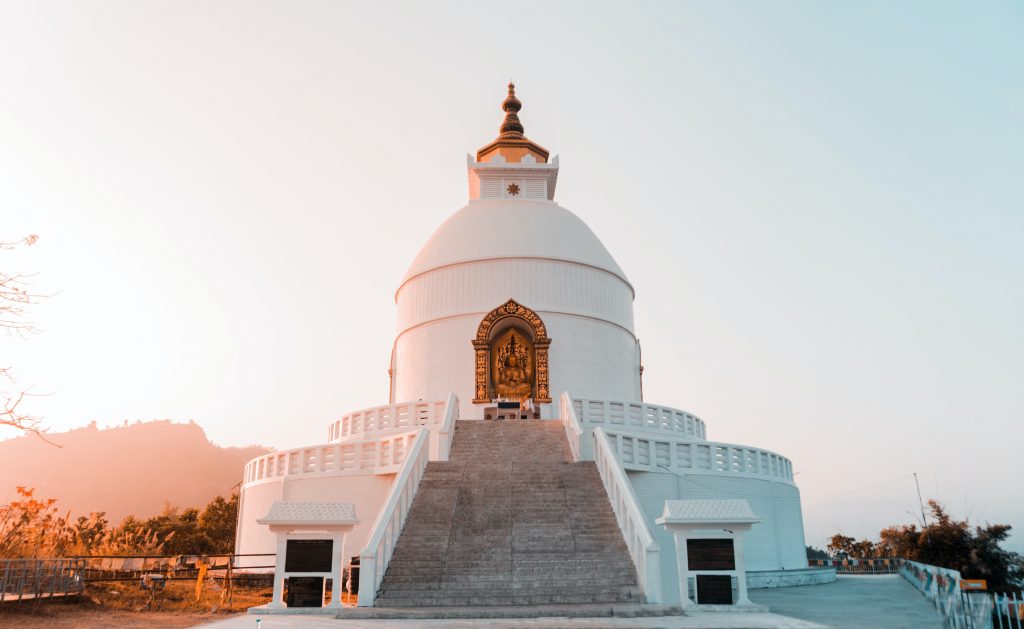 On the last day of your ABC trek, leave Jhinu and take a 4-hour trek to Siwai. From Siwai hire a jeep or a car and drive back to Pokhara. Spend the night in Pokhara.
Where to stay: Boutique hotel in the area
Day 21: Pokhara to Kathmandu
From Pokhara drive back to the capital and board the flight from the Tribhuvan International Airport to depart Nepal. 
This Nepal travel guide should assist your exploration of this wondrous Asian nation. Hopefully, we have created a clear picture of what to expect and how to meet any challenge you might face in Nepal!
---
We hope that this travel guide to Nepal will serve as an inspiration to start creating your own trip! Be sure to check out JoinMyTrip to kick start your incredible adventure. Start planning your very own trip now and find like-minded travel mates to join your trip or join already planned trips today!
Caught the travel bug? Check out some of our other blogs: