A day-to-day travel itinerary for you
Barcelona is an intoxicating mix of ancient and up-to-the-minute modern. Gray, gothic structures draw as much attention as new, colorful buildings. Fast fashion is popular and so is the traditional and slow process that creates melt-in-your-mouth ham. This Barcelona travel itinerary will introduce you to the most interesting, new and old places in Barcelona.
The hostal is Spain's answer to the motel. Rooms aren't big but have all the required facilities — television, private bathroom, air conditioning — and low prices. Spanish take their design seriously, so expect some modern interiors and even balconies. A hostal in the heart of the city or near the waterfront is best.
Some may laugh at them but bus tours are the best way to get an overview of large cities. Barcelona is a large city. Your Barcelona travel guide kicks off with a bus tour of 98 square kilometers that are bounded by the Mediterranean and mountains.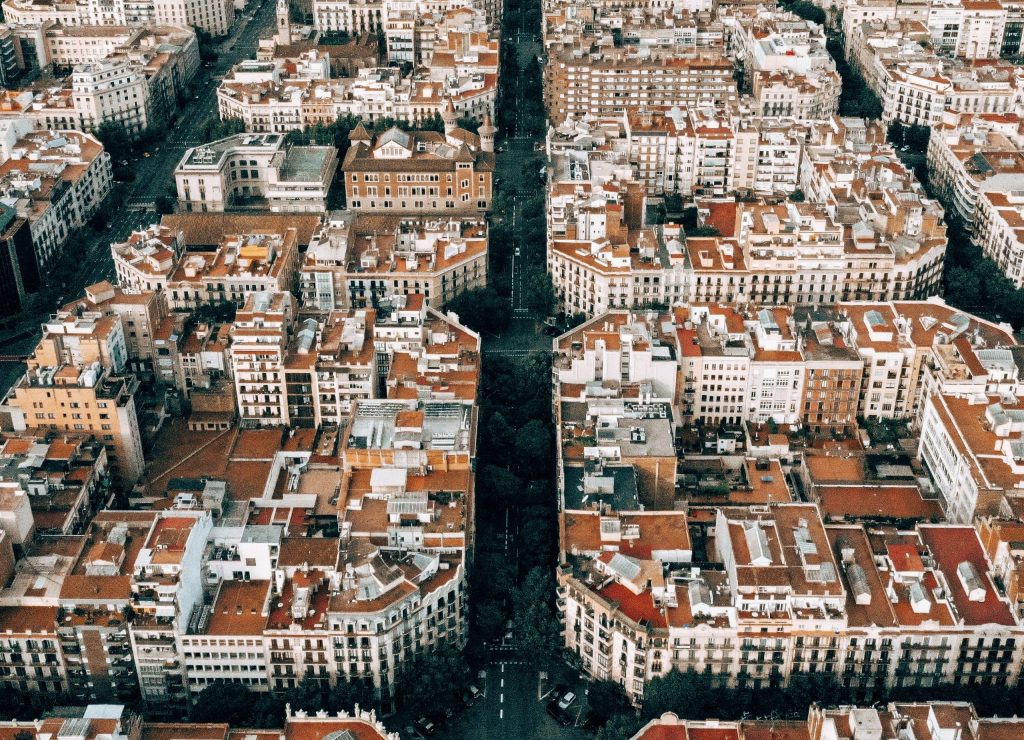 Day 1
Your first stop is Sagrada Familia. This project of Antoni Gaudí, one of the architects whose DNA is all over the city, is almost done. The cornerstone of the church was laid down in 1882 and the project has been creeping to completion ever since. Planners think the construction of the massive church should wrap up in 2026. Until then you are free to wander throughout and onto the church. Tours maneuver past bold stained-glass windows and quirky art. This is one of the most popular places to visit in Spain, so be sure to buy your ticket online.
The Gràcia neighborhood is a 20-minute stroll away from the church. After you grab lunch at a cafe, make a quick visit to Casa Vicens, a house covered in brilliant tiles and a Gaudí work. This World Heritage site has a dazzling mixture of styles in the interior, exterior and garden. Do some shopping in this neighborhood filled with shops selling local wares.
After so much walking, you will need a few hours to rest up. Everything starts a little later in Spain. Dinner will be at the waterfront and start around 9:00. Choose one of the restaurants/lounges/nightclubs steps away from the Mediterranean on Passeig Marítim de la Barceloneta. Be sure to make reservations because these places can get packed.
Day 2
You've seen the city and the sea. On this day of your Barcelona travel itinerary, you're going to see the mountains. No, Joey from Friends wasn't making up a mountain. Mount Tibidabo flanks Barcelona on the west. Hearty visitors need about an hour to walk up the steep 512 meters to the top of the mountain. Others can take a subway or bus to a tram before hopping on a funicular. Groups may opt for a taxi. Once at the top, of course, you get an amazing view of the surrounding area. Plus, the town has an old church, the Tibidabo Amusement Park and a communications tower with an observation deck designed by Norman Foster.
After a day on the mountain, relax with a glass of Spanish vermouth and some modern Catalan cuisine at one of the tapas restaurants in the Eixample section of Barcelona.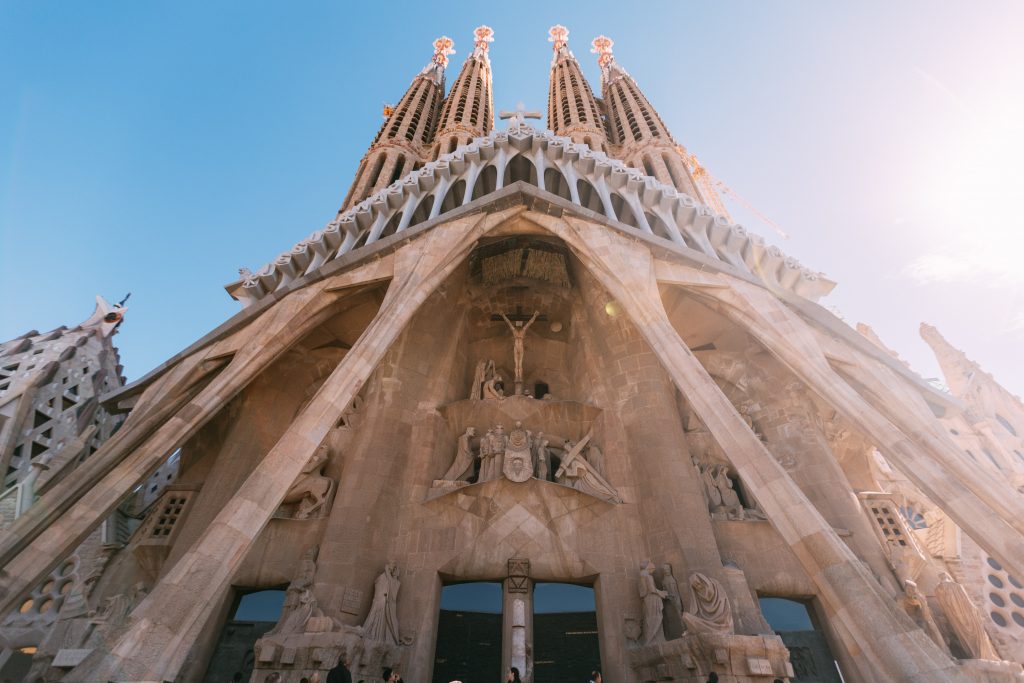 Your four-day Barcelona itinerary picks up here.
Day 3
Today you are spending the day at the beach. Barceloneta neighborhood has the most accessible beaches. The Mediterranean is a short bus or subway ride away from the center of the city. The beaches are lined with cafes serving delicious seafood and bars offering cool cocktails.
History and culture are found on dinner plates. Boqueria Market (Mercer de la Boqueria) is an amazing food hall on Las Ramblas pedestrian zone and a few minutes away from Plaça de Catalunya, one of Barcelona's main squares. Dozens of stalls sell fresh produce, meat, cheese and olives, fish and prepared foods and drinks. Wander around to get a feel of the place and do a little shopping for your hostal room or home. Then, sit down for a delicious dinner.
Day 4
Today is museum day. Luckily, several cultural options are set in one place — Parc de Montjuïc. This green space is home to Fundació Miró, the Museu d'Arqueologia, the Museu Etnològic i de Cultures del Món, the Museu Nacional d'Art de Catalunya-MNAC, Pavelló Mies van der Rohe, and Puig i Cadafalch's landmark CaixaForum. Don't overwhelm yourself. Only visit one or two museums and get a good look at the exteriors of several of the buildings.
At night, watch the Magical Fountains of Montjuïc (Font Màgica de Montjuïc). The waters and colorful lights dance every half hour in the evenings.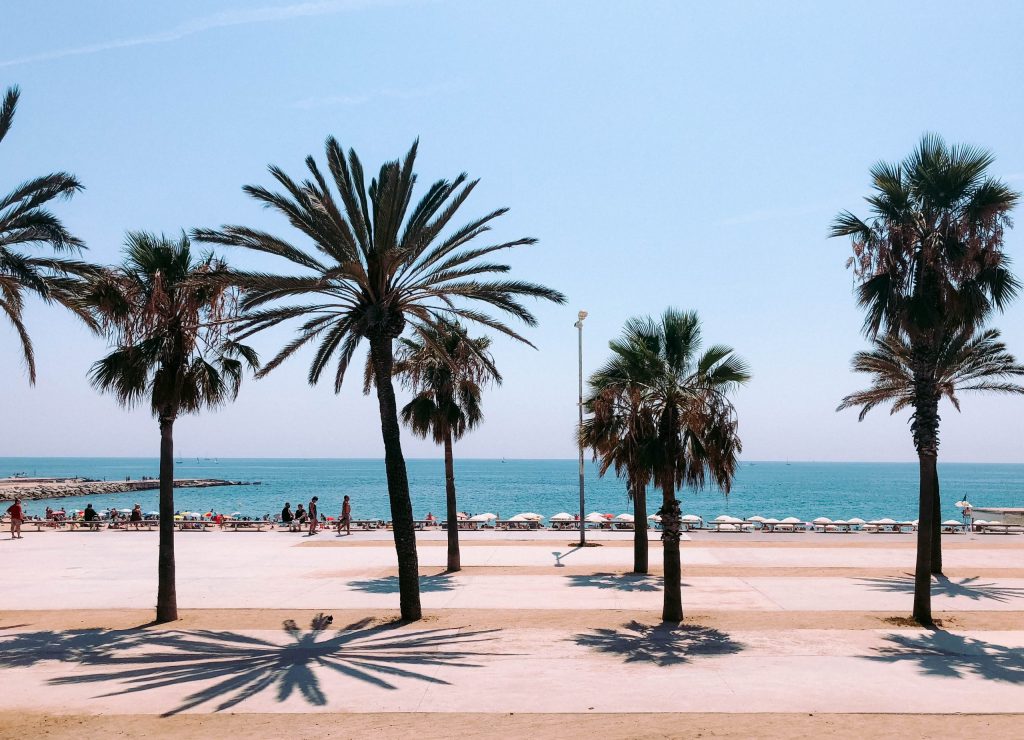 Barcelona travel guide for six days starts now.
Day 5
In addition to great design, Spain produces complex and delicious wine. Not far from the city of Barcelona, most of Spain's version of sparkling wine — cava — is grown. A 45-minute commuter train puts you in the center of Sant Sadurní d'Anoia. Freixenet is literally steps away from the station and has a combination train and winery ticket. If you have less mass-market tastes, you should visit other wineries that are a short taxi ride away from the heart of the village (Taxis are lined up outside the train station).
Day 6
This is the day to get an up-close look at historic Barcelona. The Gothic Quarter (Barri Gòtic) is the oldest part of the city and well preserved. You can simply wander through the streets or join a walking tour. Architecture from medieval times is haunting and romantic and used for government buildings, shops, restaurants and bars. Any tour will take you past:
Plaça de la Catedral
Catedral de Barcelona
Plaça Reial
City Hall (Casa de la Ciutat)
Museu d'Història de Barcelona
Roman wall and aqueducts (Casa de l'Ardiaca)
Wall and gate of the Roman city of Barcino – Friezes around the front of the Collegi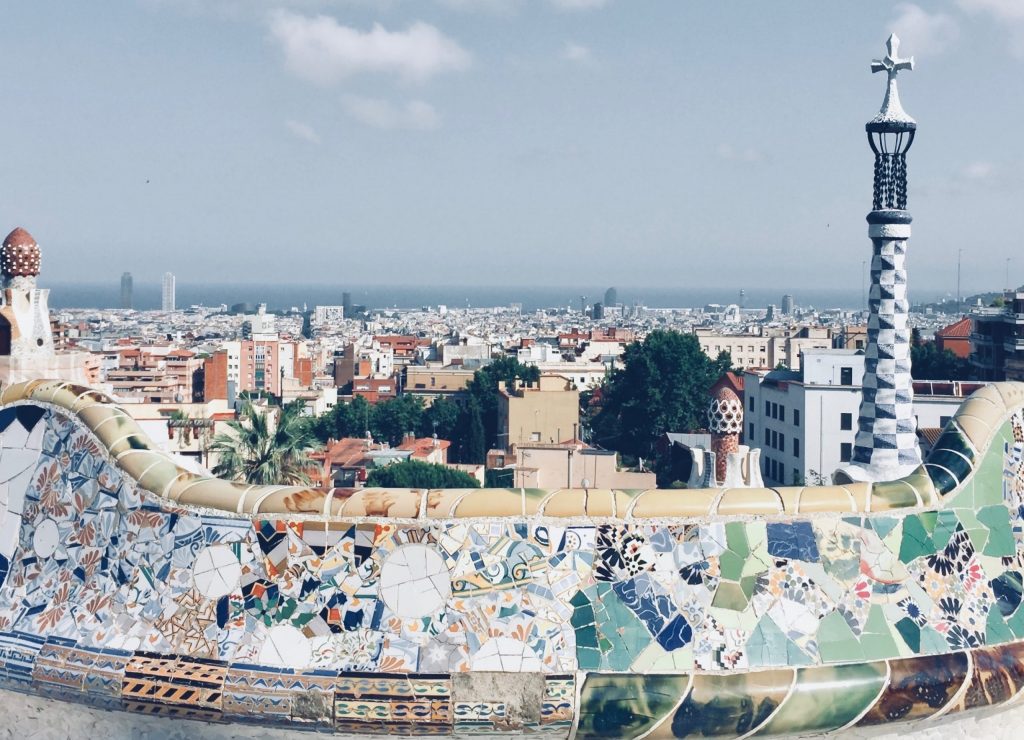 This Barcelona travel advice should provide you with a nice overview. If you need more information or a Barcelona travel buddy, explore JoinMyTrip.
Have a look at other cool blog posts for more travel inspiration and tips:
Easter 2021: Where to spend your vacation
Top 10 places to visit in Europe & worldwide
Best cities to live in or remote work in | for young professionals
Insider tips | Amsterdam Edition