…without putting you at risk  
Oktoberfest, as well as many other traditional festivals, will not be taking place this year due to the Corona Pandemic in 2020. But does this reduce your thirst for beer and your mood to party? Nope? Well neither does ours! That's why we've picked out several exciting events for you that are safe replacements for Oktoberfest this Autumn. And if you prefer to avoid crowds, we have also put together a selection of fun activities for you and your travel partners.
Oktoberfest Events & Activities Alternatives
Have you already bought your Dirndl and Lederhosen? No problem! Many places have come up with new innovative hygiene and safety regulations to give you the opportunity to celebrate with your friends, despite the virus.
Munich – Summer in the City
Instead of the Wiesn, there will be other cool alternative events in Munich this year, including the summer in the city, which takes place up until October 4th. This collection of events and activities is scattered all over Munich so that large crowds are easily avoidable. In the Olympiapark you will find market stalls, booths, and many dining options. There are is also a carousel and multiple roller coasters! Here you can also find the largest transportable maypole in the world. This year at the Theresienwiese, where Oktoberfest is normally held, there will be a variety of sports for you to choose from. You can even go bouldering! Those who prefer a little more culture should go to the Königsplatz and between Odeonsplatz and the Max-Joseph-Platz to see artists, various types of craftsmen, theater performances, and concerts.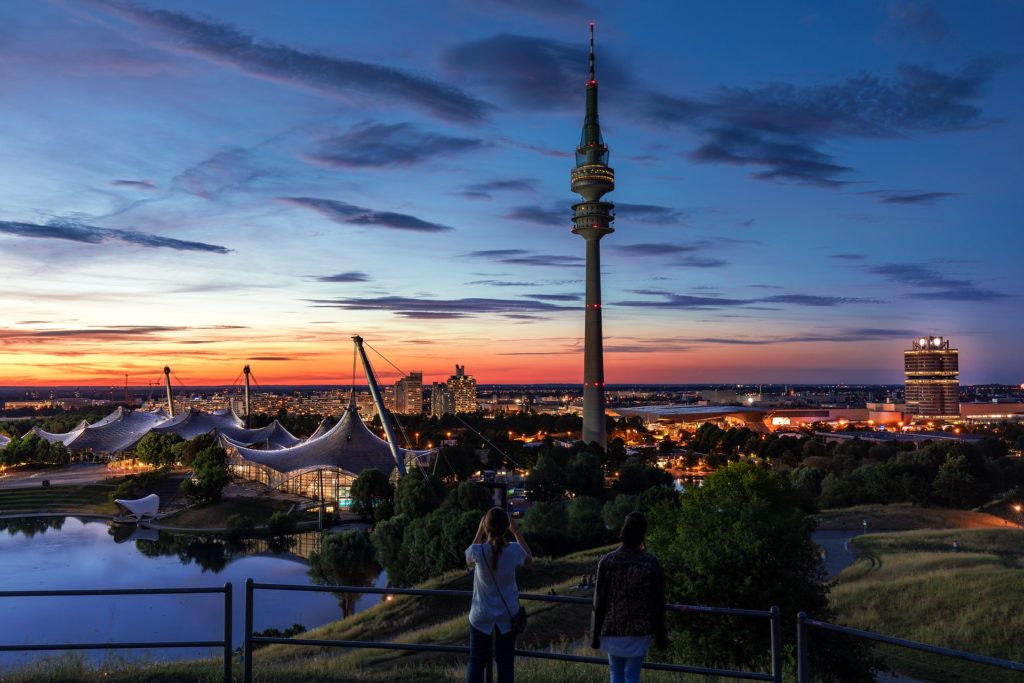 Munich – Wirtshauswiesn
Of course, we understand that Oktoberfest 2020 cannot be celebrated without its most important part; Beer! Munich and Bavaria are the destinations of thousands of people because this is where Oktoberfest all began. This traditionally takes place on the Theresienwiese, but this year things are quite different. That's why Wirtshauswiesn is being celebrated within Munich inns this year. The interesting part about this is that the first-ever Oktoberfest in 1810 was celebrated in the same exact way! This year you don't have to miss out on anything because you can also find specially brewed Wiesnbier from the breweries and a matching beer mug.
As well as this, typical gingerbread hearts and decorations of Oktoberfest tents can be found everywhere. In total, 54 restaurants have joined together to take part in the Wirtshauswiesn 2020 and so that you do not overlook them, there is a special flag that hangs on outside the restaurants. The Wirtshauswiesn will take place until October 4th.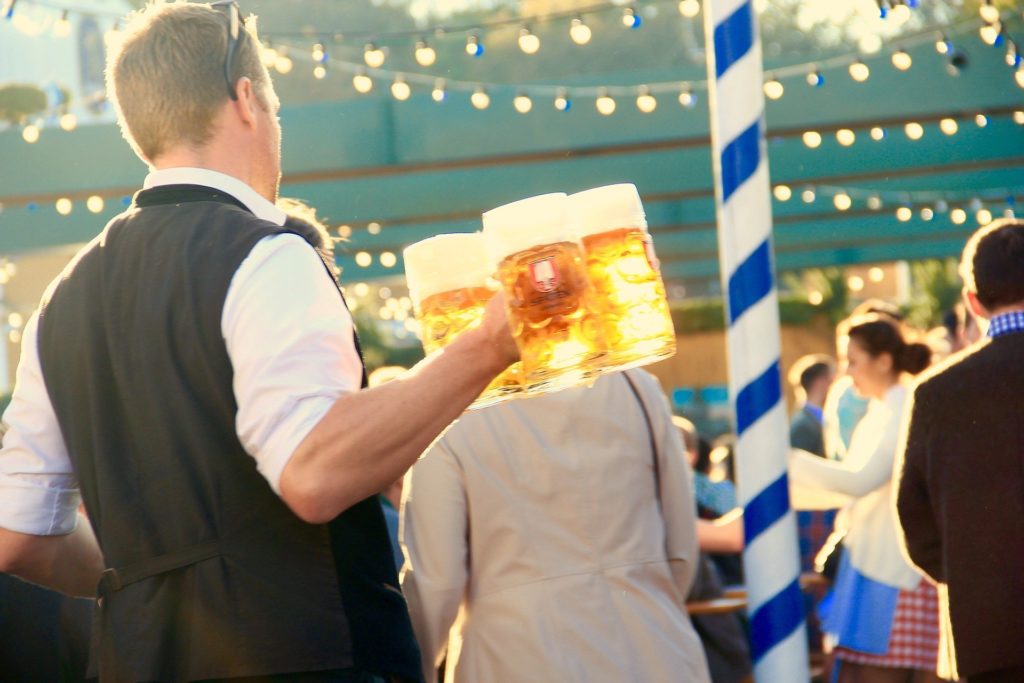 Augsburg – Summer city
In Augsburg, people thought about the Oktoberfest 2020 and came up with a very similar concept to the one in Munich. Not only are there events being held, but also the infrastructure was adapted for this occasion until October 5th. The restaurateurs have been given special permission to extend their outdoor area so that there is even more space outside, in order to avoid the risk of infection in tight, closed spaces. The Mini Plärrer, a small version of the Swabian folk festival Plärrer offers you the opportunity to experience traditional roasted almonds with a true folk festival atmosphere right in the center of Augsburg.
Within the Gaswerk area, one of the most famous areas of the city, you will find smaller events with strong artistic character to them. If you want to experience something truly special, which of course is also related to beer, you should definitely check out the Riegele BierFlug.  Here you can marvel down at the whole city from a climbing park above the Riegele beer garden. Take the Flying Fox that will glide you from one side to the other. In the end, you can enjoy a cold beer in the beer garden, what's not to like?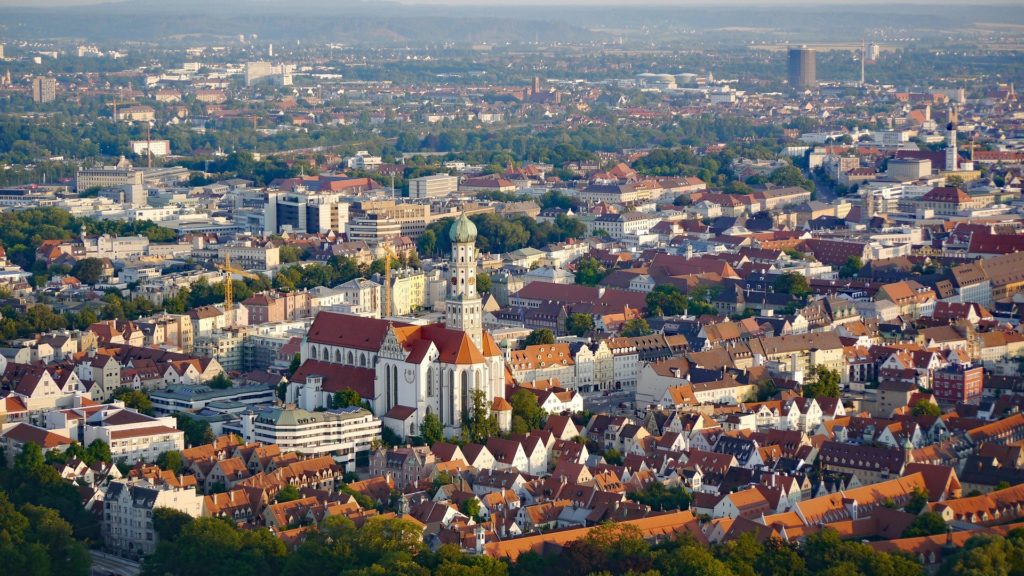 Fürth – A folk festival with entertainers and market merchants
The Michaelis-Kirchweih is one of the oldest and largest folk festivals in Franconia. The festival has probably been around for over 900 years. And as with every folk festival, you will find that it is often followed by lots of food stalls, rides, and market criers. Due to the Corona Pandemic, the Kirchweih cannot take place this year in the same manner, which is why the city of Fürth has come up with a toned-down version.
From the end of May until mid-October there are different entertainers and merchants all over the city who can present their art to everyone despite the crisis. Including the area around the festival has lots to discover in the region surrounding Fürth. For the conspiracy theorists among you, there is, for example, the lodge house of the Masonic Lodge to discover. If you happen to be on the Pan-European Cycle Path going from Paris to Prague, you will also pass through Fürth!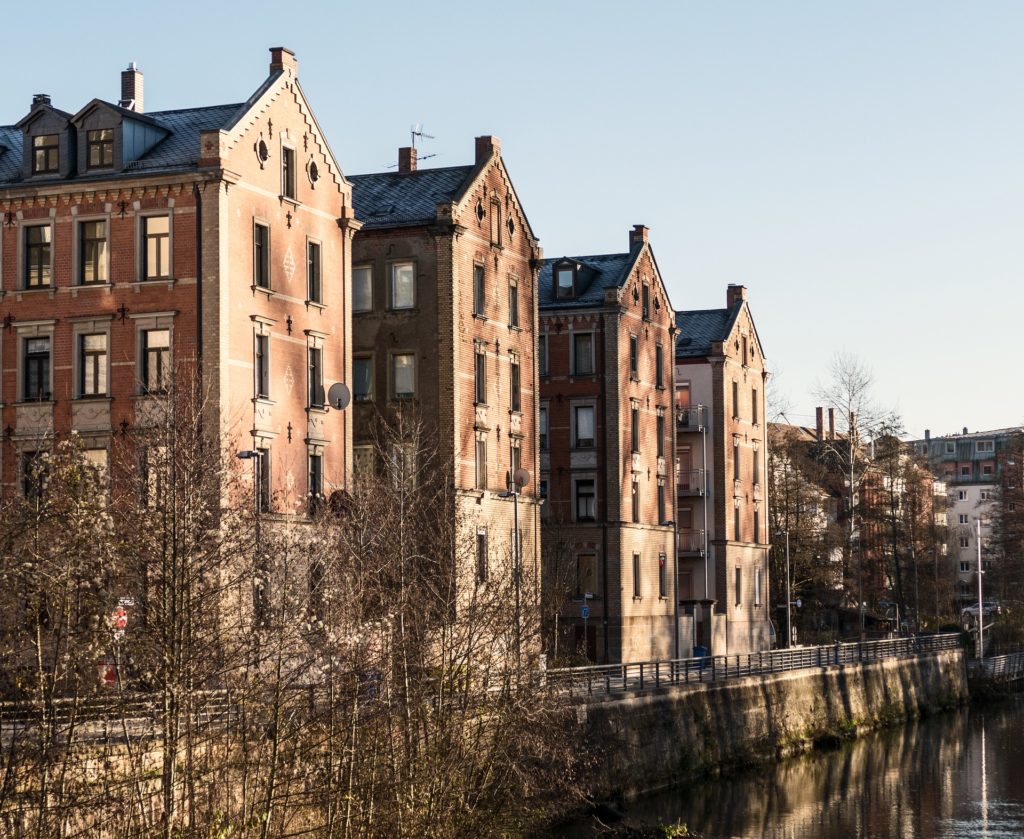 Hamburg – Winterdom
Good news for all you Northern Germans, the Winterdom in Hamburg is taking place! From November 6th to December 6th you can enjoy the rides as per usual whilst enjoying some delicious snacks. The prerequisite for the event to be on is that there is no serious development in coronavirus infection levels.
The entrances to the Heiligengeistfeld (near the Reeperbahn) will be strictly controlled and a maximum of 6,000 people will be allowed in the area at once. More importantly, no alcohol will be served, so that the organizers can guarantee that their visitors are on their best behaviour and behave responsibly. There are numerous rides and roller coasters on the 1.6 km long Cathedral mile, giving you plenty to choose from. The festival also looks back on centuries of history, even into the 11th century! If you thought that the traditional folk festivals only exist in Southern Germany, you thought wrong!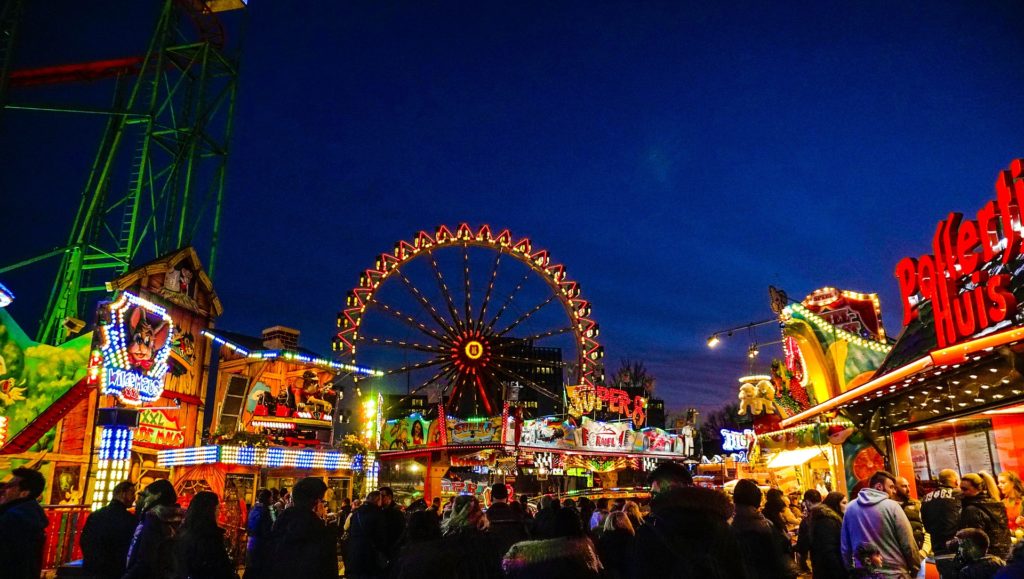 Activities with an Oktoberfest Atmosphere
If you are not much of a party person and prefer smaller groups, then these 3 activities are a great way to celebrate Oktoberfest 2020.
Beer hike with your travel partners
The highest density of breweries can be found in Bavaria, more precisely in Franconia. What else is there? Spectacular hiking trails! And by connecting both aspects, you can go on a beer hike with your travel buddies! In this region, there is a multitude of hiking trails that differ in length and difficulty. For example, you could walk a 17.5 km circular route through Franconian Switzerland, stopping at 4 small breweries and an inn. But you can also find similar paths in other federal states.
If you have more time on your hands you can take a trip to the university city of Heidelberg and get to know the city through 3 different breweries and celebrate Oktoberfest 2020 in a whole new way. The most important thing is to have the right travel partners by your side! Find out how to become the perfect TripMate with us, so that your trip is guaranteed to be an adventure. And if you enjoy exploring, you should check out our 10 Secret Destinations in Germany for Autumn 2020.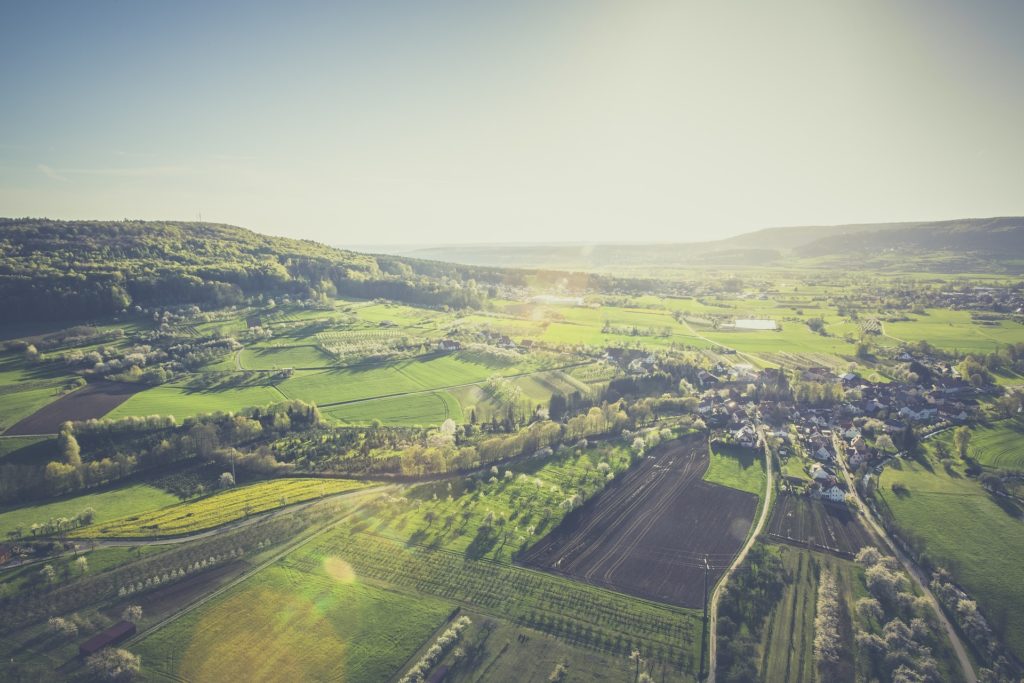 Off to Hallertau – the cradle of German hops
In the world's largest contiguous hop-growing region, not only are the hops a highlight but numerous amazing breweries as well. Here in Hallertau (Bavaria) you can taste and enjoy over 70 different types of beer, including the currently very popular craft beers. When it comes to craft beer, special flavors are of essence that may have never been seen or tasted before. During the autumn you can drink Grünhopfen in the Hohenthanner Schlossbrauerei and during the winter the Bavarian Pale Ale. Don't worry though, the beers still comply with the purity law which states that beer may only consist of water, hops, and barley.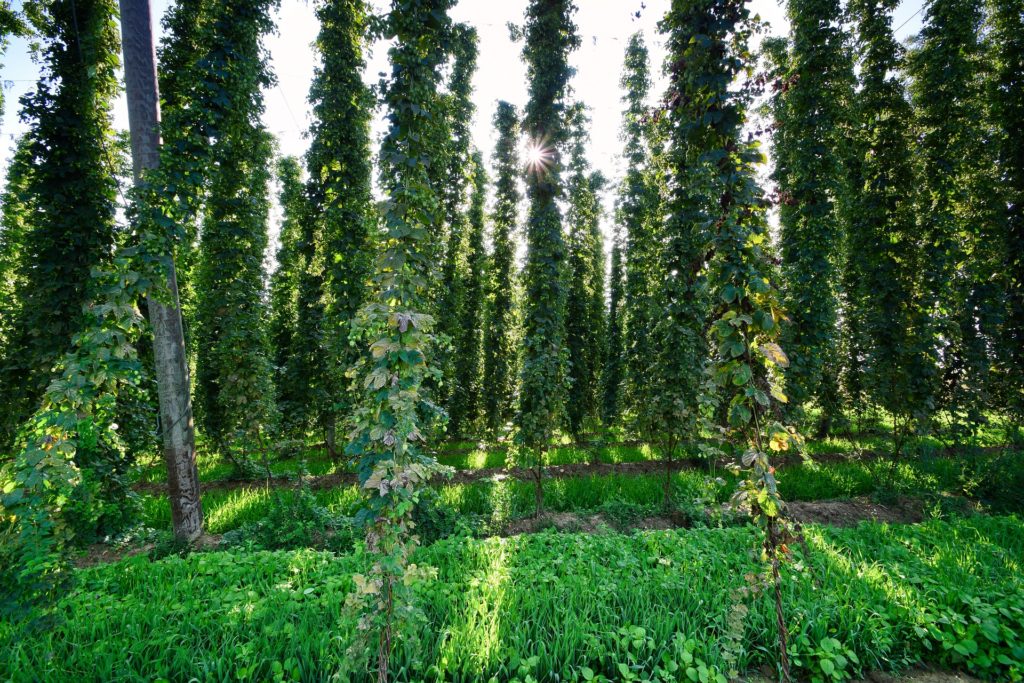 Brewery Crawling in Berlin
Berlin is the culmination of our list of activities and definitely a goal for your personal Oktoberfest 2020 experience. The capital has lots to offer, as you all should very well know. But did you know that you can find a lot of individual breweries here with their very own style and charm? Well, fasten your seatbelts and have your beer mugs ready! We have our Top 3 best breweries in Berlin to share with you because the city is also perfect for students.
We are of course aware that tastes also differ which is why it's best to get your own impression and take your travel partners along with you! The Brauhaus in Spandau is considered by many sources to be the best in the capital. Situated in the Northwest of the city, the atmosphere is a bit quieter and the building with impressive you with its classic interior. In Berlin, we come in contact with the topic of Craft Beer once again. You can enjoy seasonal beers such as the Maibock and Märzen at Brauhaus Lemke. Between Tempelhof and Kreuzberg you will find Brauhaus Südstern – a brewery, beer garden, restaurant, and event location all in one. Now that's how to really celebrate Oktoberfest 2020!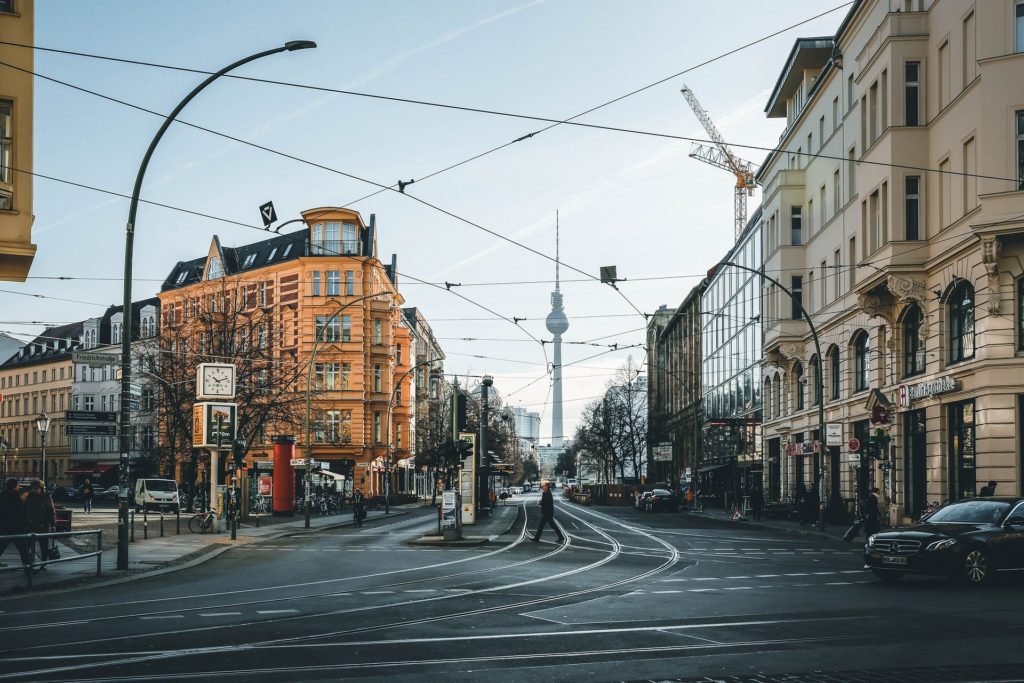 Even if Oktoberfest 2020 does not take place as we might have wished it to, due to Coronavirus, there are still a lot of possibilities to welcome the autumn safely in Germany.
If you need even more inspiration for a trip to Germany, the following articles will help guide you: