Slide 1 of 1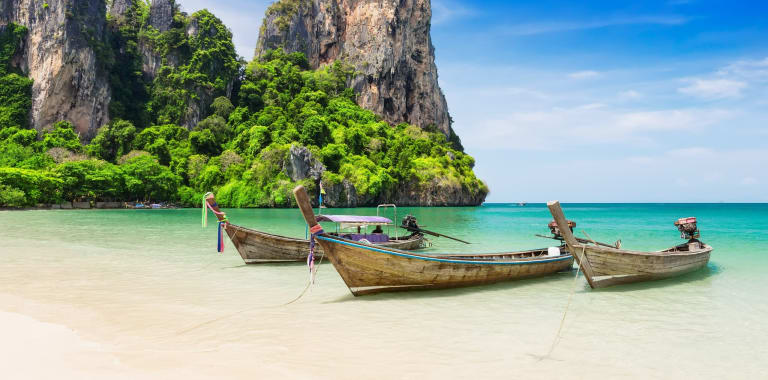 The Ultimate Fitness Holiday in Phuket, Thailand: A Blend of Fun and Wellness
Guided trip
15 days
3 stops
10 - 12 Mates
Thailand
Are you ready to experience the ultimate fitness adventure in Thailand? Join us for a two-week trip that will challenge your body, mind, and spirit. You will train with some of the best instructors in the country, enjoy delicious and healthy Thai cuisine, and explore the stunning beauty of Phuket. Whether you want to lose weight, tone up, or just have fun, this trip is for you! Hey, I'm Alex, a tech, travel, and fitness enthusiast. I've explored countless countries across the globe, immersing myself in diverse cultures, flavors, and experiences. About the accommodation: You will stay at a comfortable and cozy hotel next to the training camp, where you will have access to a wide variety of fitness classes and activities. You can choose from Western Boxing, Muay Thai, yoga, HIIT, MMA, Fitness, and more with an occasional beach boot camp. You will also have plenty of free time to relax by the pool, get a massage, go to the beach or explore the island of Phuket or join one of our optional excursions. Some of the highlights of this trip include: • A visit to the Big Buddha, a majestic statue that overlooks the island • A day boat trip to the Islands, where you can snorkel, kayak, or sunbathe on the white sand beaches (weather permitting) • An evening out in an upmarket restaurant. This trip is not only a fitness retreat, but also a cultural immersion. You will learn about the history, traditions, and customs of Thailand, and experience its warm hospitality. You will also taste some of the most delicious dishes in the world, such as pad thai, green curry, tom yum soup, and mango sticky rice. If you are looking for a fitness holiday that combines fun, adventure, exploration, and wellness, then this is the trip for you. Don't miss this opportunity to transform your body and soul in Thailand. Book your spot today and get ready for an unforgettable experience! What's Included in Price - 14 Nights accommodation in the hotel next to the training camp - Transportation from and to the airport in Phuket - Access to all training classes - A day boat trip to the island - One group dinner - Visit Big Buddha Once you've booked, I'd love to jump on a call with you to see if we click and if this trip is just what you're looking for. I'm really excited to hear from you! 🙌🏻
Your Booking includes free protection from Trip cancellations.
Learn More
Trip Itinerary
You will meet Alex and the group in Phuket
Find the best flight details to Phuket ->
Phuket
Day 1-15
We will stay at a comfortable and cosy hotel next to the training camp, where you will have access to a wide variety of fitness classes and activities. You can choose from Western Boxing, Muay Thai, yoga, HIIT, MMA, Fitness, and more. You will also have plenty of free time to relax by the pool, get a massage, go to the beach or explore he island of Phuket or join one of our optional excursions.
Big Buddha Hillside
Day 15
The Phuket Big Buddha is a 45-metre-tall white marble statue visible from anywhere in the southern part of Phuket. This impressive landmark is probably at the top of everyone's 'Must-Do in Phuket' and is jaw-dropping.
James Bond Island
Day 15
A Boat Day trip to Phi Phi island or around the neighboring Islands to see and experience most stunning beaches, quiet hidden beaches, amazing marine life while snorkeling, and breathtaking islands. Weather permitting
You will meet Alex and the group in James Bond Island
Find the best flight details home from James Bond Island ->
Trip Summary
15 days trip
Phuket, Big Buddha Hillside & 1 more
Have A Question?
Ask the TripLeader questions about the Trip by clicking on the button below. Your question and the response will be visible on this page once it's answered.
Why JoinMyTrip?
Trusted platform used by 150K+ TripMates
Have A Question?
Live Chat with our experts 24x7
Unique Trips hosted by Experienced Travellers
Secure Payments to ensure your money is always safe
Looking for more trips?
Here's some similar trips that you might be interested in.