Slide 1 of 1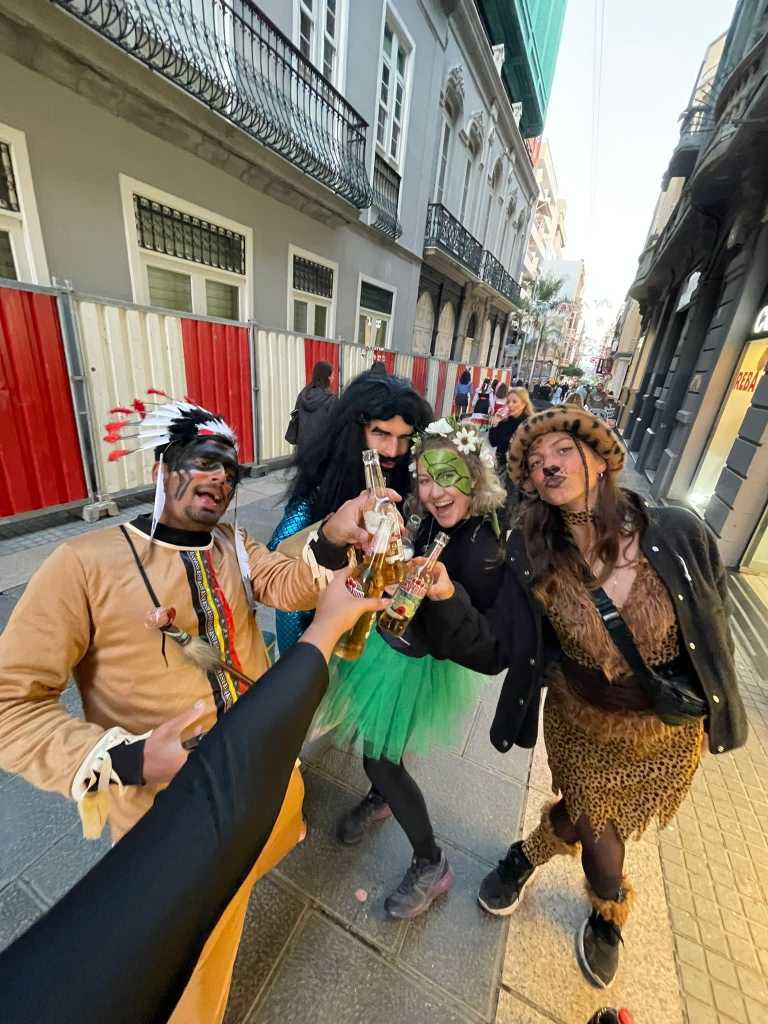 Carnaval & More 🥁🌴 Let's enjoy Tenerife's nature, mountains and beaches during the day, and party at the biggest Carnaval of Europe on various evenings 💃🏽
7 Days30 Days!
Extra Cancellation Days
only for the first TripMate
Guided trip
7 days
7 stops
4 Mates
Spain
What's special?
Local Island Experience
Party at the second biggest carnaval
Active holidays - hike, beach, party
This week will be a very special one! ☀️ For the whole island, because its 🥁 CARNAVAL-TIME 🥁 Some small hikes, coastal walks, city strolls and beach time is planned. Since Tenerife is the biggest island of the Canarian archipelago, and home to a multitude of microclimates, be assured that we will have plenty of options. 🌋🌴 Beside meeting Tenerife's traditions through its cuisine, you will also get to know how Canary people can party! 🥁 Namely at the second-largest carnival in the world, right behind Rio, Brazil. You will see the craziest costumes ever - the Canarios take Carnaval tradition very seriously (And thank god they do). Stay tuned for different parades, dances and the "burial od the sardine". Like I said - it will be a special week! With a lot of traditions, adventures and surely a lot of fun. 🥳 So, bring your best costume and let's hop on this adventure together!
About the TripLeader: My boyfriend Kayo and I will be your tour guides, showing you our favorite spots. Black Sand Beaches, traditional cuisine, hikes on volcanic terrain and much more 🌋. We will pick you up in the morning (between 9-10 am) and bring you back to the accommodation after an adventurous day together (between 5-7pm). Having resided here in Tenerife for nearly two years and embarking on numerous successful journeys, we've made some really nice connections, cultivated new friendships, and gained a deep familiarity with the island and its natural treasures. We're looking forward to meeting you, too! As also do we know which are the best days to go to Santa Cruz for the Canraval!
Accommodation: Your accommodation is literally one minutes by foot away from the beach. If you look out of the window, you can watch the waves. There are two bedrooms, each with two single beds, one living room/kitchen and a bathroom. To reach the city center it takes around 15 minutes by foot and is a very nice walk along the beach. However, you will also find plenty of restaurants and small supermarkets close to you. Also in the city center there will be party every day, and it would be hard for you to sleep! Everyone takes care of their own arrival and departure - I will of course help whenever you have questions or doubts. Joint expenses, such as groceries, fuel, and such, will be shared on an App called Splitwise. 💸 I will only give you suggestions of activities - if you want to hike more and chill less or vice versa, it is totally fine! We will surely find a way to make everyone happy. ☀️ See you soon! 👋🏽
What's included?
🏠 Accommodation with shared bedrooms
🚗 Transport and Fuel
💃🏽 An unforgettable Carnaval party
🙋🏽‍♀️ Tour Guide and Driver
🥑 Local Breakfast for your first day
🫒 Snacks throughout the week
🚡 Teide Gondola Ticket up & down
Your Booking includes free protection from Trip cancellations.
Learn More
Meet Your TripLeader
Phone Verified
Identity Verified
22 Countries
13 Trips Completed
Hellooo, my name is Carina. You will mostly find me outdoors, exploring, hiking or in the ocean! Excited to meet you all!
based on 39 reviews
Show All Reviews
You can chat with Carina once you reserve your spot.
Trip Itinerary
Puerto de la Cruz
Day 1-7
You will sleep in apartments, close to the city center of Puerto de la Cruz. Located in the north of Tenerife, the more authentic and traditional part of the island. Puerto de la Cruz is a coastal town, with lots of restaurants, bars and small shops. Surrounded by Black Sand Beaches, it makes the perfect place. Since the bedrooms have different sizes, I would say: the first one who books can choose which room he/ she gets . 🏡
Anaga
Day 7
Let's start into the week with a hike in the Anaga mountains. This evergreen forest has numerous of hikes, beautiful views and the coast is full of nice beaches. Depending on weather, wind and wave conditions, I will choose accordingly which hike and beach fits best for today!
Parque Nacional del Teide
Day 7
We will start the day by heading to the highest point of Tenerife, as also whole Spain. 🥾 Bring your winter jackets, because it is going to be fresh on, 3600m! Very likely there will be also some snow up there! So, during your holidays you will not only enjoy the ocean and the beach but also some snow! Let's hope that the gondola will work and there won't be too much wind! On the way back, we can stop at some natural volcanic pools, beaches or traditional cities.
Buenavista del Norte
Day 7
Today we will head to the north-west coast of the island. We will pass by a very traditional village, right next to the ocean, where we can have a coffee and buy some souvenirs. Afterwards we will head to a great viewpoint and later have lunch in a local restaurant. In the afternoon, let's get ready for a big highlight for carnival! The burial f the sardine! I am not going to spoil it, you have to see by yourself! 😝
Costa Adeje
Day 7
Today we will drive south to see another part of the island. We have lots of options between beaches, natural volcanic pools and coastal towns since the south is famous for its warm and sunny weather, also in winter. ☀️ Let's end today with a quick stop at Santa Cruz and check out the parade for a bit! 🥁
Santa Cruz de Tenerife
Day 7
Hello Friday and hello 🥁 CARNAVAL 🥁. Bring your best costume from home and let's party! Btw, there are plenty of shops selling affordable ones as well, so no worries if you cannot find you at home! After a good breakfast, maybe a coastal walk to another beautiful beach, we will get dressed, put our makeup on and straight away head to Santa Cruz! We don't want to miss any moment of the biggest canary party of the year. 💃🏽
Puerto de la Cruz
Day 7
Well, weekends are for hangover, right? 🥴 And for saying goodbye 👋🏽👋🏽. Today you will head back home with a lot of memories, new friends and amazing parties. 🌸 We hope you enjoyed your time on the beautiful island of Tenerife!
Trip Summary
7 days trip
Puerto de la Cruz, Anaga & 5 more
What's excluded?
Flights
Transport to Accommodation
Food and Beverage
Why JoinMyTrip?
Trusted platform used by 150K+ TripMates
Have A Question?
Live Chat with our experts 24x7
Unique Trips hosted by Experienced Travellers
Secure Payments to ensure your money is always safe