Slide 1 of 1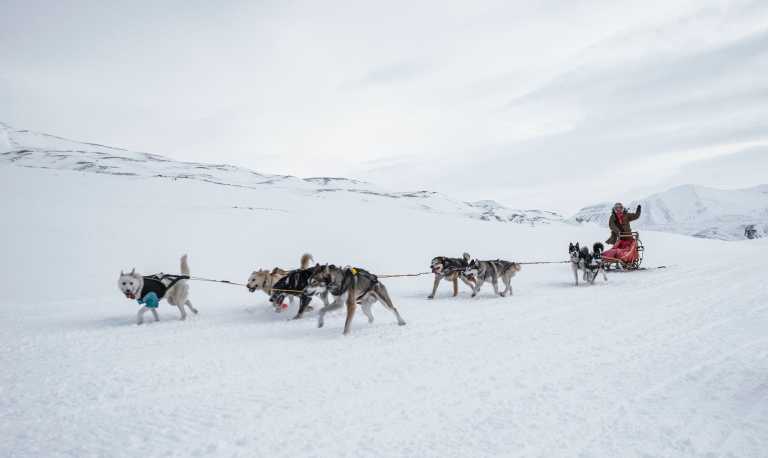 This trip is confirmed to go.
Spitzbergen Arctic Expedition, Tromsø and Faroe Islands - Combined Tour
Guided trip
14 days
14 stops
1 - 2 Mates
Northern Europe
If you're seeking an extraordinary holiday experience, you should join my trip! ARCTIC ADVENTURE From breathtaking landscapes and unique wildlife encounters to captivating cultural and scientific insights, a visit to Spitsbergen promises an unforgettable adventure in one of the world's most remote and fascinating regions. I already included lots of activities for us and they don't require any previous experience, however, you need to be fit to join the trip. Please also keep in mind, that you will need suitable, warm clothes! I will provide you with a packing list before the trip. With polar bears roaming around, you cannot leave the town of Longyearbyen alone, so we will always have a guide with us, to be safe. Due to that, and activities and accommodation being quite expensive, comes a high cost - but that's totally worth it, in my opinion! You can encounter polar bears anywhere in Svalbard all year round, however, it's never guaranteed to see them, like with any other wildlife - we definitely need some luck! FAROE ISLANDS Faroe Islands - a captivating archipelago nestled in the heart of the North Atlantic Ocean. With its dramatic landscapes, untouched beauty, and a unique blend of traditional Nordic culture, this hidden gem offers an unforgettable holiday experience like no other! What can you expect? Rugged cliffs, cascading waterfalls, lush green valleys, and picturesque villages seem to emerge from a fairytale. The untouched nature here is a heaven for outdoor enthusiasts, providing endless opportunities for hiking, birdwatching, boat trips and the awe-inspiring fjords. I'm Kathi, 27 years old and born in Austria. I already organized many JoinMyTrip group trips and it was always a lot of fun! Traveling is my passion and I truly enjoy planning trips. You can find all my trips when you click on my profile. Or read more about me here: https://www.joinmytrip.com/en/t/tripleader/kathichristalon The price includes: - Accommodation (Guesthouse, shared rooms) - Dog Sledding Tour (Half-day) - Guided visit of Gruve 3 (coal mine) - Svalbard Museum entrance fee - Longyearbyen City Tour - Wilderness experience or viewpoint hike - One additional tour, depending on availability and weather (For example Pyramiden) - Sauna experience in Tromsø - Ferry to Mykines (one-way) - Helicopter ride (if the weather allows) - Mykines Hiking Fee - Vestmanna Sea Cliffs Boat Trip - Ferry to Kalsoy (return) - Trælanípan Cliff Hiking Fee - Authentic Faroese sailing experience - Trip planning and packing list - Travel Insurance for Austrian and German residents Not included: Personal expenses, flights, food etc. If at least 5 TripMates join, the price will also include: - Exclusive 3-course dinner in Longyearbyen See you! :)
Your Booking includes free protection from Trip cancellations.
Learn More
Meet Your TripLeader
Phone Verified
Identity Verified
48 Countries
51 Trips Completed
More Info about me: https://www.joinmytrip.com/en/t/tripleader/kathichristalon ❤️
based on 93 reviews
Katharina is very experienced in organizing trips. She thinks about every details, and her planning is near-perfect, and she is so friendly and considerate. I would join another one of her trip in a heartbeat. Highly recommend. Thanks again Katharina !
Show All Reviews
You can chat with Katharina once you reserve your spot.
Trip Itinerary
Longyearbyen
Day 1-2
We will meet in Longyearbyen, Spitzbergen where we will live for the rest of our trip in a cozy guesthouse. We will settle in and plan our upcoming days together. Due to the weather, the order of activities might change, but we will try to do all of them. Don't forget to pack your warmest clothes! I will provide you will a packing list before the trip.
Gruve 3
Day 2-3
We can also do a tour to a coal mine! During this tour, we will experience the life of a miner and explore equipment and machinery from Gruve 3's days of production. Afterwards, or before the tour, we can walk around Longyearbyen, taking pictures and visit the world's northernmost church. We should also visit some of the shops, as Svalbard is a duty-free zone and lower tax-free prices apply. It's possible to find great prices on outdoor clothing and equipment.
Trollsteinen
Day 3-4
Today we will hike up Trollsteinen! It's a chance to challenge yourself physically, bask in the serenity of the wilderness, and witness some of the most breathtaking scenery on the planet. So, lets put on our hiking boots, pack a camera, and embark on an adventure to Trollsteinen that will leave us with unforgettable memories.
Pyramiden
Day 4-5
Today we will do a day trip to the fascinating town of Pyramiden! During the 80s there lived over 1000 people in the mining town of Pyramiden, a town founded by Sweden in 1910 and later sold to the Soviet Union in 1927. To get to this place, we will book a guided boat tour, as it's the only possible safe way.
Svalbard
Day 5-6
Dogsledding has been a traditional mode of transportation in the Arctic for centuries. By taking part in this activity, you'll be following in the footsteps of early explorers and indigenous cultures who relied on sled dogs to navigate these harsh environments. It's a chance to connect with the rich history and heritage of the region. It will leave you with a sense of adventure and excitement that few other activities can match.
Tromsø
Day 6-7
Today, we will take a flight to Tromsø, known as the "Gateway to the Arctic". There is no big activity planned for today, as the last days have been demanding, but we can have a dinner and drinks together in the evening.
Tromsø
Day 7-8
We have a full day to explore the city on our own. We will stroll along Storgata, the main pedestrian street, lined with shops, cafes, and restaurants and also see the iconic Arctic Cathedral! In the evening we will go to the sauna! The sauna is located on a wooden structure floating on the harbor with a beautiful view. You can even take a dip in the sea!
Tórshavn
Day 8-9
Welcome to the breathtaking Faroe Islands! We will meet in our accommodation in the afternoon. Most likely, we will stay in Tórshavn at a guesthouse or apartment. This day is only planned for arrival, but in the evening, we can have our first dinner together!
Tórshavn
Day 9-10
Early morning, we will head to the pier, as we will have a sailing trip, to experience the Faroe Islands from the sea. Our boat will be an authentic Faroese sailing ship. We will bring some snacks and drinks and just unwind! The sailing experience will take about 3,5 hours, which gives us enough time to explore Tórshavn in the afternoon. We will be visiting Tinganes, the historic district of Tórshavn and also shop for Souvenirs. There are cute shops offering traditional handicrafts, knitwear, and locally made products or artwork.
Vágar
Day 10-11
Today, we will take a bus to Vágar Island, home to some of the most stunning natural beauty in the Faroe Islands. We will hike to the beautiful Mulafossur Waterfall and the Floating Lake Viewpoint. We will have some time to visit the picturesque village of Gásadalur and its famous grass-roofed houses before heading back home.
Mykines
Day 11-12
We will take a bus to Vagar from where we will take a helicopter to Mykines! Helicopters may usually be the preserve of the rich and famous, but in the Faroes, helicopters are a way of life. Helicopter routes on the Faroe Islands were originally established as a link for inhabitants of the smaller, more remote islands to make it easier for them to get to the busier islands. The Faroe Islands have one of the most unique landscapes on the planet, and viewing these remarkable islands from above is the best way to take it all in – absolutely breathtaking! Once In Mykines, we will explore the island on foot. We will hike to the islet of Mykineshólmur, connected by a picturesque footbridge. This trail rewards us with breathtaking views of the surrounding cliffs, the crashing waves, and the opportunity to witness nesting seabirds. We will return by ferry and go out for dinner.
Vestmanna
Day 12-13
On the next day, we will take a bus to Vestmanna, which takes about half an hour. There we will join a guided boat tour for 1,5 hours to explore the stunning Vestmanna Sea Cliffs. We will sail close to the cliffs and if weather permits, the tour will include sailing through rocky gorges. There are several bird species that are nesting in the narrow sloping ledges in the cliffs. Hopefully we will also spot some Puffins! The Faroe Islands got very popular because of the Puffins - about 1,000,000 birds breed in the Faroe Islands during the summer period, so May is a good time to see them.
Klakkur
Day 13-14
We will take a ferry from Klaksvík to Syðradalur, the main port on Kalsoy. Afterwards, a bus will bring us to the starting point of our hike. The Kallur Lighthouse Hike is definitely the most famous one, as there are pictures all over social media. After completing the Kallur Lighthouse hike, we will go to the village of Mikladalur. Here we will eat something and also get to see the famous Seal Woman Statue. This sculpture, based on a Faroese legend, tells the story of a mythical seal that transforms into a beautiful woman. We will take a ferry and a bus back home to our accommodation :)
Färöer
Day 14
After breakfast, we have to check out of our accommodation, and will take a bus to Vagar Airport for our departure flight! Thanks for an amazing time, hopefully, we will see each other on another trip!
Trip Summary
Accommodation
Apartments & Bed & Breakfast
14 days trip
Longyearbyen, Gruve 3 & 12 more
Transportation
Trekking, Car, Plane
Have A Question?
Ask the TripLeader questions about the Trip by clicking on the button below. Your question and the response will be visible on this page once it's answered.
Why JoinMyTrip?
Trusted platform used by 150K+ TripMates
Have A Question?
Live Chat with our experts 24x7
Unique Trips hosted by Experienced Travellers
Secure Payments to ensure your money is always safe
Looking for more trips?
Here's some similar trips that you might be interested in.