Slide 1 of 1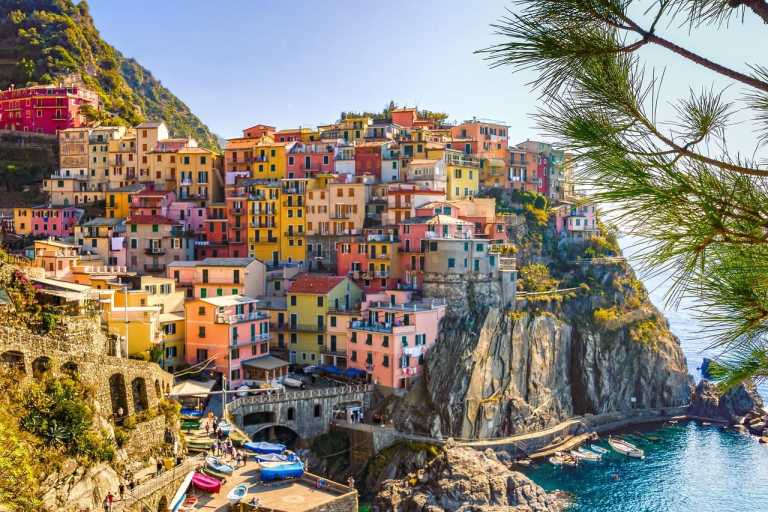 This trip is confirmed to go.
Italian Riviera Getaway: Cinque Terre and Portofino - Local Food, Picture-Perfect Sights, and Coastal Sunsets 🌞
Guided trip
5 days
6 stops
3 - 5 Mates
Italy
Cinque Terre, a UNESCO world heritage site, is a collection of five charming historic villages nestled along the Italian Riviera. The villages, namely Riomaggiore, Manarola, Corniglia, Vernazza, and Monterosso, offer a true taste of local Italian village life. What makes this place truly special are the scenic hiking trails that connect these towns, providing breathtaking views of the coastline. Prepare to be enchanted by crystal-blue waters, vibrant buildings, bustling harbors, exquisite vineyards, and the most awe-inspiring coastal sunsets. Portofino, another picturesque fishing village, is also a must-visit gem along this stunning coastline. 😎 Our goal on this trip is to create a perfect blend of leisure and excitement. This is the perfect time to visit the Cinque Terre because it is still warm but there are less tourists! Picture yourself basking on the sun-kissed beaches of Monterosso, mastering the art of creating mouthwatering pesto and pasta, embarking on scenic hikes along the coastline, immersing yourself in the charm of each village, savoring fresh seafood delicacies, indulging in wine tastings, exploring historic castles, and being captured by the stunning views. Keep in mind that most of the stops are optional. If you prefer to have another experience, feel free to choose as you'd like! ✈️ The two closest airports to get to Cinque Terre are Pisa and Genoa. I will be arriving in Genoa on the morning of September 30th and will then take the train to La Spezia. When departing, I will take the train to Florence on October 4th in the afternoon. You are free to do as you wish, but those that are arriving around the same time can meet at the Genoa airport. If you let me know how you are arriving, I can book your train ticket and add it within the cost of you trip! The transport cost included in the trip fee covers the Cinque Terre train card price, which is for 3-day usage and we will need it for the 1st, 2nd, and 3rd days of the trip. 🏠 For the accommodation, we will either stay in an area right on the outside of the villages but with close access to transport and beaches, or in La Spezia where the main train station is located, depending on the amount of people to join. Each TripMate will have their own bed in a 2-person room share in a house or apartment.
👩🏻‍🦰 About Me: I'm excited to be hosting my first trip with Join My Trip! I've been lucky enough to call Paris home for 2.5 years, but I'm originally from the USA. I work as an event manager and love to travel when I can so I've always had a love for planning and creating memorable experiences. Now, I'm happy to bring that same energy to all of you! Looking forward to meeting you and exploring new places together🤗
✔️ I would like to find around 3-5 people to go on this trip with me! The prices may vary based on how many join. I hope to travel with people who are open-minded and have good energy to optimize the experience for everyone ❤️ Have any questions? Send me a message👌 I'm happy to chat or meet you virtually before finalizing the trip to ensure that it is a good fit for you! 🙂
What's included?
Accomodation
Portofino train roundtrip
Pasta/Pesto cooking class
Cinque Terre 3-day train pass
Your Booking includes free protection from Trip cancellations.
Learn More
Trip Itinerary
You will meet Logan and the group in La Spezia
Find the best flight details to La Spezia ->
La Spezia
Day 1
Arrival in La Spezia: We will arrive in La Spezia, where we will have a slower day after checking in at our Airbnb. We'll go into the city to stroll around the local area and shops and then have dinner along the water while watching the sunset by the coast.
Manarola
Day 1-2
Riomaggiore and Manarola: Today we discover the villages of Riomaggiore and Manarola by taking the train from La Spezia station. The journey should be about 15 mins. Throughout the day we will see Castello di Riomaggiore, walk the scenic trails back to the harbor, taste fried mixed seafood, have lunch on the rocks, and spend some time on the beach. In Manarola we will visit the streets of old town, Via Renato Birolli and Via Antonio Discovolo, which homes many shops, cafes, and medieval buildings. Since there are many boats in the harbor, there is the option to do a boat tour in one of these villages. As the sun starts to set we head to the city's famous hilltop viewpoint.
Monterosso al Mare
Day 2
Monterosso al Mare and Vernazza: We will leave early and use part of this day to relax on along the beach in Monterosso. You can grab an umbrella and chair or choose to move at your own pace. We can discover the numerous beaches in this area and hike to other parts along the coastline. Along the trail, there are many vineyards which give the opportunity to have a wine tasting, enjoying the two most-well known varieties of the region, Cinque Terre DOC and Sciacchetrà DOC (optional). We will walk through old and new town and to the top of the hill where there is a monastery with panoramic views. Along the way we will try the famous anchovies from Monterosso! In Vernazza, there are many well-known viewpoints that are great for taking photos: we will walk to Doria Castle and the Top of Vernazza as well as through the streets for the photogenic buildings here.
La Spezia
Day 2-3
Cooking Class and Free-Time: We can start by grabbing an early breakfast and taking a stroll through the city to start the morning. We will then have our pasta and pesto cooking class a bit outside of town from 11:00am to 2:00pm. After the class ends, there will be free-time where everyone can choose where they would like to visit or what activity they do. This will be the last day of the Cinque Terre 3-day train ticket so it's nice to make good use of it and see other parts of the villages that we might have missed.
Portofino
Day 3-4
Day trip to Portofino: We will leave early and travel about 1 hour and 15 mins into the city of Portofino. We can explore some of the local sites, shop around, and bask in the sun on the coast. Throughout the day we will visit the famous central square, Divo Martino, Castello Brown, and the Portofino Natural Park. We will head back to La Spezia for our last night in Cinque Terre.
Cinque Terre
Day 4-5
Depending on your departure time, there is free-time available to explore that last parts of the region. We will have one last breakfast along the water and conclude our time together after 5 busy days throughout the most beautiful part of the Italian Riviera!
You will meet Logan and the group in Cinque Terre
Find the best flight details home from Cinque Terre ->
Trip Summary
5 days trip
La Spezia, Manarola & 4 more
Hi Logan, Good afternoon, I am interested to join your trip and never been to Italy and this is my f...
Read More
Hi Bharat, so sorry but the trip is already full! There is just a change being made that's why it says there is still 1 spot.
So the plan is to stay at the same accommodation in La Spezia for the full 4 nights, right? Do you h...
Read More
Hi Heiko, Yes, we will be staying in the same accommodation for the 4 nights. The location of the apartment is in La Spezia and is a 7 min walk from the central train station that connects within min...
Read More
Hi Logan, this trip looks great - any chance at all to have seperate rooms? Will be my first trip wi...
Read More
Hi Joseline, Yes, as for now there are three rooms with two beds in each so you would probably have to share a room, but likely will be with another girl. I have messaged with all of the TripMates an...
Read More
What's excluded?
Flights
Food
Boat Tour (Optional)
Travel to airport for departure
Everything else
Why JoinMyTrip?
Trusted platform used by 150K+ TripMates
Have A Question?
Live Chat with our experts 24x7
Unique Trips hosted by Experienced Travellers
Secure Payments to ensure your money is always safe
Looking for more trips?
Here's some similar trips that you might be interested in.