Slide 1 of 1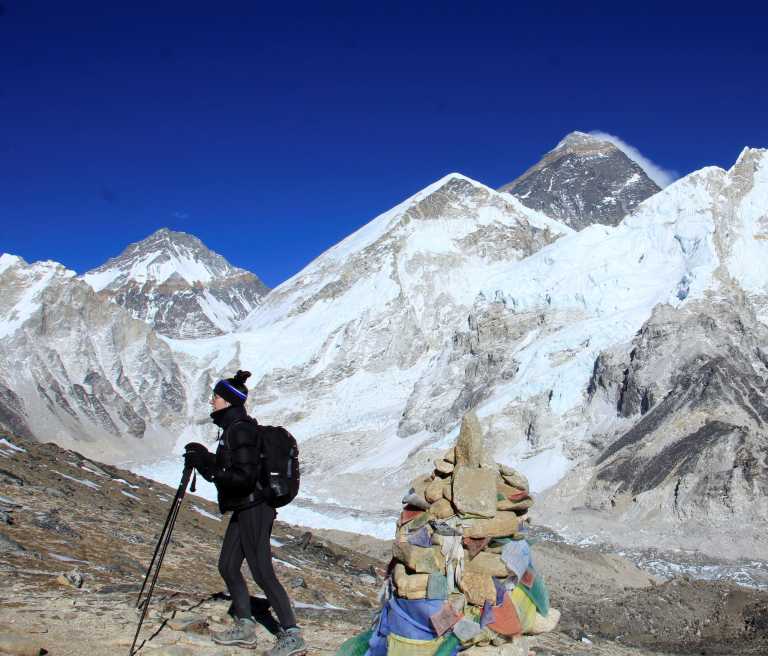 Everest Base Camp Trekking - Nepal with a Local
Guided trip
13 days
14 stops
2 - 6 Mates
Nepal
Hi! I am Madhi, originally from Nepal, but I currently study in Bochum, Germany. Im happy to show you the beautiful country of Nepal and trek together! Everest base camp trek is a classic trek and undeniably the most popular trekking destination in the world with awe-inspiring views of majestic mountains, most importantly, you will reach the lap of the world's highest mountain Mt. Everest (8,848.86 m). This trek has been the dream of the world's travelers ever since it was first telescoped by Sir Gorge Everest, Mt. Everest was portrayed on the world's map in 1856, whereas this trekking has been popular ever since Edmund Hillary and Tenzing Norgay Sherpa successfully had the summit to this world's highest peaks back in 1953. Everest Base Camp trek is designed to fulfill the dream of those travelers who are willing to reach the lap of the world's highest peaks. In our itinerary we will have a number of rest days, for acclimatization and experience the paradise of the majestic Himalayas above 8,000 meters including Mt. Everest (8,848.86 m), Mt. Lhotse (8,516 m), Mt. Cho Oyu (8,201 m) and Mt. Makalu (8,463 m). Besides these world's highest peaks, we will also have amazing views of numerous other Himalayas. Bist du bereit für den Everest Base Camp Trek, der mit einem 30-minütigen Rundflug von Kathmandu zum Flughafen Lukla beginnt? 💰 Die Reise beinhaltet: - Abholung vom Flughafen und Transfer mit privaten Fahrzeugen - Sightseeing in Kathmandu mit Reiseleiter und privatem Transport - 2 Hotelübernachtungen mit Frühstück in Kathmandu (Kumari Boutique Hotel) - Vollpension (Frühstück, Mittagessen, Abendessen) während des Trekkings - Flugtickets von Kathmandu-Lukla-Kathmandu - Unterbringung im Teehaus mit Zweibettzimmern während des Trekkings - Professioneller und erfahrener englischsprachiger Guide - Ein Gepäckträger für die beiden Trekkingteilnehmer - Verpflegung, Unterkunft, Gehalt, Ausrüstung, Medikamente und Versicherung für die Trekking-Mitarbeiter - Alle notwendigen Genehmigungen und Eintrittsgelder während des Trekkings. (Eintritt in den Nationalpark + Eintritt in die Gemeinde) - Willkommens- oder Abschiedsessen mit Kulturprogramm in einem typisch nepalesischen Restaurant - Eine medizinische Ausrüstung wird von unserem Trekking-Guide/Leiter mitgeführt - Abschlusszertifikat, Footprint Duffel Bag, Trekkingkarte und ein T-Shirt von unserem Unternehmen. - Alle staatlichen Steuern und Betriebskosten Nicht inbegriffen: - Persönliche Trekking-Ausrüstung und -Geräte - Deine Reise- und Rettungsversicherung, Helikopterrettung und alle versicherungsrelevanten Dinge - Mittag- und Abendessen in Kathmandu - Trinkgelder für Führer, Träger und Fahrer (erwartet) - Mineralwasser, alkoholfreie und alkoholische Getränke, Wäsche und deine persönlichen Ausgaben während der gesamten Nepalreise - Internationale Flugtickets - Eintrittsgelder für Stadtbesichtigungen - Die restlichen Ausgaben, die nicht in den Kosten enthalten sind, umfassen Bist du dabei? Schreib mir eine Nachricht, wenn du Fragen zur Reise hast 📬. Ich freue mich darauf, dich zu treffen!
Your Booking includes free protection from Trip cancellations.
Learn More
Meet Your TripLeader
Phone Verified
Identity Verified
14 Countries
7 Trips Completed
Full time Travellers
based on 1 reviews
The trip was simply fantastic. Everyone should have seen the beautiful mountains of the Himalayas. Simply majestic. The organization by Footprint Adventures was terrific. All wishes were taken care of and the guides/porters and organizers are mega friendly, flexible and accommodating. Communication via WhatsApp was mega easy and fast. I was not the last time in Nepal and will definitely come back. Thank you Footprint for the unforgettable experience! :)
Machine Translated
•
Show All Reviews
You can chat with Madhav once you reserve your spot.
Trip Itinerary
Kathmandu
Day 1-2
Kathmandu, the capital city of Nepal lies in the valley surrounded by beautiful green hills from all sides. If you come through the airways, our representative will be there in the airport terminal with your name to give you a warm welcome. After greeting you, our representative will drop you in your hotel and help you with all the check-in works. There will be no activities planned for you. You can take a rest and if you want to explore nearby you can go and explore yourself as well. Overnight at Hotel in Kathmandu
Kathmandu
Day 2-3
After breakfast, you will be taken to visit some of the famous landmarks of Kathmandu such as Boudhanath Stupa, Swyambhunath Stupa, Pashupatinath Temple, and Patan Durbar Square. They all are listed in the UNESCO World Heritage Sites and protected areas as all of them are historically, culturally rich, and ancient. You will get to explore these heritage sites with our experienced city tour guide. You will get a chance to know about the historical facts, stories and all the information related to these sites. Swyambhunath Stupa is one of the self-sprung Buddhist and Hindu temples, also called the monkey temple. You will enjoy the stupas, temples, shrines, monasteries, and many more things to explore. Similarly, Boudhanath Stupa is one of the oldest Buddhist stupas in Asia and it's an important pilgrimage center for Tibetian Buddhism. Likewise, Pashupatinath Temple is Nepal's biggest Hindu temple that lies on the bank of the Bagmati River, where people worship Lord Shiva shine. Watching the Hindu cremation rites at the bank of the Bagmati river might be a very new experience for you. Patan Durbar Square is one of the three royal squares in the valley. Built in the medieval era, the Durbar Square used to be the Malla ruler's royal palace and was later used by Shah Kings. After your amazing whole day city excursion, you will get back to your hotel. After that, we will go to one Nepali Cultural Restaurant where you will get both delicious Nepali food along with an amazing cultural performance. You will meet your trekking guide, there will be a short briefing session about your trekking and the guide will basically answer all your queries. Overnight at Hotel in Kathmandu.
Phakding
Day 3-4
The day began and on this day, you've to wake up early in the morning and your guide will be there in Hotel to pick you from the airport. All the flights in Lukla are scheduled in the early morning as the weather in Lukla becomes not suitable for the flights. The 30min flight from Kathmandu to Luka is the most memorable part of your trip. The Lukla airport is a narrow and short strip of asphalt sitting atop a cliff. That's what this airport is often considered one of the most extreme airports in the world. Once you land at the Lukla Airport, you will meet your porters who will carry your luggage. Leaving the airport, you will walk through the busy and cozy Lukla village, market, and make your way down to Phakding. The first day of your trek is quite easy as you will walk through the vibrant villages, sherpa houses, and lower alpine forests of the Everest region. You will walk through the ridges of Dudhkoshi river, beautiful hills, and stunning landscapes. You will cross one suspension bridge before reaching Phakding. After 3 hours of gentle hike, you will reach the beautiful village Phakding. Overnight at teahouse in Phakding.
Namche Bazar
Day 4-5
After breakfast, we will make an early start along the bank of Dudh Koshi river, crossing the thrilling suspension bridges laden with prayers flags. It is a rigorous walk filled with steep ascents. Though the scenery is breathtaking and landscapes are magical. As we reach Manjo, we will enter inside the Sagarmatha National Park, a UNESCO World Heritage Site. The trail passes steeply with breathtaking views including the longest Hillary Suspension bridge before ascending to Namche Bazaar. Namche Bazaar (considered the Gateway to Everest) is home to many quality restaurants, hotels, lodges, shops, money exchange services, internet cafes, and bakeries. A Sherpa settlement, the town is carved on the side of the steep mountain face. Namche is the biggest town along the Everest trail. Overnight at a comfortable teahouse run by a Sherpa family.
Hotel Everest View
Day 5-6
We will spend a day in Namche Bazaar in order to acclimatize and adjust to the thinning air. We will trek a short distance to a museum that is celebrated for its exhibits of the traditional customs of the Sherpa people. We will also hike up to the Syangboche Airport and the Everest View Hotel, one of the highest-placed hotels in the world. From this point, we can see rewarding views of the Himalayas including Mt Everest.
Tengboche
Day 6-7
The trek continues along the rushing glacial waters of the Dudh Kosi with magnificent views of the mountains. We have trekked to an altitude of 3,860 m upon reaching Tengboche. Inside the monastery are incredibly ornate wall hangings, a 20-foot sculpture of Buddha, and the musical instruments and robes of the Lamas. The group will be taken to observe a prayer ceremony either in the evening or in the morning depending on how the trekking goes this day.
Dingboche
Day 7
From Tengboche, the trail drops to Debuche, crosses another exciting suspension bridge on the Imja Khola, and climbs to Pangboche amongst thousands of mani stones. Our uphill trek continues, taking us to the quaint traditional Sherpa village of Dingboche with its exquisite views of Lhotse, Island Peak, and Ama Dablam. We take our time, so we avoid getting affected by the altitude.
Dingboche
Day 7-8
From Tengboche, the trail drops to Debuche, crosses another exciting suspension bridge on the Imja Khola, and climbs to Pangboche amongst thousands of mani stones. Our uphill trek continues, taking us to the quaint traditional Sherpa village of Dingboche with its exquisite views of Lhotse, Island Peak, and Ama Dablam. We take our time, so we avoid getting affected by the altitude.
Lobuche
Day 8-9
Today, the trail continues along the lateral moraine of the Khumbu Glacier and passes by stone memorials for climbers who have perished on nearby summits. We continue to climb as we are heading to the village of Lobuche which is located at the foot of giant Lobuche peak. Some breathing problems may arise today due to the altitude. After crossing the Sherpa Memorial in Thukla Pass, we'll hike towards the Lobuche village.
Everest Base Camp
Day 9-10
This is a big and difficult day walk along the Khumbu Glacier and up to Everest Base Camp at 5,364 m, the closest you can get to Mt. Everest without mountaineering equipment. During spring, there will likely be expedition teams about to attempt the summit. The view of the Khumbu Icefall from Base Camp is spectacular. We return back to Gorak Shep for the night.
Pheriche
Day 10-11
This will be one of the most difficult yet rewarding days of the trek. Most of the morning is spent climbing Kala Patthar, a small peak at 5,545 m. The ascent is demanding but the climber gets the most magnificent mountain panorama Everest, the highest point on the planet at 8,848 m, towers directly ahead and on all sides loom the giants such as Nuptse, Pumori, Chagatse, Lhotse and countless others. We make a quick descent to Gorak Shep and have a hot breakfast, and then trek down to Pheriche.
Namche Bazar
Day 11-12
Leaving the mountains behind us, our descent takes us through Pangboche and Tengboche before continuing to the town of Namche Bazaar. We arrive back in Namche in the afternoon. In the evening you'll have time to explore the market for the drinks, foods and definitely, Pubs and ba would be the rewarding things for the hikers to celebrate the trip.
Lukla - Shyangboche Marg
Day 12
This is our last day of trekking as we return to Lukla where the trek began. We enjoy this time to reflect on the trek as a group and the personal achievement of all those who took part. The afternoon is free, so you can wander about, relax and enjoy a hot shower! In the evening, have a few celebratory drinks and dance with your trekmates.
Kathmandu
Day 12-13
Enjoying the last glimpse of the mountains we have recently visited, the 35 minutes scenic flight takes us back to Kathmandu. We will transfer to the respective hotel, where you'll stay. We help to book the same hotel (Kumari Boutique Hotel) upon your request as well. Remaining time, you can explore Thamel, and buy souvenirs for your friends and family.
Trip Summary
Accommodation
Hotel & Bed & Breakfast & Camping & Other
13 days trip
Kathmandu, Kathmandu & 12 more
Transportation
Car, Plane, Trekking
Why JoinMyTrip?
Trusted platform used by 150K+ TripMates
Have A Question?
Live Chat with our experts 24x7
Unique Trips hosted by Experienced Travellers
Secure Payments to ensure your money is always safe
Looking for more trips?
Here's some similar trips that you might be interested in.