Slide 1 of 1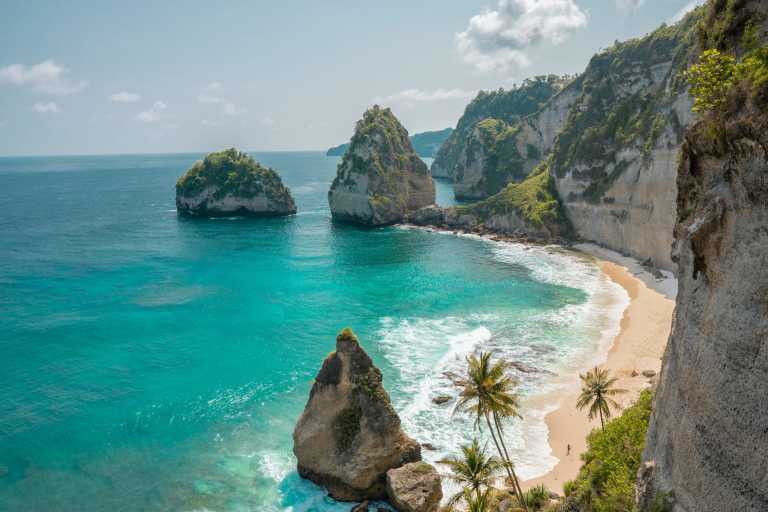 Coworking Retreat in Bali - Experience Nomad live Bali with a local | Private room in a Luxurious villa with pool
7 Days30 Days!
Extra Cancellation Days
only for the first TripMate
Coworking trip
14 days
5 stops
1 - 3 Mates
Indonesia
What's special?
Coworking in Bali
Work and Explore Bali with local
volcano trip
Are you ready for working online and living in the tropical paradise of Bali? If you are looking for a beautiful, sunny, and unforgettable destination to work remotely from then look no further. Bali, Indonesia is one of the best places to be a digital nomad. The goal of this trip is to achieve a good life-work balance. Being productive while enjoying Bali's vibrant and laid-back atmosphere, discovering the island's hidden gems and stunning landscapes, and experiencing the magic of this tropical paradise. Other than Co-living, here are other things that we will do in our free time: -Relaxing in our pool while enjoying the ricefield view 🏕️🌲 -See a traditional Balinese dancing show💃🏿 -Rafting Experience with Balinese rainforest view 🚣🏻‍♀️ -Take an exciting adventure trip to Kintamani Batur Volcano 🌋 -Chase awe-inspiring waterfalls 🌊 -Hangout with Monkeys in the jungle 🐒 -Explore rice fields & sacred temples 🍚🙏 -Soak in the sun & enjoy beautiful beaches 🌞 -Visit and explore Nusa Penida Island 🛥️ -Visit local cafés & restaurants, bars, & clubs ☕️🍻 - And much more! Is there something I missed that you'd love to include? Let me know! Who Wants To Join? I'm looking for 1-3 like-minded people who enjoy nature, adventure, having fun, & experiencing new things. If you are at all interested or want to know more, please feel free to reach out - all are welcome 😊. Plus side: I am Indonesian, so I can definitely help with translation, understanding culture, negotiation, or any other tips... What's included: 🏡 Private room in a Luxurious Villa with ricefield view. 🥐 Daily breakfast ☕ Free tea, coffee, and water in the accommodation 🚤 Day trip to Nusa Penida All in with lunch 🚗 Day trip to Bali Rafting + Volcano + Ubud tour All in with lunch 🚗 Tanah Lot Sunset tour 💝Travel insurance if you are a resident of Germany or Austria 💻 Spacious Co-working space, WIFI, AC, Private pool... Not include: - International flights - Food, personal expenses, and other additional leisure activities you take on your own free time
About me: My name is Windy, I live in Italy. I have been to Bali last year, in November 2022. I would love to come back again this year. I would love to experience Bali nomad life. My work schedule is 2 days on and 2 days off.
Where will we stay? A luxurious villa in Ubud features a pool with a view. The pool with a view and hot tub are the special features of this villa. 4 bedrooms. Meals can be prepared in the well-fitted kitchenette, which has a stovetop, a refrigerator, a dishwasher, and kitchenware. AC, Flat-screen TV with streaming services, a washing machine, a tea and coffee maker, a dining area as well as garden views. A strong WIFI connection. NON smoking. Villa Size: 400 m². Refer to Galery to see the accommodation. Do you have a question? Ask in the Q&A below 📩
What's included?
Accommodation
Free tea, coffee, and water
Day trip to Nusa Penida Beach
Day trip to Bali Rafting+Volcano+Ubud
Insurance (Germany & Austria only)
Sunset tour Tanah lot
Breakfast
Airport transfer
Your Booking includes free protection from Trip cancellations.
Learn More
Meet Your TripLeader
Phone Verified
Identity Verified
31 Countries
16 Trips Completed
Ready for the next adventure!
based on 17 reviews
Show All Reviews
You can chat with Windy once you reserve your spot.
Trip Itinerary
Ubud
Day 1-8
12-13 April Welcome to Bali! Upon your arrival, the driver will pick you up at the airport and head to our gorgeous pool villa located in Ubud. A villa nestled among rice fields that offer us a serene and tranquil setting. The accommodation has a pool, house spa, ricefield view, and a shared kitchen, they have everything you may need!
Penida Island
Day 8-9
14 April A day trip to Nusa Penida. Embark on a Nusa Penida day trip from Bali and enjoy a full day of adventure and breathtaking views. 🚗Day trip Destinations: Kelingking beach Broken beach Engels billabong Crystal bay ✅Trip includes: Private Car for the tour with driver, parking fees Fast Boat Return ticket Lunch All entrance fees Mineral water After a fun day of exploring Nusa Penida, we'll return to the pier, we'll take the final speed boat back to Bali.
Batur Lake View
Day 9-10
20 April Enjoy an adventure trip that combines Bali Rafting + Volcano + Ubud Tour We will start early and go rafting in the Ayung River, a river that is famous for white water rafting. Ayung River Adventure is dedicated to providing safe and memorable whitewater experiences while enjoying cultural highlights in Bali. Have lunch which includes in the tour. Visit Kintamani with Lake Batur & Mount Batur View A crystal clear lake, some 65 meters deep, was formed by an ancient volcanic eruption. The lake is inside of the caldera of an active volcano, Mount Batur, located along the Ring of Fire of volcanic activity. and before returning to our villa, we will also visit Tegalalang Rice Terraces.
Tanah Lot Temple
Day 10-11
21 April A day trip to around Bali and visit Tanah lot. We will rent a car with a driver and decide together where to go. Each of you has a saying on where to go and at the end of the day we will visit Tanah lot, the most photographed sea temples in Bali, and have dinner while enjoying the sunset.
Ubud
Day 11-14
15-19 April // 22-25 April We're back at our home in Ubud and we will discuss which activities or attractions we want to join/explore or just enjoy your "me time". you are free to do what you like and don't have to join every activity together. Open activity: There are many activities you can choose from relaxing on luxurious beaches and exploring nature to exciting nightlife.
Trip Summary
14 days trip
Ubud, Penida Island & 3 more
What's excluded?
International Flights
Food & personal expenses
Why JoinMyTrip?
Trusted platform used by 150K+ TripMates
Have A Question?
Live Chat with our experts 24x7
Unique Trips hosted by Experienced Travellers
Secure Payments to ensure your money is always safe