Slide 1 of 1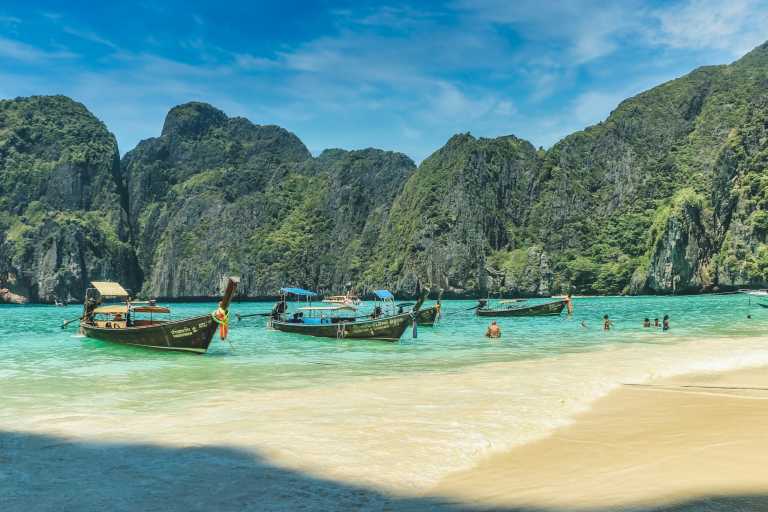 This trip is confirmed to go.
Best of Western Thailand: 2 Weeks Island Hopping in Phuket, Phi Phi and Beyond!
Guided trip
14 days
5 stops
2 - 5 Mates
Thailand
What's special?
Explore many islands in the Andaman Sea
Elephant Sanctuary Visit
Famous parties in Koh Phi Phi
Join me on an unforgettable adventure through Western Thailand as we hop from ferry to ferry through the Andaman Sea. On this journey through paradise, we'll visit the destinations of Phuket, Koh Phi Phi, Koh Lanta, Krabi, and finish in the infamous city of Bangkok! 🇹🇭 What Will We Do? 🏖️ Soak up the sun and revel in the breathtaking beaches that Thailand is famous for 🏯 Visit beautiful ancient temples and local food markets 🐘 Make friends with gentle giants at an ethical Elephant sanctuary 🍽️ Take an authentic Thai cooking class, learning how to make pad thai & various curries 🥊 Attend a professional Muay Thai Boxing match 🕺 Party on the bustling island of Koh Phi Phi and streets of Bangkok 🐒 Hike up to beautiful viewpoints, encountering mischievous monkeys in their jungle habitat 🚣‍♂️ Hop through the Andaman Sea, exploring 4 destinations & the awe-inspiring Phang Nga Bay ...and that's just the beginning! Is there anything specific you'd like to include? Let me know, and we'll make it happen! Get ready to embark on an extraordinary adventure through the Best of Western Thailand! Reserve your spot now, and let's make memories that will last a lifetime.
Who Am I? Hi there! 👋 My name is Nima and I'm a 27-year-old travel enthusiast from Toronto, Canada 🇨🇦 I first explored Thailand in 2018, and fell in love with the beautiful beaches and amazing cuisine. I've since visited over 30 different countries, & I am eager to share my passion for discovery and create lifelong memories with fellow explorers like you. Let's delve into the wonders of Thailand together! 🌍
Where Will We Stay? I have booked us hotel rooms in each of our five stops, and all the pictures you see will be exactly where we are staying! Each accommodation will have a pool 🏊‍♂️, air conditioning, Wi-Fi, and shared spaces to mingle with fellow TripMates. Please note that the listed price is for a shared room. If you have a preferred travel companion, please have them join as a separate TripMate! How Will We Get Around? Thailand is known for its wonderful taxi system called Tuk-Tuks! We will use these whenever possible as the most convenient way to get around at each stop. And for those who love to explore on their own, I've got you covered with an optional motor-bike rental 🛵 Between stops, we will be hopping on board one of Thailand's many ferries used to get from island to island ⛴ (except for Bangkok, which we will fly to). Who Wants To Join? I'm seeking 2-6 like-minded individuals to join me as TripMates on this remarkable journey. I'm looking for those who want to seize this opportunity to connect with fellow adventurers who relish socializing, having fun, and embracing new experiences. Everyone is welcome to join, so don't hesitate to reach out if you're interested or want to learn more!
What's included?
Airport Transfers
Hotel Accommodations
Transportation within Thailand
Elephant Sanctuary Visit
Thai Cooking Class
Phang Nga & James Bond Beach Day Trip
Health Insurance for Austrians & Germans
This trip is sold out.
The group is full for this trip. But we have a few similar trips for you to check out.
Your Booking includes free protection from Trip cancellations.
Learn More
Trip Itinerary
Phuket
Day 1-4
Step into the vibrant island of Phuket, renowned for its stunning beaches, vibrant nightlife, and cultural gems. Dive into the bustling streets of Patong, where you'll find vibrant night markets and delectable local cuisine. Spend your days lounging on the famous Patong Beach, immersing yourself in the turquoise waters and soaking up the sun. Attend an authentic Thai cooking class, visit an Elephant sanctuary, watch a professional Muay Thai boxing match, and so much more in this wonderful stop. As night falls, experience the magic of Phuket's renowned nightlife scene, from beachfront clubs to lively bars, where you can dance the night away under the starry sky.
Ko Phi Phi Don
Day 4-8
Indulge in the pristine beauty of Koh Phi Phi, an idyllic tropical paradise boasting breathtaking turquoise waters, towering limestone cliffs, and vibrant coral reefs. Embark on an island-hopping adventure, exploring the stunning Maya Bay, where "The Beach" was filmed, and enjoying thrilling water activities like snorkeling, kayaking, and paddleboarding. Unwind on the serene beaches of Bamboo Island, savoring freshly caught seafood from local beachside restaurants. Hike up to the famous Phi Phi viewpoint and pass by Monkey Beach along the way. As the sun sets, immerse yourself in the vibrant nightlife of Phi Phi Don, where beach parties and fire shows keep the energy high. Prepare to be spellbound by the enchanting sunsets that paint the sky with hues of orange and pink, creating unforgettable memories.
Ko Lanta
Day 8-10
Escape to the tranquil and laid-back island of Koh Lanta, where a serene atmosphere awaits you amidst long stretches of white sandy beaches. Immerse yourself in the island's natural beauty, snorkeling or diving in crystal-clear waters teeming with marine life. Explore the lush rainforests and embark on adventures to discover hidden waterfalls. Dive into the local culture with a visit to Old Town, renowned for its charming wooden houses and vibrant markets. Indulge in delectable Thai cuisine and fresh seafood at beachfront restaurants. Koh Lanta provides the perfect blend of relaxation and exploration, allowing you to unwind in paradise.
Ao Nang
Day 10-12
Prepare to be amazed by the natural wonders of Ao Nang and Railay Beach in Krabi, where stunning limestone cliffs, turquoise waters, and captivating beaches await. Set foot on the beautiful shores of Ao Nang, a lively beach town offering a perfect blend of relaxation and adventure. Explore the vibrant beachfront promenade lined with shops, restaurants, and bars. Take a long-tail boat to the iconic Railay Beach, accessible only by water, and immerse yourself in its pristine beauty. Marvel at the towering limestone cliffs that surround the beach, offering a breathtaking backdrop for sunbathing, swimming, and rock climbing. Embark on a rock-climbing adventure, scaling the cliffs with experienced guides and experiencing an adrenaline rush like no other. Unwind in beachfront bars and restaurants, savouring delicious Thai cuisine and tropical drinks. Ao Nang and Railay Beach combine the best of nature, adventure, and relaxation, creating an unforgettable experience for every traveler.
Bangkok
Day 12-14
Last but not least is the vibrant and bustling city of Bangkok, where modernity and tradition harmoniously coexist. Explore the ornate temples, bustling markets, and vibrant street life that characterize the city. Marvel at the Grand Palace and the iconic Wat Arun, and immerse yourself in the tranquility of Wat Pho and its famous reclining Buddha. Indulge in a culinary adventure as you sample mouthwatering street food, browse lively night markets, and dine at rooftop restaurants with breathtaking city views. Discover the city's vibrant nightlife, from rooftop bars offering panoramic vistas to the energetic atmosphere of Khao San Road, known for its bustling street scene, vibrant nightlife, and eclectic mix of shops, bars, and clubs. Bangkok is a city that never ceases to amaze with its dynamic energy and cultural richness. Bangkok is also a great international hub for flights home, or for your next destination!
Trip Summary
14 days trip
Phuket, Ko Phi Phi Don & 3 more
Transportation
Boat, Plane
Hi Nima Where will the group meet at the first day - which airport would you recommend travelling ...

Read More
Hi Alexandra, Thanks for showing interest! On the first day I will be going to the airport to pick up our TripMates from HKT in Phuket and will bring them to our first hotel to check-in. I recommend...

Read More
Hi Nima, Sounds like a great trip! Will it be ok to travel with a suitcase? I'm not the backpacker...

Read More
Hi Christin, Thanks for showing interest! And don't worry, I appreciate the many questions 😄 1. Yes, you should be totally fine with a suitcase. As long as you are comfortable, that's all that matt...

Read More
Are the hotels good to get in touch with other people. I always liked the backpacking vibe in hostel...

Read More
Hi Lukas, I also like the backpacking and social atmosphere of hostels, so I have no issues with them! Unfortunately, some of the stops on smaller islands like Phi Phi and Lanta don't have the best o...

Read More
What's excluded?
Flights to/from Thailand
Food/Drink
Why JoinMyTrip?
Trusted platform used by 150K+ TripMates
Have A Question?
Live Chat with our experts 24x7
Unique Trips hosted by Experienced Travellers
Secure Payments to ensure your money is always safe