Slide 1 of 1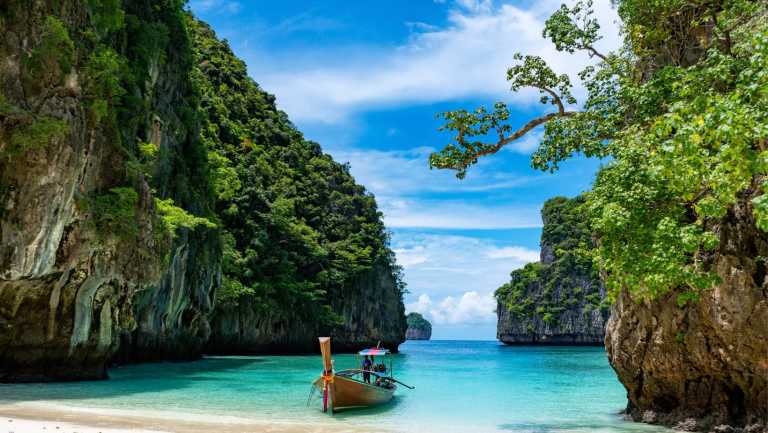 🏝️ Ultimate West Thailand Island Hopping Marine Adventure: Phuket-Phi Phi- Krabi-Phanang
Guided trip
12 days
5 stops
4 - 15 Mates
Thailand
What's special?
🏝️Over 50 Islands
🐢Snorkeling, Turtles, Stingrays
🌕Full Moon Party
🏝️ Embark on an Unforgettable Island-Hopping Extravaganza: Your Adventure Awaits!🌅 🤙Calling all avid adventurers, sea lovers, and those who crave life's most vibrant experiences – we've crafted a journey that's not just a tour, but a symphony of moments that'll leave you spellbound. Get ready to immerse yourself in a world where each day is a chapter in your own personal epic – an adventure that seamlessly blends breathtaking landscapes, exhilarating nightlife, and the mesmerizing wonders of the sea. 🕊️Phuket's Iconic Big Buddha: A Spiritual Marvel Awaits Our journey begins in Phuket, where the famous Big Buddha stands tall as a testament to the island's spiritual richness. Feel the energy as you stand before this magnificent creation, an awe-inspiring introduction to the adventure that lies ahead. But hold onto your excitement, because this is just the beginning. 🌞Patong, Phuket: Your Dream Paradise Awaits Are you ready to dive into a world where everyday life transforms into an extraordinary adventure? Get ready to kick off your journey on the golden shores of Patong Beach – imagine warm sand between your toes and the sun caressing your skin. And that's just the beginning! The bustling local markets burst with colors and aromas that hint at the treasures they hold. Savor mouthwatering street food that's more than just a meal – it's a sensory journey deep into the heart of the culture. As the sun sets, the anticipation builds for a night out on Walking Street that's so vibrant and exhilarating, you won't believe it until you experience it. 🏝️The Phi Phi Islands: A Day Trip Like No Other Picture this: crystal-clear waters, pristine beaches, and hidden caves that whisper tales of ancient mysteries. Brace yourself for a day trip to the Phi Phi Islands that's more than just a journey – it's a spectacle that'll ignite your sense of wonder. Feel the soft embrace of the powdery sands beneath your feet as you explore the shores of these stunning islands. Discover hidden coves, snorkel in vibrant coral gardens, and uncover the secrets of the enchanting Viking Caves. This is your chance to dive into a world of underwater marvels, where marine life paints the ocean in vivid hues. ✨The Bioluminescent Plankton Phenomenon: A Dance of Enchantment Imagine plunging into the night waters, the sea around you lighting up like a starlit sky. This isn't a fantasy; it's the magic of bioluminescent plankton. Brace yourself for an experience that transcends the ordinary – as you swim, every movement ignites a breathtaking display of shimmering lights. It's a moment that will resonate in your memory forever, an encounter with nature's own light show that you won't find anywhere else. 🌊Island-Hopping Bliss and Connection: An Adventure of a Lifetime But it doesn't end there. Island-hop through hidden gems, uncovering beaches that seem untouched by time. Dive into pristine waters, discovering vibrant marine life that'll have you feeling like you're in a living aquarium. And through it all, make connections that are as unforgettable as the vistas you'll witness. This journey isn't just about exploring the world; it's about forging bonds, creating memories, and finding kindred spirits who share your love for the sea and life's most vibrant experiences. 🌕The Full Moon Party: Where Nightlife Becomes a Spectacle Prepare for the grand finale – the Full Moon Party, where the night sky ignites with the flames of fire dancers and the beats of electrifying music. Dance under UV lights, embrace the rhythm of the night, and celebrate life in a way that's uniquely yours. This isn't just a party; it's a celebration of the journey you've undertaken, the friendships you've formed, and the experiences that have transformed you. 🏡Your Accommodation: A Home Away from Home Rest assured that your accommodation will always include a refreshing pool to unwind by, a central location for easy exploration, and the joy of sharing the experience with fellow TripMates who share your zest for life.
About me! Hey there, fellow adventurer! I'm Antonia, a passionate traveler who's completely fallen for the magic of Thailand. My journey here started with multiple visits, and it blossomed into a full year of dedicated volunteer work at an amazing dog sanctuary. 🐶❤️ Animals, especially our canine companions, hold a special place in my heart, and most of my days have been spent surrounded by their beautiful energy. As I've traveled the globe, I've woven a tapestry of friendships that span continents. Yet, beyond the stunning landscapes I've explored, it's the connections with people that have truly enriched my experiences. ✈️🌏 Now, I'm inviting you to join me on an enchanting expedition to some of the most stunning islands in Thailand. I'll be your guide to the hidden gems, the mesmerizing landscapes, and the authentic local flavors that have touched my soul. But that's not all – I'm here to curate an environment where you can forge new connections with kindred spirits just like yourself. This journey we're embarking upon is destined to be etched in our memories as one of a lifetime, an adventure that ignites our spirits and nurtures our souls. 🌟🏝️ A friendly tip: a good level of fitness is advised. We'll be diving into a plethora of physical activities, so get ready for some exciting challenges and rewarding moments. Whether you're all about soaking up the island vibes, unwinding on breathtaking beaches, or can't resist the allure of snorkeling adventures, this trip caters to your desires. And yes, for those who thrive on dancing under the moonlight, setting their own rhythm, or embracing the lively atmosphere of party beaches – we've got you covered too! 🕺🌕
Details about the accommodation: 🛏️ Where You Rest Your Adventurous Soul: Embrace the backpacker's vibe with shared rooms for two, cultivating bonds that'll last a lifetime. In spots where accommodations are scarce, comfy dorms await. Craving more solitude? Private rooms are an option, but at a tad extra cost. Let me know, and I'll work my backpacker magic to try to make it a reality! Your comfort, your journey – that's the mantra. 🌄🌍 If you have any questions about the trip please let me know in the Q&A section!
What's included?
All Ferries from Phuket to Koh PhanNang
Tuk Tuks & Taxies to Activities
Phuket Big Buddha Tour
Entrance Fee Paradise Beach
Phi Phi Islands Boat Tours x2
Krabi 7-Island Hopping Tour
AngThong Marine Park & 42 Island Tour
Full Moon Party
Accommodation - Shared
Your Booking includes free protection from Trip cancellations.
Learn More
Meet Your TripLeader
Phone Verified
Identity Verified
16 Countries
Passionate explorer & marine enthusiast 🌍🌊 Thailand lover creating unforgettable journeys. Let's dive into adventure together!
You can chat with Antonia once you reserve your spot.
Trip Itinerary
Phuket
Day 1-3
Day 1: Dive into the Vibrant Heart of Patong! 🌞 Embrace the Sun-Kissed Shores: Let the journey begin in the dazzling paradise of Patong, Phuket. Feel the warm sands caress your feet as excitement fills the air – this is just the tip of the adventure iceberg! 🛍️ Explore Vibrant Markets: Immerse yourself in the kaleidoscope of colors and aromas as you explore local markets. From exquisite crafts to tantalizing treats, every corner holds a treasure waiting to be discovered. 🍢 Savor Street Food Delights: Taste buds, get ready! Delight in street food that's not just a meal but an explosion of flavors. Each bite connects you to the soul of this culture-rich destination. 🥂 Team Dinner and Forging Bonds: As the sun dips, gather for a team dinner that's more than a meal – it's a chance to connect, share stories, and set the tone for the unforgettable days ahead. 🌆 Electrifying Night on Walking Street: Gear up for an electrifying night out on the legendary Walking Street. Neon lights, bustling energy, and a vibrant atmosphere – it's a night that's just the beginning of your journey! Day 2: Encounter the Majestic Big Buddha and Marine Marvels! 🙏 Spiritual Awakening at Big Buddha: Embark on a soul-stirring encounter with the iconic Big Buddha. As you stand before this marvel, let its energy envelop you, setting the tone for an epic day ahead. 🏝️ Paradise Beckons at Paradise Beach: From spiritual marvels to paradisiacal shores! Paradise Beach welcomes you with open arms. Sip cocktails by the shore, snorkel through vibrant waters, and surrender to the sea's embrace. 🐠 Dive into Marine Enchantment: Beneath the surface, a world of marine enchantment awaits. Snorkel through turquoise waters, sharing space with a myriad of marine life. Let the sea's secrets unfold before your eyes. 🌅 Sunset Serenity: As the sun paints the sky with hues of gold, find a spot to witness the breathtaking sunset. Let the tranquil beauty of the moment wash over you, a memory etched forever. 🐚 Tomorrow Holds More: Day 2 is just the beginning of a journey that promises wonders beyond imagination. Get ready to dive deeper into the magic of Thailand's paradise islands!
Phi Phi Islands
Day 3-5
Day 3: Phi Phi Islands' Enchanted Adventure Unveiled! 🚤 Ferry to Phi Phi Islands: Let the journey unfold with a ferry ride to the Phi Phi Islands – a realm where natural wonders await at every turn. Get ready for an experience that will redefine your sense of awe. 🌅 Evening Boat Tour: Brace yourself for an evening boat tour that's a journey into enchantment. Ascend to breathtaking viewpoints, witness the sun kiss the ocean goodnight, and let the stunning colors create a masterpiece before your eyes. 🌄 Venture into Mysterious Caves: As the day transitions into twilight, delve into mysterious caves that hold secrets of the island's past. Each step is a step into the unknown, a moment to awaken your inner explorer. 🌌 The Beauty of Bioluminescent Plankton: Twilight sets the stage for an ethereal spectacle – the bio-plankton dance. Prepare to be mesmerized! Dive into the sea and become one with the magic. With every movement, the water comes alive, resembling a star-studded sky beneath the waves. Day 4: Maya Bay's Secrets and Island Revelry Boat Tour! 🚤 Longboat Adventure to Maya Bay: The magic of Day 4 continues as we set out on another longboat tour to the famous Maya Bay, beating all the crowds for the best Insta pics! Discover a paradise that's been whispered about in legends, a place where dreams meet reality. 🐢 Dive with Turtles, Stingrays and Coral Gardens: Immerse yourself in the ocean's embrace, sharing its waters with graceful turtles. Plunge into vibrant coral gardens, where every hue and pattern unveils a mesmerizing tale of marine marvels. 🏞️ Step into the mystique of the Viking Caves: Venture into the enigmatic depths where echoes of the past and lingering mysteries converge. Allow history to entwine with your journey of exploration and discovery. 🏖️ Secluded Beach Dining: A secluded beach sets the stage for a picturesque dining experience. As you savor the flavors, the beauty of your surroundings adds a touch of enchantment to every bite. 🐒 Monkey Beach: Playful Encounters Await! Say hello to the cheeky monkeys of Monkey Beach, where delightful interactions and charming moments unfold. As we bid adieu to this playful paradise, anticipation grows for the thrilling night that lies ahead. 🔥 Night Extravaganza: Island Magic Unleashed! Hold onto your excitement, for the night ahead is destined to be etched in your memory forever. Watch as fire dancers illuminate the darkness, UV lights transform the beach into a vibrant canvas, and a beach-wide celebration commences. Connect with fellow travelers from across the globe, dancing under the starlit sky in a night that embodies the very essence of island enchantment!
Ao Nang
Day 5-7
Day 5: Auo Nang Adventure and Mountain Vista Bliss 🌄 Embrace Auo Nang's Charm: Rise and shine, for Auo Nang beckons with its irresistible allure. After breakfast, we'll catch the ferry to this coastal haven, a playground of possibilities that promises something for every adventurer's heart. Maybe grab a scooter and explore? 🛍️ Town Exploration and Beach Bliss: As the day unfurls, you'll find yourself amidst a world of options. Roam the town's streets, exploring vibrant shops that offer treasures waiting to be uncovered. Or, if unwinding by the sea is your calling, let the sun kiss your skin as you relax on the beautiful beach. 🏞️ A Mountain's Whisper: For those who seek a touch of adventure, an optional short hike through the mountains unveils a secret – a mesmerizing viewpoint and beach that will leave you spellbound, inviting you to connect with nature in its purest form. Day 6: 7-Island Hopping and Spectacular Snorkeling! 🏝️ Island Wonderland Awaits: Brace yourself for an even grander adventure as we embark on a 7-island hopping and snorkeling extravaganza. Departing from Ao Nam Mao pier, the day promises a whirlwind of awe-inspiring sights and underwater marvels. 🏊 Dive into Krabi's Hidden Gems: Our journey takes us to the best spots in Krabi's aquatic playground. Explore the underwater wonders of Koh Yawasam, where crystal-clear waters reveal a vibrant tapestry of hard corals and marine life. Navigate the incredible Talu Cave, an experience that's only possible during low tide, with its swim-through tunnels and schools of barracudas. 🏖️ Private Beach Bliss: Our adventure isn't just about the ocean depths – we've got something special for the beach lovers too. Feast on a delectable buffet Thai lunch on the secluded shores of Poda Island. Feel the soft sand between your toes and soak up the tropical vibes as you indulge in relaxation and take in the stunning surroundings of Ma Tang Ming Island. 🌊 Tub Island Magic: As the day unfolds, we'll set our sights on Tub Island, a trio of islands connected by a captivating sandbank. The phenomenon of three islands united by a sandbar during low tide is a sight that's nothing short of magical, a true unseen highlight of Thailand. 🐠 Snorkeling Haven at Chicken Island: Dive into the waters of Chicken Island and be greeted by an underwater world teeming with marine life. The vibrant coral reefs hold an abundance of treasures waiting to be discovered, offering a snorkeling experience that's a dream come true. 🌟 The Ultimate Day of Discovery: Day 6 is not just an adventure – it's a voyage into the heart of Krabi's natural wonders. With each island, each dive, and each moment, you'll be drawn deeper into the enchanting beauty that this destination has to offer.🌟
Railay Beach
Day 7-9
Day 7: Railey Beach Escapade - Where Dreams Take Flight 🚤 Boat Taxi to Paradise: Set your excitement soaring as we board a boat taxi, slicing through the glistening Andaman Sea. Behold the awe-inspiring limestone cliffs that rise dramatically from the water. Our destination? The enchanting Railey Beach – a haven of pristine sands and turquoise waters that promises to fulfill your wildest dreams. 🛍️ Shopping and Culinary Delights: As your feet touch the powdery shore, a world of possibilities unfolds. Explore a realm of charming shops and boutiques, unveiling treasures and souvenirs waiting to be claimed. Indulge your palate with an array of flavors, from local culinary wonders to international delights. 🧗‍♂️ Thrills and Adventures Await: The adventurers among us have a choice to make – rock climbing that conquers cliffs and delivers breathtaking views or a dive into Railey's underwater wonders with snorkeling, longtail boat tours, or kayaking. The thrill of the unknown awaits those who dare. 🎶 Serenades by the Sea: As the sun begins its descent, gather at one of Railey's charming restaurants. Let the aroma of locally sourced, fresh seafood tantalize your senses as you're serenaded by the soulful melodies of local artists. An evening that blends flavors and harmonies in perfect harmony. 🌌 Nightlife Magic or Starlit Strolls: Embrace the night in your own way – indulge in the island's relaxed nightlife, where beachside bars and chilled vibes reign supreme. Alternatively, take a leisurely stroll along the shoreline, gazing up at the stars that twinkle above one of the world's most idyllic beaches. Day 8: Rise to Adventure - Embrace Nature's Bounty 🏞️ Hike to Nature's Treasure: Embark on a morning hike that leads to a hidden gem – a mesmerizing lagoon nestled amidst towering cliffs and lush greenery. The crystal-clear waters beckon, offering a refreshing escape surrounded by nature's masterpiece. 📸 Picture-Perfect Moments: Unleash your inner photographer! The lagoon presents a canvas of photo opportunities, capturing the essence of this magical place. And if time permits, ascend to a viewpoint that unveils panoramic vistas, leaving you in awe of nature's majesty. 🌅 Sunset Bliss and Culinary Delights: As the day wanes, gather on the beach to witness the sunset's vibrant hues painting the sky. Savor the moment as the sun bids adieu, accompanied by a sumptuous meal that complements the setting. And who knows, the allure of Walking Street might beckon for a night of celebration and cherished memories in the making. 🌅
Ko Pha Ngan
Day 9-12
Day 9 - Last of our Island Adventures Await in Koh Phangan! 🚍 Onward to Koh Phangan: Buckle up for the next leg of our journey! A bus and ferry will carry us to the vibrant shores of Koh Phangan. As we arrive, excitement brims – a new paradise beckons. 🏖️ Ko Ma Beach Exploration, Chill or Thrill?: Our first stop is the breathtaking Ko Ma Beach. Here, you're the architect of your day – unleash your adventurous spirit or embrace leisure. Embark on scenic walks, refreshing swims, and snorkeling to uncover hidden treasures. Keep your eyes peeled, for lucky souls might spot the graceful dance of stingrays! Alternatively, recline on a beach lounger, basking in the embrace of the sun while sipping on ice-cold Chang or exotic cocktails! 🌆 Embrace the Night Markets: Return to town in time to immerse yourself in the vibrant night markets. A feast of street food, handmade crafts, and local energy awaits, the perfect way to cap off your day's adventures. Day 10 - Marine Marvels of Ang Thong National Marine Park 🚤 Voyage to Natural Wonders: Today, we set sail for Ang Thong National Marine Park, a realm of 42 picturesque islands. Prepare to be spellbound by limestone cliffs, tropical rainforests, and pristine beaches. Your journey starts at Koh Maekoh for snorkeling and swimming – nature's treasures await beneath the waves. 🏞️ Discover "Emerald Lake": Behold the crowning jewel of Koh Maekoh – "Talay Nai" or "Emerald Lake." A limestone mountain cradles an emerald-hued lake within its heart, offering panoramic views that seem straight out of a dream. 🥗 Island Buffet Feast: Lunchtime beckons, and what better backdrop than the park's natural splendor? Feast on a buffet spread, fueled by the day's adventures. 🚶‍♂️ Ascend to Panoramic Heights: At Koh Wua Talap, embrace the thrill of hiking up to six viewpoints. Each vista reveals stunning panoramas of the national park, a testament to nature's artistry. Alternatively, glide along the coastline on a kayaking adventure. Day 11 - Unforgettable Reflections and Full Moon Revelry 🌟 Reflect and Rejoice: A day of relaxation dawns, a perfect time to reflect on the incredible journey we've shared. Amidst the friends we've made and the memories we hold dear, let gratitude fill the air. 🧘‍♂️ Yoga, Resort Relaxation, or ATV Thrills: Options abound – delve into a yoga session, luxuriate at a beautiful resort, or opt for an adrenaline-pumping ATV experience (not included). Make this day uniquely yours. 🍽️ Farewell Feast: Our paths converge for a final group meal at one of the island's finest eateries. Emotions run high as we savor the moments and fill our bellies in preparation for the grand finale. 🎉 Epic Full Moon Party: Brace for a night that transcends all expectations! The famous Full Moon Party awaits, an explosive celebration of UV paint, fire dancers, and camaraderie. Dance under starlit skies, drink from buckets, and revel in a night that will etch itself into your heart forever. Day 12 - Bittersweet Farewells and Cherished Memories 👋 Time to Bid Adieu: The time has come to say goodbye to this enchanting journey. Discussions about your future plans and assistance for your onward journey are on the horizon. 📷 Memories to Treasure: Relive the magic anytime you please – all the candid moments and shared experiences will find a home in a shared photo file. My mission is to ensure these beautiful memories stay with you. As the sun sets on this adventure, may your heart be full, your spirit invigorated, and your mind forever connected to the tapestry of wonder we've woven together.
Trip Summary
Accommodation
Hotel & Hostel
12 days trip
Phuket, Phi Phi Islands & 3 more
What's excluded?
Flights
Airport Transfers
Why JoinMyTrip?
Trusted platform used by 150K+ TripMates
Have A Question?
Live Chat with our experts 24x7
Unique Trips hosted by Experienced Travellers
Secure Payments to ensure your money is always safe