Slide 1 of 1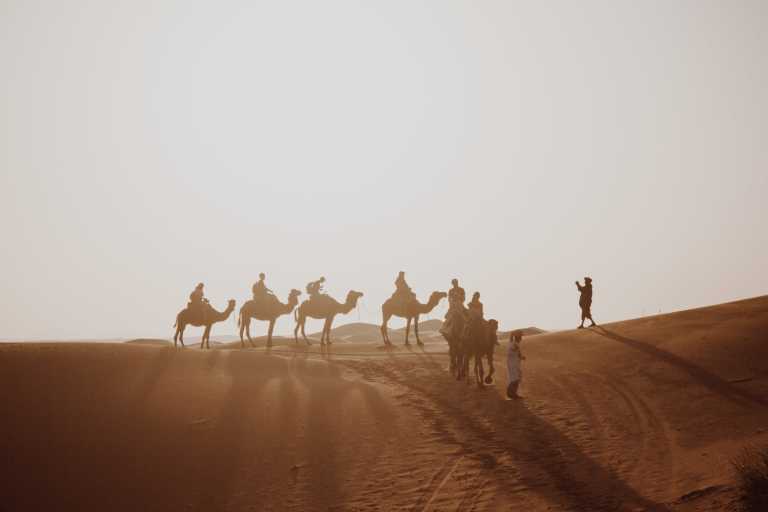 This trip is confirmed to go.
Wintery Morocco in 12 days in a small group of 4 🐪👩🏻‍🦰 An adventure road trip to beautiful oasis 🏝️ and desert, historical cities, UNESCO site Ait Benhaddou🌇 and the Atlas Mountains🏔️ (December 2023)
Guided trip
12 days
10 stops
1 - 2 Mates
Morocco
Hello travel junkies! 🤩 My name is Maria (36 at the time of the trip) and I am looking for 1 trip mate to explore Morocco`s best and most beautiful places together! This could be an ideal pre-Christmas trip for all of us! WHY JOIN ME Morocco has always been on my `travel bucket list`, but I naturally shun away from the main seasons as it can get really busy and not enjoyable. Now, what makes this Morocco trip so different from others and why should you join me? 👋👩🏻‍🦰 I have many years of experience as a travel specialist for China and travelled to more than 37 countries. A person who loves to organise trips and just like company to share these experiences together with. This will also be my first time to Morocco, but I can guarantee you will not regret joining this trip! I have taken care of all the planning and I will drive the car, so that you can simply join and enjoy Morocco 🏜️! I ask you to travel light (backpack or carry-on hand luggage according to flight regulations) as we will be travelling in and sharing a car and need space for everyone. Please non-smokers only and give a short introduction of yourself when requesting to join this trip. This way I see that you have fully read and acknowledged my trip description. WHAT YOU CAN EXPECT This year, I want to visit the most beautiful places Morocco has to offer during the shoulder season in December. Most Western tourists visit Morocco during the scorching hot summer month or the busy spring time. Whereas summers are good for a swimming and beach holiday, the authentic life of the locals, the less crowded historic sights and nature can be best explored in winter - when there are less people around. Yes, you read right! Winters here are good for city trips and hikes alike, because it is mild and comfortable with temperatures between 15 and 20 degrees celsius during day time. Snowfall can be expected in the High Atlas Mountains. Another reason to visit Morocco in winter: We will have more relaxed and chilled out days - especially in the cities - and meet far less other tourists. This way, we can focus on the beauty of the landscapes and travel like a local 🙂🕌! All 12 days are packed with interesting and diverse must-do activities and must-see places while travelling Morocco. For more information, see the list of inclusions below. Because this is a small group of max. 3 other TripMates spots are limited. And it's easy to take part: Click the green button on the right 🟩 and reserve your spot now! 😍 INCLUSIVE ✅ 11 nights in twin rooms in traditional Riads, Khabashs and in typical Berber guesthouses [Please let me know if you would like to request a single room supplement] ✅ 10 breakfasts (no breakfast in Chefchaouen) ✅ All transfers from first stop Rabat until end in Agadir (coach and rental car) ✅ Fuel for the rental car between Fes and Marrakech ✅ Guided walking tour in Fes (in English) ✅ Personal guide and driver 👩🏻‍🦰 - I will drive the rental car throughout the tour ✅ Gratuities and tips for the tour guide and taxi drivers ✅ Allianz health insurance abroad for all citizens of Germany and Austria* ✅ List of packing tips for Morocco in winter, help with flight search ✅ Small group of only 4 including myself ✅ Predetermined itinerary - all you have to do is join and enjoy🙂 ✅ 30 days cancellation and no service fee charge only for the first TripMate ✅ Motivated and great TripMates and TripLeader guaranteed! 😍 ✅ Icing on the cake: Professionally edited video of our trip!📷 EXCLUSIVE ❌ Beverages and meals (if not indicated otherwise) ❌ Small transfers within cities (short distance public transport) ❌ Additional expenses (souvenirs etc.) ❌ International flights ❌ Health insurance, if you are not citizens of Germany and Austria Don`t miss out on this unique opportunity of exploring Morocco in winter! Click the green button on the right 🟩 and reserve your spot soon! P.S. Do you have more holiday time? I have planned some really interesting roadtrips to Jordan and Israel in October as well! 🙂 Please check out my profile! * Not travel insurance cancellation cover. For more information see https://www.joinmytrip.com/en/t/travel-insurance
This trip is sold out.
The group is full for this trip. But we have a few similar trips for you to check out.
Your Booking includes free protection from Trip cancellations.
Learn More
Trip Itinerary
Rabat
Day 1-2
Day 1 Sunday: Beginning of our tour in Rabat Welcome to the wintery Morocco 🏝️🐪! You will most likely arrive at either Rabat Airport (RBA) or the bigger Casablanca International Airport (CMN). In case you are early, leave your luggage at our hotel and take your time to explore Rabat. Our accommodation, a beautiful traditional Riad, is located within the Medina, the old part of the town. There are plenty of narrow streets, fortified walls and souks to explore! Our group meets in the reception hall at 6PM and together we head to a restaurant where we can get to know our fellow TripMates and try some delicious food like ratatouille of peppers and tomatoes, called, Tektouta, and the famous Zaâlouk, which is an eggplant puree. At the dinner table, you will also receive a full introduction into what is awaiting our group on the trip! If you land at Casablanca Airport or would like to explore Casablanca for a few days before our tour, let me know! I am happy to help you organise a bus or train ticket from Casablanca to Rabat. 🙂 INCLUSIVE ✅ in Rabat: 1 night in a traditional Riad in Medina in shared twin room with breakfast Unless you are a couple or friends, I try to plan separate female and male rooms throughout the whole trip. Please let me know if you would like to request a single room supplement.
Chefchaouen
Day 2-3
Day 2 Monday: Explore Rabat - Drive to Chefchaouen After enjoying a good breakfast, we start our walking tour through Rabat. This is our first Imperial city and one of four along with Fes, Marrakesh and Meknes. The city still has a totally intact and evocative Kasbah (fortress), and an attractive walled medina that is far less touristy than in other large towns. We stroll through the market street Rue Souika, walk the enormous gate of Bab Oudaia, built in 1195, and explore the Kasbah to name a few. It is possible to take a horse carriage on site to see the city from `the back of a horse` or just spend an amazing day walking the Medina and uncover some hidden gems! In the afternoon, we take the coach to Chefchaouen. INCLUSIVE ✅ We explore Rabat at our own pace ✅ Bus Ticket Rabat - Chefchaouen ✅ In Chefchaouen: 1 night in a traditional Riad in Medina in shared twin room without breakfast
Fes
Day 3-5
Day 3 Tuesday: Explore Chefchaouen - Drive to Fes Our Riad is located right in the medina (old town) surrounded by beautiful unique blue-painted buildings. We begin the exploration of the "Blue City" with a delicious breakfast in a local cafe. After breakfast, we have almost a full day to see the brightly painted old town with its blue-white facades, the narrow streets of the Bab Souk district, and the interior gardens of the Kasbah. After spending the day in Chefchaouen, we continue our journey to Fes. The coach covers more than 200 km and we reach Fes in the evening at around 7pm. Day 4 Wednesday: Explore Fes This interesting and wonderful city is best explored with a knowledgeable guide. So we join a walking tour along the main attractions and learn about the cultural background and hear unknown stories that surround Fes. After the walking tour, we have time to revisit some of the places and get entrance and discover new interesting spots. We definitely should try Tajine, a north African dish, for lunch and visit the colorful market for souvenirs. The evening is free, and we can decide to stay in the vibrant Medina and join the locals` life or take a chill-out evening in a café. INCLUSIVE ✅ We explore Chefchaouen on our own ✅ Bus Ticket Chefchaouen - Fes ✅ in Fes: 2 nights in a traditional Riad in Medina in shared twin room with breakfast ✅ Guided Walking Tour in Fes
Gorges du Ziz
Day 5-6
Day 5 Thursday: Fes - Ziz Gorges (ca. 300 km) We enjoy an early typical breakfast in our Riad and check out. As driving into Medina is impossible and would cost us a lot of valuable time, we will leave our accommodation together and pick up our rental car from the provider (we take a taxi from the Riad to the pickup location, included in the price). It is definitely going to be a long, but exciting day! We leave the northern cities behind and follow the highway south. Not long after we leave Fes, the landscape gets drier and mountainous. Nature changes drastically, as we drive up into higher altitudes of the High Atlas Mountain Range. Here, snowfall is possible! Several stops at cafés and restaurants are planned in order to warm up with tea and fuel up! We reach our Berber host family before dark and stay one night in an authentic Berber house located in the picturesque Ziz Gorges. INCLUSIVE ✅ Rental car ✅ Taxi from Riad to car rental company in Fes ✅ I drive - you sit back and enjoy the marvellous landscapes ✅ in Ziz Gorges: 1 night in an authentic Berber guesthouse in shared twin room with breakfast
Merzouga
Day 6-7
Day 6 Friday: Ziz Gorges - Merzouga (Erg Chebbi Dunes) (ca. 160 km) The next day, after breakfast and if weather conditions allow, we go for a hike around the dramatic, stunning valley. It is worth spending some time in the green, untouristed palm groves that are embedded in the ancient striated cliffs, which date to the Jurassic period. Undoubtedly, here, we will find ourselves set back in time! Around noon, we continue our drive to the golden dunes of Erg Chebbi. If we arrive before sunset, we have time to join a camel ride or other activity, which can be decided in the group. We will spend one night with another Berber family in Merzouga and enjoy evening dances and welcome tea and dinner with them! INCLUSIVE ✅ in Merzouga: 1 night in a Berber guesthouse in shared family room with breakfast ✅ Transfer
Dadès Gorges
Day 7-8
Day 7 Saturday: Merzouga - Dades Gorges (ca. 300 km) Let's hike in the desert! After breakfast with the Berber family, we can either join a guided activity or tour or just go out for a cool photo shoot into the dunes on our own. Winter day temperature in the desert is around 20 degrees and dry. So it is perfect to spend a couple of hours in the warm sands before heading further to the west to Dades Gorges. If we have enough time on our way to the Gorge, we can make a small detour to Todra Gorge (an extra hour drive). We should arrive at our accommodation in Dades before sunset, as the streets can be quite dangerous in the dark. INCLUSIVE ✅ in Dades Gorge: 1 night in a traditional guesthouse in shared twin room with breakfast ✅ Transfer
Aït Benhaddou
Day 8-9
Day 8 Sunday: Dades Gorges - Ouarzazate - Ait Benhaddou (ca. 170 km) Another adventurous day lies ahead of us. If the early morning stays reasonably warm, we can enjoy our breakfast on the terrace with a stunning view onto the gorge and traditionally mud built village. After breakfast, we will start with a hike in the green Dades Gorge close to our guesthouse. On our way to Ait Benhaddou, we will pass the beautiful nature and town of Ouarzazate, which is full of oases, green valleys and ochre-coloured Kasbahs. Many people refer to Ouarzazate as the `Hollywood of Morocco` due to it being a well-known filming location for Hollywood blockbusters such as The Gladiator. We arrive at our traditional Khabash in the late afternoon and spend a night here. Our family suite has a private bathroom and separate rooms (one or two beds per room). INCLUSIVE ✅ in Ait Benhaddou: 1 night in a traditional Khabash in shared family suite with breakfast ✅ Transfer
Marrakesh
Day 9-11
Day 9 Monday: Ait Benhaddou - Marrakech (ca. 180 km) After a typical breakfast, we visit the ancient Ksar of Aït Benhaddou, a fortified village. Declared a World Heritage Site by UNESCO in 1987, the Ksar of Aït Ben Haddou is an iconic example of adobe and raw mud brick architecture in front of the Sahara desert. Back in the 11th century, it was a stopping spot on the old caravan routes. Ait Benhaddou is also the filming location for many movies, including The Mummy and Game of Thrones, and, hence, is incredibly popular! After lunch, we depart to Marrakech, where we expect to arrive after 3.5 hours and return the car. Overnight stay is in a beautiful Riad in the city center. Day 10 Tuesday: Explore Marrakech We have a whole day to walk around Marrakesh today! A good breakfast will give us the needed energy for the day, and we can either join a walking tour or get familiar with the places ourselves. We will stroll the Jemaa El-Fna square and the souks with their splendid colors and oriental atmosphere. We definitely try the Tanjia, a dish of Marrakech, which is difficult to find elsewhere around the country (it is not the same as Tajine)! We can relax in the Majorelle Garden in the afternoon and continue to the El Badîi Palace. Marrakech has plenty to offer! INCLUSIVE ✅ in Marrakech: 2 nights in a traditional Riad in shared twin room with breakfast ✅ Car transfer to Marrakech ✅ We explore Marrakech at our own pace
Essaouira
Day 11-12
Day 11 Wednesday: Marrakech - Essaouira After breakfast, we have some time to spend in Marrakech before we take the bus to the Atlantic town, Essaouira. Essaouira is also called the `Bride of the Atlantic` due to its white and blue facades and coastal location. Until today, it remains an active fishing port and if you enjoy seafood and fish, this is the best place to visit some fish restaurants! Our Riad is close to the Medina and the Royal Mogador Castle, as well as the beach, so we will be able to have an awesome afternoon sightseeing or just chilling out. INCLUSIVE ✅ Bus ticket Marrakech to Essaouira ✅ in Essaouira: 1 night in a traditional Riad in shared twin room with breakfast
Agadir
Day 12
Day 12 Thursday: Explore Essaouira - Agadir (end of the tour) Depending on the time of your departure flight, we have our breakfast together and visit the old town or say goodbye to our fellow TripMates who by now hopefully became friends. If you would like to extend your stay in Essaouira, please let me know in advance, so I can book a later bus ticket to Agadir for you 🙂! I hope to meet you in Morocco very soon! INCLUSIVE ✅ Bus ticket Essaouira - Agadir
Trip Summary
Accommodation
Hotel & Bed & Breakfast & Other
12 days trip
Rabat, Chefchaouen & 8 more
Hello Maria, you don't happen to have a spot left for me for this trip do you ? :) I find your offe...

Read More
Hey :) I hope you are doing well! Could you if by any chance the other person cancels let me know? T...

Read More
Hi Maria, I moved back to the States last July from Berlin. I.m very interested with Morocoo trip. I...

Read More
Hi Linh, thanks for your interest :). I am happy to share more information in a pm. Feel free to like the trip, so I will be able to contact you directly and provide more information on the planning. ...

Read More
Why JoinMyTrip?
Trusted platform used by 150K+ TripMates
Have A Question?
Live Chat with our experts 24x7
Unique Trips hosted by Experienced Travellers
Secure Payments to ensure your money is always safe