Slide 1 of 1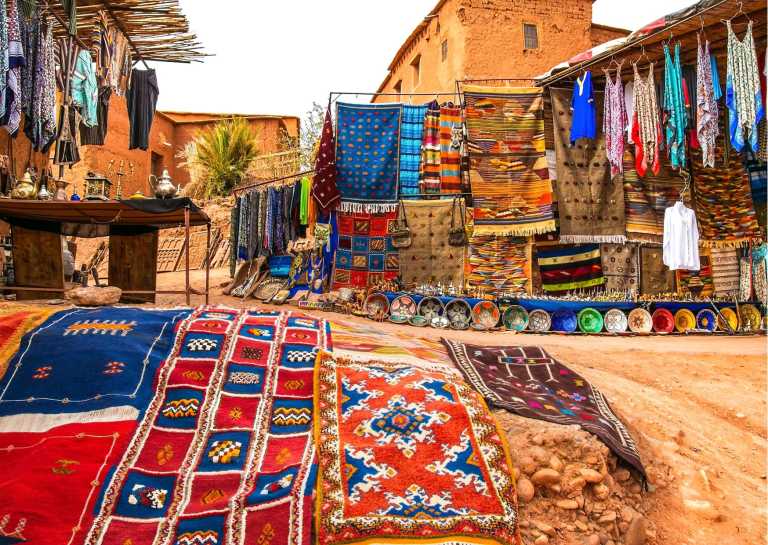 CoWorking Trip in Marrakesh, Morocco (Shared Room)
7 Days30 Days!
Extra Cancellation Days
only for the first TripMate
Coworking trip
9 days
8 stops
8 - 20 Mates
Morocco
Prepare for your senses to be slapped. Marrakesh's heady sights and sounds will dazzle, frazzle and enchant. Put on your babouches (leather slippers) and dive right in. Discover with me the beauty of Marrakesh, the red city, while working remotely. I am Faiza! I am fun to travel with, very optimistic, and open to new ideas, I like to explore nice places, and different cultures, eat healthily...etc. 😊 Each day we'll have a different activity upon your request and at your ease, we'll be flexible with the schedule of our activities and I will make sure that you're all happy. We'll check our favorite local haunts, touristy spots, and hidden gems throughout Marrakesh: Djemaa El-Fna, Jardin Majorelle, Koutoubia Mosque, Saadian Tombs, Musée Yves Saint Laurent, Bahia Palace, Le Jardin Secret, Musée de Marrakesh. All this could be done in the afternoon before sunset, or early morning, and you can do your work during the day, or in the afternoon. The spring in Morocco is awesome, it is warm, and the climate is so nice and special, you'll love it here. What is included in the price: - Accommodation: Shared rooms in apartments or hotel - Transportation between stops Not included: - Flights and personal expenses - Food Are you in? Join My Trip and if you have any questions feel free to go to the Q&A bottom next to my profile. See you soon in Morocco.
Your Booking includes free protection from Trip cancellations.
Learn More
Meet Your TripLeader
Phone Verified
Identity Verified
6 Countries
9 Trips Completed
I am fun to travel with, very optimistic, open to new ideas, I want to explore the world, different cultures, and live the moment..etc. 😊
based on 1 reviews
Show All Reviews
You can chat with Faiza once you reserve your spot.
Trip Itinerary
Jemaa el-Fnaa
Day 1-2
The Jemaa el-Fnaa, is the historic main square of Marrakesh. It is a free and veritable outdoor theater that has existed for a thousand or more years. Any tour to Morocco would somehow be incomplete unless you spent an evening strolling through this incredible landmark to experience for yourself.
Bahia Palace
Day 2-3
The Bahia Palace is a 19th century building, consisting of rooms decorated with stunning stuccos, paintings and mosaics palace and a set of gardens located in Marrakech, Morocco. The Bahia Palace was intended to be the greatest palace of its time. The name of the Bahia Palace means in Arabic "brilliance". As in other buildings of the period in other countries, it was intended to capture the essence of the Islamic and Moroccan style. There is a 2-acre (8,000 m²) garden with rooms opening onto courtyards in the Bahia Palace.
Jardin Majorelle-Yves Saint Laurent Mansion
Day 3-4
French fashion designer Yves Saint Laurent and his partner Pierre Bergé bought Jardin Majorelle in 1980 to preserve the vision of its original owner, French landscape painter Jacques Majorelle, and keep it open to the public. The garden, started in 1924, contains a psychedelic desert mirage of 300 plant species from five continents. At its heart lies Majorelle's electric-blue art deco studio, home to the Musée Berbère, which showcases the rich panorama of Morocco's indigenous inhabitants through displays of some 600 artifacts.
Saadian Tombs
Day 4-5
Saadian Sultan Ahmed Al Mansour Ed Dahbi was just as extravagant in death as he was in life. After the "golden king" built Badia Palace in the 16th century, he transformed an existing necropolis into this lavish tomb complex, sparing no expense and importing Italian Carrara marble and gilding honeycomb muqarnas (decorative plasterwork) with pure gold. Al Mansour died in splendour in 1603, but a few decades later, Alaouite Sultan Moulay Ismail walled up the Saadian Tombs to keep his predecessors out of sight and mind. The mausoleum lay forgotten until aerial photography exposed it in 1917.
Le Jardin Secret
Day 5-6
Today, the green spaces of Le Jardin Secret are divided into an exotic garden and an Islamic garden. The exotic garden is filled with plants coming from all over the world, recalling the experimental aspect of the great gardens of Marrakech. From the Medieval era to the early twentieth century Marrakech has indeed embodied the very same model of the garden city, as is shown by the city's historical nicknames ("a rose among the palm trees", "an oasis in the desert" or still again "Al-Bahja", the city of peace and open air) but also the gardens of Agdal and Menara.
Agafay
Day 6-7
The adventure begins with pickup from your hotel in Marrakech or the closest accessible point to your accommodation. Head south towards the vast Agafay Desert, admiring the changing landscape along the way as the city gives way to luscious greenery. Arrive at the large village of Imlil located at the foot of the High Atlas Mountains, then pass through the incredible Kik Plateau. Next, embark on a 30-minute camel ride and soak up views of the surrounding landscapes. After your ride, enjoy a relaxing tea break and learn about local Berber culture, as well as their traditions, history, and way of life. Pass through several Berber villages on your way to the Amizmiz Valley, then arrive at Tinirt Village where you can have lunch at a traditional Berber house. After lunch, continue the tour to the Great Plain of Haouz, passing through the village of Ouled Mataa which was originally inhabited by Bedouin Arab tribes from the desert. The day ends with a tour of the Agafay Desert, where you can take incredible photos for your holiday album, and marvel at the rugged Moroccan landscape that surrounds you. After an unforgettable day, sit back and relax on the return journey to Marrakesh, arriving back at your accommodation.
Quad Marrakech | MENARA QUAD MARRAKECH
Day 7-8
Quad bike tours and excursions in the vibrant city of Marrakech, designed to take you on a thrilling journey through the stunning landscapes of Marrakech, giving you the chance to immerse yourself in the city's unique culture and natural beauty.
Koutoubia
Day 8-9
Five times a day, one voice rises above the din of Djemaa El Fna as the muezzin calls the faithful to prayer from the Koutoubia Mosque. The mosque's minaret has been standing guard over the old city since the Almohads erected it in the 12th century. Today, it's Marrakesh's most famous landmark. The tower is a monumental cheat sheet of Moorish ornament: scalloped keystone arches, jagged merlon crenelations and mathematically pleasing proportions.
Trip Summary
Accommodation
Hotel & Apartments
9 days trip
Jemaa el-Fnaa, Bahia Palace & 6 more
Transportation
Trekking, Car
Why JoinMyTrip?
Trusted platform used by 150K+ TripMates
Have A Question?
Live Chat with our experts 24x7
Unique Trips hosted by Experienced Travellers
Secure Payments to ensure your money is always safe