Slide 1 of 1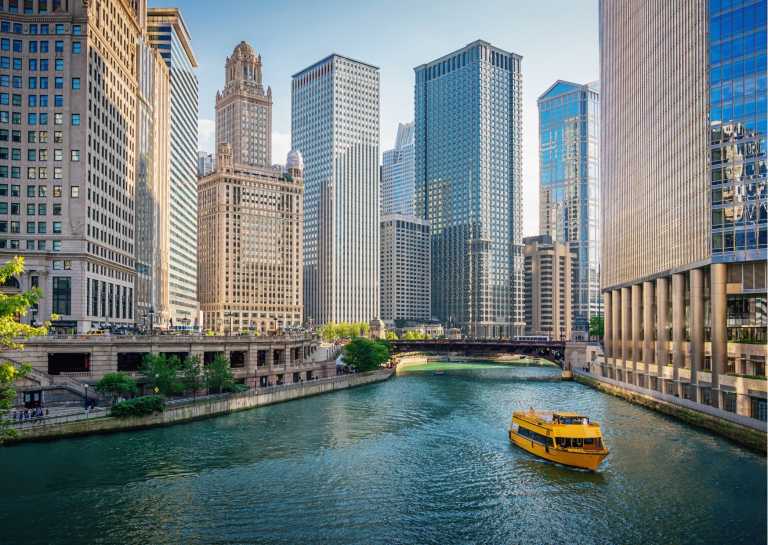 This trip is confirmed to go.
Wandering Through Windy City Wonders: Exploring Chicago, USA
7 Days30 Days!
Extra Cancellation Days
only for the first TripMate
Guided trip
4 days
8 stops
4 Mates
United States
What's special?
Chicago from bird's eye view and more...
Local tour lead
Architecture Tour and Gastronomy
Get ready for an exhilarating journey through the captivating city of Chicago, where history, culture, and modernity converge in a symphony of awe-inspiring experiences. From iconic landmarks to hidden gems, this trip will immerse you in the vibrant soul of the Windy City. Day 1: Discover the Magnificent Mile and Riverwalk. Day 2: Architecture overload for sure with Culinary Delights! Day 3: Cruise along the river on a captivating architectural boat tour. Lakefront Bliss at Navy Pier. Day 4: Farewell to the Windy City. Bring a comfortable walking shoes (lot of walking), camera, battery pack and your smiles! You are in control of which activity you want to participate and food you want to order. We would try to have separate checks as much as possible. London House and Signature Lounge would have pricey rates, so please bear that in mind. There would be a lot of free time after 6 pm and on your last day - Sunday. Start of tour is at 1 pm on October 19. We would meet at the hotel. Please leave your luggage with the concierge as check in usually is at 3 pm unless the room is available at an earlier time.
About me! Hello! I am Lorii, a Matchmaker and NLP Practitioner. I enjoy nature, travel, music, arts and books. Outdoors is fascinating for me. I have tried everything which you can probably do in a tropical country...hiking, camping, scuba diving, skydiving, sailing, parasailing...but I am no good in any of them. :o) I like exploring the city, meeting people, seeing foreign films, volunteering, hanging out with friends, ethnic dining and trying new things. Way beyond the average American, I have visited 28 states and still counting. I have traveled in 46 countries. If you would count Epcot, probably I can say that I have traveled all over the world. I have lived in New York and New Jersey for 8 years. Now living in Chicago for 17 years. I am easy going, interested in new things and love exploring. I am eager to lead a group of women who have the same perspective, respectful and enthusiastic.
Details about the accommodation: The hotel is downtown and within walking distance of major sites, convenience stores and restaurants. You would share a room with another lady on the trip. The room includes a flat-screen TV, a small refrigerator and a coffee maker. Ready to explore with me? Join me now! Limited spots and first come, first served.
What's included?
Accommodation (Shared rooms)
Exciting activies
Local events list
Boat Tour
Walking Tour of the Loop
Tours Coordination
Breakfast
Your Booking includes free protection from Trip cancellations.
Learn More
Meet Your TripLeader
Phone Verified
Identity Verified
28 Countries
2 Trips Completed
I am Lorii, a Matchmaker, Hypnotherapist and NLP Practitioner. I enjoy nature, travel, music, arts and books. 46 countries traveled.
based on 2 reviews
Show All Reviews
You can chat with Lorii once you reserve your spot.
Trip Itinerary
Cloud Gate
Day 1-4
Cloud Gate is a public sculpture by Indian-born British artist Anish Kapoor, that is the centerpiece of AT&T Plaza at Millennium Park in the Loop community area of Chicago, Illinois. The sculpture and AT&T Plaza are located on top of Park Grill, between the Chase Promenade and McCormick Tribune Plaza & Ice Rink. Constructed between 2004 and 2006, the sculpture is nicknamed "The Bean" because of its shape, a name Kapoor initially disliked, but later grew fond of. Made up of 168 stainless steel plates welded together, its highly polished exterior has no visible seams. It measures 33 by 66 by 42 feet (10 by 20 by 13 m), and weighs 110 short tons (100 t; 98 long tons). Kapoor's design was inspired by liquid mercury and the sculpture's surface reflects and distorts the city's skyline. Visitors are able to walk around and under Cloud Gate's 12-foot (3.7 m) high arch. On the underside is the "omphalos" (Greek for "navel"), a concave chamber that warps and multiplies reflections. The sculpture builds upon many of Kapoor's artistic themes, and it is popular with tourists as a photo-taking opportunity for its unique reflective properties. Photo Opportunity in this area.
Jay Pritzker Pavilion
Day 4
Jay Pritzker Pavilion, also known as Pritzker Pavilion or Pritzker Music Pavilion, is a bandshell in Millennium Park in the Loop community area of Chicago in Cook County, Illinois, United States. It is located on the south side of Randolph Street and east of the Chicago Landmark Historic Michigan Boulevard District. The pavilion was named after Jay Pritzker, whose family is known for owning Hyatt Hotels. The building was designed by architect Frank Gehry, who accepted the design commission in April 1999; the pavilion was constructed between June 1999 and July 2004, opening officially on July 16, 2004. Pritzker Pavilion serves as the centerpiece for Millennium Park and is the home of the Grant Park Symphony Orchestra and Chorus and the Grant Park Music Festival, the nation's only remaining free outdoor classical music series. It also hosts a wide range of music series and annual performing arts events. Performers ranging from mainstream rock bands to classical musicians and opera singers have appeared at the pavilion, which even hosts physical fitness activities such as yoga. All rehearsals at the pavilion are open to the public; trained guides are available for the music festival rehearsals, which are well-attended.
London House
Day 4
London House Chicago, Curio Collection by Hilton! It's all about the views in this landmark building, situated where the Magnificent Mile meets the Chicago River. We would stop here to have a picture opportunity. Afterwards, we are going to the River Walk across the street of London House and have some tacos.
Chicago River
Day 4
There's nothing quite like seeing Chicago's world-famous architecture from all three branches of the Chicago River. From hidden treasures to the city's most well-known sights, you'll view over 40 Chicago landmarks on our 75-minute Architecture River Boat Tours. Enjoy the spectacular views as you listen to our tour guides tell you how Chicago's buildings, architecture, and engineering made the city famous. We would take a tour during the day, you also have the option to take the tour in the evening on your own as both times are spectacular.
Giordano's
Day 4
Known for deep-dish pizza, this casual chain serves other classic Italian food, plus beer & wine. Chicago-style pizza usually refers to deep-dish pizza, which is a thick pizza baked in a pan and layered with cheese, fillings like meat and vegetables, and sauce–in that order. The crust is usually two to three inches tall and gets slightly fried due to the oil in the pan. The main distinction between deep-dish pizza and New York-style pizza or Neapolitan pizza is that, as the name suggests, the crust is very deep, creating a bulky pizza that is more similar to a pie than a flatbread. Although the entire pizza is very thick, the crust itself is thin to medium in thickness.
Starbucks Reserve Roastery
Day 4
Although Starbucks was founded in Seattle, you'll have to head to Chicago to experience its largest coffee shop in the world. Ringing in at 35,000 square feet, the Starbucks Reserve Roastery in the Magnificent Mile neighborhood dwarfs other locations that previously held the title (including the Tokyo Reserve Roastery at 32,000 square feet and the Shanghai location at 30,000 square feet.) The store, which opened in 2019, takes up five floors of a North Michigan Avenue building. Spread out across them, you'll find three main coffee bars — a Starbucks Reserve Coffee Bar, Experiential Coffee Bar, and Barrel-Aged Coffee Bar — an Arriviamo Cocktail Bar, and an outpost of Princi, the brand's Italian bakery partner. We would tour all the floors. Afterwards, you can have the chance to go shopping.
The Signature Room at the 95th®
Day 4
Experience Chicago's most breathtaking views with a refreshing cocktail in your hand. Perched on the 96th floor of historic 875 North Michigan Ave—formerly the John Hancock Center—The Signature Lounge is the ideal place to enjoy premium drinks in a casual setting with the best sunset in the Windy City. We can have some drinks here and take some pictures in time for sunset.
Navy Pier
Day 4
Navy Pier is a 3,300-foot-long (1,010 m) pier on the shoreline of Lake Michigan, located in the Streeterville neighborhood of the Near North Side community area in Chicago, Illinois, United States. Navy Pier encompasses over 50 acres (20 ha) of parks, gardens, shops, restaurants, family attractions and exhibition facilities and is one of the top destinations in the Midwestern United States, drawing over nine million visitors annually. It is one of the most visited attractions in the entire Midwest and is Chicago's second-most visited tourist attraction. Enjoy some rides or simply walk around this massive complex.
Trip Summary
4 days trip
Cloud Gate, Jay Pritzker Pavilion & 6 more
Transportation
Trekking, Car, Boat
What's excluded?
Flights and insurance
Guided Tours and Tour Guide Tips
Food and drinks
All Public Transportation
Why JoinMyTrip?
Trusted platform used by 150K+ TripMates
Have A Question?
Live Chat with our experts 24x7
Unique Trips hosted by Experienced Travellers
Secure Payments to ensure your money is always safe