Slide 1 of 1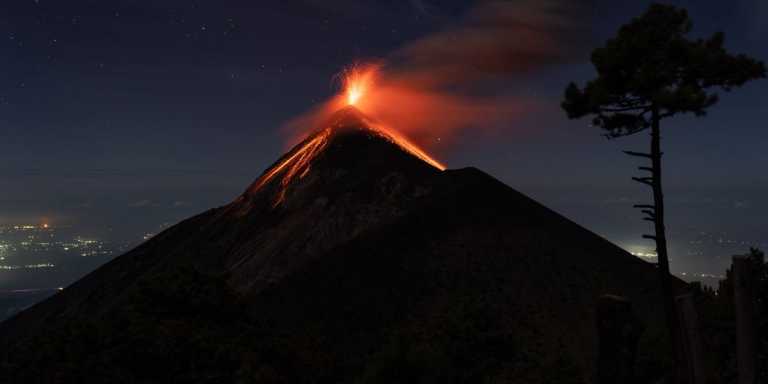 All-Inclusive Volcano expedition Guatemala: Hike Five Volcano Peaks in Nine Days 🌋🇬🇹
Guided trip
9 days
9 stops
1 - 5 Mates
Guatemala
This is the ultimate trip for hiking and nature enthusiasts. Join me and make new friends for an all-inclusive 9 days of hiking, exploring, and summiting several active and beautiful volcanos in Guatemala. The trip is an all-inclusive trip minus your flight and travel insurance. I have teamed up with local guides and partners to make sure you have everything you need for a successful and unforgettable trip. We'll also have a dedicated photographer to capture all of our summit triumphs, full-time guides to lead the way, transportation to and from the volcanoes, and delicious local meals to fuel our bodies. We stay in a boutique hostel in the charming city of Antigua and a stunning lakeside villa in Lake Atitlan. This trip is perfect for adventure seekers who are looking for a physical challenge, cultural experience, and a chance to test their limits. This is a highly active and physically challenging trip but is very doable if you train and are active. I'll be providing training tips for those who want to prepare and I always create a group chat beforehand too for extra pre-trip motivation. About the Trip What is Included: - 9 Day All Inclusive Trip - Trip guides (me!) - Full-time translator - Full-time Trip photographer - All in-country transport - Airport Transfers (on travel days) - Local volcano guides for each hike - Breakfast, lunch, and dinner - Overnight camping equipment (2 nights) - Boutique hostel accommodations (2 nights) | Shared rooms - Lakeside villa accommodations (4 days) | Shared rooms - Beer & Wine during our staying in the villa Temperature and weather The average temperature in December can be around 15-30 degrees Celsius in the cities and anywhere from 0-25 on the volcanoes. The day temperatures are always warm and feel like springtime with the nights quickly dropping in temperature and calling for layers. Accommodation: All accommodation is included in the cost and will be private luxury dorms in a hostel for Antigua, two nights camping in tents on the volcanoes, and a luxury villa on the lake that is fully equipped with a sauna, paddle boards, kayaks, and a dock for lake access. I always host in shared accommodation and so far it has been the best way for the group to really bond and get to know each other! Foods: All our meals (breakfast, lunch, & dinner) will be included in the cost. We'll have a mix of traditional food so you can taste Guatemalan cuisine and will also have other cuisine options. Meals and the volcanos as well as water are included. I suggest bringing some extra snacks for hikes1 This is my second year hosting this expedition and I can confidently say it is a life-changing trip! I've spent years hiking in Guatemala (my home country) and put together this trip to highlight my favorite peaks and share this experience with other adventure enthusiasts. It is a physical and mental challenge but the incredible views and feeling of accomplishment afterward are beyond worth it. I can't wait to share this experience with you! If you have any questions please let me know!
Your Booking includes free protection from Trip cancellations.
Learn More
Meet Your TripLeader
Phone Verified
Identity Verified
17 Countries
2 Trips Completed
Hi there! I'm Hannah, a 26 year old traveler, nomad, and foodie.
based on 1 reviews
Show All Reviews
You can chat with Hannah once you reserve your spot.
Trip Itinerary
Antigua Guatemala
Day 1-2
Arrive in Guatemala city and join our group for a shuttle drive to Antigua, where our trip begins! Antigua is full of cobblestone streets, colorful walls, and a rich history that make it a UNESCO World Heritage Site. We'll check into a boutique hostel with a rooftop terrace, pool, and sauna. We'll head out to dinner together at one of my favorite restaurants to carb up and get to know each other before our first volcano hike begins the next day!
Acatenango Volcano Trailhead
Day 2-3
Get ready for our first volcano hike! We'll have a delicious local breakfast at our hostel before heading out for an hour's drive to Acatenango's trailhead. The hike will take us takes roughly 5-6 hours to get to the base camp of the 13,044-foot volcano. Expect an overall elevation gain of 4,921 feet. We'll go through farmlands, rainforests and other climates during this hike and will have allocated time for breaks and lunch before reaching basecamp. Once there, you'll have time to rest and take in the incredible views before the hike down before hiking the next peak, Fuego. This hike out and back takes roughly 4 hours but is extremely rewarding as you can get close to the eruptions. After the hike back to Basecamp, we'll have dinner, relax at the bonfire and watch the impressive eruptions! 8am: Pickup and head to our guide's headquarters for our hiking gear 10am: Begin hiking 4pm: Arrive at basecamp 5pm: Hike to Fuego (active volcano night hike!) 9pm: Return to basecamp for bonfire dinner and hot chocolate
Acatenango Volcano Trek & Tour from Antigua 2D/1N
Day 3
Wake up! It's 4 am and we'll start for two hours to the summit of Acatenango where we'll have the chance to witness an incredible sunrise, with views over Antigua, Lake Atitlan, and other departments of Guatemala. After sunrise, we'll hike back to Basecamp and have breakfast before the 2-hour hike back to the trailhead of Acatenango. We'll shuttle back to Antigua, check into our hostel, rest, and then have lunch at a local spot so you can carb up. Take the rest of the night to rest and eat well to prepare for the next few hikes. Our hostel has a pool and sauna for anyone wishing to get some extra rest and relaxation.
Antigua Guatemala
Day 3-4
Wake up to your breakfast at the hostel and get ready to explore Antigua with its parks, ruins, and cobblestone streets. We'll check out a local Spanish ruin and have a traditional Guatemalan meal at a famous local restaurant. After a deliciously lush, we'll start our 2-hour drive to Lake Atitlan where we are going to check into our beautiful lakeside accommodation. Enjoy the evening with volcano views, take a dip, or join a sauna session.
Lake Atitlán
Day 4-6
Today is the first day after finishing the first hikes and you will probably feel some soreness in your muscles, so we're dedicating the day to rest and recovering. We'll have access to the lake to plunge in the freshwater, swim, or sauna. This combination is an incredible relief for sore muscles! You'll also have the option to venture out to nearby towns on your own if you'd like. We have booked an incredible villa so you can truly relax in the sun, grab a few drinks, and nourish yourself with fresh fruits.
Volcán Tolimán
Day 6-7
Our second big Volcano hike (peaks 3&4) begins today. Be ready for an 8 am departure to Santiago where our hike begins. Expect a 4-6 hour hike up the 3,158m volcano. This dormant Volcano has an elevation gain of roughly 1,447m and about an 8km upward hike to the summit. We'll leave our things at the summit and head to the second peak, a quick 1.5 hour out and back hike to get another view. After that, we'll return to the summit and set up our camp, watch the sunset and have dinner which we'll cook over the open fire. For the night, you'll want to pack on the layers as it gets really chilly on top of the volcano.
Volcán Atitlán
Day 7
Our final peak is here! I saved my favorite and most challenging volcano for the end. Take in the stunning views for sunrise and enjoy breakfast before packing up our things and heading down Toliman to a saddle between the two volcanoes; here we'll begin our ascend to our final and most challenging volcano yet- Atitlan. Atitlan is roughly 3,535m high and we'll have an elevation gain of 1,979m during a 16km hike up and down. This Volcano is specifically difficult because it has a consistent incline with little to no switchbacks. Although difficult, this hike is shorter than all the other peaks. We'll likely be the only hikers on the mountain which makes this experience incredibly serene. We'll experience various climates and environments including a Mars-like summit and a rainforest. At the top, we'll rest amidst steam pockets to stay warm, check out the crater, eat a snack, and then start heading down. Expect a 3 hour's descent to the base of the volcano, where we'll get picked up by a truck and return to Santiago. We'll then take a boat to our villa to enjoy our well-deserved dinner and some drinks.
Lake Atitlán
Day 7-9
Now that we're done with our 5 peaks I went all out and booked a lakeside villa fully equipped with private chefs, lakeside dock access, paddle boards, kayaks, and a sauna so we can fully rest and relax after conquering these peaks! This is one of my favorite parts of the trip because we can really hang out and enjoy the nature of the lake after such a challenging and rewarding week!
Lake Atitlán
Day 9
Enjoy the lakefront, breakfast, and the villa before our scheduled shuttle to the airport. The drive is roughly 4 hours long. Check-out is at 11 am which is also the official end of the trip. If you'd like to extend your trip I'm happy to help coordinate lodging and transport for you!
Trip Summary
Accommodation
Camping & Hostel & Other
9 days trip
Antigua Guatemala, Acatenango Volcano Trailhead & 7 more
Why JoinMyTrip?
Trusted platform used by 150K+ TripMates
Have A Question?
Live Chat with our experts 24x7
Unique Trips hosted by Experienced Travellers
Secure Payments to ensure your money is always safe