Slide 1 of 1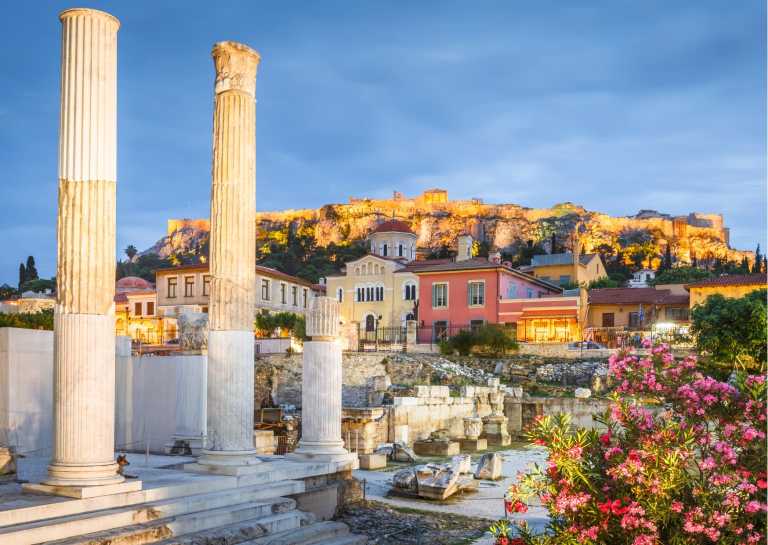 Unveiling the Beauty of Greece: Explore Its Captivating Landscapes and Rich Culture
Guided trip
10 days
10 stops
2 - 6 Mates
Greece
Have you ever wanted to see the Acropolis? Try authentic Greek food. Watch the sunset over the Mediterranean. Do you want to see Greece after the summer crowds have left? Then come with me and let's see all that we can! Athens is still dominated by 5th-century BC landmarks, including the Acropolis, a hilltop citadel topped with ancient buildings like the colonnaded Parthenon temple. The Acropolis Museum, along with the National Archaeological Museum, preserves sculptures, vases, jewelry, and more from Ancient Greece. My name is Louise, and I am a 58-year young grandma who wants to see as much of the world as I can while I still can! I have longed to visit Greece for years and I finally have the opportunity to go. We will stay in an apartment in Athens and see as much as we can in our ten days, as well as have day trips to neighboring cities with lots of history to see and food to try. We will see the Acropolis in Athens, go on walking tours, and enjoy tzatziki, gyros, moussaka, and of course baklava! We will head to Aegina for a day and visit a couple of temples and perhaps visit an ancient olive garden while there. We will have dinner on the beach before heading back to Athens. What is included in the price? - Accommodation (apartment with shared rooms - FEMALE ONLY) - Unified entrance fee to the Acropolis, the Acropolis Museum, Roman Agora, Temple of Olympian Zeus - Ferry ticket to/from Aegina - 50 Euros Not Included: - Food and drink (unless specified) - Entrance fees (unless specified) - Transportation Welcome to Greece! If you have any questions, please be sure to send me a message in the Q&A section!
Your Booking includes free protection from Trip cancellations.
Learn More
Meet Your TripLeader
Phone Verified
Identity Verified
16 Countries
Traveler, food lover, grandmother. Looking for new adventures!
You can chat with Louise once you reserve your spot.
Trip Itinerary
Athens
Day 1-10
We will all meet at the apartment on arrival in Athens. Once settled in, we will head out to the nearby metro station and get our metro passes for the week. We will head to a local restaurant to enjoy a late dinner and get to know each other and find out what we are excited about to see!
Athens
Day 10
Today, we will head to the most recognized landmark of Athens - the Acropolis. We will enjoy a tour and then go to the museum. There's a free walking tour that we will take today, and we will learn more about the history of Athens. Let's have dinner and enjoy an evening walk.
Athens
Day 10
Let's make breakfast before heading out to a local market and enjoy the wonders of the streets of Athens. Let's head back to some of the spots we saw yesterday and take some time to really see them. How about picking up some food and head to the National Garden for a picnic? Let's enjoy the day. If you'd like to wander off on your own, feel free. We can all meet at the apartment and have dinner in tonight. Let's make a list of the foods we'd like to try on our DIY Food Tour!
Aegina
Day 10
We will head to Aegina for a day trip, enjoying the ferry across, visit the Temple of Aphaia, the Temple of Apollo. We will also visit the Holy Church of St. Nectarios. We will also go and see an ancient olive grove. Before we head back to the main island, we will head to a beach and enjoy a late lunch/early dinner.
Athens
Day 10
Today is our DIY Food Tour! Let's start out and make it a day! We can space it out with visits to see some beautiful architecture, and we can do some souvenir shopping while we wander and eat. Dinner is on your own today, head out and enjoy!
Limani Nafpliou
Day 10
Today, we will take a break from Athens and head out of the city for a trip back into the past. With a guide, a qualified archeologist, travel to the ancient Greek capital of Nafplio. Customize your time in Nafplio based on what most interests you, whether it's climbing the 999 steps to the Castle of Palamidi or trying some ouzo at a local distillery. Then head to the Great Theater of Epidaurus and learn about the ancient festivals that were held there millennia ago.
Athens
Day 10
Today is a free day for everyone. Head out and enjoy the day. Try some new Greek food, imbibe in some ouzo, have some wine. I will let you all know where I'll be going for dinner, and if you'd like to meet me, just let me know!
Sounion
Day 10
We will head out to Sounion to visit the Temple of Poseidon, the archaeological sites and go for a hike in the area to see the amazing views. Let's have lunch and enjoy some seafood and wine before heading back to Athens.
Athens
Day 10
Our last full day in Athens! Let's have breakfast together and decide what we'd like to do. Head back to the Acropolis? Perhaps some more souvenir shopping? Let's head to a local restaurant for lunch. Sit at a cafe and people watch for a while? We can enjoy a group dinner tonight and then get ready for our departure tomorrow.
Athens
Day 10
It's time to head home! Let's have breakfast together, enjoy a few last hours in Athens. Let's wander the streets for a bit before heading to the airport, and back to reality. It's been a great Grecian holiday - one to remember!
Trip Summary
10 days trip
Athens, Athens & 8 more
Why JoinMyTrip?
Trusted platform used by 150K+ TripMates
Have A Question?
Live Chat with our experts 24x7
Unique Trips hosted by Experienced Travellers
Secure Payments to ensure your money is always safe