Slide 1 of 1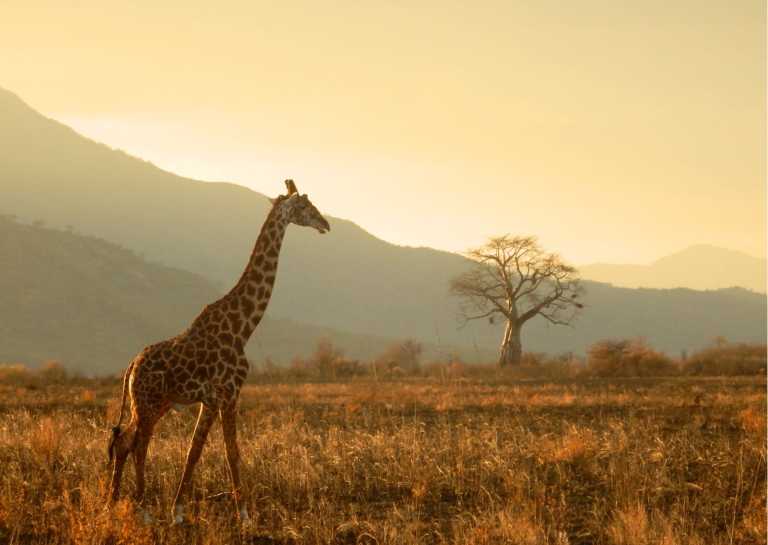 Unforgettable Tanzania Adventure: Explore the Best of the Classic Tour
7 Days30 Days!
Extra Cancellation Days
only for the first TripMate
Guided trip
6 days
6 stops
6 Mates
Tanzania
What's special?
World Travel Award Winner - for 4 years!
World heritage sites - NCCA
Welcome to Tanzania! This trip itinerary covers all the major highlights of the northern circuit. In only 7 days you cover Tanzania's major tourist sites. Ngorongoro Crater is a world heritage site, Tarangire national park, home to the mighty African elephant, Serengeti national park, where the great wildest migration is sighted almost throughout the year, all you need to do is to be in the right location depending on the rain patterns. Lake Manyara national park is small but very beautiful, an inevitable park for birds and big animals. Tanzania has 120 indigenous ethnic groups, and we are proud of our culture, at Mto Wa Mbu you will meet many aspects of our culture and our cuisine, varied from banana beer to various mouth-watering dishes. In a nutshell, you visit all the major highlights of Tanzainia's northern circuit.
My name is Caudence Ayoti. I have 17 years of experience in the tourism industry and would love to get tripmates to travel with me to Tanzania and the surrounding East African countries. I have such a passion for traveling and also for the environment because I know so well that the Tourism business depends entirely on the environment. I protect the environment whenever I have a chance. I just completed my Afrogreen training this month.
The type of accommodation for the Tanzania Classic safari is mid-range. You get to sleep in a proper bed, enjoy private bathrooms just like you would in a proper hotel. In Serengeti we use camps which have canvas walls which gives that feeling of being very close to nature. Mid-range accommodations give the best value for money.
What's included?
A well-maintained safari land cruiser
A professional English-speaking safari
Group airport transfers
All government taxes
All park fees for all the national par
Meals and accommodations
Mto Wa Mbu Cultural tour & local lunch
Your Booking includes free protection from Trip cancellations.
Learn More
Meet Your TripLeader
Phone Verified
Identity Verified
2 Countries
CEO & Director - A Tourism Expert + 17 years of experience in the Tourism Industry. Founder & CEO of Dyslexia Tanzania
You can chat with Caudence once you reserve your spot.
Trip Itinerary
You will meet Caudence and the group in Arusha
Find the best flight details to and from Arusha ->
Arusha
Day 1-2
Arusha city in northern Tanzania is the gateway to remarkable natural wonders and a vibrant cultural hub. Surrounded by stunning landscapes and iconic destinations like Mount Kilimanjaro and Serengeti National Park, Arusha is known as the "Safari Capital of Tanzania." With over 120 ethnic groups, the city embraces a diverse and multicultural atmosphere. We will explore bustling markets, sample traditional cuisine, and engage with friendly locals. Arusha offers modern amenities, including hotels, restaurants, and vibrant nightlife. Its unique combination of natural beauty and cultural richness makes it an ideal starting point for unforgettable adventures in Tanzania.
Tarangire National Park
Day 2-3
Tarangire National Park in Tanzania is a captivating wildlife sanctuary known for its diverse landscapes and abundant wildlife. Spanning over 2,800 square kilometers, the park is famous for its iconic Baobab trees and the Tarangire River, which sustains a rich ecosystem. The park is renowned for its large elephant population, offering incredible opportunities for close encounters. Visitors can also spot a variety of other wildlife, including lions, leopards, giraffes, zebras, wildebeest, and numerous bird species. With its stunning scenery and remarkable wildlife sightings, Tarangire National Park is a must-visit destination for nature and safari enthusiasts.
Lake Manyara National Park
Day 3-4
Lake Manyara National Park, located in northern Tanzania, is a small but captivating wildlife haven. Nestled between the Great Rift Valley's towering escarpment and the shimmering Lake Manyara, the park offers breathtaking natural beauty. Despite its size, Lake Manyara National Park is renowned for its diverse habitats, ranging from lush groundwater forests to open grassy plains and acacia woodlands. The park is famous for its incredible birdlife, with over 400 species recorded, including pink-hued flamingos that create a mesmerizing spectacle. Visitors can also encounter a variety of wildlife, such as elephants, giraffes, zebras, hippos, and tree-climbing lions, making a visit to Lake Manyara National Park a memorable and enriching experience in Tanzania's northern circuit. In addition to a game drive in Lake Manyara National Park, you will visit, Mto Wa Mbu Village: A cultural tour near Lake Manyara National Park, offering immersive experiences of local traditions, crafts, cuisine, and vibrant markets.
Ngorongoro Crater
Day 4
Ngorongoro Crater, a UNESCO World Heritage Site in Tanzania, is a breathtaking natural wonder and a haven for wildlife enthusiasts. Formed by a collapsed volcano, this vast caldera is home to an incredible concentration of wildlife, including lions, elephants, zebras, and rhinos. Its diverse ecosystems, from open grasslands to acacia forests, provide a habitat for an abundance of species. Visitors can embark on exhilarating game drives, witnessing the awe-inspiring interactions between predators and prey against the backdrop of the stunning crater walls. With its remarkable scenery and unparalleled wildlife viewing opportunities, Ngorongoro Crater offers a truly unforgettable safari experience.
Serengeti National Park
Day 4-6
The Serengeti National Park in Tanzania is a legendary expanse of pristine wilderness that embodies the quintessential African safari experience. Spanning vast grassy plains, scattered acacia trees, and meandering rivers, the Serengeti is home to an unparalleled concentration of wildlife. It is most famous for hosting the annual wildebeest migration, where millions of wildebeest and zebras traverse the plains in search of greener pastures. This awe-inspiring spectacle, combined with the park's abundant predators, including lions, cheetahs, and leopards, makes the Serengeti a wildlife enthusiast's paradise. Visitors can embark on thrilling game drives, witness extraordinary animal encounters, and immerse themselves in the untamed beauty of this iconic African landscape. The Serengeti is a testament to nature's grandeur and an experience that lingers in the heart long after the journey is over.
Kilimanjaro International Airport
Day 6
Kilimanjaro International Airport, located in Tanzania, serves as the primary gateway to the majestic Mount Kilimanjaro and the surrounding regions. Situated approximately 40 kilometers east of Arusha, the airport provides convenient access to the northern safari circuit and the famous national parks of Tanzania. With modern facilities and infrastructure, Kilimanjaro International Airport offers a comfortable and efficient travel experience for both domestic and international passengers. It serves as a hub for various airlines and offers direct flights to destinations across Africa, Europe, and the Middle East. The airport's proximity to iconic natural wonders, combined with its excellent amenities, makes it a vital transportation hub for visitors embarking on their Tanzanian adventures.
Trip Summary
Accommodation
Hotel & Camping
6 days trip
Arusha, Tarangire National Park & 4 more
Have A Question?
Ask the TripLeader questions about the Trip by clicking on the button below. Your question and the response will be visible on this page once it's answered.
What's excluded?
International flights
Tips
Drinks at the camps
Crater rim walk - $45 per person
Balloon safari in Serengeti - $540
Why JoinMyTrip?
Trusted platform used by 150K+ TripMates
Have A Question?
Live Chat with our experts 24x7
Unique Trips hosted by Experienced Travellers
Secure Payments to ensure your money is always safe
Looking for more trips?
Here's some similar trips that you might be interested in.