Slide 1 of 1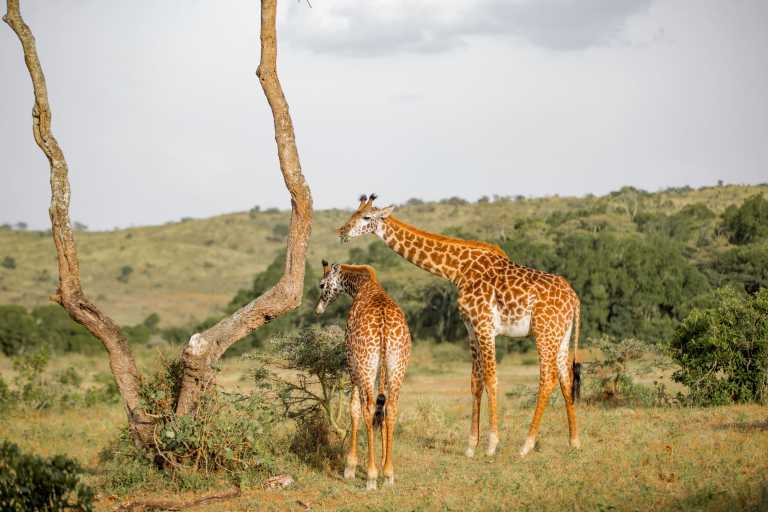 Top Tanzania Natural Wonders: Mount Kilimanjaro, Serengeti, Ngorongoro Crater and Zanzibar Island
7 Days30 Days!
Extra Cancellation Days
only for the first TripMate
Guided trip
13 days
19 stops
4 - 6 Mates
Tanzania
What's special?
The Mount Kilimanjaro Trekking
Serengeti Wildebeest and Ngorongoro
Zanzibar Island
It is the right time and the right place to explore Tanzania's gifted nature and enjoy the real African taste. This camping adventurous Safari will lead you to catch Mount Kilimanjaro (The highest Mountain in Africa), witness the Great Serengeti Wildebeest crossing (One of the great memorable glimpses), visit the Ngorongoro Crater. Some use to call it The Eden Garden due to its presence of thousands of wild species and many water sources in it. It is the only Volcanic Caldera found in the World containing a variety of wild species including the iconic Big Five animals - lions, buffaloes, leopards, elephants, and rhinos. After experiencing the taste of Mount Kilimanjaro, Serengeti Wildebeest Crossing, and visiting the Ngorongoro Crater your last point will be relaxing on the finest Tropical Beaches of Zanzibar Island on the shores of the Indian Ocean.
About me! Hello!! My name is Frank Mokiwa, In 13 Years of experience as tour consultant. I gained high skills organizing amazing Safaris, specifically timing to enjoy your tour. This one is specifically for all adventurers!
Details about the accommodation: You will be staying in hotels in Arusha and Zanzibar in a shared room (2 Pax in a room). However, we can arrange a single room if required. During Safari, you will be using tents with camping gear (Sleeping bags and mattresses). Either sharing a tent or a private safari tent. Accommodation during Safari will be on a camping basis, cook service, food, and mineral drinking water will be provided.
What's included?
Transport in a private Safari Jeep
Park entrance fee
Ngorongoro Crater Service fee
Food during Safari (All meals)
Cook Service during Safari
Accommodation
Tent during Safari and Camping gear
Mineral Botted drinking water
Gas bottle and cooking utensils
Cutleries
Your Booking includes free protection from Trip cancellations.
Learn More
Meet Your TripLeader
Phone Verified
Identity Verified
1 Countries
Hello!!! My name is Frank Mokiwa a tour operator and tour leader for about 13 years of experience in Tanzania
You can chat with Frank Mokiwa once you reserve your spot.
Trip Itinerary
Merves Hotel Arusha
Day 1-2
Arrive at Arusha, for your dinner and overnight stay at Merves Hotel or similar, we will meet and discuss the following day program. The next day you will have an option of Trekking the Mount Kilimanjaro for a day trekking to Mandara Huts with lunch boxes later in the afternoon you will be driven to Arusha for your dinner and overnight at the same hotel. Or you will have a day at leisure in Arusha, you can have Arusha City Tour or Cultural program around the Mount Meru.
Marangu Gate
Day 2
1st - Option for this leisure day. Very early breakfast at the hotel, the driver will be waiting for you at the hotel reception he will direct you to a waiting car for your transfer to Mount Kilimanjaro Marangu gate and starting The Mount Kilimanjaro Day Trekking to the first huts (Mandara Huts). Experience the taste of Climbing to the top roof of Africa by using this day trekking with your picnic lunch. Having great picture around later descend back to Marangu Gate then board your waiting car and drive back to Merves Hotel for your dinner and overnight.
Maasai Market Curios and Crafts
Day 2
2nd - Option It is one of the Tanzania business cities. The city is very famous for its tourism points and unique place where you can find a very rare germ stone in the WORLD (TANZANITE GERM STONES). It is named that as it is only found in Tanzania in the WORLD. Depending on your arrival time you can have a chance to visit The Arusha National Park or do The Arusha City Tour (Visiting the local market and Maasai Market crafts and finishing with the Tanzanite Museum) or go for a Cultural Tourism on the foot of the Mount Meru or a Mount Meru Waterfalls hiking. Your dinner and overnight will be in the hotel, arranged for the group to meet and discuss the next day's logistics.
Amani Cultural Tourism Arusha Tanzania
Day 2
3rd - Option It is an amazing tour that will keep you feeling like a part of the local community. There is a lot to experience during this tour including interacting with the locals, the mount Meru forest hiking visiting the local's farms Banana, corn and coffee farms. A coffee farm tour is interesting whereby you will have to experience different processes of making your cup of coffee from the raw materials. After making your cup of coffee, you will eat your local lunch and thereafter board your disposal van for transfer to your hotel.
Merves Hotel Arusha
Day 2-3
This will be our last night before we start the Safari. We shall put all of our Safari logistics in line, meet with our cook and prepare all of our Safari stuff before leaving. Our Safari driver/ Guide will be there to settle out any safari query regarding the next day trip. Dinner and overnight at the hotel.
Seronera
Day 3
An early breakfast, then drive to the central Serengeti. Game drive around the central Serengeti with your picnic lunch. Later drive to Serengeti Nguchiro Campsite for your dinner and overnight. This is one of the best campsite in Serengeti National Park.
Nguchiro Public Campsite
Day 3-4
This is the one of the best campsite in Serengeti National Park. You will feel a real African Wildlife as you will be very close to them and sometimes some you will experience some wild animals around the campsite.
Kogatende Serengeti Safaris
Day 4
An early breakfast at the campsite followed by a brief game drive of the Central Serengeti National Park, later proceed to African Safari Serengeti Ikoma for your dinner and overnight with your picnic lunch.
Africa Safari Serengeti Ikoma
Day 4-7
You will spend 3 nights at Africa Safari Serengeti Ikoma, you will be driven to Mara River for Wildebeest Crossing spotting Adventures, spending much time along the Mara river to acquire the wildebeests crossing glimpses you will have to take with you your picnic lunch.
Ngorongoro Conservation Area
Day 7
A brief game drive of the Northern Serengeti later drive to the central Serengeti, raoming around in search of animals later drive to Serengeti National Park exit gate (Naabi Gate). Lunch break will be at Naabi Gate then proceed to Ngorongoro Conservation Area for your dinner and overnight at Ngorongoro Simba A public Campsite.
Simba Campsite A
Day 7-8
The only campsite allocated on the Ngorongoro Crater Rim. A campsite with a great view of the Ngorongoro Crater. Pitching your Tents at the place but take note that a place is somehow cold. We will discuss our following day program during our dinner time.
Ngorongoro Crater
Day 8
An early breakfast then we will leave for a Ngorongoro Crater tour with picnic lunch. Descend into the crater for a crater tour. Lunch break at Ngorongoro picnic site (Ngotoktok) followed by an afternoon game drive en-route ascending to the top, pick up our cook at the campsite then proceed to Arusha for your dinner and overnight at Merves Hotel.
Merves Hotel Arusha
Day 8-9
Your hotel in Arusha where you will spend your night, we will have a fun time arranging a farewell night for those who will be returning home and for those who will be connecting a flight to Zanzibar on the following day.
Zanzibar Island
Day 9
The finest Tropical Beach - Island From experience, we recommend this to be the last destination of your holiday in Tanzania. It is the right place for your vacation relaxation and experiencing the SWAHILI Culture while enjoying the beach sports on this World's know Island by its Historical mark and culture.
Stone Town
Day 9
The History (Slave Trade) and Swahili Culture This is the WORLD's heritage story on how the SLAVER TRADE was and its evidence, by visiting the Slave Market Museum you will learn how the slave trade was done in those times from how they were captured and transferred around the World. We will have time to visit the Stone Town streets including the local market and learn the Swahili Culture with our expert guide. This is a tale that you will keep remembering all the time. Later drive to the Northern part of the Island for our dinner and overnight.
Zanzibar Cruise Adventure
Day 9-10
The next day we will have an option of amazing activity. Sunset Boat Cruise in the Indian Ocean: An evening fresh Indian Ocean breeze in the boat and chanting while cool ocean waves hit side to side, getting wonderful memory pictures and videos to put in your gallery, impressing others. Later cruise back to Mnarani for our overnight stay and dinner.
Jozani Forest
Day 10-11
After breakfast, our guide will take us to Jozani Forest. It is a unique experience walking in the Island Forest with marvelous scenery. Your forest friends Red Colobus Monkey, Skies Monkeys and a wide range variety of Butterflies will welcome you to enjoy your time in the forest along with an experienced tour guide who will explain everything you need to know about this forest.
Mnarani Beach Cottages
Day 11-13
The cool place to stay with the finest beaches in Zanzibar. We will spend 4 nights here with some sea sports options while enjoying the cool breeze of an Indian Ocean. Meals plan at Mnarani should be on Half board basis, this to give us time to walk around and having lunch at any point around the area.
Abeid Amani Karume International Airport
Day 13
Breakfast at Mnarani Beach Cottages, our driver will be waiting for us at the hotel reception, help us load our luggage into a waiting car for a transfer to Sheikh Abeid Amani Karume International Airport and catch your international flight back home.
Trip Summary
Accommodation
Hotel & Camping
13 days trip
Merves Hotel Arusha, Marangu Gate & 17 more
Transportation
Car, Trekking, Plane, Other
What's excluded?
Any item of personal nature
Arusha City Tour (Day at leisure)
Kilimanjaro Day Trekking
Zanzibar Segment
Flight to Zanzibar
Why JoinMyTrip?
Trusted platform used by 150K+ TripMates
Have A Question?
Live Chat with our experts 24x7
Unique Trips hosted by Experienced Travellers
Secure Payments to ensure your money is always safe