Slide 1 of 1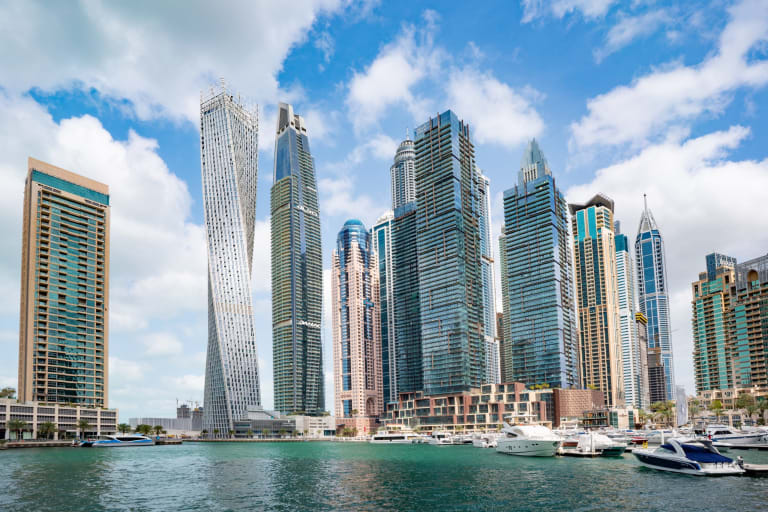 The Ultimate ladies-only Dubai Trip! Desert Safari, Dhow Cruise and More
Guided trip
5 days
7 stops
2 - 3 Mates
United Arab Emirates
Hello ladies, I'm Muna :) I'm Ethiopian, born and raised in Riyadh, Saudi Arabia. I am excited to be your TripLeader for this thrilling five-day tour of Dubai. As a person who loves adventure and discovering new sights, I can't wait to share my passion for travel with all of you. Whether it's exploring the futuristic world of AYA Universe, experiencing the traditional entertainment on the Dhow Cruise at night, there's something for every woman on this trip. Our itinerary is packed with exciting activities that showcase the best of Dubai. We'll visit the Dubai Mall, shopping, and watch the mesmerizing Dubai Mall Fountain show. We'll also take a traditional Dhow Cruise at night, enjoy dinner and experience traditional entertainment while sailing along the historic Dubai Creek. For an adrenaline rush, we'll go on a thrilling desert safari tour that includes dune bashing and camel riding. We will have the opportunity to go skiing at Ski Dubai in the Mall of Emirates. This indoor ski resort offers a variety of thrilling winter activities such as skiing, snowboarding, and more. We'll also visit the Museum of the Future, visit the view of the Palm, the best view in all Dubai. We would be checking in a hotel or an apartment, and rooms/beds are taken first come first serve basis. It will sure be in the city center. There will be free Wi-Fi, and rooms are private. That's why my TripMates number is limited, so I can secure a private room for each. The price consists of costs of: - Accommodation (hotel or apartment or hoilday homes) - Entry tickets for attractions - Tour packages - Transportations Food/drinks is not included in the cost except if it's part of a package tour day :) As you can see, we would be out all day. It's a fully packed 5-days trip from morning to evening. So get ready to walk a lot. Dubai is all about walking. This ladies-only tour has everything you need to experience the excitement, culture, and beauty of Dubai while enjoying quality time with your fellow women travelers. So get ready for an adventure of a lifetime, filled with excitement, culture, and unforgettable experiences. Let's make memories that will last a lifetime and embrace everything that Dubai has to offer!
Your Booking includes free protection from Trip cancellations.
Learn More
Meet Your TripLeader
Phone Verified
Identity Verified
6 Countries
1 Trips Completed
Explorer
You can chat with Muna once you reserve your spot.
Trip Itinerary
You will meet Muna and the group in AYA
Find the best flight details to and from AYA ->
AYA
Day 1
Discover the joy of culture at Dubai's New Futuristic Light and Sound Park. AYA Universe, an immersive and interactive experience that combines art, technology and culture, and is located in the City Walk area. We'll spend the day walking in city walk and exploring all the places there.
Abu Dhabi
Day 1-2
Pick up from our hotel. Experience the ultimate thrill and excitement in Abu Dhabi's most captivating attractions. Discover the awe-inspiring Sheikh Zayed Mosque, an architectural marvel that will leave you breathless. Embark on a thrilling drive along Sheikh Zayed Road, witnessing the city's iconic skyline. Capture Instagram-worthy moments at the luxurious Emirates Palace, a symbol of grandeur. Immerse yourself in the rich Emirati culture at Heritage Village, where history comes to life. Get your adrenaline pumping at SeaWorld, with over 35 interactive experiences, exhilarating rides, and captivating performances. Feel the rush as you visit the F1 Grand Prix Racing Track at Yas Marina Circuit. Prepare for an unforgettable journey packed with excitement, luxury, and adventure. And dropped off at our hotel.
The View at the Palm
Day 2
Gasp in awe as you enjoy the picturesque 360-degree view of Palm Jumeirah from the 52nd level of Palm towers.Don't miss out on Palm Jumeirah's most recent and breathtaking architectural addition, the Palm Tower. We will spend the day walking in Palm Jumeirah Boardwalk or go to the beach, or go to the Pointe.
Dhow Cruise Dubai Marina
Day 2-3
You will have the opportunity to witness the following by taking the dhow cruise: - Spice Souk - Gold Souk - Historic Bastakiya - Dubai Museum - Have a wonderful view of the illustrious Burj Khalifa - Palace of the Emir - View Skyscrapers of Sheikh Zayed Road. -Welcome drinks, Water, Tea & Coffee. -International buffet dinner with a choice of vegetarian and non-vegetarian dishes. -Access to fully air-conditioned lower deck and open air upper deck
The Dubai Mall
Day 3-4
Explore the Dubai Mall, one of the largest malls in the world, and visit the Dubai Mall Fountain, a mesmerizing water and light show. We'll get to visit the Chinetown in Dubai Mall. And discover marine life at Dubai Aquarium & Underwater Zoo!
Museum of The Future
Day 4-5
The Museum of the Future in Dubai is a unique and captivating destination that offers visitors a glimpse into the possibilities of tomorrow. With its state-of-the-art exhibits and interactive experiences, the museum showcases the latest advancements in emerging technologies such as artificial intelligence, robotics, and sustainable energy.
Mall of the Emirates
Day 5
Go shopping at the mall's many high-end stores, such as Sephora, Victoria's Secret, and H&M. Have lunch at one of the mall's many restaurants, such as The Cheesecake Factory or Yo Sushi. Visit Ski Dubai, an indoor ski slope that offers skiing, snowboarding, and other snow-based activities. Take a break from the mall and head to Kite Beach, a nearby beach that offers watersports and beach activities. Have a late afternoon snack at one of the many beachside cafés, such as Salt or Black Tap.
Trip Summary
Accommodation
Apartments & Hotel
5 days trip
AYA, Abu Dhabi & 5 more
Have A Question?
Ask the TripLeader questions about the Trip by clicking on the button below. Your question and the response will be visible on this page once it's answered.
Why JoinMyTrip?
Trusted platform used by 150K+ TripMates
Have A Question?
Live Chat with our experts 24x7
Unique Trips hosted by Experienced Travellers
Secure Payments to ensure your money is always safe
Looking for more trips?
Here's some similar trips that you might be interested in.