Slide 1 of 1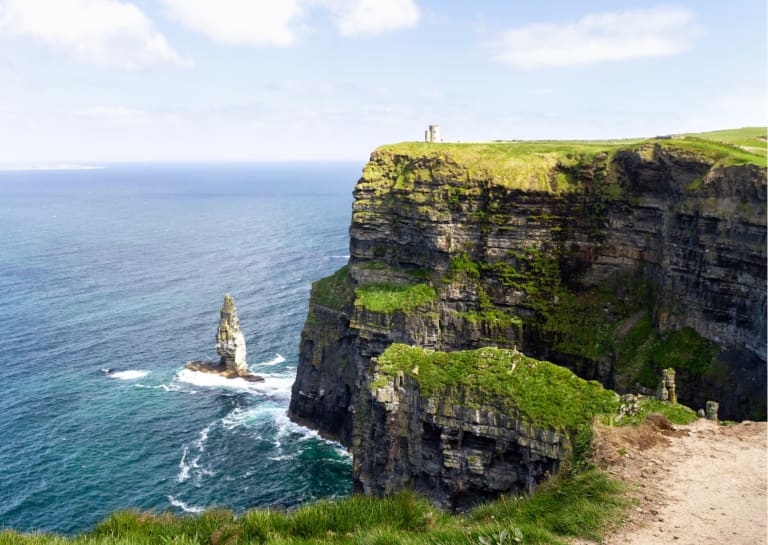 Irish Adventure with a Local: Scenic Coastal Drives, Rolling Green Hills, and the Vibrant Buzz of Irish Music and Culture
7 Days30 Days!
Extra Cancellation Days
only for the first TripMate
Guided trip
6 days
5 stops
2 - 4 Mates
Northern Europe
What's special?
Trip Leader-a local and knows Ireland
Unesco and Monastic sites
Flexibility with stops
It's time for an Irish Adventure with a genuine local…I know all the hidden gems of this beautiful green Isle, the land of St Patrick! As a local I will take you with me on an unforgettable trip this August where breathtaking Irish countryside, rolling green hills, rugged, quaint unspoiled villages and endless coastal cliffs await to fill both your sight and senses. We will marvel at the Book of Kells in Trinity College, a world renown university, pour our own pint of the famous black stuff, Guinness and finish off the day with a bit of Irish craic in the traditional bars in Temple Bar in the heart of Dublin City centre.
About me! Hello, my name is Virginia and an Irish by Naturalisation and have lived here for the past 20 years. I am almost 50…do not let my good skin fool you, and am really young at heart. I have always dreamed of traveling and experiencing new cultures, peoples and all the world has to offer! In 2002, I moved to this beautiful Ireland, and I fell in love with the land, the people and the culture. It is a beautiful country with a rich musical and cultural heritage, evident in their poetry and trad music! I am a chilled and easy-going person, I do at least 3 solo travel per year and love meeting new people and making friends and spontaneous yet organised so get ready to have an adventure. I value planning all the important details of a trip, but can also leave space for mystery and adventure. Let me show you my Ireland and all it has to offer.
Details about the accommodation: I aim to keep our expenses as low as possible with the crazy interest rate hikes everywhre, prices are a lifetime high! Accommodation is a very important part of my whole travel experience, and so our accommodation though not 5 stars, will be clean and comfortable, so we will be staying in hotels in Dublin, Galway, Killarney, and Belfast. These are places I have personally stayed and are reasonably priced, more details once you have booked. Both rooms and bathrooms may be shared. I have chosen places of amazing natural beauty, so you get to see this beautiful green country.
What's included?
Car rental cost
Fuel cost per day
Accommodation Night stay between stops
Tickets for all activities
Your Booking includes free protection from Trip cancellations.
Learn More
Meet Your TripLeader
Phone Verified
Identity Verified
12 Countries
My name is Virginia. I love Jesus,nature and adventure. I rock business! My life is an unfolding adventure journey of discovery!
You can chat with Virginia once you reserve your spot.
Trip Itinerary
You will meet Virginia and the group in Dublin
Find the best flight details to and from Dublin ->
Dublin
Day 1-2
Welcome to the beginning of our trip! On the morning of April 19th, we will all meet in Dublin from 1pm onwards at the Harcourt Hotel. Check in is quite late at 4pm but I will arrange for us to drop our luggage till we get checked in. Transportation: We will be travelling in comfort as I will be renting a vehicle for the 5 stops (€75 per day for 5 days) and driving us for the duration of the trip!!!Gas cost to be shared daily as arises Activities: Since check in is quite late in our fist accommodation, we will be spending day 1 and day 2 in Dublin. We will take it easy on the first day as teammates arrive with free time to explore the city, get acquainted and dinner together and sample some Dublin night life and have picked the best bars and lounges, The Temple Bar (https://www.thetemplebarpub.com/) - Known for its lively atmosphere (drinks average 6-8 Euros) and a must see for travellers! We will sneak in a cocktail or two in the Vintage Cocktail Club (https://vccdublin.com/) -a trendy speakeasy with creative cocktails (drinks average 10-15 Euros). We will wake up next morning rested and fresh to explore Trinity College and see the Book of Kells (€18.50 per person).We will visit the Guinness Storehouse for a brewery tour and pint tasting (20 Euros per person) where you will get to pour your own pint of the black stuff.We will then leave the hustle and bustle of the city to visit an ancient Monastic city, an hour away, deep in the Wicklow mountains, Glendalough, 'the valley of the two lakes'known for its spectacular scenery, rich history, archaeology and abundant wildlife. Glendalough is a tranquil place that will still your mind, inspire your heart and feed your soul. http://glendalough.ie Dinner: I have a real Irish treat planned for and have booked dinner in the famous highest Pub in Ireland. Have your camera at the ready as celebrities, actors and world presidents as the who and whose of the world all visit this famous pub hidden in the heart of the Wicklow mountains. Takes 1hour drive from our accommodation. There is an option for experiential entertainment here https://johnniefoxs.com/hooley-show/ which you may book separately if you wish, and price is not included in trip cost. We will return to our accommodation for a well-deserved good night rest for a brand-new adventure in Galway!
Galway
Day 2-3
I will be driving our little group to Galway and just gas contribution required from team members on the day. (€15 per person). We will visit Galway Cathedral and enjoy the beautiful views from the top after which we will explore the nearby charming artistic Galway's Latin Quarter. I have an epic day trip to the Cliffs of Moher (€7 Euros per person, excluding lunch which we can pick a stop for a bite at a place along the trip). The drive from Galway to the Cliffs of Moher is about 1hour 50 mins one way. When we return from the Cliffs of Moher, we will have some free personal time for activities of choice before dinner and into some of the best bars Galway has offer in the rich Irish culture of traditional music and poetry. We will get to be entertained in any of these 2 personal favourite pubs where I have had one too many a great night, The Quays Pub http://www.quaysgalway.ie/) - Traditional Irish pub with live music (drinks average 5-7 Euros) and or Tigh Neachtain (https://tighneachtain.com/) which is quite a quaint and cozy pub with a wide selection of Irish whiskeys (drinks average 6-8 Euros). Accommodation in Galway is a bit pricy so I am looking at Spacious Apartment near Eyre Square (for around 90 Euros per night) or a hotel for max (100 Euros per night) Will supply further details but this gives you an idea of the type of accommodation to expect.
Killarney
Day 3-4
We will explore Killarney National and either rent a bike and head off on one of the many trails, we will decide on the day. We will then step back into time visiting Muckross House where we will discover the beauty of the House, Gardens and Farm, and take a boat trip on the lakes. (€30 per person) We will then enjoy an amazing drive along the Ring of Kerry route which for me is one of the best things to do in Kerry. This route is beautiful and rich, home to an endless number of scenic spots, historical sites, breath taking views, and we can stop for pictures or a coffee or just to take in the sites. (transport car provided by TL, fuel costs to be shared for duration of trip). We will return to our accommodation in Killarney for dinner in Kitty O'Se's Seafood and Grill and to enjoy traditional Irish music in one of Killarney's best pubs and for this I have chosen for us the Courtney's Bar (http://www.courtneysbar.com/) - Classic Irish pub with live music (drinks average 5-7 Euros) or Murphy's Bar (https://www.murphysofkillarney.com/) - Traditional pub with a wide selection of Irish whiskeys (drinks average 6-8 Euros). We can see what vibe we are in on the night. Accommodation, Killarney is so beautiful and picturesque, and we deserve nice accommodation here to fully enjoy our experience so far so will book us into one of the Hotels near the city centre, so we are close to the city for our night entertainment of this beautiful city. Approximate cost (100 euros per person)
Belfast
Day 4-5
We kick off with a visit the Titanic Belfast museum and learn about the famous ship's history (19.50 Euros per person) after which we will take a walk in the Celtic Christianity by visiting the grave site of Irish Patron Saint Patrick in Down Patrick)We can then stop and grab a light lunch in the area in the Bushmills town which has beautiful cafes and restaurants before heading off into nature to the explore the stunning Giant's Causeway on a day trip (40-50 Euros per person, including transport cost). Dinner: People can have their own free time and choose where and what to eat once we return to Belfast after our very full day.We can then meet up for a drink in The Duke of York.
Dublin
Day 5-6
Time flies when you are having fun, after a lie in and late breakfast, we take a drive back to Dublin for flights back home and stay over night in Harcourt Hotel in Dublin City Centre (under 90 Euros per night per person).
Trip Summary
Accommodation
Hotel & Apartments
6 days trip
Dublin, Galway & 3 more
Have A Question?
Ask the TripLeader questions about the Trip by clicking on the button below. Your question and the response will be visible on this page once it's answered.
What's excluded?
International flights
Bike rentals
Food and Drinks
Extra activities
Souvenniers
Why JoinMyTrip?
Trusted platform used by 150K+ TripMates
Have A Question?
Live Chat with our experts 24x7
Unique Trips hosted by Experienced Travellers
Secure Payments to ensure your money is always safe
Looking for more trips?
Here's some similar trips that you might be interested in.