Slide 1 of 1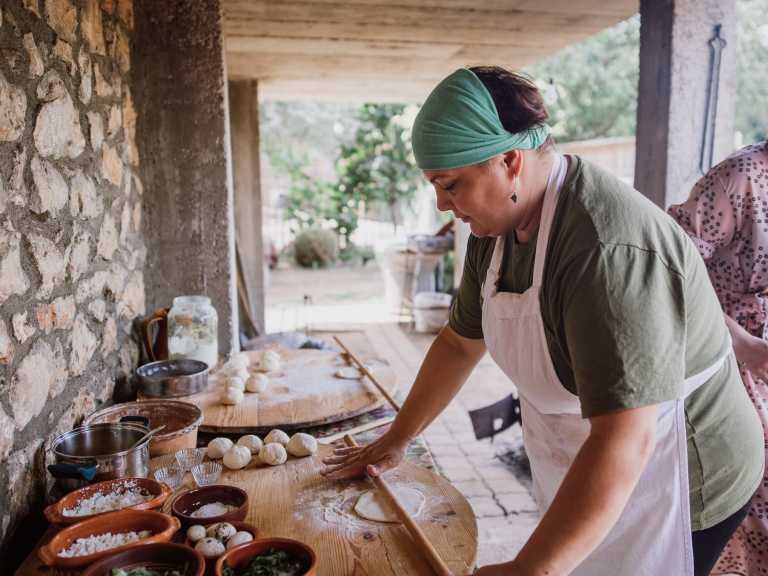 Immerse in Local Living and Discover Local Heroines in North Macedonia
7 Days30 Days!
Extra Cancellation Days
only for the first TripMate
Guided trip
8 days
11 stops
9 - 12 Mates
Macedonia
Hello! My name is Justine (Justyna) and I'm from Poland, WELCOME to my trip. North Macedonia is still an undiscovered country, or at least discovered to a small extent. Although I am not from this country, I have been associated with it since 2016, when I came here for field research. Reason: thesis on the potential of tourism in conflict resolution. I thought that after a year I would come back and forget. I'm coming back today, I'm currently writing a book about this country, and I'm collaborating with local non-governmental organizations to support excluded groups in setting up their own businesses and joining the tourist narrative. I have wide and deep knowledge about Macedonia and other Balkan countries, but I will not bore you with dozens of monuments and museums - these will be optional for people who have this vibe. This trip is focused on getting to know the local people as closely as possible and letting them tell their stories. I will only be an intermediary, sometimes a translator, but I will try to make as little as possible lost in translation. I want to show you my friends, and my inspirations, but also to see Macedonia through your eyes and in your questions. No question is stupid! My motto is: let's talk to people, not about people. What is included in the price? * Accommodation in hotels on a BB basis, twin rooms * Transportation (private minibus) with driver * English-speaking guide and your trip mate :) * Parking and fuel, accommodation and meals for driver * Refreshments in Kratovo with local snacks * 4 dinners: dinner and wine degustation in a local winery; dinner in Ohrid; dinner with a local host in Demir Hisar; Kitchen Show in Janche The price does NOT include: * Insurance * Transfer from and to the airport * Airline tickets * Tips * Entrances costs * All personal expenses * Optional activities on request Do you have a question? Let me know in the Q&A section!
Your Booking includes free protection from Trip cancellations.
Learn More
Meet Your TripLeader
Phone Verified
Identity Verified
23 Countries
Let's talk to people, not about them.
You can chat with Justyna once you reserve your spot.
Trip Itinerary
Skopje
Day 1-2
Arrival in Skopje. Hotel accommodation, most possibly in the heart of Old Bazaar. Depending on the time of your arrival, we will spend the day or the evening wandering around Muslim and Orthodox quarters. Our welcome dinner will take place in a restaurant in well-known for its bars and spots Debar Maalo.
Kratovo
Day 2
Breakfast. After a morning walk and not necessarily Turkish coffee in Skopje we will head off to the main wine region in North Macedonia. Yes, Macedonia has a very good wine. It is known for its generous supply of crisp white wines, as well as rich dry reds and a few unique sorts of grapes, endemic to its territory. But before our wine degustation we will have an unusual meeting in Kratovo with a local storyteller in his renovated 300 years old house, decorated in a traditional way. He will not only be our guide but also a teacher. Under his tutelage each of us will prepare an original mixture of spices from this region, k'cana sol.
Demir Kapija
Day 2-3
After a coffee break, we will continue to Demir Kapija. Dinner and wine degustation in a royal winery, established in 1928. In 1928 King Aleksandar Karadjordjevic of Yugoslavia set out to create a wine dedicated to the pursuit of extraordinary quality for the needs of the royal family. The king named the property 'Queen Maria' after his wife, Maria Karadjordjevic.
Krushevo
Day 3
Today, from the green Vardar valley, ideal for grape growing, we will move to the region of Pelagonia, where ... tobacco is grown! First, we will enter one of the highest-situated towns in the Balkans, Krushevo, called an ethno-city, enchanting with its architecture. Kruševo is a city of great importance for the history of Macedonia. Here, in 1903, the city freed itself from the Turkish occupation for ten days, and the Krushevo Republic was established, an event that is still an important element of the Macedonian identity. At the same time, apart from the city of revolutionaries, it is also the city of Toshe Proeski - a singer who died in a car accident at the age of only 26. National mourning was announced in Macedonia, and the singer himself ... almost became an Orthodox saint. Why? Find out on the spot!
Demir Hisar
Day 3
After walks, coffee, and visits to selected museums or relaxing by the local lake, we will go to a place off the tourist trail, where Alexandra will host us in her kingdom. In a homely atmosphere, we will try liqueurs, wine, preserves, and local pastes from recipes dating back several decades from her own pantry.
Ohrid
Day 3-6
After refreshments, we will go to Ohrid for the night - to the city called the Balkan Jerusalem, arousing the admiration of all visitors, located as picturesquely as Italian Garda, between Lake Ohrid and the Galichica mountain range... Day 4: Breakfast. Free day for exploring the city. Possible half-day easy hike. Dinner in a traditional-modern cafe with a beautiful view of Lake Ohrid at the highest point in the city. Day 5: Breakfast. Free day for exploring the city. Possible activities (paid extra, on request) – sunset yacht sailing; cooking class in the village nearby; make your own gourd lamp with a local craftsman; prepare your own souvenir at the woodcarver; tackle one of the world's oldest crafts, silver filigree; light artistic lunch in a beautiful scenery with natural products, including edible flowers and micro-plants.
Janche
Day 6-7
Breakfast. After an early wake-up call, we will say goodbye to Ohrid and head towards the Mavrovo National Park. Today's accommodation is planned in a beautiful place both because of the surroundings and the accompanying idea. The owner of the hotel, whom we will meet in person, decided to bring his home village back to life and after years of working in Italy, where he had a great business, he built a hotel from only natural materials, began to renovate local houses at his own expense, cleaned the access road and became one of the co-founders of the Slow movement Food Macedonia. After reaching the place and leaving our luggage, we will go on a beautiful hiking trip to the village of Galichnik, called the "diamond of Macedonia". There we will spend some time, drink coffee or beer, and then return to our hotel, where the owner will be waiting. A few hours-long Kitchen Show is ahead of us, during which Tutto, the owner, will cook for us live and talk about his history, his place, his Macedonia and answer questions. An unforgettable experience!
Bigorski Monastery St John the Baptist
Day 7
Today we will devote some time to nature again - to encourage you to return to hiking together! We will start with a short walk to the Duf waterfall. From here we will go to one of the most important monasteries in Macedonia, 1000 years old, Jovan Bigorski and take a coffee break in the monastery restaurant. The restaurant employs excluded people, often in crisis of homelessness or addiction, often offering them food and accommodation. The monastery itself is famous for healing people struggling with alcohol addiction.
Tetovo
Day 7
From here we will go to Tetovo, a town inhabited mainly by the Muslim community and the Albanian minority. We will see the stunning Colorful Mosque, and with a bit of luck, we may be able to organize a meeting with the last Bektashi father in Macedonia. Bektashism is a branch of Islam (I like to call it "hippie Islam", why - you will find out on the spot), which is considered heresy by orthodox Islam.
Canyon Matka
Day 7
From Tetovo we will reach the Matka Canyon, where we will spend time until sunset. Willing people will go for easy hiking to the monastery hidden in the mountains, where we can have a picnic, rent kayaks or go on a short motorboat trip to the Vrelo Cave, which is considered the deepest underwater cave in the world.
Skopje
Day 7-8
Our last night will be in Skopje again, and we will plan the evening together on the spot according to our own needs. An evening with wine? Late-night walks? Feast with live music in one of the trendy restaurants? We'll see! Day 8: Last moments to explore the city. Farewell shared coffee/beer. Planning another trip, this time maybe to Albania? :)
Trip Summary
8 days trip
Skopje, Kratovo & 9 more
Why JoinMyTrip?
Trusted platform used by 150K+ TripMates
Have A Question?
Live Chat with our experts 24x7
Unique Trips hosted by Experienced Travellers
Secure Payments to ensure your money is always safe