Slide 1 of 1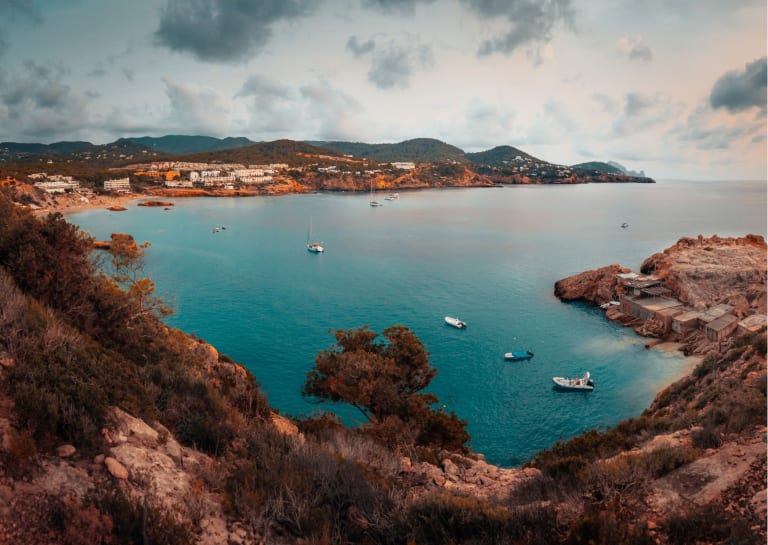 Ibiza, Spain: Live Like a Local During Summer
Guided trip
2 days
3 stops
2 - 4 Mates
Spain
Last days of summer This is a 1-night and 2-day trip to Ibiza. We will be staying in a 1* hotel in San Antonio. The trip is for people who enjoy going out, dancing, and relaxing at the beach. You will have your own single bed in a double room The hotel is a few minutes walk from Cafe Mambo where we can watch the sunset and have drinks. I would like to have a nice group of people who reapect each other and have good vibes. What is Included in the price is: - Single bed in an apartment (Shared rooms) - Car and petrol What is not included - airport transfer. You can take a taxi €30 or bus €4 - Lunch and dinner (Food in restaurants is about 20 euros with no drinks) breakfast is around 5 - Drinks between 5 and 15 depending on where we go - Disco tickets (35 to 60) going dancing is optional, we can also go to bars with music where we can dance About me: My name is Inti, and I'm here to meet new people and discover new countries. Ibiza is one of my favorite places in the world! Also if you need flexibility with the dates like arriving one day earlier or leaving a day later just let me know we'll figure something out :) Do you have a question? Ask in the Q&A below! Looking forward to meeting in Ibiza and have a great trip!
Easy going relaxed girl. I do not want people who will freak out if there is an unforseen circumstance, sometimes buses are full and we need to wait for taxis or call a friend. When we leave clubs at night there are long taxi queues to go back to the hotel, at the beach there is a bit of walking under the sun. If these are things you cannot handle please don't join.
A one star hotel or apartment with air- conditioning in the centre of San Antonio. Close to discobuses and the best beaches in the island. You will share a room with another girl. San Antonio can be noisy at night so please bring ear plugs if you have trouble sleeping. We will only be there to sleep
What's included?
Hotel
Your Booking includes free protection from Trip cancellations.
Learn More
Meet Your TripLeader
Phone Verified
Identity Verified
19 Countries
9 Trips Completed
World traveller and artist
based on 18 reviews
I am utterly disappointed by the irresponsibility and unreliability of the trip leader who was supposed to guide our tour in Ibiza. This individual has absolutely no business being a trip leader. Not only did she abandon our group, leaving us to fend for ourselves, but she also demonstrated a complete lack of professionalism. It is shocking and unacceptable that someone who is paid to guide and ensure the safety of a group would act in such a careless manner. I strongly advise anyone considering booking a trip with this individual to think twice. Save yourself the frustration and stress by avoiding this trip leader at all costs. Your experience in Ibiza deserves better than what she can offer.
Show All Reviews
You can chat with Inti once you reserve your spot.
Trip Itinerary
You will meet Inti and the group in Ibiza
Find the best flight details to and from Ibiza ->
Ibiza
Day 1-2
On the first day, depending on what time you arrive, we will go to the beach then out for dinner. On Friday night the trip will end when we finish dinner at 10pm as the next day we will be getting up early to go to the beach. If you wish, you can go to a club with the other TripMates.
Cala Bassa
Day 2
On the second last day (Saturday) we will go to Cala Bassa beach around 10am, stay until 4pm. At the beach you can either have paella or other seafood at the restaurant or bring a sandwich. The water is crystal clear, and I recommend bringing goggles if you want to do a bit of snorkeling.
Ushuaïa
Day 2
After the beach, we'll be going to Ushuaia beach club for 3 hours. There we will dance a lot! There is a dress code to go to this club which is no pijamas please. The trip finishes at 21:00. I can get you a taxi to the airport, or you can stay an extra night if you wish :) I can help you book a hotel!
Trip Summary
Accommodation
Hotel & Hostel
2 days trip
Ibiza, Cala Bassa & 1 more
Hey Inti, hope you are good👋🏽 I would be interested in going to Ibiza this summer but none of my f...
Read More
Hi Subham I'm glad you're interested and it would be great ifnyou could join. But I do need a minimum of 3 people. Mayne another time :)
What's excluded?
Taxi/bus to and from the airport
Food and drinks
Flights
Disco tickets
Buses/taxis to clubs
Why JoinMyTrip?
Trusted platform used by 150K+ TripMates
Have A Question?
Live Chat with our experts 24x7
Unique Trips hosted by Experienced Travellers
Secure Payments to ensure your money is always safe
Looking for more trips?
Here's some similar trips that you might be interested in.