Slide 1 of 1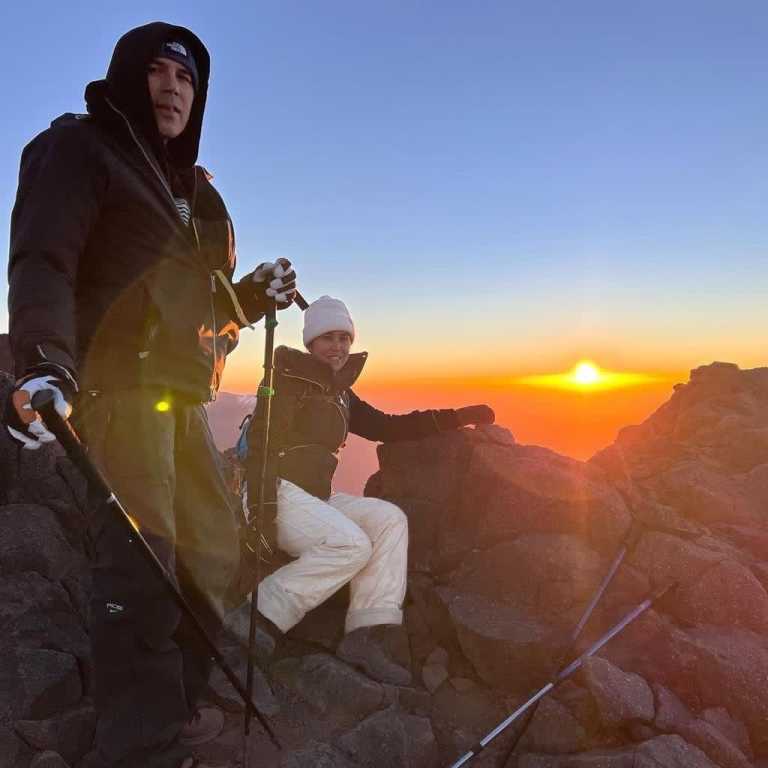 5-Day Mount Toubkal Climb from Marrakech
Guided trip
5 days
6 stops
5 - 15 Mates
Morocco
Are you ready for an adventure? This is a stunning five-day trek in the High Atlas Mountains of Morocco. We trek through a variety of landscapes, from lush valleys to barren rock. The route takes us through colorful Berber villages, over nice mountain passes slowly ascending to our highest point at 4,167m at the top of Mount Toubkal, North Africa's highest mountain! If you love nature, hiking and adventures, this is the perfect trip for you! About me: I'm originally from morocco, but I live in the United Kingdom. I travel 3 time year this is my dream to share with the people my experience and visiting the best places in this beautiful country and its culture and stay with local. Short Itinerary: Day 1: Marrakesh – Imi Oughlad – Azzaden Valley (Ait Aissa) Day 2: Azzaden Valley (Ait Aissa) Day 3:tamsoult – Tizi n Mzik – Imlil Day 4 : Imlil – Sidi Chamharoush – Toubkal refuge Day 5 : Trek to summit of Jebel Toubkal (4165m); return to Imlil – Marrakech I am looking forward to hiking with you!
Your Booking includes free protection from Trip cancellations.
Learn More
Meet Your TripLeader
Phone Verified
Identity Verified
7 Countries
3 Trips Completed
You can chat with Mostafa once you reserve your spot.
Trip Itinerary
Marrakesh
Day 1-2
Day 1: Marrakesh – Imi Oughlad – Azzaden Valley (Ait Aissa) : You'll leave the vehicle on the road up towards The mlil at Imi Oughlad (1,450m) where you will meet your Berber muleteer and guide. Your first day will be an easier aclimatisation trek in the National Park. terrain here is gentler with copper green soil and juniper trees. Overnight in Gite in Tinzert, a small rustic Berber Village. Aprox. 4 hrs walking time.
Ait Aissa
Day 2-3
Day 2: Azzaden Valley (Ait Aissa): tamsoult After breakfast you'll head up and out of the valley and traverse over to the stunning Azzaden Valley. The views open up with a rushing mountan stream surrounded by lush walnut groves leading up towards Toubkal and her sister peaks at the head of the Valley. Overnight in a village Gite in Ait Aissa. Aprox. 5-6 hours walking.
Imlil
Day 3
Day 3:tamsoult – Tizi n Mzik – Imlil: Today involves a fantastic climb out of the Azzadene Valley. You'll head up the valley towards Tizi Oussem from where you'll headup towards the pass at Tizi n Mzik (2489m) before descending down into Imlil. Overnight in amazigh family riad Gueshouse. Aprox. 5-6 hours walking.
Refuge Toubkal Les Mouflons
Day 3-4
Day 4 : Imlil – Sidi Chamharoush – Toubkal refuge After breakfast we begin our trek, heading along the Mizane Valley, first towards the village of Aremd and then onto the shrine of Sidi Chamarouch. Built on a moraine spur overlooking the valley floor, Aremd is the largest village in the valley and provides an interesting mix of traditional terraced farming, gites and streets that seem to be permanently gridlocked by goats and cattle. For generations the local Berber villagers have worked these lands, producing corn, potatoes and walnuts from the harsh landscape. Continuing east and crossing the flood plain our route takes us along mule tracks and up into the high rocky cliffs above the valley. Crossing the river we eventually come to the pastoral shrine of Sidi Chamarouch, which attracts tourists and pilgrims alike (although only Muslims are allowed to cross the stone bridge to visit the marabout shrine itself). The village sits besides a small waterfall, a jumbled cluster of houses that seem to melt together into an anarchic mass. From here the trail continues to climb steadily, snaking and zigzagging its way up to the snowline and the Toukbal Refuge (3206m), our stop for the night. Approx 5hrs walking.
Toubkal Peaks
Day 4
After breakfast, we continue trekking up to Tizi mzik where we have lavly views to see two valley and opportunity for nice panoramic then we continue to our family guest house where we will stay overnight.
Imlil
Day 4-5
Day 5 : Trek to summit of Jebel Toubkal(4165m); return to Imlil – Marrakech Early this morning we make our attempt on the summit of Jebel Toukbal, the highest peak in Northern Africa. Our route takes us up the south cirque, crossing the stream above the refuge and then heading across one of the mountains numerous scree fields, where we will have to negotiable a seemingly endless carpet of boulders and rocks. The walking is relatively straightforward, but the scree and the altitude will make the going quite difficult in parts, however, the views along the way make the journey more than worthwhile. Cresting the ridgeline we find ourselves on the plateau, from where it is a short walk to the summit and the vistas out across the surrounding landscape are quite breathtaking. From here there are unrestricted views in every direction, from the Marrakesh Plain to the High Atlas in the north and as far south as the Anti-Atlas and the Sahara. Pliny, the great Roman scholar, once described the High Atlas Mountains as "the most fabulous mountains in all of Africa" and from our vantage point high above the valley it is easy to understand why. Retracing our steps we then return down the mountain and head back towards Imlil Prior To drive back to Marrakech.
Trip Summary
Accommodation
Bed & Breakfast & Hostel & Camping & Other & Hotel
5 days trip
Marrakesh, Ait Aissa & 4 more
Transportation
Car, Trekking
Why JoinMyTrip?
Trusted platform used by 150K+ TripMates
Have A Question?
Live Chat with our experts 24x7
Unique Trips hosted by Experienced Travellers
Secure Payments to ensure your money is always safe