Slide 1 of 1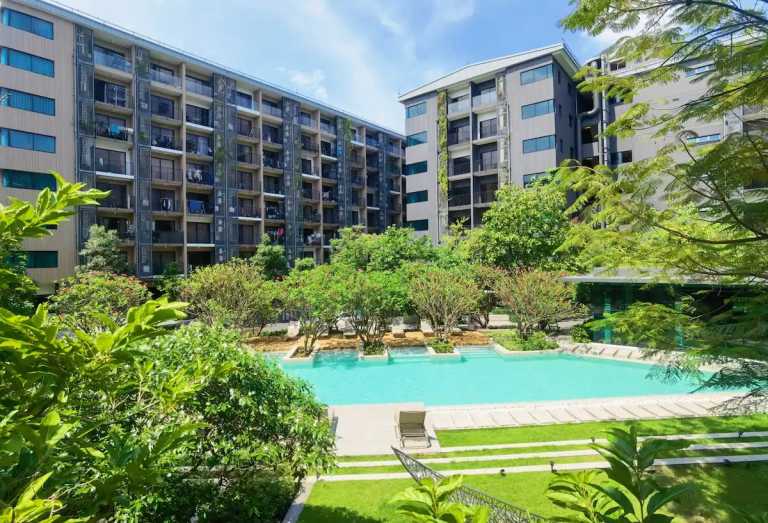 7-day Coworking Trip: Exploring Street Food, Bangkok Night Market, and Fascinating Temples in Thailand 🇹🇭🌆🍜🏖️🏯
Coworking trip
7 days
6 stops
2 - 3 Mates
Thailand
What's special?
Scenic Exploration
Unforgettable Itinerary
Value for Money
Experience the Ultimate Coworking Trip in Thailand! 🌆🏝️ Embark on an extraordinary coworking journey in the vibrant and diverse land of Thailand! 🇹🇭🌴 Don't miss out—secure your spot now and embark on this incredible journey with me by reserving it HERE! Day 1 (Saturday): Shop and Savor at Chatuchak Weekend Market and go for a Dinner Cruise🛍️🍲 We begin at the bustling Chatuchak Weekend Market, a haven for shopping enthusiasts featuring a vast array of stalls offering everything from unique crafts to delectable local cuisine. Dive into the vibrant energy of the market, exploring its colorful lanes and savoring the delightful flavors of Thai street food. Later, we have the option to visit the magnificent Wat Arun, a temple adorned with intricate details and steeped in cultural significance, or opt for a serene night cruise along the Chao Phraya River. We'll discuss and decide within our group, ensuring a fantastic start to our journey.😉 Day 2 (Sunday): Ancient City's Historical & Scenic Wonders 🏞️ We'll have a captivating journey through time as we explore the winding streets and ancient ruins of the city, encountering over 100+ attractions steeped in rich history and breathtaking architecture. This day is yours to immerse in the historical essence of this place, and I'll be there to capture your Instagram-worthy moments amidst these stunning sights. After a delightful lunch nestled within this historical setting, we'll leisurely explore hidden corners and absorb the true essence of this ancient city, letting its stories unfold at our own pace. Day 3-7 (Monday to Friday): Coworking Comfort in Bangkok 🏨🍽️ For the workweek ahead, we've arranged a comfortable coworking setup in Bangkok. You'll stay in a shared air-conditioned bedroom, ensuring a productive yet pleasant environment. Our accommodation is non-smoking and includes toiletries for your convenience. Plus, it's strategically located near various food establishments and malls, making it easy for you to unwind after work. This trip offers the perfect blend of professional growth and unforgettable experiences in the Land of Smiles. Join me for an enriching coworking adventure! 🇹🇭💼✨ Don't miss out—secure your spot now and embark on this incredible journey with me by reserving it HERE! 🤝 Why You Should Join Me: Make connections with like-minded digital nomads. Immerse yourself in the culture, history, and beauty of Thailand. Strike a perfect balance between work and relaxation. All accommodation and transportation arrangements are sorted. Experience the best of both worlds - work and adventure! This Thailand Coworking Adventure is a once-in-a-lifetime opportunity to create unforgettable memories, boost your productivity, and explore the wonders of Thailand. Don't miss out on this incredible journey! 🔗 So, what are you waiting for? Join me on this unforgettable 7-day adventure in the lively streets of Bangkok. Let's pack our bags, bring our laptops, and make December an extraordinary month of work, play, and discovery in the Land of Smiles! 🏝️🏙️💼 For inquiries and bookings, feel free to comment or send me a message. Let's embark on this incredible experience together and make memories to last a lifetime. Thailand, here we come! 🇹🇭🌆🏖️
About me! Hey there, fellow adventurers! 👋 I'm Kc, and I'm thrilled to have you join me on this incredible journey. As a passionate traveler, and devoted digital nomad, I've embraced a life that's dedicated to exploration, discovery, and connecting with the beauty our world has to offer. As your TripLeader, I bring not just my experience, but my genuine excitement to share this adventure with you. I understand the thrill of stepping into the unknown, the exhilaration of trying new cuisines, and the profound moments that come from witnessing historical wonders up close. My goal is to make every part of this journey as enriching and enjoyable as possible, whether it's the stories I share, the insights into local customs, or the carefully crafted itinerary that ensures you experience the very best each destination has to offer. So get ready to embark on a remarkable voyage of discovery. Let's create memories, forge connections, and celebrate the beauty of travel together. As we traverse through Bangkok and Pattaya, remember that every moment is a chance to embrace the world and the people around us. Adventure awaits, and I can't wait to share it with you! 🌍✈️🌟
Details about the accommodation: 🌟 Bangkok - Welcome to your cozy haven upon arrival in Bangkok 🏨🌆 You'll be staying in a spacious apartment with 2bedrooms, each room sleeps 2 people. Enjoy the convenience of free WiFi 📶, fresh towels 🧻, and the comfort of an air-conditioned room ❄️. Should you need a separate room,please let me know and i'll be happy to attend to your inquiries :) This room is air-conditioned ideally for digital nomads for your comfort. The shared bathroom 🚽 is well-maintained and equipped with all essentials. You can ask any question in the Q&A. 🌴🏡🏊‍♂️🍹🍽️🌺
What's included?
Entrance Fees
Accommodation (shared rooms)
Travel insurance for Germany/Austria
Pool and Gym Access
Your Booking includes free protection from Trip cancellations.
Learn More
Meet Your TripLeader
Phone Verified
Identity Verified
4 Countries
Freelancer,digital nomad,travel enthusiast 🌍📸 Exploring, capturing, & savoring life's moments.Beach lover at heart. Join my journey! 🏖️✨
You can chat with Kc once you reserve your spot.
Trip Itinerary
Bangkok
Day 1
👋🌍🚖 As you touch down at the airport, I'll personally be there to greet you! Upon arrival, jump into a taxi for a scenic ride to our cozy accommodation, complete with POOL & GYM access for a relaxing start to our coworking trip! 🛬🏨 I'm eagerly looking forward to welcoming you at our accommodation, where you can drop off your luggage 💼 and unwind 😌. Once you've refreshed 🚿, we'll hit the ground running 🏃‍♀️🏃‍♂️ for our first-day adventure! 🌟🗺️ Let's ensure this trip becomes an unforgettable experience! 🌄🌴🌆🎉
Chatuchak Weekend Market
Day 1
Chatuchak Weekend Market Adventures: 🛍️🌆 Retail Therapy Galore: 🎁 Dive into a shopaholic's paradise with over 15,000 stalls selling everything imaginable, from clothing and accessories to home decor and antiques. Bargaining is the name of the game, so hone your negotiation skills. Savor Street Food: 🍜 Treat your taste buds to an array of delectable Thai street food. Sample local favorites like pad Thai, mango sticky rice, and grilled skewers as you explore the market's culinary delights. Art and Handicrafts: 🎨 Discover unique art pieces, handicrafts, and souvenirs created by local artisans. From intricate woodwork to handwoven textiles, Chatuchak is a treasure trove of handmade goods.
ICONSIAM
Day 1
We can opt for a dinner cruise along the Chao Phraya River promises a delightful evening! 🌟🚢 Indulge in a sumptuous meal as you glide past Bangkok's illuminated landmarks. Enjoy live entertainment, breathtaking views of iconic sites like Wat Arun and the Grand Palace, all while basking in the vibrant ambiance of the city lights reflecting off the water. Whether it's a romantic evening or a gathering with friends, a dinner cruise offers an unforgettable experience combining delectable dining, entertainment, and scenic beauty. 🌃🍽️🎶
Wat Arun Ratchawararam Ratchawaramahawihan
Day 1-2
Explore the iconic Wat Arun, Bangkok's mesmerizing Temple of Dawn 🌅⛩️. Marvel at the intricate architectural details and climb the steep steps for panoramic views of the Chao Phraya River and the city skyline 🏞️🌆. Discover the serenity of this historical site, adorned with ornate spires and stunning mosaics, offering a glimpse into Thailand's rich cultural heritage. Don't miss the opportunity to immerse yourself in the tranquility and beauty of this majestic temple.
The Ancient City
Day 2
Explore Ancient City, where history comes alive with 100+ attractions! 🏰🌳 Wander through meticulously recreated historical sites and cultural landmarks spanning Thailand's heritage. Discover ancient temples, royal residences, and traditional villages, each offering a glimpse into the country's rich past. Engage in cultural activities, admire intricate architecture, and wander lush gardens, immersing yourself in Thailand's diverse history and beauty. Don't miss this immersive journey through time! 🕍🏯🌿
Bangkok
Day 2-7
Start of our work week, we'll prepare for our days of productive work in the comfort of our accommodation, where we have an ideal coworking setup. Plus, our strategic location places us conveniently close to an array of dining options and shopping malls, providing the perfect opportunities to unwind after a productive day. Get ready to balance work and leisure seamlessly during your stay. 🏨🍽️🛍️🌆
Trip Summary
7 days trip
Bangkok, Chatuchak Weekend Market & 4 more
What's excluded?
International Flights Airfare
Food
Why JoinMyTrip?
Trusted platform used by 150K+ TripMates
Have A Question?
Live Chat with our experts 24x7
Unique Trips hosted by Experienced Travellers
Secure Payments to ensure your money is always safe