Slide 1 of 1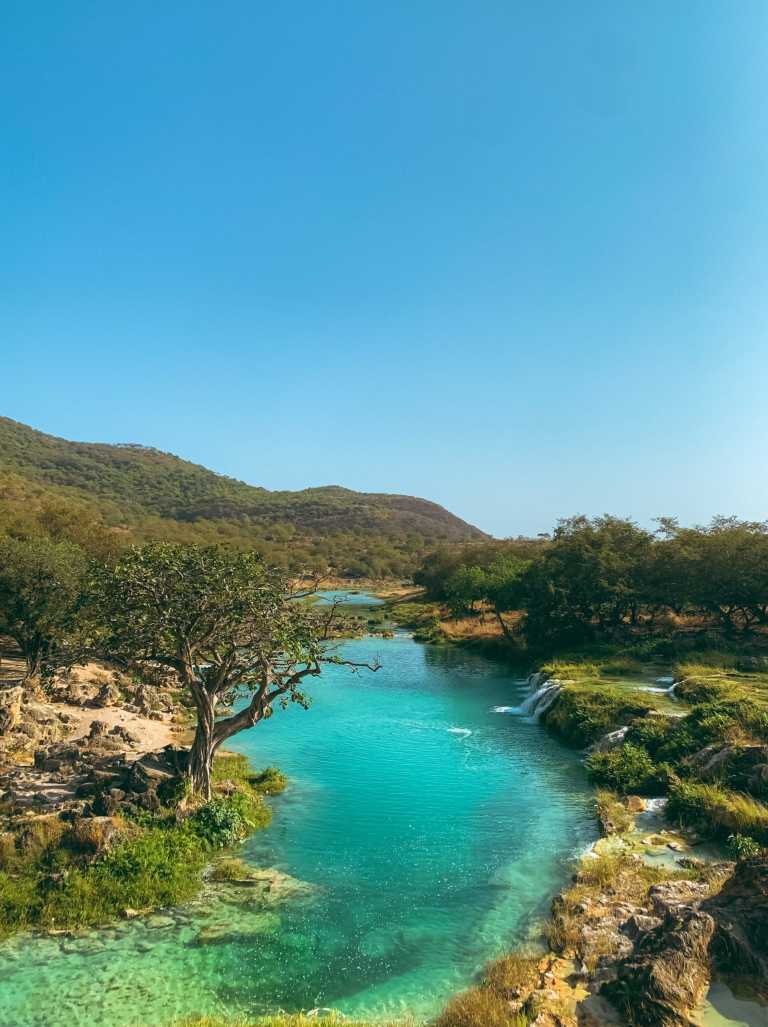 Embark on an Unforgettable Journey to Enchanting Oman!
7 Days30 Days!
Extra Cancellation Days
only for the first TripMate
Guided trip
8 days
4 stops
4 - 5 Mates
Oman
Hi guys! My name is Nadine and I'm excited about the upcoming trip that I've planned and which I would love for you to join me on :) If you're adventurous, curious and ready to go on a unique road trip, then this trip is for you! Known for its unlimited natural beauty, stimulating experiences and flourishing wildlife, Oman is a destination that offers plenty to visitors yet goes unnoticed by many. We'll be taking the pristine coastal route from Muscat to Salalah which is around 1500km. With each stop on the way, we'll get to discover incredibly scenic places, distinctive natural beauty in each city, unique sites and landmarks with timeless experiences. What to expect: • Unparalleled adventure to some of the most beautiful places in Oman • Swimming in natural pools • Hiking with panoramic views • Journeying through wadis, sinkholes, waterfalls, caves and much more • Discovering a thriving wildlife • Exploring the Omani culture and traditions • Diversified activities • Driving through one of the most scenic travel roads in Oman with beautiful beaches and unique views What's included in the trip: Accommodation: • 7 nights in hotels (double rooms - private rooms can be arranged for upon request and for additional fees) Food: • Breakfasts on all days • 1 dinner Transportation: • Transportation from Muscat International Airport and to Salalah International Airport. • Transportation to all the cities. • Transportation to the sites in the places we are going to • We are renting a 4x4 with 7 seats. What's excluded: • Personal expenses • Meals, snacks and drinks aside from the meals mentioned above. • Admission fees into some sites we are visiting. • Fuel for car. We will split the cost there. • Flight to and from Oman • Travel insurance • Internal flight from Salalah to Muscat (if you chose this option as your return back home). • Any extra activities that would require any equipment (as some of the places we are visiting have options for the activities to be done, I left them for us to decide together which ones seem more attractive and split the cost there). Route back: As our trip ends in Salalah on the 29th of April, you'll have 3 ways to return back home: 1- There are 3 internal flights per day from Salalah to Muscat. (If you choose this option, please make sure you check which one of the 3 internal flights works best with your flight back home from Muscat). - Recommended 2- Book your return ticket from Salalah International Airport. - Flight will be more expensive 3- Rent a private car or bus to take you back. The fastest route to go back takes approximately 10h. - Longest What to bring: • Shoes and clothes fit for hiking • Swimming shoes or sandals that can get wet • Sunscreen and after-sun • Sun hat • Sunglasses • Swimwear • Towel • Flip flops • Mosquito repellent • Backpack • Waterproof bag (if you have one) General tips for the trip: • The travel route itself is smooth, easy and safe. Nonetheless, some of the excursions will require us to drive up on some rocky or sandy hills. Please ensure you don't have a back problem or any physical symptom that would worsen with excessive movement. • We will be moving around a lot, so comfortable shoes are recommended! • Swimming shoes or flip-flops would make it much easier and less painful to get to some of the natural pools. • Pack loose-fitting and light clothes, as the weather will be hot. Linen, cotton and bamboo are the best fabrics for heat. • Dressing modestly in public places is advised in order to respect the Omani culture. • For women, bikinis are prohibited in most wadis, so make sure you get a one-piece swimming suit or rash guard. Resorts and hotels do not have a dress code though, so anything goes! • Headscarves are a must to enter any mosque, so get one with you. • Travel light as we will be moving around a lot. General info about the trip: • The weather starts warming up in April in Oman. The average temperature will be: 30ºC - 36ºC • Waking up early would be a very common theme on the trip, as most of the activities and places are best experienced in the morning! It will also give us the luxury of less crowded sites, an amplitude of time to explore each place and more time to travel between cities. • Omanis are known for their impeccable hospitality. They are very welcoming and accommodating. • Alcohol is not easy to buy and is only offered at some of the hotel bars and restaurants. If you wish to purchase any bottles, whether it's wine or other alcoholic beverages, I would recommend buying them at the duty-free shop at the airport. Please feel free to contact me for any questions. I can't wait to discover this new country with you. If you're up for a soulful adventure filled with memorable experiences, you're in for a ride! Literally!
Your Booking includes free protection from Trip cancellations.
Learn More
Meet Your TripLeader
Phone Verified
Identity Verified
17 Countries
Adventure & Experience Seeker: Life Coach - Dancer - Traveler - Diver
You can chat with Nadine once you reserve your spot.
Trip Itinerary
You will meet Nadine and the group in Muscat
Find the best flight details to Muscat ->
Muscat
Day 1-3
Day 1: Meet and greet at the hotel. Plan can be set for that day based on everyone's arrival time. *The hotel we are staying at has multiple facilities including outdoor and indoor swimming pools, spa, billiard, bar (with happy hours), options for restaurants and more. Day 2: Explore Muscat! As the city has unlimited places to visit, we can decide together on the locations to go to. Some of my suggestions: • Sultan Qaboos Grand Mosque • Royal Opera House • Mutrah Souq • Mutrah Fort which is near the souq
Tiwi
Day 3-4
Day 3: Start our journey south of Oman where we'll be visiting some exciting places where the mountains meet beautiful waterfalls, caves, and ravines! *Head out at 6:30 am from Muscat to have enough time to explore each place (approx. 1h30min to get to our first destination): • Bimmah Sinkhole: beautiful limestone natural pool filled with brackish clear water where we can swim • Majlis al Jinn cave: known to be the 2nd largest chamber cave in the world • Wadi Shab: One of the most beautiful wadis with several natural pools and a hidden waterfall in one of the caves. Visitors are allowed to swim in only 3 of the existing pools. 45 mins hike with a picturesque view to get to the first pool. 4h - 5h • Wadi Tiwi: another beautiful wadi nearby that is worth a visit *We will divide these activities on day 3 and day 4 *Hotel has beach access and an outdoor pool
Duqm
Day 4-5
Day 4: visit some of the sites mentioned earlier and hit the road by 2 pm to arrive early enough to our next destinations • We will stop for pictures at any spot we like • A dinner will be ready for us at the hotel upon our arrival. • Chance to relax and unwind at the hotel facilities which include: a bar, restaurant, billiards, tennis and badminton court, fitness and spa center, and an outdoor pool
Salalah
Day 5-8
Many say that Salalah is one of the most inspiring and breathtaking cities in Oman, with each place there holding its own unique beauty. We will need to head out early as this trip is definitely filled with incredible scenes yet is the longest drive. It takes approximately 7h with several stops for pictures, gas fuel, and a quick lunch break. *We will be staying at a 5★ hotel Some of the most places/activities that were recommended are: • Marneef cave and blow hole • Wadi Darbat • Teeq cave and Tawi Ateer sinkhole (one of the largest sinkholes in the world) • Scuba diving and snorkeling Known for its coconut and banana plantations as well, we won't be short on fresh drinks as we explore the city! The 28th of October will be our last day! As mentioned in the description, you'll find several options for your return back home based on your preference.
You will meet Nadine and the group in Salalah
Find the best flight details home from Salalah ->
Trip Summary
8 days trip
Muscat, Tiwi & 2 more
Hi Nadine, I sent you a message a few days ago, asking about the correct dates of your oman trip in ...
Read More
Hi Joachim, Thank you for your message! The trip was initially in April and I moved it to October. Thank you for letting me know about the description, will change it immediately :)
Hello I am local traveler from Oman if we can make some thing together or you need some locations p...
Read More
Hi Amro, thank you for your offer. Will keep it in mind. Have a great day!
Why JoinMyTrip?
Trusted platform used by 150K+ TripMates
Have A Question?
Live Chat with our experts 24x7
Unique Trips hosted by Experienced Travellers
Secure Payments to ensure your money is always safe