Slide 1 of 1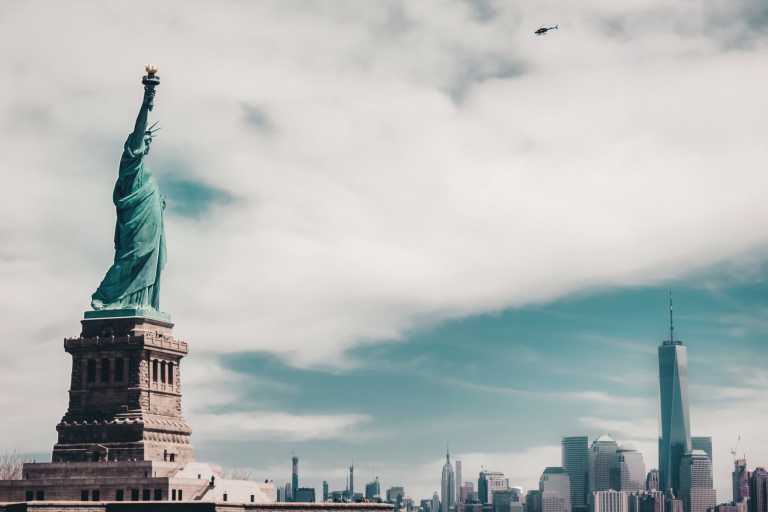 This trip is confirmed to go.
Experience the fascinating world of New York in 5 exciting days! 🇺🇸🗽
Guided trip
5 days
3 stops
4 - 6 Mates
United States
Machine Translated
•
What's special?
Strong price-performance ratio 💪🏼
People you can be silly with 💁🏽‍♂️
To all globetrotters, 🙋🏽‍♂️☺️ Are you ready for the adventure of a lifetime? Join us on an unforgettable journey through the vibrant streets and buzzing scenes of New York City! Experience the Big Apple in all its glory, from the bustling streets of Manhattan to the trendy neighborhoods and an exclusive rooftop party with breathtaking views of the city. Suggested itinerary: Day 1: Arrival in New York City Arrival at JFK or LaGuardia airport. Transfer to accommodation and check-in and Welcome dinner together, where we get to know each other and discuss the trip. 😊 Day 2: Manhattan adventure Sightseeing of the famous sights: Times Square, Central Park, Empire State Building, State of Liberty. Walk along the High Line Park. Dinner together in a popular restaurant. Rooftop party with a spectacular view of the glittering skyline 😊. Day 3: Cultural discoveries Visit famous museums such as the MoMA or the Guggenheim Museum. Walk through the historic Greenwich Village district. Lunch in a trendy New York café. Free time for individual exploration and shopping. 😊 Day 4: Free time for individual exploration Free day for your own explorations, shopping or optional activities. Possibility to visit additional attractions according to personal interests. Recommendations for optional activities will be provided. 😊 Day 5: Farewell to New York City Final shopping and exploring. Transfer to the airport for the return journey. 🥺 This trip offers a perfect mix of culture, sightseeing, culinary experiences and an exclusive rooftop party that gives you an unforgettable view of the metropolis. Be part of this fantastic 5-day trip and immerse yourself in the fascinating world of New York City! Register now to secure your place.
About me: Hello, 🙋🏽‍♂️mein My name is Christian Hübsch. I am 26 years old and a student of (transportation business administration and logistics). I am also an independent trip leader for JoinMyTrip and organize the wildest trips abroad. I am also a als🤘🏼 videographer/organizer for weddings/events.😁 I love traveling the world🌍, exploring new places🏙 and cultures, partying🥳 and meeting Reiselustige☺️ people!
Accommodation: The accommodation 🏠 will be spacious accommodation in the heart of New York, namely in Manhattan. There will always be 2-3 TripMates per room. Women and men separately, of course. We will also be able to enjoy a fantastic view from our accommodation. I can hardly wait and look forward to hearing from you!
What's included?
Accommodation in Manhattan🏠
Airport Transfer✈️
New York Pass🛂
Guided tours and cultural experiences🛐
Rental car 🚘 (means of transportation)
Experienced TripLeader 👨🏽‍💻
Travel insurance ❤️‍🩹 (only für🇩🇪,🇦🇹 citizens)
Your Booking includes free protection from Trip cancellations.
Learn More
Meet Your TripLeader
Phone Verified
Identity Verified
23 Countries
10 Trips Completed
More Info about me: https://www.joinmytrip.com/en/t/tripleader/christianhuebsch
based on 30 reviews
I really enjoyed this trip, it was well organised and Christian is an awesome trip leader. Everyone was very nice and friendly and would definately go on another trip with them.
Show All Reviews
You can chat with Christian once you reserve your spot.
Trip Itinerary
John F. Kennedy International Airport
Day 1
🗓 (28.02.24) Arrival. ☺️ I offer you a stress-free airport transfer from New York City Airport to Manhattan right at the beginning. After check-in, we will sit down together for a welcome dinner and discuss the course of our trip individually.
Manhattan
Day 1-5
🗓 (28.02.23) - (02.03.24) The time of your life. 😊 All the suggested activities described do not have to be done in the same order as described in the text, but are left up to us in the group to decide when to do what. So that the trip doesn't feel like a "guided tour". :-)
New York
Day 5
🗓 (03.03.24) Farewell day 🥺 After a great time, we take a farewell photo together and will always remember this time. Then it's back to the airport with the transfer.
Trip Summary
5 days trip
John F. Kennedy International Airport, Manhattan & 1 more
hi I am a student at Indiana University .I wanted to ask few question sif we could connect on a zoom...

Read More
Since I have no idea about the cost or what is in addition to the cost JMT, I wanted to ask you what...

Read More
What's excluded?
Flights ✈️
Self-catering 🍽
Why JoinMyTrip?
Trusted platform used by 150K+ TripMates
Have A Question?
Live Chat with our experts 24x7
Unique Trips hosted by Experienced Travellers
Secure Payments to ensure your money is always safe
Looking for more trips?
Here's some similar trips that you might be interested in.