Slide 1 of 1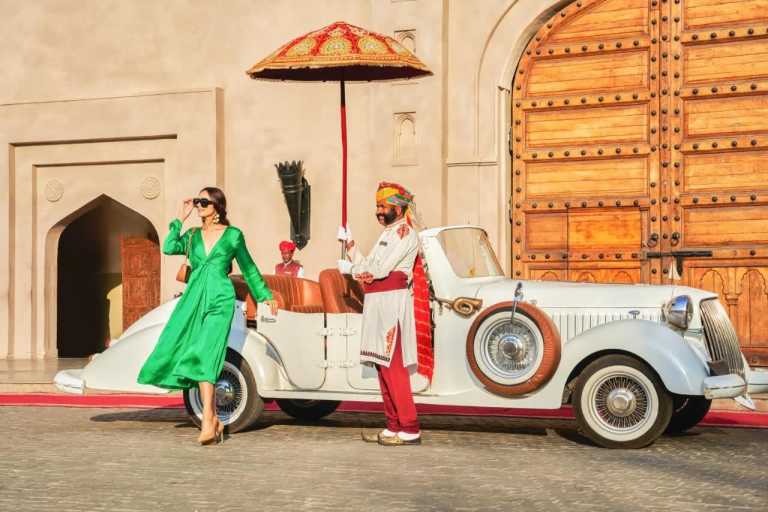 Discover India (Central): Delhi, Agra, Vrindavan, Rajasthan, Rishikesh — UNESCO heritage sites, leisure break, Indian culture, yoga, food & fun, all in one!
Guided trip
9 days
5 stops
3 - 7 Mates
India
What's special?
Excursion, city tour, swimming
Palatial experience, fun with food
Elephant riding, bird watching, yoga!
➡️ This planned trip starts with sightseeing, progresses into adventure, and finally evolves into spirituality. ➡️ Why India? India is the most diversified country in the world! Visa: Straightforward Indian e-visa service for nationals of 166 eligible countries to apply online easily. All types of landscape: (mountains, plains, beaches, deserts, backwaters, wildlife, flora and fauna) All types of climate: Tropical rainy climatic zone, humid subtropical climatic zone, tropical Savanna climatic zone, mountain climatic zone, desert climatic zone. Rich cultural heritage along with modern lifestyle. Vivid ancient art, dance, music, and don't forget the modern bollywood. The secret of India's high happiness index is because we live from one festival to another. There is no month without a festival in India. The food: Huge variety of mouthwatering cuisines and delicious dishes. Its aroma and taste would fulfil all the tongue's taste buds. Come hungry! The spiritual Guru!: A world of enlightened people, siddhas, bhaktas, renunciates, and yogis. A place for spiritual healing. One may have a life-changing experience, who knows. Accommodates all expressions: Be it a spiritual holiday or a romantic vacatation, group traveller or maverick explorer, mountain climbing or beaches, safari, bird watching or city hopping, or just being oneself exploring India's diversity. Affordable travel destination! Hurray! ➡️ What will we do? 1) Enjoy the star facilities booked for accommodation. Swimming pool, gym, wifi, and a very good breakfast included in most locations. 2) Enjoy the UNESCO world heritage sites all through the trip: Qutub Minar, Red Fort, Taj Mahal, Agra Fort and Hawa Mahal to name a few! Visit the astronomical observatories, forts, palaces, museums, wildlife sanctuaries, natural parks and more. 3) Night life: Enjoy the nightlife, disco, light & music show (Son-Et-Lumiere), puppet show, or other cultural dance programmes on offer. Socialize and make friends, have fun! 4) Activities: Elephant ride, camel ride, cycling, bird watching, boating, white water rafting and other adventure sports. 5) Food: Go crazy in your food selection, North Indian, South Indian, Gujarati, Rajasthani, street food, chinese, Punjabi and Bengali dishes. 6) Shopping: Arts & crafts, malls, street side shopping etc. 7) Explore: Rajaji national park, water falls, narrow streams, rocky terrains around the Himalayan foothills. 8) Meditate, yoga, peace, spirituality: Connect with your inner self. Experience peaceful ashram life, meditate, yoga! Realise, I am one with the universe, and the universe is one with me! ➡️ How will we get around? Cars with drivers will be booked around most destinations. Taxis, auto rickshaws etc, can be used for local conveyance. ➡️ Planning and communication: I'll create a chat group for trip related questions before arrival. you'll also get to know your TripMates.🙂 ➡️ Who can join? I am seeking like-minded people who are fun-loving, sociable in nature and inclined to companionship with others. See you soon!
➡️ About me: I am a simple, happy and contented person. An explorer at heart. I love to explore different countries, cultures and people. I have a simple rule: Those who are weak, give them a helping hand; those who are good, be friends with them; those who are wicked, simply ignore!
➡️ Accommodation: Star facilities with swimming pool, WIFI, gym, restaurant etc. A real palace (luxurious heritage hotel) would be booked for a palacial experience. Real pictures included--subject to availability--or an equivalent arrangement. A beautiful ashram for a peaceful experience. The intention is to use luxury shared accommodation (2 X 1) in star facilities, in competitive pricing, than to compromise comfort for a private room. However, by informing early, a TripMate may choose to upgrade to a private room in the same luxury star facility by paying 79 Euros/day extra. (Subject to availability) ➡️ Save the trip! Ask me trip-related questions in the Q&A section, or send me a private message on JoinMyTrip! ➡️ What next? Would you like to join me? Send me a message after reserving your spot, I'm looking forward to meeting you!
What's included?
Star accommodation (shared rooms)
A very good breakfast (brunch) included
Airport transfers (pickup)
Transportation between stops
Elephant ride
Health insurance for Austrians & Germans
Your Booking includes free protection from Trip cancellations.
Learn More
Meet Your TripLeader
Phone Verified
Identity Verified
4 Countries
A tech consultant by profession, an explorer at heart, celebrating life with enthusiasm! Awestruck by the panorama of the world!
You can chat with Om once you reserve your spot.
Trip Itinerary
You will meet Om and the group in Delhi
Find the best flight details to Delhi ->
Delhi
Day 1-2
Day-1 Delhi: We meet up and stay in the capital's luxury havens. Delhi is the capital of the world's largest democracy and a classic blend of history and urban culture. 4 pm Delhi Haat: Start your journey with Delhi Haat. It is a one-stop destination for shopping, dining, and watching cultural performances. The handicraft market is the star attraction and offers some of the best buys. 6 pm India Gate: Take a drive to the India Gate, about 10 minutes away, and see the stunning archway bathed in soft golden light and glistening against the dark sky. It offers a great opportunity for photo-ops. 8 pm Local markets: You can't leave Delhi without street shopping at some of the most popular South Delhi markets such as Lajpat Nagar, Sarojini Nagar and South Ex. Explore these markets, for the best street food joints and a colourful maze of shops. While South Ex hosts high-end brands, Sarojini Nagar is a great stopover to indulge in Delhi's culture of street shopping. 10 pm Delhi nightlife: Khan Market is a great spot to explore the nightlife of Delhi. Several lounges, pubs, socials and cafés offer the best of music, food and drinks. Day-2: 6 AM Rashtriya Bhavan: Start your day by exploring the Rajpath's landmark sites like Rashtrapati Bhavan. To explore the best of Lutyens' Delhi, make sure to start early. That is before traffic hits the road; get the most amazing sun-lit pictures in front of landmark buildings. 8AM: Qutub Minar--UNESCO World Heritage Site: Visit to the iconic Qutub Minar, the tallest brick minaret in the world. A UNESCO World Heritage Site, it remains one of the most magnificent buildings of India from the medieval era. Another attraction here is the Qutub complex that houses a number of monuments. One of the most popular among these is the Iron Pillar, also known as the Ashoka Pillar, which dates back to the 4th century. 10 am: Return to the hotel for a very good breakfast. 12 Noon: Red Fort--Unesco world heritage site: We check-out from the hotel for Rajasthan. On the way, we visit Red Fort--Unesco world heritage site. Visit Old Delhi's cultural delights like Jama Masjid, Purana Qila, etc., which are famous heritage structures. 1PM Chandni Chowk (Lunch): visit the food havens of the capital and treat your taste buds by indulging in the gastronomic delights of Chandni Chowk. Iconic food stalls serving chole bhature (chickpeas with fried rice flour bread), parantha (stuffed flatbreads), chaat, allo-kachori (deep – fried pastry served with potato gravy) etc., will give you a culinary experience beyond belief. 2 pm: Visit the Jantar Mantar, one of the five astronomical observatories built by Maharaja Jai Singh II of Jaipur. 3 PM: Fun journey to Jaipur in Rajasthan: 5 hours travel. Reach Jaipur and rest.
Jaipur
Day 2-5
Night 2 - So we have reached Jaipur! Let's rest in a palace, yes, a real palace. Check into one of the heritage hotels to live as the royals did and be energized for tomorrow. Jaipur's beauty and grandeur are not found in modern high-rises but in the intricacies of resplendent palaces, sprawling lush gardens and grand forts, which were built by the mightiest rulers of that time. A culinary odyssey that is centuries-old, arts that have prevailed against time and old bazaars and cine-structures that have aged gracefully, make Jaipur the gateway to the royal heritage of India. Day 3: Start your day with a stroll around Central Park. Its walkways are perfect for jogging and the park offers great birdwatching opportunities. You can also sign up for a hot air balloon ride that will take over picturesque vistas of Amber Fort, Jal Mahal, etc. It's good to hire a Government-certified tour guide to get the best of the rich history of the place. A short distance away lies the City Palace, that houses the Maharaja Sawai Man Singh II Museum, which displays the royal family's personal belongings like garments featuring exquisite embroideries. The Maharani's Palace showcases one of the largest collections of weapons in the country. Hawa Mahal-the palace of wind-A UNESCO World Heritage Site: Jaipur's most iconic building, located near the bustling Johari Bazaar. CNN recognizes it as way ahead of its time. Almost 10 minutes away from Hawa Mahal is Jal Mahal, which floats at the centre of the ethereal Man Sagar Lake. Day 4: Visit the palacial state: Nahargarh Fort, Jaigarh fort, Renowned for housing Jaiban, the world's largest cannon, the Jaigarh Fort is located about 15 minutes away from Nahargarh. Amber Fort-- A UNESCO World Heritage Site: Enjoy a delightful Rajasthani meal in one of its popular restaurants before you tour the fort. Indulge in some shopping at the handicrafts and art stores and stalls inside the fort. A visit to Amber is incomplete without catching the spectacular Light and Sound Show or son-et-lumiere. Watch the puppet show or other cultural dance programme that's on offer Amber Fort's Sound And Light Show (Son-Et-Lumiere) Take an elephant ride like the Maharajas, why go safari, elephant is right here. Enjoy the lavish Rajasthani meals Feeling tired? Take a good massage! Are you not already feeling like the kings and the queens of the world. I am! Day 5: Morning we start for Agra!
Agra
Day 5-6
Day 5: After a 4-hour fun drive, we reach Agra! Taj Mahal - One of the 7 wonders of the world--A UNESCO World Heritage Site: The Taj Mahal is known as a monument of love and a grieving emperor's ode to his beloved deceased queen. An immense mausoleum of white marble, built in Agra between 1631 and 1648 by order of the Mughal emperor Shah Jahan in memory of his favourite wife, the Taj Mahal is the jewel of Muslim art in India and one of the universally admired masterpieces of the world's heritage. Agra fort--A UNESCO World Heritage Site : Agra Fort is about 2.5 kilometers (1.6 mi) northwest of its more famous sister monument, the Taj Mahal. The fort can be more accurately described as a walled city. Enjoy the sites, local food, rest!
Mathura Vrindavan
Day 6-7
Day 6: Visit Vrindavan : Experience spirituality like never before. Vrindavan is a historical city in the Mathura district of Uttar Pradesh, India. It is located in the Braj Bhoomi region and holds religious importance in Hinduism, as Krishna spent most of his childhood days in this city. Vrindavan has about 5,500 temples dedicated to the worship of Krishna and his divine consort Radha, the likes of which include Banke Bihari, ISKCON, Gopeshwar Mahadev, Shahji, and Govinddeo among others. We intend to stay in an Ashram! Vrindavan is not merely for sightseeing, rather, to experience bhakti--spiritual madness of devotion for one's beloved. This is an optional stop; during off seasons, we can skip this stop to add an extra day to Rishikesh for a relaxed experience.
Rishikesh
Day 7-9
Day 7-9: We take a ride for inner peace to Rishikesh - The yoga capital of the world! Nestled in the Himalayan foothills, Rishikesh is one of the most sacred cities in northern India. Located in the state of Uttarakhand, Rishikesh is the hub of sages, yoga practitioners and pilgrims, who throng the ghats (stepped banks of a river) and temples. In recent times, it has also become a centre point of adventure sports, offering activities like white water rafting, bungee jumping, canoeing and others. Triveni Ghat: Situated at the confluence of three sacred rivers, the Ganga, the Yamuna and the Saraswati which according to Hindu mythology, washes away the sins of a person. Evenings are stunning, the 'Maha arti' being carried out at the ghat. A multitude of lamps floating in the river during the arti present a spectacular view, leaving one in awe of the time-honoured traditions. How about a dip in the holy river? Lakshman Jhula: About 2 km from Swarg Ashram lies the well-known Lakshman (Laxman) Jhula, a suspension bridge about 450 ft long. Rajaji National Park: Around 20 km from Rishikesh, situated along the Himalayan foothills, is the Rajaji National Park, spread over 820 kms. It comprises several zones and forest types like riverine forests, sal forests, broad leaved mixed forests. Among the many faunae one can spot here are leopards, deer, tigers and ghorals. The park is popular among birdwatchers as it is home to around 400 species of birds. Neer Garh Waterfall is a beautiful narrow stream of clear water cascading down a rocky terrain cutting through a dense green forest. The waterfall is two-tiered and has two bathing pools. Reaching the waterfall requires trekking for about a kilometre (a 20-minute hike that starts 2 km north of the Lakshman Jhula) through the forest and then hiking down a cliff. The trail is exciting with pictorial views at every turn. Reaching the waterfall and bathing in one of its soothing pools is worth the effort of the hike. About 1.2 km ahead, one will find a bigger waterfall that has a larger pool. Butterflies of different species can be spotted here. Kaudiyala: A centre for water sports, especially whitewater rafting, Kaudiyala is a scenic town, mere 40 km from Rishikesh. Ram Jhula: The bridge spans 750 ft and is a splendid work of engineering that connects the ashrams situated on both sides of the river. It offers a splendid bird's eye view of the mighty river making its way through gigantic mountains and dense forests. Ganga arti: Ganga arti is a ritual of worshipping River Ganga that is held on a grand scale in the city. Lots of people are in attendance during the arti which takes places every evening. Visitors can take part in the blissful ritual and soak in the spiritual vibes along with enjoying the view of a hundred lit diyas (earthen lamps) floating on the river. Parmarth Niketan Ashram is the most famous venue of Ganga arti. We intend to stay in a beautiful ashram (subject to availability). Meditate, yoga, peace, spirituality: Realise, I am one with the universe, and the universe is one with me! You can book a cab and easily return via Delhi, or continue your journey further. The experience of India reverberates in your heart forever! Experience the new you, filled with vigour and enthusiasm, ready to take on the world. ➡️ We met as TripMates, became friends on the way, and travelled as one family. Family never parts. Have a safe journey back home. Or join my next trip and continue. See you in the next trip. Namaste!
You will meet Om and the group in Rishikesh
Find the best flight details home from Rishikesh ->
Trip Summary
Accommodation
Hotel & Other
9 days trip
Delhi, Jaipur & 3 more
Have A Question?
Ask the TripLeader questions about the Trip by clicking on the button below. Your question and the response will be visible on this page once it's answered.
What's excluded?
International flights
Personal expenses
Why JoinMyTrip?
Trusted platform used by 150K+ TripMates
Have A Question?
Live Chat with our experts 24x7
Unique Trips hosted by Experienced Travellers
Secure Payments to ensure your money is always safe
Looking for more trips?
Here's some similar trips that you might be interested in.