Slide 1 of 1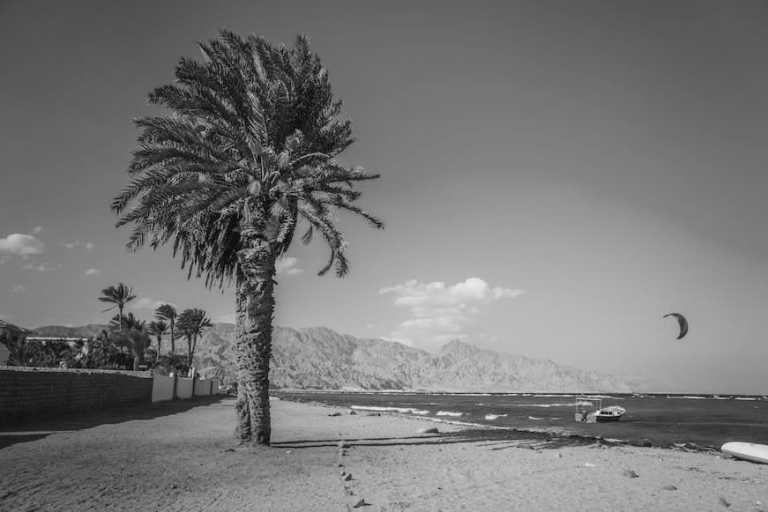 CoWorking and Wellbeing trip at Red Sea, Dahab - art, yoga & skill sharing
Coworking trip
8 days
8 stops
5 - 8 Mates
Egypt
Hi everyone! 👋 A little bit about me: I'm Eleonora and until now my life has been travelling and living in a lot of different places due to my work with NGOs but also for the sake of discovering new interesting cultures and beautiful human beings. I believe that you know yourself more deeply, when experiencing life through the beauty of diversity. I'm a therapist and an artist 👩‍🎨, and I love to share my experience and to meet new travel companions. Disclaimer: All the program is very flexible and could be discussed together at any step. Immerse yourself in the beauty of Dahab, a village of Bedouins in Egypt on the Red Sea. What to expect of the trip : Sharing wellbeing! ☯️ This well-being trip is designed to help you improve your mental & physical well-being 🧘‍♀️, bring you closer to nature 🌿 and immerse yourself in the Bedouin Culture. - 5 wellness sessions as per your choice in Nour wellness center - Daily yoga - Exploring Dahab and the Egyptian culture after working hours - Sporty activities such as jogging, Tai Chi, Qi Gong - The beach & much more There is no pressure to do anything you don't want to. I will ensure that there are a range of different options for everybody. 🏠 Accommodation: We will be staying in a simple but beautiful lodge "Eldorado" in front of the Red Sea with a shared area, a lounge for work, with bar and restaurant, and good Wi-Fi. 3 single rooms and 3 double rooms with private bathroom. If you would like your own room, this will be at an extra cost (just message me after booking to arrange this) About the trip ✈️: - Arrival in the airport of Sharm el Sheikh The plan is to arrive and enjoy the weekend Saturday and Sunday and then to work Monday, Tuesday, Thursday, and Friday so that we can take a midweek day trip every Wednesday and enjoy the weekends with some activities too. What is included in the price ✅: - 🏡 nights in Eldorado lodge - 🚙 Transport to and from the airport - 👨‍🍳 Breakfast every morning - 🧘‍♀️ Morning/daily yoga classes and/or Tai chi, Qi Gong in addition to 5 wellbeing sessions as per your choice at Nour Wellbeing center - 🚙 Transportation to each of the locations included in the program - 🤩 The activities included in the program (excluding the ones where it is specified optional activity) - 🌿 2 Wellbeing workshops held by me in collaboration with my colleagues, in particular Mona Shafey (Senior Yoga teacher) - A FREE consultation in Personal Therapy/ Personal Wellbeing What's NOT included ⚠️ - Flights - (except breakfast) Lunch and Dinner ( but they could be suggested or planned together in specific case it is written included in the cost ) - Optional activities: diving, kite surfing, rafting and kayaking, massage therapies, sailing, boat trips ❗️ All local transportation for activities not included in the trip package. This trip is perfect for you if 😊: - You're a remote worker/digital nomad 👩‍💻 - You're in love with art 🖼 - You're interested in your mental and physical wellbeing 🧘‍♀️ - You're looking for a shift in life Join me now and let's deep dive into the wellness Egypt has to offer!
Your Booking includes free protection from Trip cancellations.
Learn More
Meet Your TripLeader
Phone Verified
Identity Verified
You can chat with Eleonora once you reserve your spot.
Trip Itinerary
Sharm El-Sheikh
Day 1-2
DAY 1. Arrival at Sharm el Sheikh Airport. A private transportation will pick you up from the airport. Meeting and welcoming on the beach: Relaxing day with welcoming cocktail in the characteristic location of el Farsha Mountain Lounge Beach . The place is a must to visit the view is stunning, the lovely mixed Ottoman, Bedouin and ancient décor gives it amazing sense: all nooks and crannies, floor cushions, Bedouin tents and swinging lamps; it is just a great place to chill out after a flight. Take your snorkeling gear and walk out on the jetty that reaches out past the reef it is about 40ft deep and the reef and fish are stunning. , Farsha is the kind of place that travellers come to for a coffee and find themselves lingering at four drinks and a shisha pipe later. Great for a lazy day full of lounging or a sunset chilled-out of music and cocktails. A full day to welcome and know each other.. we will have a nice dinner ( not included in the cost) at the traditional old market of Sharm having the possibility to explore the beauty of an Egyptian Souq. For your dinner express your preferences! ( Vegetarian, gluten free etc...) Moving to Dahab to our accommodation at Eldorado Lodge.
Malakot Mountain Oasis
Day 2-3
DAY 2 . Introduction to the journey together! The morning Breakfast will be at the nice Eldorado Lodge. Let's explore the beauty of Assala beach and then we are going to be directed to Malakot healing place. Visit to MALAKOT Mountain Oasis set in the mountains of Wadi Gnai just 15min from Dahab. Come to enjoy Hiking/ out door adventure, camping, wellness activities, Bedouin dinner under the stars (included in the package also for vegetarians) and much much more! A great place to spend the day and night (optional) with friends and connect with nature in the beautiful Desert Oasis. Our day will be characterized by the sauna in the middle of the mountain with yoga session, sound healing session and stars gazing.
Eldorado Lodge & Restaurant
Day 3-4
DAY 3 . BACK TO WORK We are going to spend all our 7 nights in the natural location of Eldorado Lodge and restaurant. Working time is back and on our 3rd Day ... Morning: You can choose some tai chi&qi gong activity, on the beach and arial yoga during the day to start your day and then back to work. Relax, socialize, enjoy nature, Assala and Lighthouse and engage in movement and mindfulness activities such as yoga, meditation, walking, jogging etc.. I will also organize interesting workshops and talks around , mindset, counseling & holistic wellness, Storytelling & Blogging.
Nour Wellbeing Dahab
Day 4-5
DAY 4. Morning at work with swimming breaks. For the rest of the day we will discover the beautiful activities of Nour Wellbeing center with a package of 5 sessions (included) that you can use for all the activities in program by Nour Wellbeing Center and then we can choose among all the Extra Activities: Diving (free diving and scuba ), Kitesurfing , Rafting and Kayaking, Gym activities, Massage therapies, Hiking, sailing or boat trips, Rock Climbing Trip is suggested with a nice sun set on the mountains.
The Wind Farm
Day 5-6
DAY 5. It is Wednesday... We can continue our work day and at the same time have a beautiful relaxation time at THIS MAGIC PLACE. The WINDFARM Holistic beachfront health and sports centre. Yoga, meditation, Kiting, SUP, climbing, health consultants, nutritionists, physiotherapy, reflexology. We will have our yoga, tai chi/qi gong and sound healing activities with one of the 2 wellbeing workshops.
Laguna Beach Dahab
Day 6-7
DAY 6 Back to our favorite spot of Eldorado lodge for a morning at work. The afternoon is free until the sunset time where we will reach Laguna Beach. One of the best beaches of Dahab village. In this location you can choose among extra activities as Kayaking, kitesurfing, riding horses and camels etc.
3 Pools
Day 7-8
After another morning of work and regular wellness activities at the sunset there is the possibility of choosing among different spots for diving of snorkeling. One of this places is 3 pools beach or the Blue Hole.
Sharm El Sheikh International Airport
Day 8
Day 8 . THE END OF OUR BEAUTIFUL TRIP. We will reach the airport of Sharm el sheikh with al lot of beautiful memories, great learning and relaxed mood, ready to go back to our daily life with a different mood and spirit ! Red Sea with his healing touch !
Trip Summary
Accommodation
Bed & Breakfast
8 days trip
Sharm El-Sheikh, Malakot Mountain Oasis & 6 more
Transportation
Car, Trekking
Why JoinMyTrip?
Trusted platform used by 150K+ TripMates
Have A Question?
Live Chat with our experts 24x7
Unique Trips hosted by Experienced Travellers
Secure Payments to ensure your money is always safe