Slide 1 of 1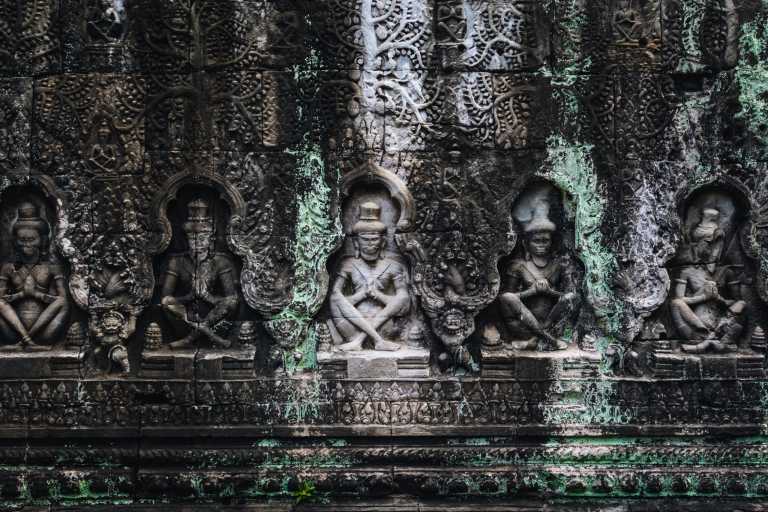 Cambodia Adventure 🇰🇭 Itinerary across the ancient history of Angkor Wat ⛩ & the paradise island of Koh Rong 🏝
Guided trip
10 days
7 stops
2 - 4 Mates
Cambodia
Come with me on this incredible Asian adventure 🌏 that will be impossible to forget.... We will explore an ancient country, its fascinating history, and its thousand-year-old temples at the world's largest religious site, Angkor Wat ⛩. We will also immerse ourselves in the chaotic Cambodian 🇰🇭 cities of Siem Reap and Phnom Penh 🌆, walking through neighborhoods trying local food, and taking incredible photos of the Cambodian lifestyle flowing around us. Of course, relaxation will await us on the paradisiacal and remote island of Koh Rong 🏝, where we will snorkel among colorful fish 🪸 and be enchanted by the color of the crystal clear waters surrounding it! About me: Debora here! I am 25 years old and I am Italian 🇮🇹 However, I lived in Spain, Africa, and Thailand, and I have been working as a tour leader for almost a year; I am an experienced traveler who never stops and can't wait to share beautiful experiences with others. I consider myself funny, energetic, curious, and in love with the beauty this earth has to offer. What is Included? ✅ All the accommodations ✅ All breakfasts ✅ All the long transfers with buses & boats ✅ 2-days entrance to Angkor Wat site ✅ Entrance to the Royal Palace in Phnom Penh ✅ Travel insurance if you are a German or Austrian resident ✅ Complete assistance before & during the trip ✅ Experienced and fun group leader (Me 😏) What is not included? ❌ Flights ❌ Short transport (ex. shared tuk tuk or taxi to go to the restaurant at night) ❌ Food, drinks & personal expenses (such as medical insurance, except for German & Austrian) ❌ Other eventual activities not listed above PLEASE NOTICE: The trip will be adventurous and local-culture style, so I need people like-minded to join me. Cambodia is not a luxury place, and you need to adapt to the local mindset, which can be really different from what we're used to! You're the perfect fit if you are: respectful, flexible, adaptable, energetic, open-minded, and willing to travel and meet new people! The spoken language will be English! 🇬🇧 Don't hesitate to reach out if this destination is on your bucket list or if you have any questions/additional requests! 📩
Your Booking includes free protection from Trip cancellations.
Learn More
Trip Itinerary
You will meet Debora and the group in Krong Siem Reap
Find the best flight details to Krong Siem Reap ->
Krong Siem Reap
Day 1-4
Day one is arrival day: Cambodia gives us its welcome! Our exciting adventure has begun. We'll be meeting up in the hotel which will be communicated before departure; no worries if you're arriving a lil late, we'll be waiting for you :)
Angkor Wat
Day 4
On day 2 we'll be doing our first visit to Angkor Wat. We'll have two days to enjoy the discovery of this incredible and huge temple site, being able to enjoy both experiences of sunset and sunrise immersed among the temples of an ancient place with a unique atmosphere.
Angkor Wat
Day 4
As explained In the previous stop, day 3 we'll be the second visit day of the Angkor Wat site. Today we'll wake really early to be able to enjoy the sunrise on the Angkor Wat temple itself, taking incredible pictures.
Phnom Penh
Day 4-6
Day 4 will be travel day! From the local bus station, we'll be having quite a long ride across the country to reach the city of Phnom Penh. We'll be out for dinner all together, enjoying the first impact with this place during the suggestive nighttime!
Phnom Penh
Day 6
Day five will be dedicated to the discovery of this main city in Cambodia! We'll be walking around immersed in the local lifestyle, we'll be visiting the amazing Royal Palace, Wat Phnom and we'll join a beautiful sunset cruise on the famous Mekong River: simply mesmerizing and unforgettable.
Koh Rong Sanloem
Day 6-9
Day 6 is travel day! We'll be saying goodbye to the city of Phnom Penh and we'll take a bus and a boat to finally reach our well-deserved paradise island: Koh Rong! Day 7-8 will be fully dedicated to relaxation & island discovery: we'll be having some time off, and we'll be snorkeling around the crazy beaches of this tropical island, between a coconut on amaca and a party on the beach!
Preah Sihanouk
Day 9-10
On day 9 we'll get back on the mainland, arriving in the city of Sihanoukville, where we'll spend the last night and have the chance to say a proper goodbye: to this country, to this experience, and to the group that feels like friends now! We'll spend one night in the city of Sihnaoukville, which is a strategic spot because the airport is well connected to other main Asian cities or back to Siem Reap!
You will meet Debora and the group in Preah Sihanouk
Find the best flight details home from Preah Sihanouk ->
Trip Summary
Accommodation
Hotel & Bed & Breakfast
10 days trip
Krong Siem Reap, Angkor Wat & 5 more
Transportation
Car, Trekking, Boat
This is Tonya, I saved the trip and I have Whatsapp. It wouldn't allow me to leave a phone number h...
Read More
I just contacted you in the private chat here on JMT, unfortunately is not possible to leave the whatsapp number here in this section!
Your trip sounds amazing! I'm wondering how you feel about traveling with someone older. I'm in my ...
Read More
Hello! I have traveled with several "older" people in their 40s and in my experience they've been always an amazing fit in the group! What matters is the soul, not the age :) If you need to ask me som...
Read More
Why JoinMyTrip?
Trusted platform used by 150K+ TripMates
Have A Question?
Live Chat with our experts 24x7
Unique Trips hosted by Experienced Travellers
Secure Payments to ensure your money is always safe