Slide 1 of 1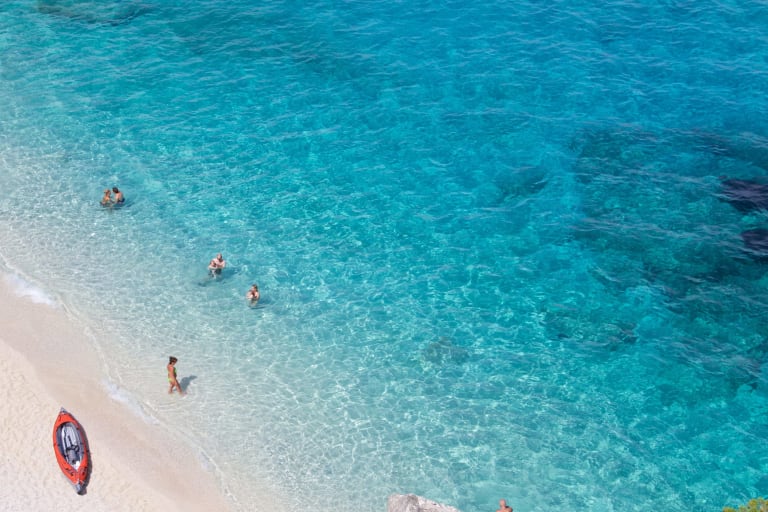 Yoga/Wellness/Adventure NW SARDINIA - Stay in an exclusive Seafront Villa with sea view Jacuzzi - 2 People Sharing
Guided trip
6 days
4 stops
2 - 6 Mates
Italy
About the trip: 6 days of Yoga and discovery of the many treasures of this beautiful part of the island of Sardinia. We will stay in a stunning seafront Villa with a private Jacuzzi pool on the top terrace overlooking the beautiful Bay. A retreat for a small group of participants (max 6) who are looking for an authentic experience of relaxation and adventure to honor their holistic well-being and inner growth. We will connect with the surrounding wild nature and elements, the self, and the group through two daily yoga classes (dynamic in the morning; Yin/restorative in the evening), mindfulness practices, and plenty of excursions and activities. We will explore the pure and magical sceneries of the surrounding nature, and the nearby beaches, hike, surf, or sail, and enjoy ayurvedic massages and sound healing. There will be plenty of free time to relax by the Jacuzzi pool and garden, integrate into the space and the surrounding areas, journal in, and savor the healthy and delicious homemade food prepared by our in-house chef, with local and natural ingredients to nurture your body and soul. You will leave relaxed, energized, and rejuvenated in body, mind, and spirit, taking with you the richness of the experience and the tools to apply every day to progress in your unique journey. THE ACCOMMODATION: The Villa is located in front of the sea, a few km away from the picturesque town of Alghero and less than 10-minute drive from Fertilia/Alghero Airport. The sea in front of the Villa has rocks with turquoise waters for sunbathing and swimming (late spring may be possible, it depends on your tolerance to cold waters!!). The closest sandy beaches are 15 minutes on foot. The Villa has plenty of indoor and outdoor space, a modern and fresh look, and wonderful sea views particularly on the top terrace with the Jacuzzi, yoga shala, and lounge. It is the perfect pace for an exclusive retreat in a small group. The Villa is structured on 4 levels and has a total of 4 double bedrooms for a total of 10 people, but the Retreat is limited to 6 to ensure everyone gets a lot of guidance and attention. One bedroom has an en-suite, another double bedroom has its own private bathroom and living area, the other two double or twin bedrooms share the same bathroom. A third bathroom is on the living floor. The living space is large, it has a sitting area and dining area by the open-plan kitchen. Outside garden, patios, balcony, and verandas, and a large terrace with a Jacuzzi mini-pool on the top floor overlooking the bay (available in late spring/summer). The 3 sea views rooms will be assigned on a first-booked basis in this order: 1st Ensuite sea view double bedroom; 2nd Sea view double or twin bedroom with shared bathroom; 4th double or twin bedroom with shared bathroom (no sea view). YOGA CLASSES: The yoga classes are suitable for all levels, but if you want to deepen or advance in any aspect of your practice I can tailor a specific program for you with extra private lessons and/or workshops. What is Included: This is the listing for 2 friends or couples sharing a double bedroom: - 5 nights shared occupancy in a private double bedroom. - 2 daily yoga classes (morning and evening) Yoga classes take place outside in good weather, preferably by the sea otherwise on the top floor indoor shala overlooking the sea - Daily meditation - Daily Pranayama - Homemade brunch and dinner freshly prepared daily by our in-house chef (daily brunch during your stay and 3 Dinners included to encourage you to try some of the delicious eat out options) - Tea/coffee, water and snacks daily - 1 ayurvedic massage - 1 sound healing session - a 2-hour trek to Punta Giglio - Journaling is encouraged throughout - Private garden and pool - Wi-Fi connection Meals will be prepared daily by our chef with worldwide influences offering a wide choice of flavors, colors, and tastes. Healthy, beautiful, and seasonal food to nurture your body and spirit. We encourage a vegetarian-friendly diet during your stay to enhance the detoxification of yoga practices. Let us know in advance if you have any dietary requirements. ACTIVITIES: All other activities will be charged extra depending on each individual preferences and the number of participants. Some examples are below: - Extra Massages/wellness packages - Cooking classes with a local chef - Wine tasting and local winery visit - Surf, Windsurf, and watersports of your like, sailing, Hikes, Visit to nearby Marine Reserve Asinara with a catamaran tour or 4x4, Hikes & excursions into the surrounding countryside What else is not included in the price: - Airport transfers (local buses available, very cheap) - Local transport - Extra days of stay in the Villa Booking Details: By booking two people at the same time and sharing one of our bedrooms, you will both receive a 25% discount each. ABOUT ME: Accompanying you through the week is your yoga teacher and host Francesca. I love connecting with people and helping people connect to each other, through yoga and some special shared moments and experiences of authenticity and joy. My intention with this retreat is to create a sacred space for exploration and personal inner growth, through the tools and techniques of traditional hatha yoga and the connection with the wild and beautiful surrounding nature. Through daily postures, meditation, and conscious breathing techniques we will develop more awareness. Sharing the space and experience with the group will allow further enrichment and integration.
Your Booking includes free protection from Trip cancellations.
Learn More
Meet Your TripLeader
Phone Verified
Identity Verified
26 Countries
2 Trips Completed
Yoga Teacher, Spiritual Seeker and a nomadic mom traveller
You can chat with Francesca once you reserve your spot.
Trip Itinerary
You will meet Francesca and the group in Fertilia
Find the best flight details to and from Fertilia ->
Fertilia
Day 1-6
You will be saying in Villa Bali Sardinia, a unique Seafront Villa with large seafront veranda and garden. A Stunning Jacuzzi Pool on the top floor overlooking the Bay will make your stay unforgettable. In the charming town of Fertilia, a few Km from Alghero. Settling in, getting to know your host and the group, relaxing in the garden or by the pool. You will join the evening restorative yoga class. The Yoga classes will be taught in the Villa (private shala on top floor overlooking the sea and wonderful bay) but if the weather allows we will have some classes in the garden or on some nearby beaches, particularly the ones at sunset).
Alghero - Grotte di Nettuno
Day 6
Alghero is a must for anyone visiting Sardinia. Parts of the old fortified town, with seven towers and three forts, remain from the 14th century when Catalan colonists took the town (enslaving the population and sending them to Spain!). Still about a quarter of the population speaks a Catalan dialect. This language, Algherese, is an official minority language. All street signs in the city center are bilingual (Italian-algherese). The city is lovely to walk through the neatly maintained streets, and especially along the fortifications on the seaside. The dome of one of the churches, the San Michele, in beautiful multicolored mosaic, is an iconic image. Neptune's caves (Grotte di Nettuno) are among the most fascinating of the entire Mediterranean basin. This is such a must-see that cannot skip. The caves, called after the Roman god of the sea, are accessible by sea with a boat service departing from Alghero's touristic port or by car. The coastal road is spectacular. On foot, the Caves are reached through a staircase of about 660 steps, dug on the ridge of the promontory of Capo Caccia. Tickets to be purchased in loco. Watching the sunset from the nearby promenade is a must.
Punta Giglio
Day 6
Hike to Punta Giglio. Punta Giglio is a limestone promontory which together with Capo Caccia encloses the bay of Porto Conte. Its name relates to the presence of numerous lily plants, and it is included in the territory of the Capo Caccia Marine Protected Area – Isola Piana. Because of the strategic dominant position between Porto Conte and Alghero, it was an important anti-aircraft base of the army during WWII, of which the structures with barracks, platforms for positioning anti-aircraft guns, casemates and explosives storage still exist, built with local limestone and camouflaged from the view from the sea. The old Fortino has now been converted in a bar where you can rest after the hike and have some refreshment. Weather permitting, we will do a sunset Yoga practice there! I know a little secret place where the energy is specially inductive to yoga and meditation.
Fertilia
Day 6
In addition to the yoga, and activities set out in the program there will be plenty of time to participate in water sport activities like Surfing, Wind or Kite surfing, sailing, excursions to the Marine Reserve Asinara, Visit to Stintino and the famous La Pelosa beach, visit to the many nearby beaches, Visit to the Nuraghe Palmavera, wine tasting to the S. Maria La Palma cellars or local vineyards at Sella Mosca, visit Bosa and drive there along the spectacular coastal road and enjoy the sunset at Pedramare, just to name a few just tell us what you like to do, and we can help to sort out the practicalities.
Trip Summary
6 days trip
Fertilia, Alghero - Grotte di Nettuno & 2 more
Hello! I would also travel alone and would be interested in a room for myself alone. What would be t...
Read More
Hello Doris, thank you for your inquiry. You will see there is another listing just identical but for private occupancy instead of sharing. The price difference would be 385 euro for the whole stay. A...
Read More
Hi Francesca.I am interested on your trip,but I would travel alone.Is it possible or the trip is onl...
Read More
Hello Csilla, thank you for your message. You can come alone, but you will share the twin room with another girl, if you want to occupy a double room alone there is a supplement as the cost in this li...
Read More
Why JoinMyTrip?
Trusted platform used by 150K+ TripMates
Have A Question?
Live Chat with our experts 24x7
Unique Trips hosted by Experienced Travellers
Secure Payments to ensure your money is always safe
Looking for more trips?
Here's some similar trips that you might be interested in.