Slide 1 of 1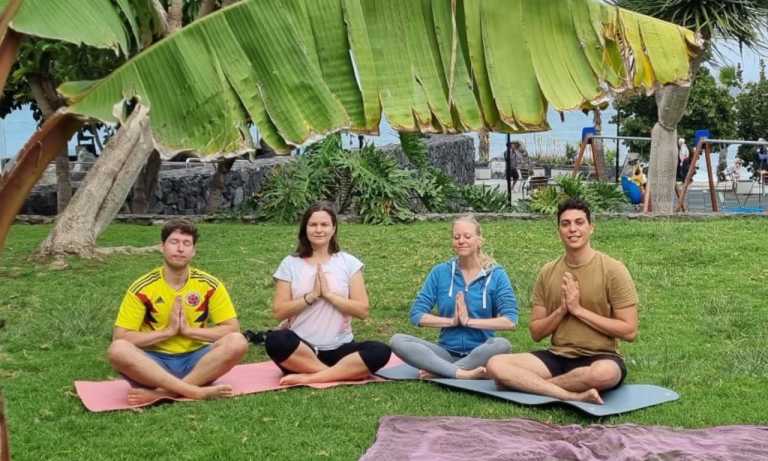 Yoga and Breakwork Workation in Colonial Spanish Villa in Tenerife for 9 Days: Unlock Ultimate Relaxation
7 Days30 Days!
Extra Cancellation Days
only for the first TripMate
Coworking trip
9 days
3 stops
6 Mates
Spain
What's special?
Shared Coliving in Colonial Villa
Yoga Teacher & Breathwork Instructor
Guided City and Nature Tours
Working Remote? There is a shocking study in Europe states that there is a 40% chance that you are overworked. Let's take a deep breath and let it out slowly with this Workation Dive into a 9-Day Relax, Rebalance workation in Tenerife, set in a beautiful century-old Spanish villa! Imagine waking up surrounded by the serene landscapes of Tenerife. Begin your day with rejuvenating Breathwork & Yoga and then coworking in your dedicated space. Then, venture into the city. Discover the hidden gems of Puerto de la Cruz and connect with the Nomad Cowork community. On weekends, discover nature with a carefully selected guided tour in the Anaga Mountains or simply take time for yourself on a beautiful beach or nature trail close by. Our meticulously designed workation combines coworking, mindfulness, human connection and nature. It promises not only a change of scenery but a change of state of wellbeing. In just 9 days, embrace a harmonious blend of mindfulness, work, and play. Why Join me? 🧘‍ Rediscover Balance: Set boundaries and rediscover the joy in both work and leisure with our Yoga and Breathwork sessions. 👥 Connect with Like-Minded Individuals: Network, and form lifelong friendships with fellow hand-picked professionals 🍃 Immerse in Nature: Allow the captivating landscapes of Tenerife to refresh and recharge you with our hikes in Anaga and a 5-minute walk to the beach. 🎯 Balanced Work & Play: Achieve productivity without compromising on relaxation and enjoyment. Are You Ready to Embrace Balance?
About me! Hello! 😁 I am Julia from Germany; I will be with you in this relaxing and recharging workation. I am very excited to spend these 9 days with you! I have been a digital nomad for 3 years in Tenerife and I am here to guide your way into relaxation through mindfulness, yoga, breathwork, nature, and authentic connections. Looking forward to meeting you!
Details about the accommodation: Nestled in the heart of Puerto de la Cruz, Tenerife, our century-old colonial-style villa, Sol Y Luna, awaits your arrival. Just a ten-minute stroll away from the town center and the sun-kissed beach, our location promises both convenience and tranquility. Why Sol y Luna? Historical Elegance: Experience the charm of our 100-year-old two-story villa. Perfectly Located: While situated amidst a functioning banana plantation, offering you serenity, we're also close enough to the town for easy access to local amenities and community activities. Coworking: Inside our century-old colonial-style villa you'll have 24/7 access to a coworking environment. Benefit from super-fast internet and an unending aroma of freshly ground coffee. And when you wish to mix work with leisure, the villa's rooftop awaits, offering breathtaking views of the town and the vast ocean. We've got everything you need to be productive. Stunning Views: The property boasts uninterrupted views of the town below, the vast expanse of the ocean, and the majestic Teide above. Modern Amenities: Our villa features two spacious, fully-equipped kitchens—one on each floor—perfect for cooking classes or workshops. Flexible Accommodation Options: Choose from a variety of sleeping arrangements. We offer three rooms designed in a dormitory-style accommodating up to 3 guests, two rooms with 2 twin beds, and one with a double bed. All guests share four spacious, well-appointed bathrooms. Let me know if you have any questions about this CoWorking trip in the Q&A section!
What's included?
🧘Daily Yoga & Mindfulness
🏠 Stay in a Spanish Villa: Shared Room
⛰️ Nature hike in Anaga, Tenerife
🏙️ City tour in Puerto de la Cruz
🖥️ Dedicated Coworking Space
🌐 Network with 10+ Professionals
🚗 Rental Car (optional)
👣 A Digital Nomad to show you around
Your Booking includes free protection from Trip cancellations.
Learn More
Meet Your TripLeader
Phone Verified
Identity Verified
I am a digital nomad from Germany looking to go into a journey of mindfulness & discover Tenerife together
You can chat with Julia once you reserve your spot.
Trip Itinerary
You will meet Julia and the group in Puerto de la Cruz
Find the best flight details to and from Puerto de la Cruz ->
Puerto de la Cruz
Day 1-2
We will be based the 9 days in this beautiful colonial villa in Puerto de la Cruz. This is a relaxation workation, so not so much moving around! And of course, we have city and nature tours lined up for you so be sure that there will be plenty of chances to discover Puerto de la Cruz! In here you will have your yoga & breathwork sessions, cowork, relax, have massages and all you need to get back in balance
Anaga
Day 2
Our guided tour will take you through lush laurel forests, picturesque villages, and rugged mountain terrain. Immerse yourself in the magic of the Anaga Rural Park, a UNESCO Biosphere Reserve located in the northeast of Tenerife. Discover the secrets of this ancient and mystical landscape, and let the natural beauty inspire your thoughts and creativity.
Puerto de la Cruz
Day 2-9
To get you all set up to get to know the city, we have a private city tour set up for you so you can meet Puerto de la Cruz. If you want to have the full program for the whole week, I will send it to you. There is something unique planned for every day. We are planning on doing a sunset picnic together, a live music event as well as amazing yoga classes with your professional yoga teacher. I'm convinced you will have a great time, make new friends and collect memories that will last a lifetime.
Trip Summary
9 days trip
Puerto de la Cruz, Anaga & 1 more
Have A Question?
Ask the TripLeader questions about the Trip by clicking on the button below. Your question and the response will be visible on this page once it's answered.
What's excluded?
Flights
Airport Transportation
Meals
Why JoinMyTrip?
Trusted platform used by 150K+ TripMates
Have A Question?
Live Chat with our experts 24x7
Unique Trips hosted by Experienced Travellers
Secure Payments to ensure your money is always safe
Looking for more trips?
Here's some similar trips that you might be interested in.