Slide 1 of 1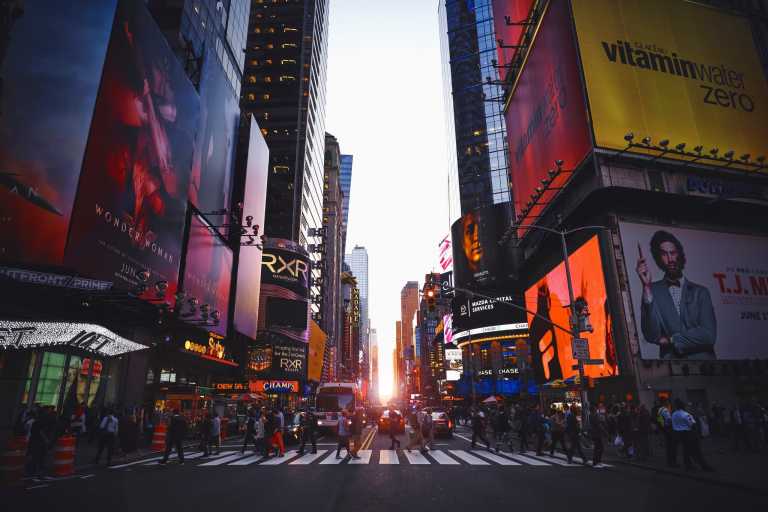 Women Trip 🎆 4th of July Escape in NYC 🗽💃✨🇺🇸
7 Days30 Days!
Extra Cancellation Days
only for the first TripMate
Guided trip
7 days
6 stops
2 - 11 Mates
United States
What's special?
Women's Empowerment & Positive Vibes
Fourth of July Celebration
Incredible Photo Opportunities
🌟 Embark on a journey through the concrete jungle! 🗽💃✨ Calling all fearless women! Get ready to conquer the iconic streets of New York City on our adventure. This exclusive women's trip is designed to inspire, empower, and celebrate the spirit of sisterhood while exploring the Big Apple's most dazzling treasures. 🏙️ Immerse yourself in the world-renowned Metropolitan Museum of Art, stand in awe at the One World Observatory, and experience the electrifying energy of Broadway. 🗽 Be captivated by Lady Liberty herself as you sail to the Statue of Liberty and Ellis Island, where history and freedom unite. 🎆 Celebrate Independence Day in the heart of the city, surrounded by fellow trailblazing women. 🛍️ Shop 'til you drop on Fifth Avenue, stroll along the High Line Park, and savor exquisite cuisine with skyline views. 📸 Take the most stunning pics, we all know your ig needs some action! Capture unforgettable moments, empower your journey, and make lifelong memories on this women's adventure in the city that never sleeps! This will be our planning for the week: Day 1: Arrival in New York - July 1st ✈️ Arrival at the airport. 🏨 Check-in at our hotel. (I will be there waiting for you) 🌆 In the evening, take a stroll through Times Square to soak in the city's energy and enjoy the neon lights. Day 2: Exploring Manhattan - July 2nd 🏛️ Morning visit to the Metropolitan Museum of Art. 🏙️ Explore the World Trade Center and 9/11 Memorial in the afternoon. 📸 🍽️ Optional dinner at a restaurant in the Financial District. Day 3: Statue of Liberty and Ellis Island - July 3rd 🗽 Take the ferry to the Statue of Liberty and Ellis Island in the morning. 🏙️ In the afternoon, ascend to a rooftop bar for breathtaking sunset views of the city. 🍽️ Optional dinner in the Financial District or TriBeCa. Day 4: Holiday Celebration - July 4th 🇺🇸 Enjoy Independence Day festivities in New York. Watch the fireworks over the Hudson River or have a picnic in Central Park. 🎆 🎉Party and celebrate. Day 5: Museums and Broadway - July 5th 🖼️ Morning at the Museum of Modern Art (MoMA). 🎭 Afternoon on Broadway to see a show. 🍽️ Optional dinner at a restaurant near Times Square. Day 6: Last Day in New York - July 6th 🛍️ Shopping on Fifth Avenue or in SoHo in the morning. 🌿 In the afternoon, visit the High Line Park for incredible views and photo opportunities. 📸 🍽️ Farewell dinner with a city view. Day 7: Departure Day - July 7th 🧳 Check out of our hotel. 🗺️Free day to explore if you have time. 📸 Take some final photos of the city or revisit your favorite spots. ✈️ Head to the airport for your departure flight, and big farewell to the Big Apple.
👋 Hello, I'm Angélica from Spain, and I'm 28 years old. Currently, I call Amsterdam my home, where I work as a Spanish teacher. In my free time, I'm an avid explorer and a wanderlust traveler, always on the lookout for new places to discover. I have a deep passion for meeting new people, immersing myself in different cultures, and capturing every corner through my camera lens. 📸 When I'm not on an adventure, you can often find me at the gym, staying active and healthy, or simply enjoying some good music. 🏋️‍♀️🎶 For this upcoming journey, I'm eager to connect with like-minded women who share the same passions and interests. Together, we'll create a vibrant, positive group and explore the vibrant streets of New York City. 🗽🌆
🏨 We will stay in a hostel and we will share 4 beds private rooms for our group. We will share only with people from this group. The hostel organizes activities that we can also join if we feel like it. The hostel is close to Central Park.🗽🌆 Let's embark on this empowering adventure, make lasting memories, and enjoy the vibrant vibes of the Big Apple together! 💃✨ Are you ready to write your own New York City story? Join us for an unforgettable women's expedition! 💪📸🌆 These are just my suggestions, but we can also change our planning and add some activities if it's possible. If you need some more info, you can send me a message.
What's included?
Accommodation (shared room)
Metrocard
Museums Tickets
Broadway Tickets
Tons of pics & videos
Your Booking includes free protection from Trip cancellations.
Learn More
Meet Your TripLeader
Phone Verified
Identity Verified
19 Countries
1 Trips Completed
I am Angelica, 28y years old from Tenerife (Spain). I live in Amsterdam and I work as a Spanish teacher Freelance . Let's explore the world!
based on 2 reviews
Show All Reviews
You can chat with Angélica once you reserve your spot.
Trip Itinerary
Times Square
Day 1-2
Step into the dazzling world of Times Square, where neon lights paint the night, Broadway shows come to life, and iconic billboards create a vibrant backdrop. Explore the heart of Manhattan's entertainment district, snap photos of the iconic 'Crossroads of the World,' and soak in the bustling atmosphere that defines this iconic New York City landmark. Get ready for an evening of excitement, culture, and unforgettable memories in Times Square!🌟🏙️🎭📸
Manhattan
Day 2-3
Manhattan: Your gateway to iconic landmarks, world-class museums, and the pulse of the city. Explore Central Park, discover art at MoMA, and savor diverse cuisine. Get ready for a Manhattan adventure filled with culture, exploration, and unforgettable moments in the heart of New York City! 🗽🏞️🎨🍽️
Statue of Liberty
Day 3-4
Statue of Liberty: Embark on a ferry to Liberty Island, gaze up at the towering Lady Liberty, and delve into history at the Ellis Island National Museum. Capture stunning photos, feel the spirit of freedom, and explore two iconic symbols of the American dream, all in one unforgettable visit.🗽🚢🇺🇸📸🌟
Central Park
Day 4-5
Independence Day Celebration in NYC! 🇺🇸 Join us for a day filled with patriotic fervor, mesmerizing fireworks, picnics in Central Park, and unforgettable moments with like-minded women. Let's make this 4th of July an extraordinary memory! 🗽🎆🌭🎉👭
Broadway Theatre
Day 5-6
Broadway Magic Unleashed! 🎭 Join us for a night of theater brilliance, as we revel in the world of Broadway's finest shows. Prepare to be enchanted, captivated, and moved by the captivating performances in the heart of NYC's theater district. 🌟🗽🎶
SoHo
Day 6-7
Shop 'til You Drop in SoHo! 🛍️ Get ready for a day of retail therapy in the trendy streets of SoHo, filled with boutique finds, stylish treasures, and cozy cafés. Explore the fashion-forward neighborhood and indulge in some retail magic. 🛒👠👗
Trip Summary
7 days trip
Times Square, Manhattan & 4 more
What's excluded?
Food & Drinks
Additional expenses
Flights
Why JoinMyTrip?
Trusted platform used by 150K+ TripMates
Have A Question?
Live Chat with our experts 24x7
Unique Trips hosted by Experienced Travellers
Secure Payments to ensure your money is always safe