Slide 1 of 1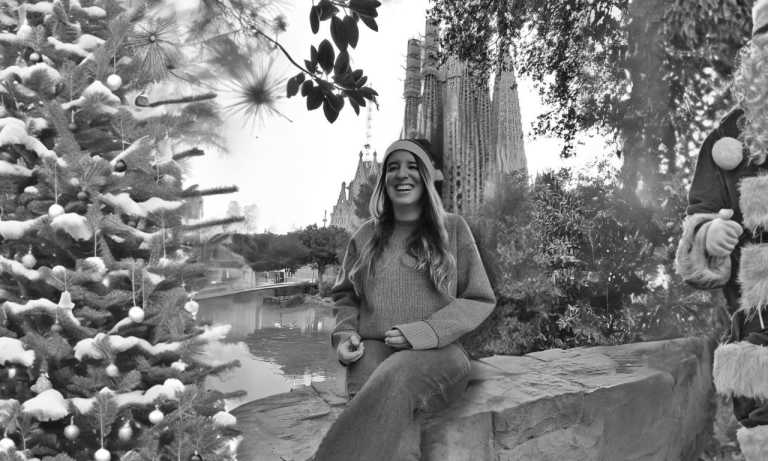 🤶Christmas season in 📍Barcelona (Spain) with a Local + Day trip to France🥐 | Females only🙋🏻‍♀️ | Winter vibes✨🎄
Guided trip
5 days
14 stops
3 - 5 Mates
Europe
What's special?
Local guide
Winter vibes
Christmas atmosphere
𝑬𝒎𝒃𝒓𝒂𝒄𝒆 𝑩𝒂𝒓𝒄𝒆𝒍𝒐𝒏𝒂 𝒍𝒊𝒌𝒆 𝒂 𝒍𝒐𝒄𝒂𝒍 𝒕𝒉𝒊𝒔 𝑫𝒆𝒄𝒆𝒎𝒃𝒆𝒓! 🌟 𝑩𝒐𝒓𝒏 𝒂𝒏𝒅 𝒓𝒂𝒊𝒔𝒆𝒅 𝒊𝒏 𝑩𝒂𝒓𝒄𝒆𝒍𝒐𝒏𝒂, 𝑰 𝒘𝒊𝒍𝒍 𝒃𝒆 𝒕𝒓𝒂𝒗𝒆𝒍𝒊𝒏𝒈 𝒘𝒊𝒕𝒉 𝒚𝒐𝒖 𝒕𝒉𝒓𝒐𝒖𝒈𝒉 𝒇𝒆𝒔𝒕𝒊𝒗𝒆 𝒎𝒂𝒓𝒌𝒆𝒕𝒔, 𝑮𝒂𝒖𝒅𝒊'𝒔 𝒘𝒐𝒏𝒅𝒆𝒓𝒔, 𝒂𝒏𝒅 𝒍𝒐𝒄𝒂𝒍 𝒔𝒑𝒐𝒕𝒔. 𝑫𝒊𝒗𝒆 𝒊𝒏𝒕𝒐 𝑺𝒑𝒂𝒏𝒊𝒔𝒉 𝒅𝒆𝒍𝒊𝒈𝒉𝒕𝒔 𝒂𝒏𝒅 𝒂 𝒅𝒂𝒚 𝒕𝒓𝒊𝒑 𝒕𝒐 𝑷𝒆𝒓𝒑𝒊𝒈𝒏𝒂𝒏, 𝑭𝒓𝒂𝒏𝒄𝒆. 𝑬𝒙𝒄𝒍𝒖𝒔𝒊𝒗𝒆𝒍𝒚 𝒇𝒐𝒓 𝒘𝒐𝒎𝒆𝒏, 𝒍𝒆𝒕'𝒔 𝒆𝒙𝒑𝒍𝒐𝒓𝒆 𝒕𝒉𝒆 𝒄𝒊𝒕𝒚 𝒊𝒏 𝒂 𝒘𝒂𝒚 𝒐𝒏𝒍𝒚 𝒍𝒐𝒄𝒂𝒍𝒔 𝒌𝒏𝒐𝒘. 𝑱𝒐𝒊𝒏 𝒎𝒆 𝒇𝒐𝒓 𝒂 𝒖𝒏𝒊𝒒𝒖𝒆, 𝒖𝒏𝒇𝒐𝒓𝒈𝒆𝒕𝒕𝒂𝒃𝒍𝒆 𝒆𝒙𝒑𝒆𝒓𝒊𝒆𝒏𝒄𝒆! Join me on a special journey this 𝐃𝐞𝐜𝐞𝐦𝐛𝐞𝐫 𝟔𝐭𝐡 𝐭𝐨 𝟏𝟎𝐭𝐡, where we'll explore the enchanting 𝐂𝐡𝐫𝐢𝐬𝐭𝐦𝐚𝐬 𝐯𝐢𝐛𝐞𝐬 𝐨𝐟 𝐦𝐲 𝐡𝐨𝐦𝐞𝐭𝐨𝐰𝐧 𝐁𝐚𝐫𝐜𝐞𝐥𝐨𝐧𝐚 (Spain)! As a Barcelona native, I've crafted an immersive experience for us to enjoy the city's winter wonders and cultural treasures. Here's a sneak peek into our adventure: 𝗗𝗮𝘆 𝟭 - Getting to know each other and discovering the centre of Barcelona city, including Casa Batlló and La Pedrera by Antoni Gaudí, and the Gothic Quartier. 𝗗𝗮𝘆 𝟮 - We'll see the most amazing views from Montjuic mountain and its surroundings and we'll then inmerse into the beach neighbourhood. We'll also visit the most famous and impressive location in Barcelona: La Sagrada Familia. 𝗗𝗮𝘆 𝟯 - Day trip to Perpignan, France, to explore its enchanting Christmas markets. 𝗗𝗮𝘆 𝟰 - Hike up Tibidabo mountain for stunning views and explore a charming theme park. We'll later have an evening surrounded by local traditions. 𝗗𝗮𝘆 𝟱 - We'll visit the amazing Parc Güell by Gaudí and we'll share our last moments of joy. For a complete description of the itinerary, keep reading on the ​🇮​​🇹​​🇮​​🇳​​🇪​​🇷​​🇦​​🇷​​🇾​ section. This is a females only trip. Please note 'Christmas' is only a keyword; this is not a religious trip and people celebrating other holidays are very welcome to join. Also please note this is not a party trip and excessive consumption of alcohol will be discouraged.
About me: Hola amigas! I'm Sonia, a 29-year-old girl, born and raised in Barcelona. Barcelona's in my blood, but my heart belongs to the world. Explored 30+ countries, each one a chapter of my adventures. I live for digital marketing by day and dream of traveling the world by night. Come along, and let's uncover the wonders of Barcelona together. Let's make unforgettable memories! 🗺️✈️
Get ready for a homely haven right in the heart of Barcelona! 🏡✨ We'll be staying at a spacious flat located in a nice central area. With 4 bedrooms - 2 twins and 2 singles - and 2 bathrooms, it's perfect for our female gang. The cozy dining/living room area is where our stories will echo and laughter will fill the air. Our retreat awaits, promising comfort, laughter, and unforgettable moments! Rooms will be alocated by preference -health issues will have preferrence- or draw, as agreed.
What's included?
Accomodation + Tourist tax
Breakfast everyday
Dinner one night
Transportation to/from Perpignan (France
Necessity items (Hygiene, sleep...)
Welcome package
Local Christmas traditions
Your Booking includes free protection from Trip cancellations.
Learn More
Meet Your TripLeader
Phone Verified
Identity Verified
32 Countries
I'm Sonia, a 29-year-old girl, born and rised in Barcelona. Explored 30+ countries. Digital marketer by day and traveling the world by night
You can chat with Sonia once you reserve your spot.
Trip Itinerary
Avinguda Diagonal
Day 1
We'll first meet at the accomodation for a quick meet-and-greet and to drop off our bags. We'll also make the introduction to the trip. We're in this trip is to learn about the culture, architecture and traditions of Barcelona, while having fun. Then we'll be off to explore! 🙆🏻‍♀️ We'll head to a vibrant and healthy restaurant located in one of the main streets within the city of Barcelona. Hungry for adventure? Let's get this trip started! 🌞🍽️
Passeig de Gràcia
Day 1
Post-lunch, we'll stroll to Passeig de Gràcia, unveiling two of Antoni Gaudí's wonders: La Pedrera and Casa Batlló. This avenue isn't just historic, but also a shopping haven, hosting Barcelona's finest boutiques. Ready to explore architectural marvels and indulge in a bit of luxury? 🏛️🛍️ *Ticket entrances to La Pedrera or Casa Batlló, or items purchased in any shop, are not included.
Gothic Quarter
Day 1
After our delightful time at Passeig de Gràcia, our adventure continues into the enchanting lanes of Barri Gòtic (the Gothic Quartier). We'll be visiting the iconic Cathedral, strolling down the famed Las Ramblas, immersing ourselves in the vibrant atmosphere of La Boqueria market, and stepping into the serene beauty of Santa Maria del Mar (free entrance). These are just a few highlights; the Gothic Quarter has more surprises in store. Ready to dive into the heart of Barcelona's history and culture? 🏰🍇 *Ticket entrance to the Cathedral not included, but instead we'll enter inside Santa Maria del Mar church, which is also wonderful and free to visit.
Les Corts de Sarrià
Day 1-2
When night falls, we'll head back to our cozy flat. We'll gather around the kitchen and the table, cooking and savoring traditional Catalan and Spanish tapas, while sharing our first day's impressions and adventures. After dinner, we'll settle into the living room. ☕ With hot chocolate or your favourite winter drink on one hand, and festive snacks on the other, we'll dive into lively table games. A relaxed way to cap off the day, getting the energy for our journey ahead. *Tapas dinner, winter beverages and festive snacks are all included.
Montjuïc
Day 2
Starting our day, we'll enjoy a breakfast at home. From there, we'll wander to Plaça Espanya and ascend Montjuic Mountain (easy walk). Brace yourselves for stunning vistas at every turn; both locations promise picturesque views that'll leave us in awe. 🌄
La Barceloneta
Day 2
Next, we'll venture to Barceloneta, Barcelona's beachside neighbourhood. 🏖️ Though winter keeps us from the sea's embrace, we'll indulge in a steaming plate of paella at a local approved (and loved) restaurant -we don't eat just any paella! After our meal, we'll leisurely explore the charming neighborhood, soaking in its seaside charm. A delightful afternoon by the beach awaits, filled with flavors and seaside serenity.
Sagrada Família
Day 2
OPTIONAL: Our journey continues with a visit to the iconic Sagrada Familia. Prepare to be awe-struck by Gaudi's masterpiece. Optionally, you can get tickets and go inside the basilica and climb one of the towers, you can also optinally get a guide to explain you the history and all the secrets about this marvellous church. 🏰🌟 *Tickets to Sagrada Familia are not included, since some travelers might have already visited it.
Ciutadella Park
Day 2-3
OPTIONAL: Here's where our journey gets flexible and personal. If you're up for more adventures, we'll explore the charming Ciutadella Park and the scenic Arc de Triomf area. Feel free to join us for this leisurely stroll. Later, for dinner, we'll decide spontaneously, embracing the culinary surprises Barcelona has to offer -don't worry, I have some options on my list in case we can't think of any place. And for the night owls, an option within this optional stop: a secret cocktail bar -serving also non-alcoholic mocktails- awaits, serenading us with live music. NOTE: This stop is entirely up to you. Feel free to venture out solo - whether it's shopping, a peaceful moment, or a solo date, the night is yours!
Perpignan
Day 3-4
Our next adventure starts right after our home breakfast and takes us to Perpignan, France, just a couple of hours away by bus. There, we'll immerse ourselves in the enchanting Christmas markets, exploring the festive stalls and soaking in the holiday spirit. Strolling through the town, we'll admire its charming winter wonderland, including the iconic castle that stands proudly amidst the festive lights. Lunch will be a delightful fusion of Catalan and French flavors, savoring traditional dishes that bridge cultures. And of course, we can't miss out on the buttery goodness of authentic French croissants. For dinner, it's a treat of French crêpes, the perfect way to wrap up our day of French escapades. Get ready for a day filled with cultural delights, delicious cuisine, and the magic of the holiday season! 🎄🇫🇷 We'll be back in Barcelona before midnight.
Tibidabo
Day 4
Our day kicks off with a hearty breakfast at a bustling traditional market, immersing ourselves in local flavors. Then, gear up in your sporty attire for a moderate hike up Tibidabo mountain (moderate hike, but we'll go slow). At the summit, where breathtaking views await, we'll explore a charming theme park, enjoying panoramic attractions that promise unforgettable vistas. For lunch, we'll grab a quick meal on our hike up and eat it on the top of the mountain. So, lace up your hiking boots and get ready for a day of adventure, sport and stunning sights! 🌄🎢 *Tickets to some attractions included.
Pedralbes
Day 4
OPTIONAL: Next, we'll explore the upscale vibes of Sarrià and Pedralbes, Barcelona's high-class neighborhoods. Imagine a leisurely evening, strolling through elegant streets, and unwinding at a serene park. We'll walk from the monastery to the park. 🏡 As the night falls, we'll settle into a traditional bar in the area for an authentic budget-friendly dinner, and a local café for dessert. It's a chance to experience the city's sophistication and savor the relaxed ambiance. NOTE: This stop is entirely up to you. Feel free to venture out solo - whether it's shopping, a peaceful moment, or a solo date, the night is yours! *Ticket entrance to Monestir de Pedralbes not included, in case you'd like to visit (5€). *At the time of visiting, there will be a lights' exhibition in Pedralbes park. Tickets not included, in case you'd like to visit it (starting at 16,50€). Entrance to the park is free.
Les Corts de Sarrià
Day 4-5
After dinner, we'll return home for a creative session. Imagine cozy vibes, laughter, and the smell of paint in the air. We'll dive into the world of DIY, adorning tote bags, flowerpots, and more with our artistic flair. It's a chance to unleash your creativity and take home a piece of Barcelona crafted with your own hands. Get ready for a night of artistic expression, fun, and unique souvenirs! 🎨✨ After our creative session, we'll wind down with a cherished Catalan Christmas tradition right before bedtime - the tradition? it's a surprise. 🎁 Gathered together, we'll partake in the delightful custom, immersing ourselves in the local culture. It's a night of shared traditions, camaraderie, and a touch of Barcelona's winter magic.
Park Güell
Day 5
OPTIONAL: On our final day, we'll savor a delightful breakfast at home, fueling up for our last adventures. Our first stop: Parc Güell, Antoni Gaudí's masterpiece, where vibrant mosaics and fantastical architecture await. After soaking in the park's magic, we'll wander into Gràcia, the charming neighborhood that cradles Parc Güell. Its narrow streets, artistic vibe, and local flair offer a perfect ending to our Barcelona escapade. It's a day of exploration and immersion in the city's artistic heart. Ready for our grand finale? Let's make it memorable! 🌳🐲 *I made this stop optional because some travelers might have their flights out of the city in the morning.
Barcelona
Day 5
OPTIONAL: For our grand finale, we'll gather for a heartwarming lunch at a cozy restaurant, sharing our favorite moments and laughter one last time. Afterward, we'll return to the flat, pick up our cherished memories and luggage, each of us embarking on our individual journeys. Goodbye, girls! 🥰 It'll have been a wonderful adventure, full of laughter, friendship, and unforgettable experiences. Until we meet again, may your travels be as vibrant and enriching as our time together in Barcelona! Safe travels and fond farewells! 🌟 *I made this stop optional because some travelers might have their flights out of the city in the morning.
Trip Summary
5 days trip
Avinguda Diagonal, Passeig de Gràcia & 12 more
Transportation
Trekking, Train
What's excluded?
Flights from/to Barcelona
Lunch everyday
Dinner 3 nights (Only 1 dinner incl.)
Optional ticket entrances
Public transportation
Why JoinMyTrip?
Trusted platform used by 150K+ TripMates
Have A Question?
Live Chat with our experts 24x7
Unique Trips hosted by Experienced Travellers
Secure Payments to ensure your money is always safe