Slide 1 of 1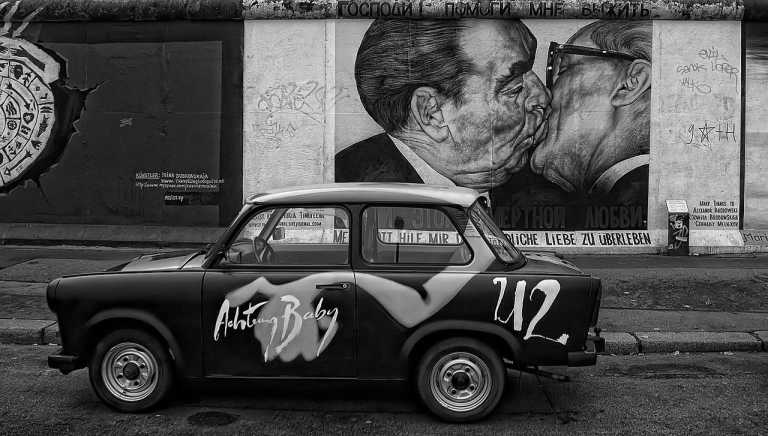 Unlock the Best of Berlin in One Week
7 Days30 Days!
Extra Cancellation Days
only for the first TripMate
Guided trip
7 days
7 stops
2 - 6 Mates
Germany
What's special?
Off-the-Beaten-Path Experiences
Historical Depth
Culinary Adventures
Discover the heart and soul of Berlin on this immersive 7-day journey through the city's most iconic neighborhoods. Unveil the unique character of each district as you delve into their culture, history, and vibrant local scenes. With a focus on convenience and local experiences, this trip offers unforgettable moments and exceptional value. Unlike traditional tours that merely scratch the surface, our journey is designed to let you truly live and breathe Berlin. You won't just see the city; you'll become part of it.
About me! Hello there! I'm an artist and an independent tour guide with over 11 years of experience, proudly calling Berlin my home. Over the years, I've had the privilege of exploring this vibrant city inside out, delving deep into its artistic soul and rich history. As a self-proclaimed hedonist, I'm all about savoring life in all its dimensions. I find exhilaration in the sensual, emotional, and intellectual aspects of existence. It's this passion for life's diverse facets that has fueled my journey as both an artist and a guide. For more than four years, I've been sharing my love for Berlin with fellow travelers, whether they come as individuals or groups. I specialize in unlocking the secrets of this ever-evolving metropolis, revealing its hidden gems, and uncovering the stories that breathe life into its streets. Street Art and Architecture are my canvas and my brush, History is my storyteller, and Food is the flavor that ties it all together. I believe that every mural on a wall, every architectural marvel, every historical site, and every culinary delight has a tale to tell. My mission is to help you discover these narratives and experience Berlin in all its glorious complexity. So, whether you're ready to explore the mesmerizing world of street art, dive into the architectural wonders, time-travel through history, or embark on a gastronomic adventure, I'm here to be your guide, sharing the Berlin that I've come to know and love.
Details about the Accommodation: During this unforgettable journey through Central Europe, you will enjoy comfortable accommodations in well-established hotel chains such as Ibis and Meininger, both known for their quality and convenience. Hotel Ratings: These hotels typically offer three-star accommodations, ensuring a comfortable and pleasant stay for all guests. By default, guests will be accommodated: Family and friends: twin/triples Couples: doubles Solo travelers: singles Room Upgrades: For those seeking additional privacy or a more spacious setting, the option to upgrade to a double or single room is available for an extra fee. Double rooms typically feature a larger bed, while single rooms provide a private space for solo travelers. Breakfast Inclusion: To start each day of exploration with energy and enthusiasm, a delicious breakfast is included in the trip package. Enjoy a variety of continental and local breakfast options at the hotel, ensuring you're ready for the day's adventures. Comfort and Convenience: The selected hotel chains prioritize the comfort and convenience of their guests, offering amenities such as Wi-Fi access, on-site dining options, and easy access to public transportation. Central Locations: These hotels are strategically located in the heart of the city, providing easy access to major attractions, dining options, and cultural experiences. This central positioning allows you to make the most of your time exploring. Keep me posted in the Q&A section in case you have questions about the trip!
What's included?
Guided tours
Local transportation
Accommodation
Your Booking includes free protection from Trip cancellations.
Learn More
Meet Your TripLeader
Phone Verified
Identity Verified
23 Countries
Passionate about art, history, travel. Guiding individuals/groups for 5 years. Let's explore Europe together!
You can chat with Anastasia once you reserve your spot.
Trip Itinerary
Berlin Brandenburg Airport
Day 1-2
Arrival Day: Getting Acquainted with Berlin Check-In: Head to your pre-booked 3-star hotel in the heart of the city, drop off your luggage, and freshen up for the day ahead. Welcome Meeting: Gather in the hotel lobby for a warm welcome from your trip leader. They'll provide an overview of the week's adventures and answer any questions you may have. Orientation Stroll: To get your bearings, take a leisurely orientation stroll around the neighborhood. Depending on your hotel's location, you might explore nearby streets, discover local cafes, or visit a nearby park. Lunch: Enjoy your first meal in Berlin at a local restaurant, trying out some traditional German dishes or international cuisine, depending on your preference. Afternoon at Leisure: You have the afternoon to relax or explore further on your own. You might visit a nearby museum, relax in a park, or simply soak in the Berlin atmosphere. Welcome Dinner: In the evening, gather with your fellow travelers for a welcome dinner at a local restaurant. It's a great opportunity to bond and savor your first taste of Berlin's culinary delights. Optional Evening Activity: If you're still energized, you might opt for an optional evening activity, such as a guided twilight walk or a visit to a local jazz club.
Mitte
Day 2-3
Exploring Berlin Mitte District: Unveiling Historical Gems" Discover the captivating heart of Berlin with a journey through the Mitte district, where history comes alive at every turn. This overview tour invites you to explore the district's main historical highlights, offering a glimpse into the city's profound past and global significance. Key Highlights: Brandenburg Gate: Begin your journey at this iconic symbol of Berlin, where history and unity converge. Holocaust Memorial: Pay your respects at this poignant and powerful memorial, honoring the memory of Holocaust victims. Reichstag Building: Delve into Germany's political history with a visit to the Reichstag, home to the Bundestag, and enjoy breathtaking views from its glass dome. Berlin Wall Memorial: Gain insights into the city's division and the Cold War era through preserved sections of the Berlin Wall. Checkpoint Charlie Museum: Engage with the captivating stories of escape attempts and espionage during the Cold War. Bebelplatz: Reflect on history at the site of the infamous Nazi book burning, a solemn reminder of the past. Hackescher Markt: Explore this vibrant square surrounded by boutiques, galleries, and cultural hubs. Scheunenviertel: Wander through the historic streets of Scheunenviertel, known for its artistic spirit and unique charm.
Kreuzberg
Day 3-4
Exploring Kreuzberg: A Dive into Berlin's Cultural Melting Pot Kreuzberg embodies the soul of Berlin's alternative and multicultural scene. It's a place where creativity knows no bounds, and where you can dive into a diverse and welcoming community. Enjoy your time exploring this unique part of the city! Key Highlights: Street Art Exploration: Kreuzberg is renowned for its vibrant street art scene. Wander through its streets to discover colorful murals and graffiti that reflect the neighborhood's creative spirit. Maybachufer Turkish Market: Immerse yourself in the multicultural flavors of Kreuzberg at this bustling market. Sample diverse cuisines, shop for unique goods, and soak in the lively ambiance. Orianienstraße and Wrangelkiez: Explore the charming streets of Kreuzberg, where you'll find an array of quirky shops, boutiques, and cozy cafes. Multicultural Cuisine: Enjoy lunch at one of Kreuzberg's many international restaurants, offering everything from Turkish kebabs to vegan delights. Vibrant Nightlife: As the sun sets, Kreuzberg truly comes alive. Experience the neighborhood's famous nightlife with visits to its numerous bars, clubs, and live music venues.
Charlottenburg
Day 4-5
Exploring Charlottenburg: Berlin's Elegance and Luxury Charlottenburg offers a striking contrast to the vibrant energy of Kreuzberg. This district is known for its opulent architecture, grandeur, and a touch of royal history. Charlottenburg invites you to step into the world of Berlin's elegance and luxury. It's a neighborhood where you can experience the city's aristocratic past while indulging in contemporary pleasures. Enjoy your time in this refined part of Berlin! Key Highlights: Charlottenburg Palace (Schloss Charlottenburg): Start your day with a visit to this magnificent palace, a former royal residence. Explore the opulent interiors, stroll through the beautiful gardens, and admire the Baroque and Rococo architecture. Kurfürstendamm (Ku'damm): After the palace, take a leisurely walk along the famous Kurfürstendamm boulevard, Berlin's answer to the Champs-Élysées in Paris. It's a shopping paradise with high-end boutiques, department stores, and cafes. Savignyplatz: Pause for lunch at Savignyplatz, a charming square with a selection of restaurants and cafes. Kaiser Wilhelm Memorial Church (Kaiser-Wilhelm-Gedächtniskirche): Visit this iconic church, partially destroyed during World War II and left in ruins as a memorial to peace. The modern church building alongside it is a striking contrast. Shopping and Dining: Charlottenburg offers an array of upscale dining options and boutique shopping. Explore the side streets for hidden gems. Nightcap: Conclude your day with a nightcap at one of Charlottenburg's sophisticated cocktail bars or lounges.
Neukölln
Day 5-6
Exploring Neukölln: Berlin's Eclectic Melting Pot Neukölln is a neighborhood where creativity knows no bounds, where international influences converge, and where you can immerse yourself in a diverse and welcoming community. Enjoy your time exploring this unique part of Berlin! Key Highlights: Tempelhofer Feld: Start your day at Tempelhofer Feld, a former airport turned public park, ideal for soaking in the local atmosphere. Schillerkiez: Wander through Schillerkiez, a charming and artistic part of Neukölln filled with cozy cafes, bars, and community spirit. Rixdorf: Discover the historic village of Rixdorf, now part of Neukölln, known for its picturesque streets, quaint houses, and cultural heritage. Multicultural Cuisine: Enjoy lunch at one of Neukölln's many international restaurants, offering everything from Middle Eastern delights to craft beer. Local Art Scene: Neukölln is home to numerous art galleries and creative spaces. Visit some to explore the neighborhood's artistic side. Vibrant Nightlife: As the sun sets, Neukölln's nightlife awakens. Experience the neighborhood's famous nightlife with visits to its trendy bars, clubs, and live music venues.
Prenzlauer Berg
Day 6-7
Exploring Prenzlauer Berg: Bohemian Bliss in Berlin Prenzlauer Berg is a place where bohemian charm meets contemporary creativity. It's a neighborhood that invites you to relax, savor the local atmosphere, and appreciate its artistic spirit. Enjoy your time in this captivating part of Berlin! Key Highlights: Mauerpark: Start your day with a visit to Mauerpark, known for its vibrant Sunday flea market and open-air karaoke. Take in the lively atmosphere and maybe even join in the singing. Kollwitzplatz: Explore Kollwitzplatz, a charming square with a statue honoring the artist Käthe Kollwitz. It's surrounded by cafes and boutiques, perfect for a leisurely stroll. Kulturbrauerei: Discover the Kulturbrauerei, a historic brewery complex now converted into a cultural center with theaters, cinemas, and exhibitions. Berlin Wall Memorial: Visit the Berlin Wall Memorial to gain insights into the city's division during the Cold War. Explore preserved sections of the wall and the visitor center. Local Pubs and Cafes: Enjoy lunch at one of Prenzlauer Berg's cozy cafes or traditional German pubs. Prenzlauer Berg's Art Scene: Explore the neighborhood's thriving art scene by visiting galleries and street art installations.
Berlin Brandenburg Airport
Day 7
Departure Day: Farewell to Berlin Morning Farewell: After a memorable week in Berlin, it's time to bid farewell to this captivating city. Check-Out: Check out of your hotel in the morning. Depending on your flight or departure plans, you may leave your luggage with the hotel if needed. Final Breakfast: Enjoy a delicious final breakfast at the hotel. Reflect on the week's adventures and exchange contact information with your fellow travelers for future connections.
Trip Summary
7 days trip
Berlin Brandenburg Airport, Mitte & 5 more
What's excluded?
Lunch and dinner
Flights to Berlin and return
Why JoinMyTrip?
Trusted platform used by 150K+ TripMates
Have A Question?
Live Chat with our experts 24x7
Unique Trips hosted by Experienced Travellers
Secure Payments to ensure your money is always safe