Slide 1 of 1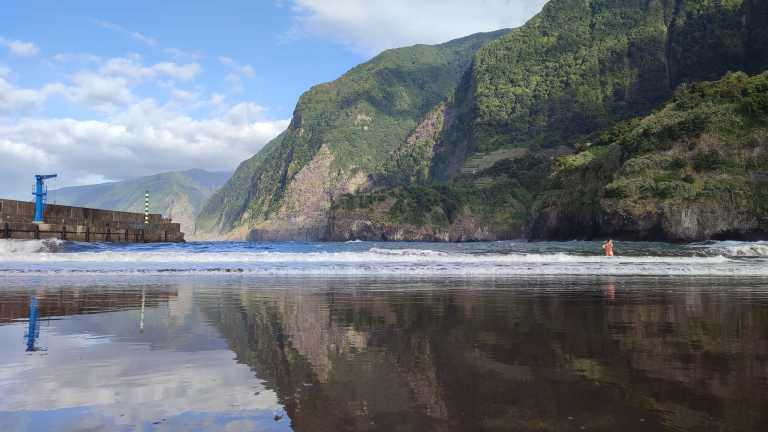 This trip is confirmed to go.
Hike, surf and more.. Adventure in Hawaii of Europe, Madeira, Portugal 🐬
Guided trip
8 days
10 stops
2 - 3 Mates
Portugal
What's special?
Dolphin & Whale watching tour
Private surfing lesson
Travelling with location expert
Are you ready for an adventure-packed trip to Madeira? This beautiful island in the middle of the Atlantic Ocean offers stunning natural landscapes, perfect for both surfing and hiking enthusiasts. Welcome to our exciting packed trip to Madeira, where you'll experience the best of this beautiful island's natural and cultural attractions. This trip includes a surfing lesson, a trip to the capital city, experiencing unique tastes of Madeira, a dolphin & whale watching tour, and 2 hiking trips, one of the best hiking routes on the island. One along the Levada Nova and PR1 Pico do Ariero to Pico Ruivo, which takes you through amazing mountain region to the highest mountain of Madeira. Whether you're a beginner or an experienced surfer, our knowledgeable private instructor will help you catch some of the best waves the island has to offer. Beaches are being picked based on the weather forecast between Machico, Seixal, Alagoa, or Maiata. Fun is guaranteed. To explore the nature of the island we will have variety of hiking and trail walking trip in various locations of the island. We'll also visit the capital city of Funchal, where you'll have the chance to explore its vibrant markets, picturesque streets, and vibrant parks and coast. We will also visit very traditional restaurant, where you get to experience the unique taste and tradition of preparing food in Madeira. This trip is perfect for adventure-seekers who want to experience the best of Madeira's natural beauty while enjoying some exciting outdoor activities So, pack your bags and get ready for an unforgettable journey!
About me! Hi, I am Gabi, very open minded ocean-kid, yoga lover & passionate traveller, currently on a mission to spread happiness to travellers via exploring Madeira. I am absolutely obsessed with the energy of this island. I would like to introduce it to you in my eyes. Are you looking to explore yourself, connect to nature, explore not so touristy places of the island and have insane amount of fun? Let's do it together!
Details about the accommodation: We will share a spacious 3-bedroom house surrounded by nature. Rooms will be either private or possibly shared depending on the preference of the group, and the number of tripmates.. let me know in the message. Equipped kitchen, washing machine, and beautiful living space with balconies to hang out together.
What's included?
Accommodation (Shared/private rooms)
Surfing lesson
Car rental
Dolphin & Whale watching tour
Group dinner at traditional churrascaria
Your Booking includes free protection from Trip cancellations.
Learn More
Meet Your TripLeader
Phone Verified
Identity Verified
19 Countries
19 Trips Completed
Open minded ocean-kid, yoga lover & passionate traveller, currently on a mission to spread happiness in the world via travelling.
based on 23 reviews
Gabi is a awesome trip leader and a lovely person :) She took good care of us and made sure we see all different places around the island in the right time with the right weather. She definitely knows the best spots and where to find delicious Poncha🍹
Show All Reviews
You can chat with Gabriela once you reserve your spot.
Trip Itinerary
Machico
Day 1-2
Upon arrival in Madeira, you'll be greeted by the beautiful island scenery, with its rugged cliffs, lush greenery, and crystal-clear waters. Settle into your private bedroom and meet your tripmates. Our house is in Machico, this coastal town was the first capital of Madeira, has a sandy beach and also lovely local pastry shops.
Praia de Seixal
Day 2
Surfing Lesson It's time to hit the waves! Madeira's unique geographical location makes it a great place to catch some waves. We will join the best local surf school to learn how to surf or improve your skills. The island has a range of surf spots suitable for all levels, so there's something for everyone. After an adrenaline-filled morning of surfing, we will relax in natural volcanic pools in Seixal.
Achadas da Cruz
Day 2-3
Later on the second day we will visit visit an old farming village right on the wild west coast of the island accessible only by cable car. This cable car ride is one to remember, as it is descending in almost 100% and therefore is one of the steepest ones in Europe.
PR1 Vereda do Areeiro
Day 3-4
Day 3 - Time to Hike On Day 3 we will accomplish the most popular hike on the island, and for a reason! The Pico do Arieiro to Pico Ruivo trail is one of the most iconic and breathtaking hiking routes in Madeira, Portugal. Spanning approximately 7 kilometers, this trail takes you through the rugged and majestic peaks of the island, offering spectacular views and an unforgettable hiking experience. The trail begins at Pico do Arieiro, the third highest peak on the island, situated at an elevation of 1,818 meters. From there, hikers embark on a challenging yet rewarding journey towards the highest peak in Madeira, Pico Ruivo, standing tall at 1,862 meters.
Praia de Machico
Day 4
Day 4 - Time to get back to the waves! This time we will hop on board of speedboat to explore the deep waters of Madeira. And most importantly it's wildlife! You will get the chance to swim with dolphins and watch wales in their most natural habitat. This unforgettable experience won't leave you untouched!
Funchal City Center
Day 4-5
After an ocean trip we will get to sit down to meal and traditional refreshing drink - Poncha. Besides treating ourselves with our last big meal together we will explore Funchal bay and picturesque Old town with many bars & restaurants and beautiful painted doors.
Pico do Facho
Day 5-6
Hiking and trail walking in Madeira is just so diverse! The other day we climbed the highest mountains, this time can explore few different climate ranges in one walk. From rain-forest through ocean trail to reach dry red rocky east point of the island.
Porto da Cruz
Day 6
At some point of the trip we will surely visit this magical surfing town on the north-east coast. Not only it is absolutely beautiful, surrounded by green hills and offers two of the islands favourite surfing spot, it also houses an amazing restaurant with tasty traditional dishes and in my opinion, best Poncha on the island!
Levada Nova
Day 6-7
The last day we can do a morning hike, this one along the Levada Nova, one of the island's most famous Levada trails, which follows ancient irrigation channels along the edges of steep cliff. Stunning view of greenery and the ocean in the background. It's not a challenging route so perfect to stretch our bodies after so much done during the trip! The rest of the day is free for suggestions to spend rest of the trip to everybody's liking :) To finish of the trip we can go to an amazing party organized by local Digital Nomad community!
Santa Cruz
Day 7-8
Departure Day! Depends on everybody's departure time we will organize our day, last dip in the ocean, brunch together or just dropping you to the airport. That's our time to reflect on amazing time spent together and farewell.
Trip Summary
8 days trip
Machico, Praia de Seixal & 8 more
Hi Gabriela, Greetings from Manikandan Mathivanan:-) Just you call me as Mani. I have seen the iten...

Read More
I would like to know about the airport details and arrival time since I am travelling from south par...

Read More
What's excluded?
Food costs
Why JoinMyTrip?
Trusted platform used by 150K+ TripMates
Have A Question?
Live Chat with our experts 24x7
Unique Trips hosted by Experienced Travellers
Secure Payments to ensure your money is always safe
Looking for more trips?
Here's some similar trips that you might be interested in.